Ocidental 1/48 scale
North American
AT-6C Texan
by Tadeu Pinto Mendes
North American AT-6C Texan
The T-6 is one of the most famous military planes that ever existed, and for as much as it was considered the most widespread military plane in the world.
In the Brazilian Air Force, it has been the numerically most used aircraft to date, with 427 units in versions B to G, except for the F. Including 20 units of the SNJ-5C version which was the USN's AT-6C. And several T-6Ds were manufactured under license in Brazil (NA-119 by the manufacturer) in Lagoa Santa - MG.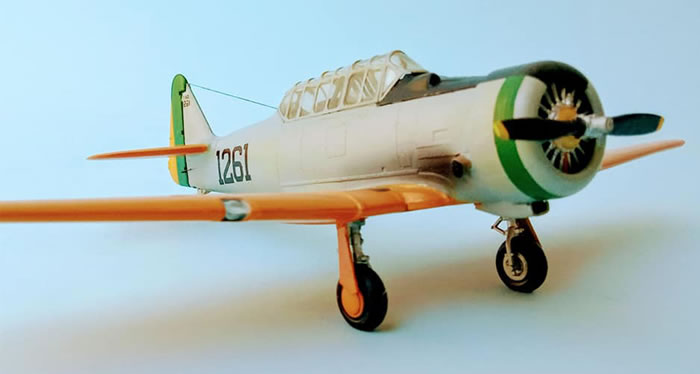 The most used version was the AT-6D with 248 units and the C with 71. They were used in advanced training (hence the USAAF designation of AT), patrol, attack, and in the demonstration squadron.
In most training operators in this air force, a ring-shaped band was painted on the hood, either green or red. In the ones painted with green, pilots were allowed to do rollovers or stunts, and in the red ones, they were not allowed, because they took equipment for night training which was damaged in rolls.
This model as boxed as the G version, but it could also be built as versions between the B and D.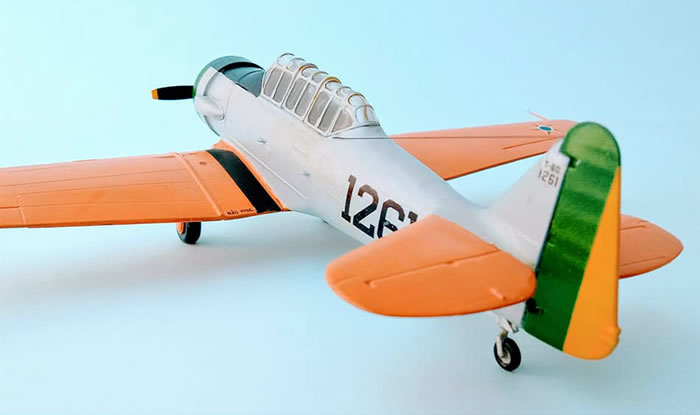 In this case, it came with the cover behind the cowling with the synchronized machine gun, and the cockpit being the G, so it was only necessary to paint three more structures on each side, to be done in any of the first versions before the G. In the dihedral of the wings, from which it came at practically zero angle, and I tilted it to increase.
I chose to depict the Air Force Academy of the Brazilian Air Force, in the characteristic painting: Flat horizontal parts in Orange (FS 22215); bicolor rudder in Green-Yellow (FS 24062 and 23538); fuselage in Alumilac and Matt Black (FS 37038) in front of the windshield.
The propeller is painted Black (FS 27038) with tips in Yellow (FS 13638). Ring-shaped, green on the cowling.
I chose the serial number for the AT-6C that is on a pedestal at the entrance to the city of Paraguaçu - MG, which is 1261.
---
Model and Text Copyright © 2021 by Tadeu Pinto Mendes
Page Created 23 November, 2021
Last Updated 23 November, 2021
Back to HyperScale Main Page