Hobby Boss 1/48 scale
A-10 Warthog
by John Trueblood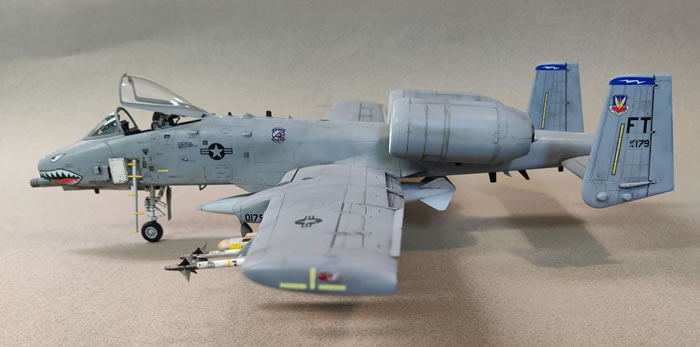 Fairchild Republic A-10 Thunderbolt II
The Fairchild Republic A-10 "Warthog" is rightly renowned for its durability and survivability, never moreso, as on April 7, 2003 when USAF Captain Kim Campbell's A-10 was severely damaged by ground fire while on a mission over Bagdad, Iraq. Her aircraft lost all hydraulics, rolled left and headed for the ground. Not wanting to eject over Bagdad she fought for control and by engaging a system called manual reversion was able to regain control and head back to her air base.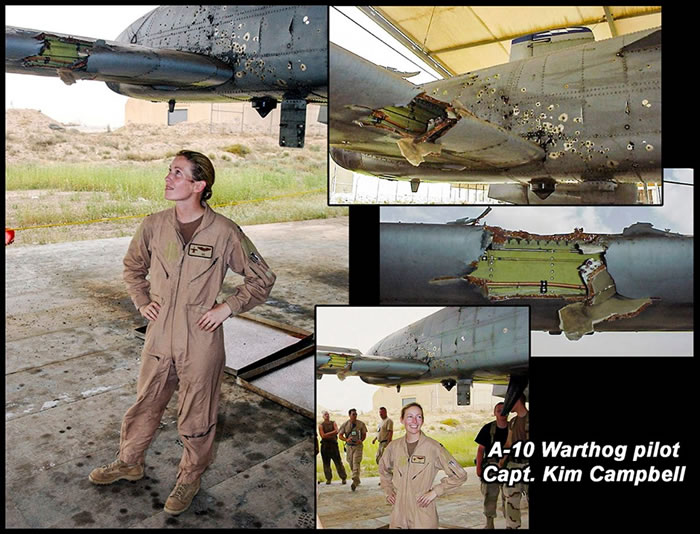 The manual reversion system is an old school system of cables and pullies allowing the A-10 to be controlled but just barely. The Air Force advises A-10 pilots to fly to a safe area and eject. Two previous attempts to land an A-10 using manual reversion had ended badly. The first sadly proved fatal for plane and pilot. In the second instance only the bravery of the ground crew succeeded in rescuing the pilot from his burning aircraft after it crash landed and split in two.
Nevertheless, Captain Campbell, (call sign "Killer Chick") felt the aircraft was performing well and she stated "I had no doubt in my mind I was going to land that airplane." She pulled off the difficult landing in spite of a damaged horizontal stabilizer and no use of flaps, speed brakes, wheel brakes or steering. For her actions she was awarded the Distinguished Flying Cross. Colonel Kim Campbell remains in the USAF and is presently a Faculty Chair at the United States Air Force Academy.
As I looked over the excellent Hobby Boss A-10 kit I decided I wasn't interested in trying to replicate Captain Campbell's badly damaged A-10 nor did I think I had enough talent to pull it off anyway.
Furthermore, my research indicated that the aircraft she was flying on April 7th (sn 81-0987) had in fact been borrowed from another squadron. For these reasons I chose to model a representative aircraft from her squadron; the 74th FS, "Flying Tigers." The 74th's Warthogs feature the "Shark Mouth" motif dating back to WW2. For my model's markings I used Print Scale decals 48-073.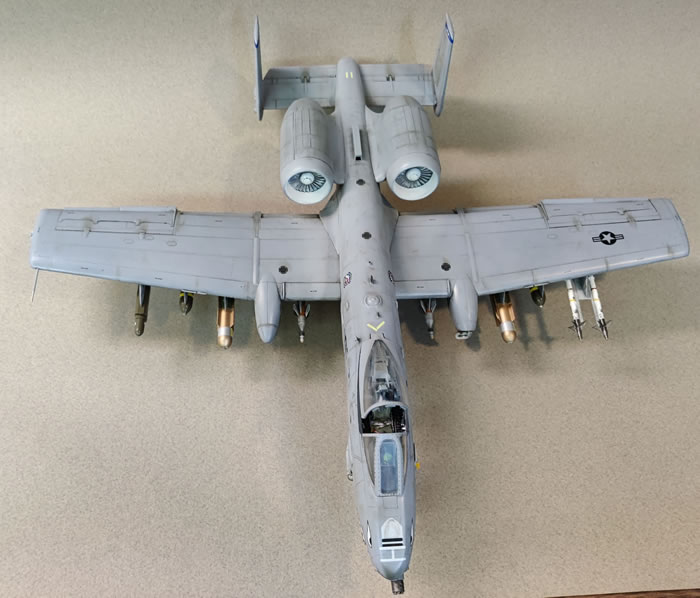 Fit of the kit parts proved to be excellent with no putty or "Blue Language" required. In my ongoing effort ? to support the Hobby aftermarket companies I used the Aires cockpit set #4353 and for further overkill combined it with Eduard FE395 A-10 interior P.E. I also made use of the Eduard 48566 A-10 exterior set.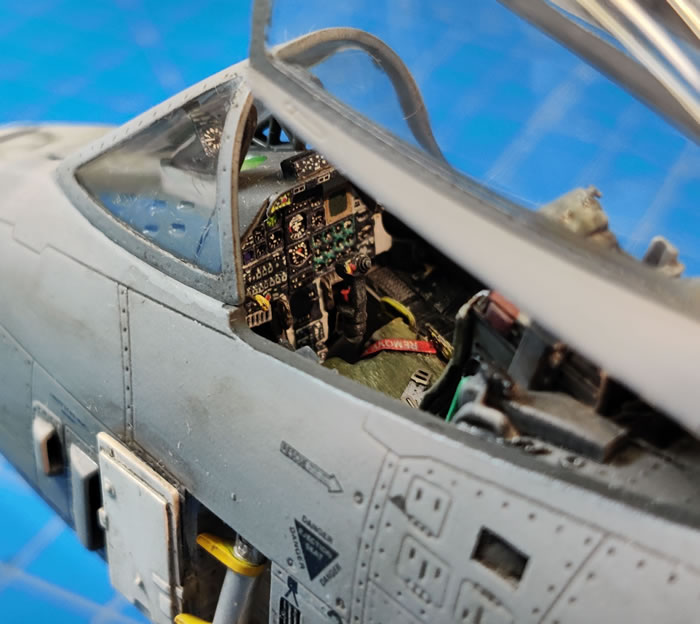 Eduard Brassin was utilized for the extensive underwing stores. The Montex canopy and wheel mask #48272 rounded out my aftermarket purchases. To my delight, the aftermarket replacement items easily fell into place, (yes even the Aires resin).
I black based the model, and added marbling with Tamiya white, tan and light blue. Like many modelers I own vast quantities and varieties of hobby paints. I selected Testors Acryl Dark Ghost Gray over Light Ghost Gray as they appeared most accurate to my eye. I thinned the Acryl with Tamiya Acrylic Thinner and airbrushed with my Harder Steenbeck Infinity.
---
Model, Images and Text Copyright © 2021 by John Trueblood
Page Created 16 November, 2021
Last Updated 16 November, 2021
Back to HyperScale Main Page