Scale Model Podcasts
by Viktor Karlsson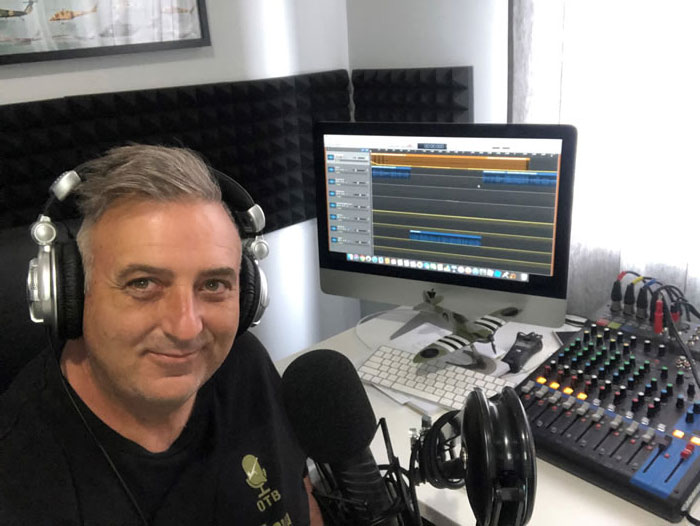 What do you have in your headphones these days?
No, [magazine] has not started with music reviews, we will talk about a fairly new phenomenon in the model world. Namely podcasts aimed at the model builder, and for the sake of clarity, the focus in the article will be on plastic scale models. There are podcasts in most genres, just look where podcasts are usually found. A little search on the internet showed that there are podcasts that cover model railways, radio-controlled models, model boats and even model rockets.
---
What is a Podcast?
Podcasts are the distribution and subscription of audio files that you can listen to on your computer, phone, tablet or smart speakers. There are plenty of programs and apps for listening to podcasts, from Apple Podcasts, iTunes, Castbox, Stitcher, and Google Podcasts to Spotify. You can easily say that a podcast is like a radio broadcast but where you decide when to listen and what you want to listen to. Since the cost of distribution of a podcast is low, there are many individuals who make broadcasts with content that they are passionate about.
---
Why Podcasts Instead of YouTube?
I don't think you choose podcasts instead of YouTube but it is a very good complement to videos about model building. The advantage of media listening is that you can take part in it while doing something else. And this without being significantly disturbed. You can hardly watch YouTube videos when you go for a walk with the dog or even worse while driving your car. Podcast listening works perfectly here, and it's great to listen to model building while building models.At least I do need to pause my own building if I'm watching a video. Videos are great when you want to see how someone has done it. But you need a completely different focus for video. Everything has its time and place.
---
Examples of Podcasts
Podcasts about plastic model building have not been around for so long. Prior to this article, I contacted the people behind a number of podcasts to find out more. If we start in chronological order, we end up in Australia where David Goldfinch started "On The Bench" in July 2017. He is an experienced podcast listener who listens when he goes for walks, while driving and gardening, but there was no podcast about model building available. As a true scale modeller does if something is missing, you create it yourself. So he started a podcast about plastic model building.
Now he and his team have produced well over a hundred episodes and have a loyal audience of about 2700 people around the world. David built models in his youth and like so many others, he has been away from it when children and family were prioritized. Twenty years ago, he started again with ship models in 1/350 scale, but today he also builds armor, science fiction and real space models. The podcast, social media and the stash of kits next to the building table are keeping the modeling mojo alive for David..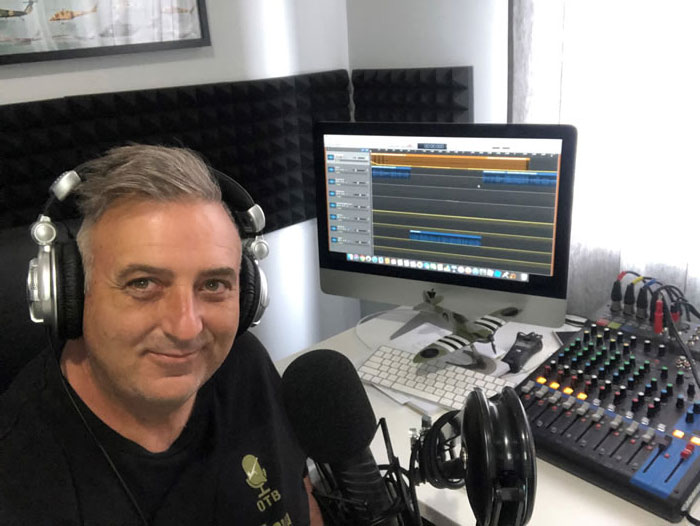 ---
Almost simultaneously, in November 2017, Stuart Clark from Canada launched the "Scale Model Podcast". Stuart had previously made podcasts on other topics and since there were not many in the field of plastic model building, he started one. Right now, his podcast captures around 2,000 listeners per episode, and Stuart, like several of those I interviewed, thinks it looks bright for podcasts in the future. Model building is a good relaxation for Stuart and very "analog" compared to his profession in the IT world.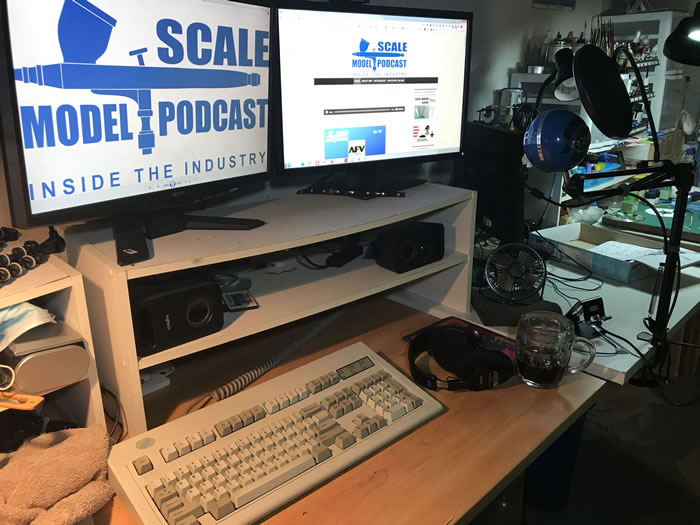 ---
In January 2020, Michael Baskette and David Knights from the USA started the podcast "Plastic Model Mojo". They wanted additional motivation to building models and thought that a podcast could help and at the same time be fun to do. When the pandemic struck shortly after they started, it turned out that a group of like-minded people was formed around the pod. When people could not meet at model club meetings and competitions it filled a definite void. The importance of the podcast for the listeners is a strong motivation for Michael and David to continue with it. Michael has been building models since childhood and unlike many others, he has not made any real break from building. David also built in his youth, and has now returned to the building and the podcast provides mojo for the hobby as well. They have already reached around 1600 listeners per episode and they see how it is steadily growing.
---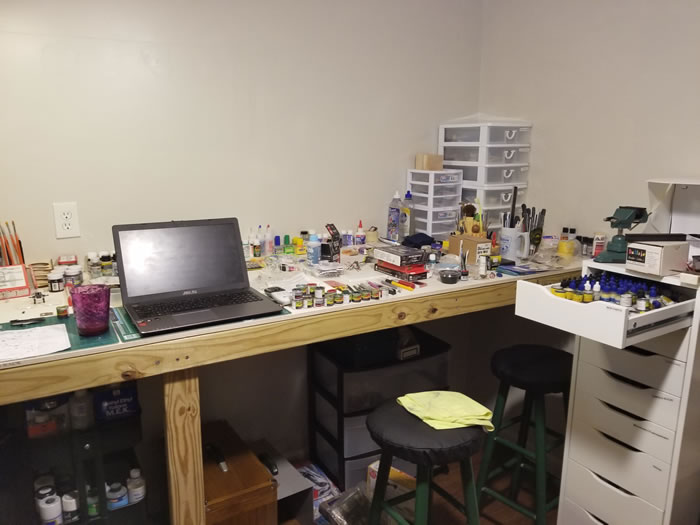 ---
A newcomer to the scene is the "Plastic Posse Podcast" which is also from the United States. Here we have four model builders who joined forces and started a podcast in August last year because they love the hobby and they like the social interaction that exists in the hobby. Scott Gentry is responsible for the production and sound quality when he is not building armor or science fiction models. Doug Smith is keeping the episodes together and keeping in touch with the listeners, and on the model side he keeps to science fiction. TJ Haller paints wargaming characters and is a fantastic armor builder and he is the podcast's "specialist in social media". John Bonnani is the latest addition to the group, he is also a skilled armor builder and is passionate about, among others, IPMS (International Plastic Modellers' Society) and AMPS (Armor Modeling and Preservation Society) and their competitions. They already attract more than a thousand regular listeners. The team in Plastic Posse also arrange group builds on their Facebook page where the listeners are invited to participate. Two group builds have been going on for a while, one with focus on building T34 tanks and in the other TIE Fighter from the Star Wars movies is the subject. A third group build for 1/48 Spitfire MK I /II has just started up. Great way of interaction with the listeners.
---
"Just Making Conversation" is another example of a podcast that was added recently, in November last year. James Skiffins and Malcolm Childs are two scale model friends in the UK who like to talk about their modeling hobby and they have now taken this conversation to the podcast world. Malcolm runs the charity Model for Heroes where James also contributes. The podcast is their way of relaxing and talking about the hobby that they love so much. They record episodes in their hobby rooms and living rooms. Malcolm takes care of the editing of the episodes while James keeps in contact with the listeners on social media. Their podcast is growing in popularity with more listeners week after week. They say that podcasts about scale model building seem to be on the rise and that listeners seem hungry. Podcasts are something you can listen to in the background when you sit alone and build and you feel a sense of belonging with other model builders and listeners. Malcolm and James try to have a light-hearted approach and hopefully create a laugh out loud moment, something that can be a little embarrassing if you walk on the sidewalk or take a bus and laugh straight out when you listen! They conclude by hoping that their podcast will continue to bring them joy and increase the enjoyment of this amazing hobby.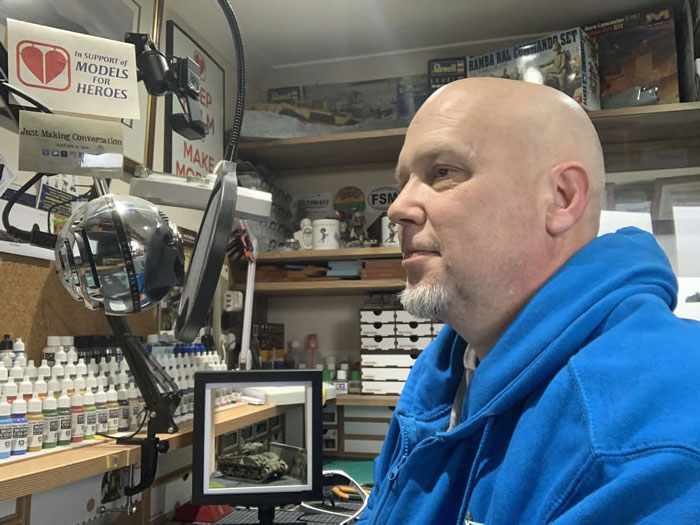 Here we have James from Just Making Conversation in his studio and building corner.
---
Varied and Complementary Content
The content of these podcasts have some similarities, but of course they differ a lot as well. There are a couple that are more like a conversation between two model building friends and others who take in guests and do interviews. What they have in common is that they talk about scale modeling and everything that belongs to the hobby, often in an entertaining way. The setup is usually similar from episode to episode with recurring topics. These can be what is on the build table right now, how the builds are progressing, what necessary [sic!] purchases have been made since the last episode, news in the hobby, a review of the listeners' emails and a discussion topic specific to the current episode. The discussions are about everything possible model-related from airbrush tips and diorama building to weathering techniques and model competitions. Although the same topic can be addressed by several podcasts, there will be different angles and thus still interesting.
A nice aspect of these podcasts is that they shout out to each other and also do some sections together with another podcast. A nice atmosphere in other words and no rivalry between them.
The tip is that you listen to a few episodes and you will surely find a favorite, or you do as I do and listen to them all.
---
How to Make a Podcast?
The appealing part about podcasts is that it is relatively easy to get started. In addition to the interest in a subject, you need a computer and a decent microphone. To host your podcast, you need a podcast hosting service provider (in the same way as a website needs a web host) and a website can be good for marketing (Facebook pages are also used extensively by several of the podcasts). For editing, there is free software available that is good enough for a hobby-level podcast. Running cost for making a podcast available is around ten pounds/dollars a month, and a good microphone is available for under a hundred pounds/dollars. When you have recorded your episode, you have to edit it and it is emphasized that this is important to get good sound quality. Editing takes about twice the time as the episode is long. When the episode is ready, you upload it to your hosting service provider, who then takes care of the distribution to the various places where podcasts are available and where you have registered. Many of the podcasts use Patreon or Paypal to receive contributions that cover the running costs and the podcasters point out that you do not make a podcast to make money but you do it because of the interest in the hobby and because it is fun. In conclusion, I just want to say that I think that podcasts about model building are a good complement to other available channels and increase my interest in building myself.
---
List of podcasts that I listen to regularly:
Viktor Karlsson, aka BuildingMyModel in the modeling world
---
Model, Images and Text Copyright © 2021 by Viktor Karlsson
Page Created 4 August, 2021
Last Updated 4 August, 2021
Back to HyperScale Main Page