Fairey Firefly Mk.I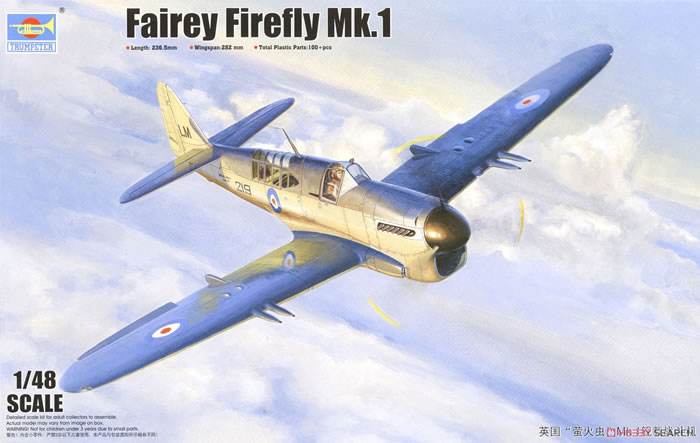 Trumpeter, 1/48 scale
S u m m a r y :

Catalogue Number:

Trumpeter Kit No.05810 – Fairey Firefly Mk.I

Scale:

1/48

Contents and Media:

Six sprues of light grey styrene (more than 100 parts); six clear parts; photo-etched fret; decals for three marking options.

Price:

USD$51.99 plus shipping available online from Squadron

£44.99 EU Price (£37.49 ex VAT) plus shipping available online from Hannants

and specialist hobby retailers worldwide

Review Type:

First Look

Advantages:

Nice exterior.

Disadvantages:

Interior is lacking; many details are too simplified including wheels and wheel wells.

Conclusion:

It's a nice base from which to work if you want to put the extra effort in without seeking out the AZ Models release. For me, I'd quite like the resin of the AZ kit and to graft it in here. I usually like to be able to point out issues in a review and then to come up with solutions, but for many things here, I'm afraid that I'm at a loss..

Reviewed by James Hatch


Trumpeter's 1/48 Firefly Mk.I is available on sale from Squadron.com

The Fairey Firefly was a British WWII-era carrier-borne fighter aircraft and anti-submarine aircraft of the Fleet Air Arm (FAA). Designed to the contemporary FAA concept of a two-seat fleet reconnaissance/fighter, the pilot and navigator/weapons officer were housed in separate stations.
It was superior in performance and firepower to its predecessor, the Fulmar, but entered operational service only towards the end of the war when it was no longer competitive as a fighter. The limitations of a single engine in a heavy airframe reduced its performance, but it proved to be sturdy, long-ranged, and docile in carrier operations.
The primary variant of the aircraft used during the Second World War was the Mk I, which was used in all theatres of operation. In March 1943, the first Firefly Mk Is were delivered but they did not enter operational service until July 1944 when they equipped 1770 Naval Air Squadron aboard HMS Indefatigable. The first operations were in Europe where Fireflies carried out armed reconnaissance flights and anti-shipping strikes along the Norwegian coast. Fireflies also provided air cover during strikes on the German battleship Tirpitz in 1944.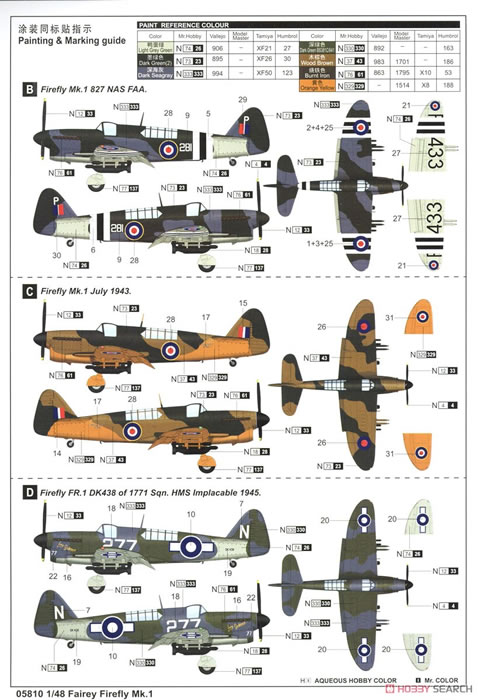 The Fairey Firefly served as a fleet fighter but in post-war service, although it was superseded by more modern jet aircraft, the Firefly was adapted for other roles, including strike operations and anti-submarine warfare, remaining a mainstay of the FAA until the mid-1950s. UK and Australian Fireflies flew ground attack operations off various aircraft carriers in the Korean War. In foreign service, the type was in operation with the naval air arms of Australia, Canada, India and the Netherlands whose Fireflies carried out a few attack sorties as late as 1962 in Dutch New Guinea. Throughout its operational career, the Firefly took on increasingly demanding roles from fighter to anti-submarine warfare stationed mainly with the British Pacific Fleet in the Far East and Pacific theatres. Fireflies carried out attacks on oil refineries and airfields and gained renown when they became the first British designed and built aircraft to overfly Tokyo.
Extract from Wikipedia


This is a 2018 new-tool kit of this rather strange and awkward-looking fighter aircraft, and I'm actually quite pleased to see it, being a fan of the odd and esoteric. Of course, the new Trumpeter release isn't the first Firefly in 1/48, with the Grand Phoenix/AZ Model kit being around in some form for the last 17yrs. There is also the extensive range of Special Hobby kits which show the Firefly in numerous marques. I have to say that I would've liked one of the AZ Model release with their beautiful resin interior and gear bay sets, but never got the opportunity to pick one up. I was pretty pleased when this Trumpeter kit was sent out for me to look through and interested to see how a modern tool of this aircraft would stand up to scrutiny.
Trumpeter's new Fairey Firefly Mk.1 comes in a fairly shallow box that is stuffed full of plastic. In total, there are six sprues of light grey styrene and one of clear parts. Apart from a sprue of which two are supplied, all sprues are packed individually into clear, heat-sealed sleeves. The clear parts have some extra protection by being wrapped in a piece of foam. A single PE fret is included, a large decal sheet, and of course the instruction manual.
The kit itself is listed by Trumpeter as thus:
Model Brief: Length: 236.5mm Wingspan: 282mm
Total Parts: 100+
Photo Etched Parts: 1 piece
Total Sprues 7 sprues
Released Date 2018-02
More Features: fuselage & wing with finely engraved panel lines
---
Sprue A
The size of the Firefly becomes apparent when you see the size of the full span wing. This model is almost 12 inches across, which for a 1/48 WW2 fighter, is no shrinking violet.
The upper wing panels are moulded as traditional port and starboard parts. Looking at the parts, you'll immediately notice that the ailerons are moulded as one with the lower wing, with the upper panels being cut-out to accommodate the separate upper aileron half. Whilst this should look perfectly good from above, there isn't much in the way of demarcation from below, so running a scriber over this area to deepen the panel line, should improve things massively.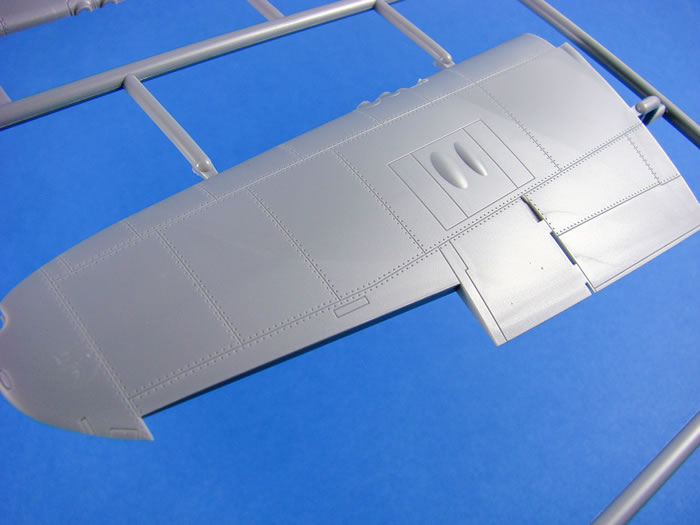 Trumpeter has made the landing flap as separate parts though, and as per my reference, these are correct at having no detail within. Surface textures feature finely engraved panel lines, access panels, and key lines of rivets and fasteners, but not too much as to ruin the appearance.
Inside the upper wing panels, a stiffening web is moulded to reduce and lateral flexibility in the assembled wing. A wing leading edge lens will be fitted from the clear sprue, and the gun barrels are also separate items.
---
Sprue B
Here, the main parts are for the fuselage, moulded full length, but minus the vertical fin which will be added later in construction, along with the rudder. Again, surface details and textures are actually very good, with some nice cowl fastener details on the nose. The cowl intake is moulded as a separate piece with integral sloping channel, and this will be augmented by the inclusion of some PE grilles. No detail is included within the fuselage as the cockpit are built from separate crew tubs.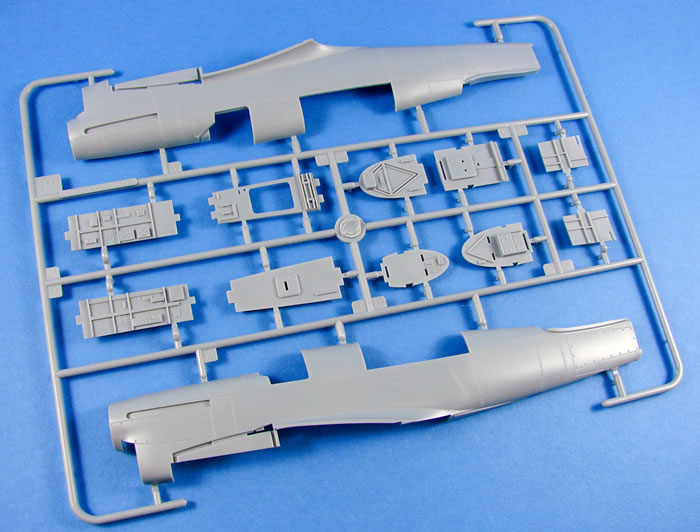 I'm perhaps a little disappointed at the apparent simplicity of the cockpit itself, especially in comparison with the AZ Models resin parts, and even the Special Hobby releases.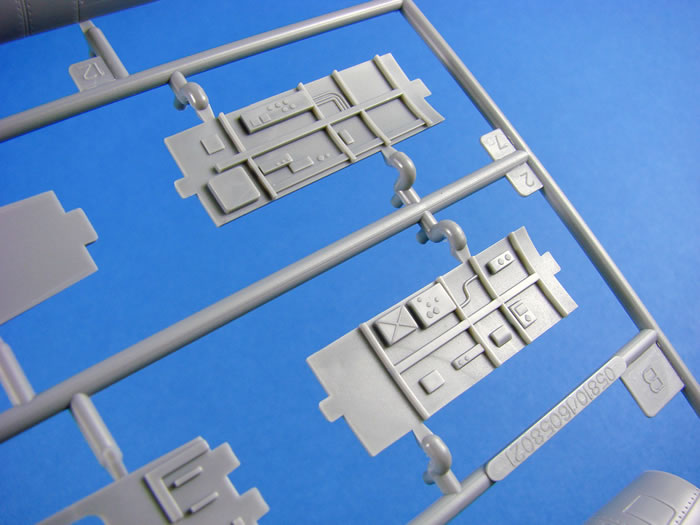 Checked against reference, Trumpeter has created quite a rudimentary interior which will need to be improved somewhat for it to pass muster. Simple side wall and bulkhead details are included, such as formers and stringers, plus wiring and avionics, but they all look rather sparse. I know Eduard will be releasing some sets for this kit, so I'm hoping that they manage to create some visually interesting stuff in this area.
---
Sprue C
As well as the rather plain cockpit seats, we have the instrument panel with details which I think could be made to look really good when complete, such as the nicely recessed instruments with no gauge detail.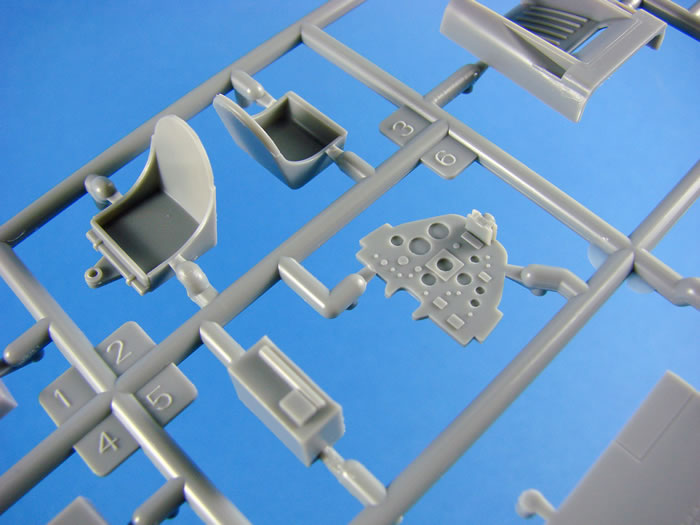 There is an instrument panel decal for this, but I suggest ditching that in favour of aftermarket. I highly recommend Airscale instrument and placard decals for this sort of work.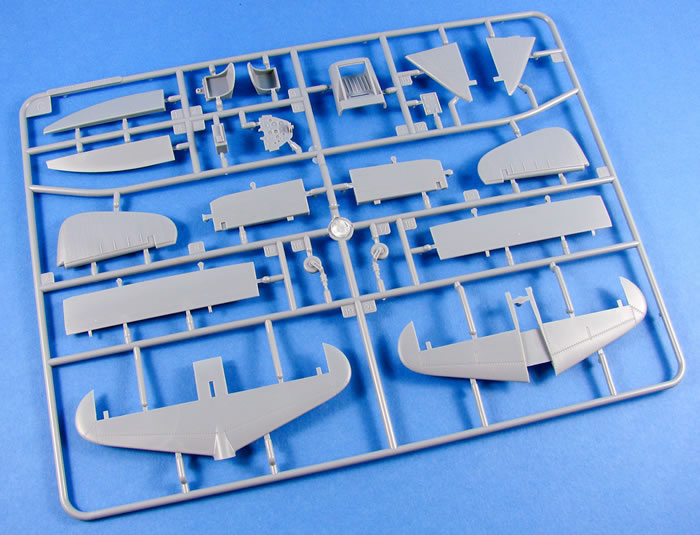 The stabiliser is provided as a full-span upper and lower panel into which the rear fuselage will nicely recess. Elevators are also separate and fitted via tabs, although it will be easy to modify these to be fitted dynamically. A two-part rudder is included, with panel line and rivet detail, but I'm pretty sure these were fabric covered on at least the Mk.1. I stand to be corrected.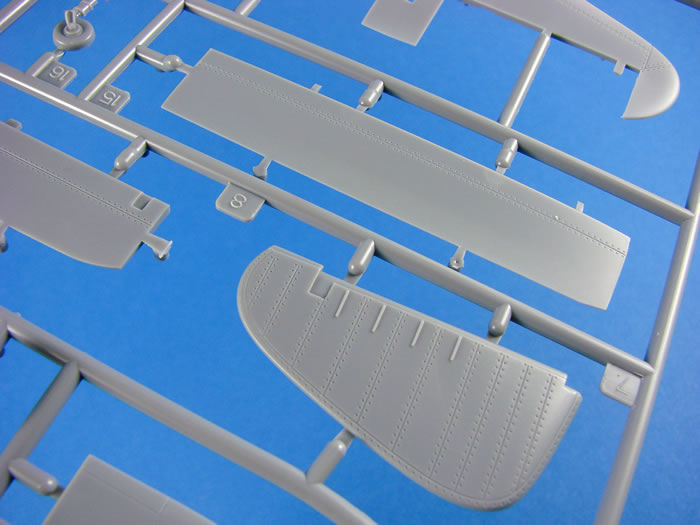 Other parts on here include the port and starboard landing flaps (with no interior detail, as is correct), nose intake and integral channel, vertical fin and tail wheel/strut, moulded as halves.
---
Sprue D
I'm quite surprised that Trumpeter chose to mould their wheel bays in this fashion.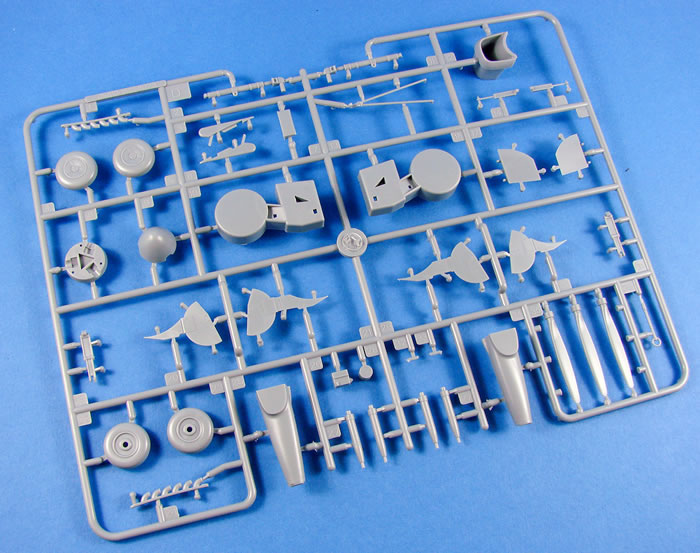 They have moulded the wheel recesses as drum shaped sections that don't extend too much beyond their openings. These areas had straight-edged walls that formed a box which had two corners clipped, so I'm struggling to see why Trumpeter did this. Gear bay doors look good, but again, the details seem very, very simplified with missing elements.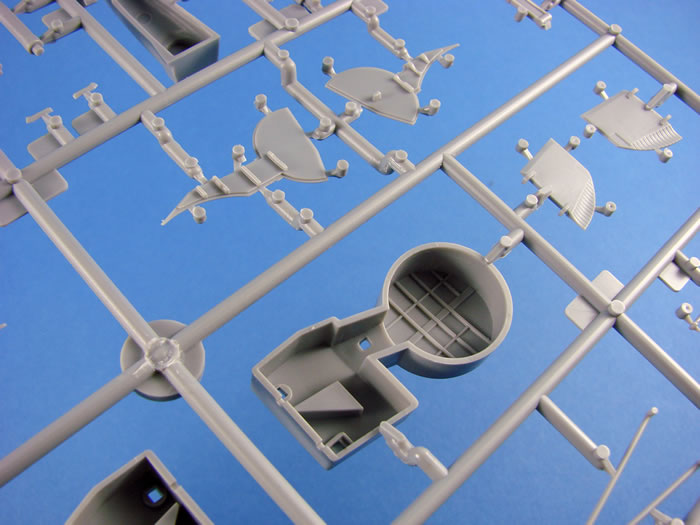 The wheels don't look particularly weighted in appearance. Outer hubs are, to be honest, a comedy parody of the real four-spoked appearance. The undercarriage legs look good, with sharp detail, but again are very simplified in comparison with the real thing.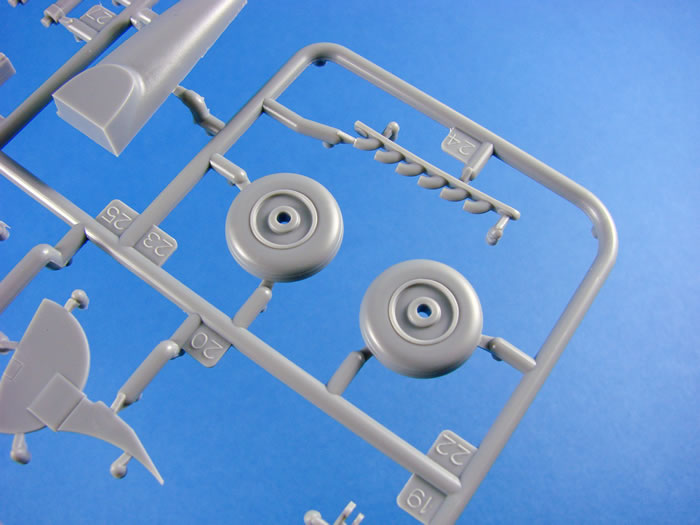 Side cheek intake channels are moulded here, separate to the actual engine cowl, and you'll also notice the two-part spinner with separate prop blades. Exhaust stubs aren't hollow, and the shapes look all wrong and lack the droop effect of each stub.
---
Sprue E
Two things I like about Trumpeter clear parts is that they are almost always bright in appearance and perfectly transparent. Ok, a third…the framing lines are also nicely defined. I really can't criticise anything here.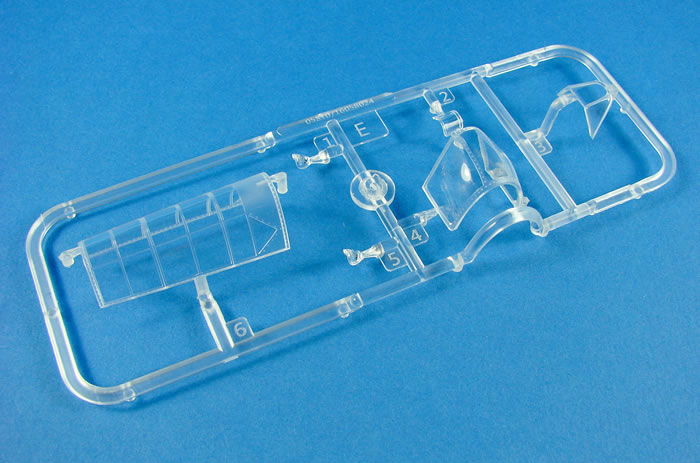 A major point here is that the canopies aren't designed to be posed in the open position, but if that cockpit isn't your main raison d'être for this model, then a closed hood could be a good compromise.
---
Sprue F (x2)
These sprues concern the external payload of the Firefly and include parts to build two bombs along with their pylons, and also a set of eight rockets that are pre-moulded to their respective pylons.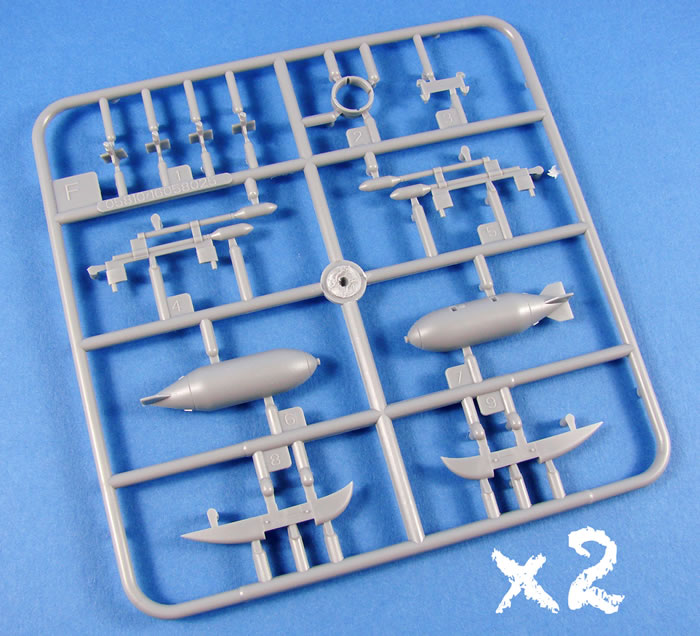 The latter has separate fin parts, although a little clunky in appearance.
---
Photo Etch
A single PE fret is included, with just three parts.
These are for the intake and radiator areas and the aerial mast. Quality is good, with small tags holding everything in place.
---
Decals
I think these are a locally printed solution as there isn't anything with any printer name to see. A large, single sheet contains the markings for four machines, including the black and white stripes for the wings and fuselage on one machine. No stencils are supplied.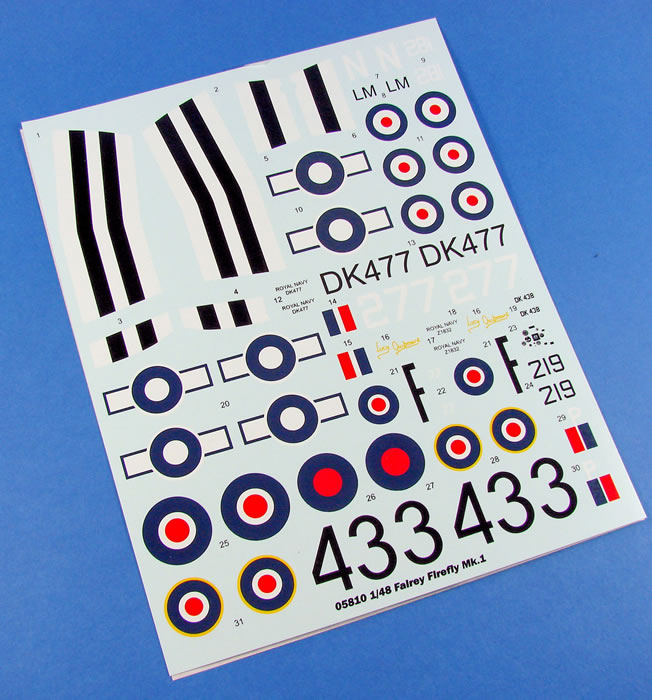 Printing is glossy, thin and with minimal carrier film. Registration also seems good to my eye. The four schemes offered in this release are:
Firefly FR.1, FAA 766 Sqn. DK477, RNAS Lossiemouth, 1949

Firefly Mk.1, 827 NAS FAA

Firefly Mk.1, July 1943

Firefly Mk.1, DK438, 1771 Sqn. HMS Implacable, 1945
---
Instruction Manual
The manual shows the construction of the Firefly over 14 simple, unambiguous stages, with clear line drawing illustrations. Colour reference is supplied in Gunze colour codes, and PE placement is obvious. A parts map is also included.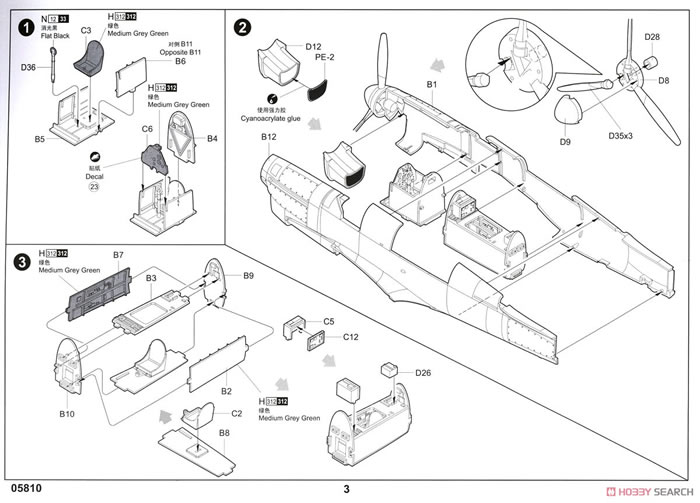 A colour sheet is included, highlighting the four schemes, with good scheme depiction and paint call-outs, plus decal placement. Other paint codes are supplied for Vallejo, Model Master, Tamiya and Humbrol.
This is pretty much a mixed bag, especially for a new-tool kit. Whilst I quite like the exterior (to which I would add extra riveting), the interior is somewhat lacking, and many details are also too simplified. I don't know if Trumpeter actually ever saw a Firefly before tooling this kit, or even bothered to Google a few images. Such a shame really, but I'm sure the aftermarket boys will be able to fix the wheels and interior, and maybe even the wheel wells, and help us to create something that's actually rather nice. It's a nice base from which to work if you want to put the extra effort in without seeking out the AZ Models release. For me, I'd quite like the resin of the AZ kit and to graft it in here. I usually like to be able to point out issues in a review and then to come up with solutions, but for many things here, I'm afraid that I'm at a loss.
My sincere thanks to Pocketbond for sending this kit out for review here on Hyperscale. To buy this kit, check out your favourite local or online retailer.
Thanks to Pocketbond UK for the sample
---

Review Text & Images Copyright © 2018 by James Hatch
Page Created 15 June, 2018
Last updated 15 June, 2018
Back to HyperScale Main Page
Back to Reviews Page