Beechcraft T-34A Mentor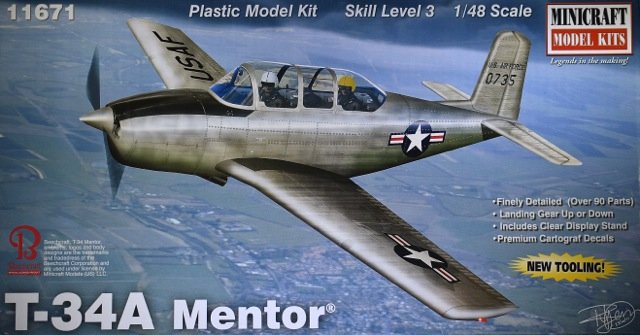 Minicraft, 1/48 scale
S u m m a r y :

Catalogue Number:

Minicraft Kit No. 11671 – Beechcraft T-34A Mentor

Scale:

1/48

Contents & Media

52 parts in grey styrene, 8 clear parts, and one decal sheet with markings for 2 airframes.

Price:

£37.49 Plus Shipping at Hannants

$43.97 Plus Shipping at Hobby Link Japan

$27.00 Plus Shipping at Roll Models

Click here for currency conversion

Review Type:

First Look.

Advantages:

The kit has nicely recessed surface details and panel lines. A nicely detailed cockpit is provided along with the option of a 2- or 3-blade propeller. With the low parts count and conventional engineering this should be a straightforward build.

Disadvantages:

Outscribed rivets on the sides of the fuselage and horizontal stabilizers seem too large and pronounced. Some parts have flash and will have to be re-worked during assembly. The canopy parts are clear and well molded although the rear canopy section in my example has a slight distortion. No airframe stencil data is included on the decal sheet.

Conclusion:

This is a nice kit that I suspect will come together quickly with little fuss. The cockpit parts are well molded and will look great under that large tandem canopy. Although the rivets on the fuselage sides are reproduced very accurately, they are too pronounced in my opinion. Luckily, this is easily dealt with if you're so inclined.

Reviewed by John Miller

Special Hobby's Mirage F.1B/BE is available online from Squadron.com
The Beechcraft T-34 is an American propeller-driven, single-engined, military training aircraft derived from the Beechcraft Model 3 Bonanza. Early versions of the T-34 (late 1940's to the early 50's) were piston-engined. These were eventually succeeded by the upgraded T-34C Turbo-Mentor, powered by a turboprop engine. The T-34 still remains in service more than six decades after it was first designed.
The T-34 Mentor was the brainchild of Walter Beech, who developed it as the Beechcraft Model 45 private venture at a time when there was no defense budget for a new trainer. Beech hoped to sell it as an economical alternative to the North American T-6/SNJ Texan, then in use by all services of the U.S. military.
Three initial design concepts were developed for the Model 45, including one with the Bonanza's signature V-tail, but the final design that emerged in 1948 incorporated conventional control surfaces for the benefit of the more conservative military. The Bonanza's four-passenger fuselage was replaced with a narrower design incorporating a two-seat, tandem cockpit and bubble canopy, which provided greater visibility for both the trainee pilot and flight instructor. Structurally, the Model 45 was much stronger than the Bonanza, being designed for +10g and −4.5g, while the 185hp Continental E-185 engine of 185 horsepower at takeoff (less than a third of the power of the T-6's engine) was the same as that fitted to contemporary Bonanzas.

Following the prototype were three Model A45T aircraft, the first two with the same engine as the prototype and the third with a Continental E-225, which would prove to be close to the production version. Production did not begin until 1953, when Beechcraft began delivering T-34As to the United States Air Force (USAF) and similar Model B45 aircraft for export. Production of the T-34B for the United States Navy (USN) began in 1955, this version featuring a number of changes reflecting the different requirements of the two services. The T-34B had only differential braking for steering control on the ground instead of nosewheel steering, additional wing dihedral and, to cater for the different heights of pilots, adjustable rudder pedals instead of the moveable seats of the T-34A. T-34A production was completed in 1956, with T-34Bs being built until October 1957 and licensed B45 versions built in Canada (125 manufactured by Canadian Car and Foundry), Japan (173 built by Fuji Heavy Industries), and Argentina (75 by FMA) until 1958. Beechcraft delivered the last Model B45s in 1959. Production of Continental-engined versions of the T-34 in the US and abroad totaled 1,904 aircraft.
After a production hiatus of almost 15 years, the T-34C Turbo-Mentor powered by a Pratt & Whitney Canada PT6A-25 turboprop engine was developed in 1973. Development proceeded at the behest of the USN, which supplied two T-34Bs for conversion. After being re-engined with the PT6, the two aircraft were re-designated YT-34C's. The first of these flew with turboprop power for the first time on September 21st, 1973. Mentor production restarted in 1975 for deliveries of T-34Cs to the USN and of the T-34C-1 armed version for export customers in 1977. The T-34C-1 featured four underwing hardpoints. The last Turbo-Mentor rolled off the production line in 1990.
Since the late 1970s, T-34Cs have been used by the Naval Air Training Command to train numerous Naval Aviators and Naval Flight Officers for the U.S. Navy, U.S. Marine Corps, U.S. Coast Guard, and numerous NATO and Allied nations. After more than 35 years of service, the T-34C has been replaced by the T-6 Texan II.
---
Operational History - US Air Force and Civil Air Patrol
The first flight of the Model 45 occurred on December 2nd, 1948, by Beechcraft test pilot Vern Carstens. In 1950, the USAF ordered three Model A45T test aircraft, which were given the military designation YT-34. After extensive testing, the USAF ordered the Mentor into production as the T-34A in early 1953. The first production T-34A was delivered to Edwards Air Force Base, in October of the same year for evaluation, and deliveries to the Air Training Command (ATC) began in 1954. The USN followed in May 1955 by putting the T-34B into service.
The T-34A served as the USAF's initial primary flight trainer at "contract" pilot training air bases across the southern United States; replacing the North American AT-6 Texan trainers. Following training in the T-34A, USAF pilot trainees advanced to the North American T-28A Trojan for intermediate training.
The T-34A Mentor remained the standard USAF primary trainer until the introduction of the Cessna T-37 Tweet jet trainer in the late 1950s, which replaced both the T-34A and T-28A. This also coincided with ATC's implementation of the Undergraduate Pilot Training (UPT) syllabus at various air force bases in the United States under ATC claimancy and phase-out and closure of the contract pilot training air bases. As they were replaced by T-37s, many T-34As were turned over to USAF aero clubs at Air Force bases in the United States and USAF air bases overseas. In all, the USAF acquired 450 T-34As.
In the early 1960's the U.S. Air Force replaced the last of their T-34As T-41 Mescalero's and the T-37 Tweet primary jet trainers in UPT. Those T-34As not allocated to USAF aero clubs or marked for foreign military sales or transfers were turned over to the USAF Auxiliary, the Civil Air Patrol, for use as search aircraft. However, the T-34A's low wing limited its utility in an aerial search and rescue role, and maintenance issues, particularly expensive wing spar repairs that became apparent in the late 1990s, resulted in the last of the former USAF T-34As being withdrawn from CAP service by 2003.
---
U.S. Navy and U.S. Marine Corps.
The U.S. Navy kept the T-34B operational as a Naval Air Training Command initial primary trainer at the former Naval Air Station Saufley Field, Florida until the mid-1970s and as a Navy Recruiting Command aircraft until the early 1990s when the last examples were retired for economical reasons. Others continue to remain under U.S. Navy control as part of flying clubs at Naval Air Stations and Marine Corps Air Stations.
Beginning in 1975, the turbine-powered T-34C Turbomentor was introduced as the Navy's new primary flight trainer for Student Naval Aviators, and began replacing the North American T-28 Trojan with training air wings at NAS Whiting Field, Florida and NAS Corpus Christi, Texas. In the mid-1980s, it also commenced service as a basic trainer for Student Naval Flight Officers at NAS Pensacola, Florida
The T-34C is no longer used as a primary training aircraft for U.S. Navy, U.S. Marine Corps and U.S. Coast Guard Student Naval Aviators and various NATO/Allied/Coalition student pilots training under U.S. Navy auspices. It has been replaced by the T-6 Texan II.
Several T-34Cs remain in service with the Naval Air Test Center at NAS Patuxent River, Maryland and as aerial spotter aircraft with F/A-18 Fleet Replacement Squadrons (FRS) and Strike Fighter Weapons and Tactics Schools at NAS Oceana, Virginia; NAS Lemoore, California; and MCAS Miramar, California; and the Naval Strike and Air Warfare Center (NSAWC) at NAS Fallon, Nevada.
---
T-34 Variants
YT-34 - Prototype, three built.

T-34A - US Air Force trainer. Replaced by the Cessna T-37 around 1960 (450 built).

T-34B - US Navy trainer. Used as a trainer until 1976, when VT-1 and VT-5 were decommissioned. It was replaced by the T-34C (423 built by Beechcraft). T-34Bs were flown by pilots assigned to the Navy Recruiting Command until the mid-1990.

YT-34C - Two T-34Bs were fitted with turboprop engines, and were used as T-34C prototypes.

T-34C Turbo-Mentor - Two-seat primary trainer, fitted with a turboprop engine.

T-34C-1 - Equipped with hardpoints for training or light attack, able to carry 1,200 lb (540 kg) of weapons on four underwing pylons. The armament could include flares, incendiary bombs, rocket or gun pods and antitank missiles. Widely exported.

Turbo-Mentor 34C - Civilian version

Allison Turbine Mentor - Conversion of surplus T-34 Mentors to be powered by Allison Model 250 turboprop engines.
---
General characteristics
Crew: Two
Length: 28 ft 8½ in (8.75 m)
Wingspan: 33 ft 3? in (10.16 m)
Height: 9 ft 7 in (2.92 m)
Wing area: 179.6 ft² (16.69 m²)
Empty weight: 2,960 lb (1,342 kg)
Max. take-off weight: 4,300 lb (1,950 kg) (T-34C-1 weapons trainer – 5,500 lb (2,494 kg))
Powerplant: 1 × Pratt & Whitney Canada PT6A-25 turboprop, 715 shp (533 kW) (de-rated to 400 shp (298 kW))
---
Performance
Never exceed speed: 280 knots (518 km/h, 322 mph) (IAS)
Cruise speed: 214 knot (396 km/h, 246 mph) max cruise at 17,000 ft (5,180 m)
Stall speed: 53 knots (98 km/h, 61 mph) flaps down, power off
Range: 708 Nautical miles (1,311 km, 814 mi) at 180 knots (333 km/h, 207 mph) and 20,000 ft (6,100 m)
Service ceiling: 30,000 ft (9,145 m)
Rate of climb: 1,480 ft/min (7.5 m/s)
G limit:+4.5, -2.3
---
Armament
Hardpoints: 4 with a capacity of 600 lb (272 kg) inner, 300 lb (136 kg) outer, 1,200 lb (544 kg) total
(Edited from Wikipedia)
Having been an airshow junkie for most of my life I've see Julie Clark perform low-level aerobatics in her immaculately maintained T-34 on multiple occasions. She puts on quite a show while demonstrating the beauty and agility of a plane that has always struck me as having that "fun to fly" look. I've not been fortunate enough to fly one but those who have tell me it lives up to expectations.
Having long admired the T-34 I was excited to see this "new tool" Mentor strategically placed right there on the shelf of my local hobby shop, Skyway Models. Well, it had to come home with me and after a good look-over I'm quite satisfied although it's not without it's issues (see below). Prior to this new Minicaft kit the best bet for a good available T-34 in 1/48 scale was the Czech Models kit one of which sits in my stash. I suspect this will be an easier build than the Czech kit but may take more elbow grease than the average Tamigawa.
The kit comes in a stout, lidded, cardboard box adorned with artwork of a T-34 in flight. Four individually bagged sprues of grey styrene and one of clear parts comprise the kit.
Most of the parts are nicely molded but there is some flash that will have to be dealt with during assembly: nothing a piece of sand paper and micro-files can't take care of.
The surfaces of all the major parts except the wings feature both recessed and raised details that in some areas look quite convincing. The surface details on the upper and lower wings are predominantly inscribed, scale appropriate, and beautifully rendered.
The upper and lower surfaces of the horizontal stabilizers have both in- and out-scribed details and here the rivets seem too pronounced. I suspect a re-working with sanding sticks will remedy this.
Likewise, the rivets running along the sides of the fuselage are both too proud (or high) and too large in diameter.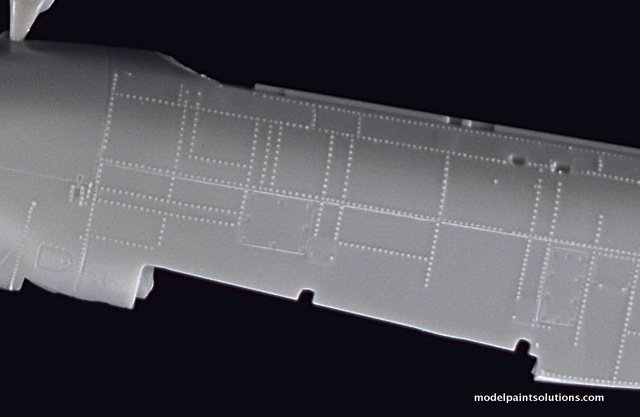 Lines of rather large rivets do indeed appear on the fuselage sides of 1:1 Mentors as can be seen in the accompanying photo of kindly provided by Graeme from Grubby-Fingers Aviation. (Editors Note: His site is worth a visit!).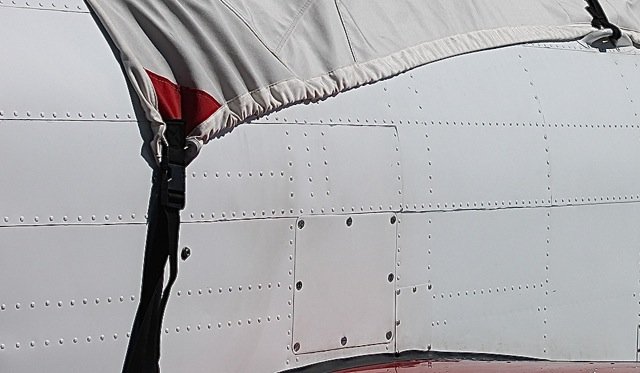 A comparison of the magnified rivet lines on the 1:1 Mentor and those on the 1/48 version shows that Minicraft have done a commendable job reproducing the rivet pattern with exceeding accuracy. Note that the rivet lines surrounding the center access panel (with 8 Zeus fasteners) correlate perfectly with those on the 1:1. That said, the rivets are too pronounced in my opinion but this can be easily addressed by re-working this area with sanding sticks and some buffing.
---
The Build
Construction begins with the cockpit, comprised of a nicely detailed two-seat tub and side panels complete with throttle quadrants. The detail here is very nicely done and will look great under paint and a wash. The instrument panels are nicely molded, as are the 3-piece seats, which come with optional cushions that have seat belts rendered in relief. The addition of detailed trim wheels and control sticks completes the cockpit.
Once the cockpit tub is trapped between the fuselage halves, the nicely molded nose cowl is added and the builder is directed to install 1oz (28g) of nose weight to assure a proper tricycle-gear stance.
A double-spar center section assembly is built next and fitted into the bottom of the fuselage. The upper and lower wing halves assemble onto the center section thereby assuring proper alignment and strength: nice.
The tabbed horizontal stabilizers are assembled from upper and lower halves and have a mixture of in- and out-scribed surface details (described above).
Next is the addition of the exhaust tubes, the 4-piece canopy, and boarding handles on the fuselage sides thereby completing the main assembly.
The canopy parts are nicely molded with crisp framing. The parts have good clarity and do well in the MPS Old Model Catalog Test. Unfortunately, the rear canopy section in my example is slightly distorted. This piece is the only clear part to be affected.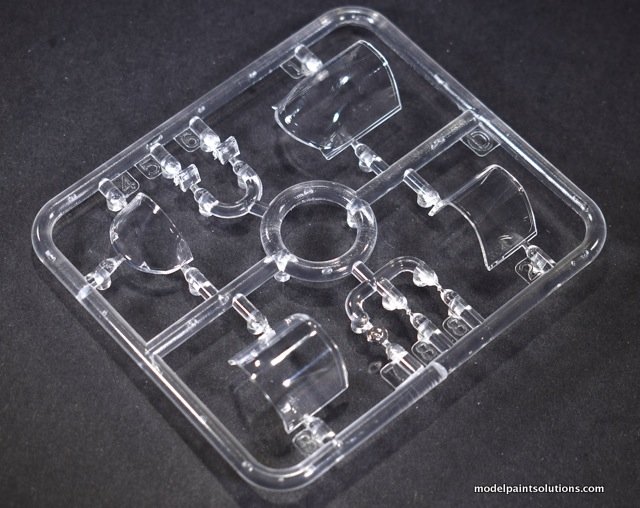 Last in sequence are the nose and main gear assemblies. The two-piece main gear legs are assembled and installed along with the nicely detailed main wheel well doors. The wheel/tires assemble from halves so the resulting seam will have to be dealt with prior to painting.
The nose gear, strut, and oleo are assembled next and installed in the nose gear wheel well followed by the nose wheel/tire, which like the mains, is assembled from halves: seam patrol.
Two types of propeller blades (round and square tips) are provided, as are the appropriate propeller hubs to assemble a 2- or 3-blade prop. This is a very nice inclusion that allows the builder to assemble a military or civilian bird; be sure to check your references.
---
Markings
The decal sheet is printed by Cartograph and shows good register and scale-appropriate color.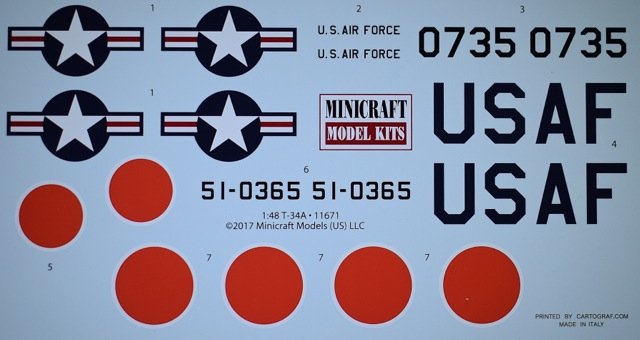 Markings for two airframes: one U.S. the other Japanese. Both are in natural metal with black anti-glare panels and wing walks. Of note, no airframe stencils are provided.
1) YT-34A, USAF, 1950
2) T-34A, Japan, 1957
This is a well-molded kit that will build into a very nice looking model.
The pronounced rivets on the fuselage sides and horizontal stabilizers may be something that doesn't bother you and/or you can learn to live with. Conversely, those with a little motivation and patience can either decrease the height of the rivets with a little sanding and buffing or remove them entirely and re-work the areas with inscribed or embossed rivets. Either way, this model offers a lot of nice detail and straightforward engineering right out of the box.
Considering the popularity of the T-34 I expect there will be a wealth of after market detail parts and decal sheets available in short order so you can dress your T-34 up as you desire. I'm doing Julie Clark's!
For more on this review visit Modelpaintsolutions.com.
Kit purchased by reviewer.
---
Review Text and Images Copyright © 2018 by John Miller
Page Created 5 July , 2018
Last updated 5 July, 2018
Back to HyperScale Main Page
Back to Reviews Page