Yak-23 Flora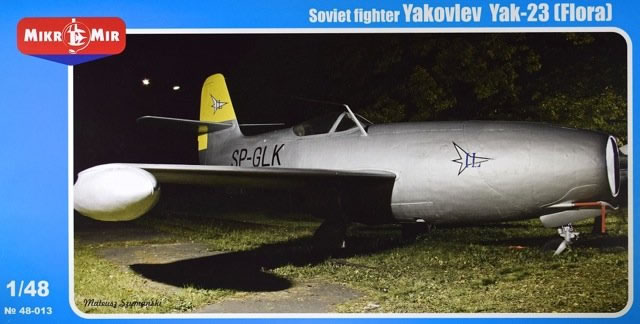 Mikro Mir, 1/48 scale
S u m m a r y :

Catalogue Number:

Mikro Mir Kit No. 48-013 - Yak-23 Flora

Scale:

1/48

Contents & Media

87 parts in grey styrene (not all are used), 2 clear parts, and one decal sheet with markings for 6 airframes.

Price:

£19.99 Plus Shipping from Hannants

$39.50 Plus Shipping from Roll Models

$33.69 Plus Shipping from Hobby Link Japan

Click here for currency conversion

Review Type:

First Look.

Advantages:

The kit has nicely recessed panel lines and surface details with a well-done PE fret and a quality decal sheet with markings for six aircraft.

Disadvantages:

Being a limited-run kit, effort will be required to remove flash and prepare parts for assembly. Some surface details are soft and the canopy is clear but requires buffing to address the surface texture.

Conclusion:

This is a nice kit of a little-known aircraft that's long deserved some attention. The build will require some extra elbow grease but I suspect the result will be worth the effort.

Reviewed by John Miller

Special Hobby's Mirage F.1B/BE is available online from Squadron.com
This is a nice kit of a little-known aircraft that's long deserved some attention. The build will require some extra elbow grease but I suspect the result will be worth the effort.
---
Design and Development
On March 11, 1947, the Council of People's Commissars ordered several design bureaus including that of Alexander Yakovlev, to develop a single-seat, straight-winged jet fighter to be equipped with a single British Rolls-Royce Nene or Rolls-Royce Derwent turbojet engine. The aircraft was to have a maximum speed of 950 kilometers per hour (590 mph) at sea level and a speed of 1,000 km/h (621 mph) at an altitude of 5,000 meters (16,400 ft). Rate of climb was specified to reaching a target altitude in 3.5 minutes or less with a maximum range of no less than 1,200 kilometers (750 mi).
Alexander Yakovlev decided to develop two designs, the Yakovlev Yak-25 in accordance with the Ministry's order and a lightweight, more agile aircraft (the Yak-23) in the hopes that one or the other would win an order from the Ministry. Yakovlev's decision was a risky one as this strategy could have been construed as unauthorized use of state monies: a dangerous accusation with dire consequences at that time.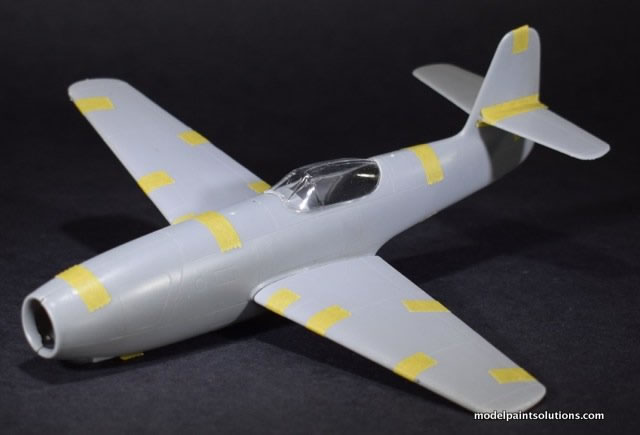 To minimize the risk, the new aircraft used the same "pod-and-boom" layout as the earlier Yak-17 fighter, but the metal fuselage was redesigned as a semi-monocoque structure with the single-seat, unpressurized cockpit and its teardrop-shaped canopy positioned just above the trailing edge of the wing. Not coincidentally, this was also above the exhaust of the 1,590-kilogram-force (15.6 kN; 3,500 lbf) centrifugal-flow Klimov RD-500 engine, an unlicensed copy of the British Derwent V.
The Flora was fitted with tricycle landing gear with the main's retracting inward into the fuselage while the nose gear retracted forwards. Unlike the installation in the Yak-17, the Yak-23's forward landing gear was flush with the fuselage when retracted. The laminar flow two-spar wing utilized slotted flaps and was mounted in the middle of the fuselage with a modest 3° 30' of dihedral. The horizontal stabilizers had 5° of dihedral.
The Yak-23 was equipped with five non-self-sealing fuel tanks in the fuselage with total capacity of 910 liters (200 imp gal; 240 U.S. gal). It could also carry a pair of 195-liter (43 imp gal; 52 U.S. gal) drop tanks under the wingtips. The Flora was armed with two 23-millimeter (0.9 in) Nudelman-Rikhter NR-23 auto-cannon, each with 90 rounds. Pilot protection included a bulletproof windscreen and armor in the back of the ejection seat.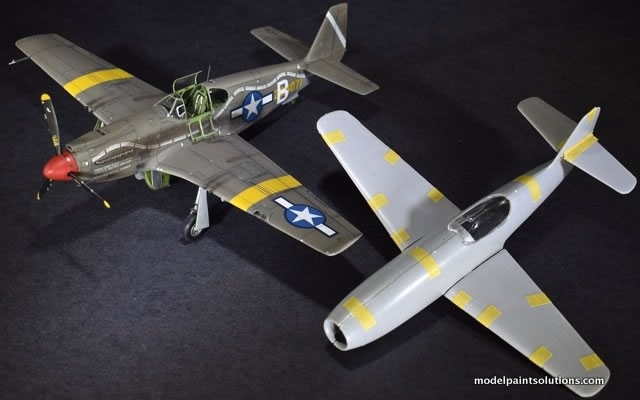 Two prototypes and a static-test airframe were ordered. The prototype Flora flew for the first time on July 8th, 1947 with Hero of the Soviet Union, Lieutenant Colonel Mikhail Ivanov, at the controls. While still being flight tested, the first prototype participated in a flypast at Tushino Airfield on August 3rd of the same year.

The Yakovlev OKB concluded it's testing on September 24th, 1947 and turned over the second prototype for state acceptance trials on October 22nd. Although the Yak-23 was accepted for series production, it was criticized for having heavy aileron and rudder forces, lack of cockpit pressurization, inadequate heating and ventilation, insufficient protection for the pilot, and weak armament. The test pilots did praise it as highly maneuverable with good acceleration and takeoff and climb capabilities thanks to a high thrust-to-weight ratio. The second prototype was modified so as to address some of these issues and was successfully tested in 1948.
---
Operational History
The first aircraft were produced in the Tbilisi-based factory in October 1949. They type entered Soviet Air Force service at the end of the same year. The Yak-23 was quickly replaced in the Soviet service with the superior swept-wing MiG-15. In all, only 316 Yak-23 aircraft were built before production ended in 1951. In addition to the fighter variant, two trainer versions (Yak-23UTI) were built in small numbers and had the unusual arrangement of having the instructor seated in front of the student. In addition the Yak-23DC trainer was also produced in Romania.
Small numbers of Yak-23s were exported to Czechoslovakia (20 from 1949) where it was renamed the S-101, Bulgaria (from 1949), Poland (about 100, from 1950), and Romania (62, from 1951).
Poland and Czechoslovakia acquired licenses to build the Yak-23 but built the superior MiG-15 instead. Yak-23s were withdrawn by the late 1950s, except in Romania, which used them for another decade.
---
US Testing
A single Yak-23 was acquired by US intelligence, via Yugoslavia, in November 1953. It was a Romanian Yak-23 flown by defector Mihail Diaconu. The aircraft arrived disassembled and was shipped to the Air Force Test and Evaluation Center at Wright Field near Dayton, Ohio. It was reassembled and made operational for several test flights during which time it was painted with U.S. markings. Efforts were made to keep the aircraft's identity secret so it was flown only in the early morning. On one occasion it was passed on the runway by a formation of F-86's, whose pilots inquired as to the plane's identity. A story was conceived that the aircraft was a Bell X-5, which had a similar layout. At the completion of design and flight evaluations the aircraft was again disassembled and shipped quietly back to Yugoslavia in its original paint scheme.
---
Records
On September 21, 1957, Polish pilot Andrzej Ab?amowicz set two FAI world records in the Yak-23 wearing civilian markings SP-GLK, climbing to 3,000 m (9,843 ft) in 119 seconds (4,962.6 ft/min) and to 6,000 m (19,685 ft) in 197 seconds (5,995.4 ft/min). This plane was withdrawn in 1961.
---
Variants
Yak-23: Fighter version, serial built.
Yak-23UTI: Two-seat training version with longer fuselage and lighter armament, three built.
Yak-23DC: Romanian-built two-seat training version. Four Yak-23 single-seaters were converted in 1956 by ASAM Pipera, two of them belonging to the Bulgarian AF.
S-101: Czech designation.
(Edited from Wikipedia)
The first few moments of my weekly visit to Skyway Models were going really well. I'd not seen anything that peaked my interest and was preparing to leave quickly before I did. It was at this moment that the evil proprietor of Skyway, wearing the expression of a wolf sizing up a lame lamb, slowly slid a box across the counter at me. A 1/48 Flora! I was a modeler in the headlights. Well, you know the rest.
I've long had an interest in the first generation of jet aircraft and no plane exemplifies this period of aviation history better than the Yakovlev Yak-23 Flora. This is a new mold kit by relative newcomer Mikro Mir that has some very nice details and extras right out of the box. That said the kit is quintessential limited-run technology so extra effort will be required to achieve a clean build but the result will be a head-turner.
---
In the Box
The kit arrives in a lidded box with a somewhat flimsy top. A picture of a Polish Yak-28 (SP-GLK) with it's gear half sunk into soft turf adorns the lid. This aircraft with yellow vertical stabilizer/rudder and white tip tanks is one of the airframes covered on the kit's decal sheet: nice.
The grey styrene parts have recessed panel lines and nicely rendered surface details. The depth of the panel lines is scale appropriate if not a bit uneven in some places. There is a fair amount of flash on most of the parts that will have to be removed. The finer details are, for the most part crisp although a few parts are soft in execution. This is definitely a limited-run kit and will require more effort (and I suspect patience) to get the most of what's in the box.
Construction begins with a very nicely detailed British Derwent engine that, with some detailing, could be a model by itself. It's unfortunate that the engine is largely covered in the assembled model.
The rest of the model follows a conventional layout and building sequence with the fuselage halves trapping the engine and cockpit assemblies.
Cockpit details include side panels, PE belts, and the option of a nicely detailed styrene instrument panel or a combination PE panel with clear film instrument faces: nice.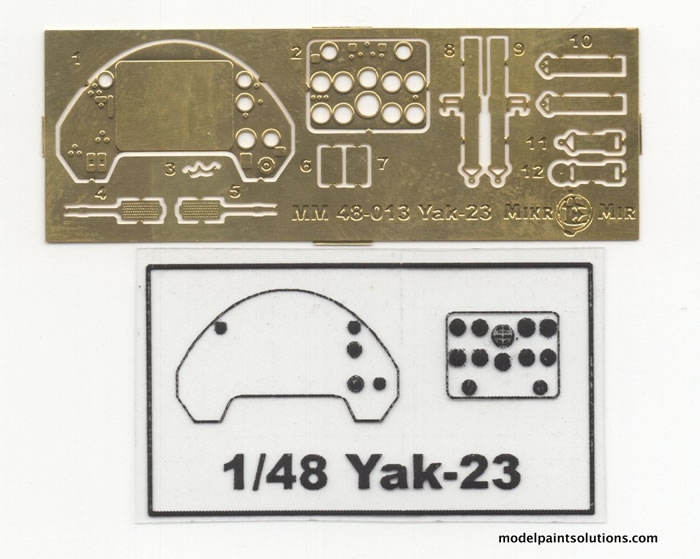 Although not mentioned in the instructions, weight will have to be added to the nose to assure that the completed model has the proper stance. Since the nose is occupied by the intake splitter plate and engine, placing a sufficient amount of weight in this area may be a challenge.
With the fuselage buttoned up the wings are assembled from upper and lower halves and are held in place on the fuselage by I-shaped pins. Addition of the single-piece horizontal stabilizers, tip tanks, and engine exhaust fairing largely completes the airframe assembly.
The landing gear parts are nicely molded but will require clean up prior to use. Similarly, the nose and main gear wheel well covers are bit thick but will look fine after a little clean up with files and sanding sticks.
The canopy is a bit thick but has good clarity. That said the clear plastic has a slight texture to it that may require a little buffing with plastic polish and micromesh.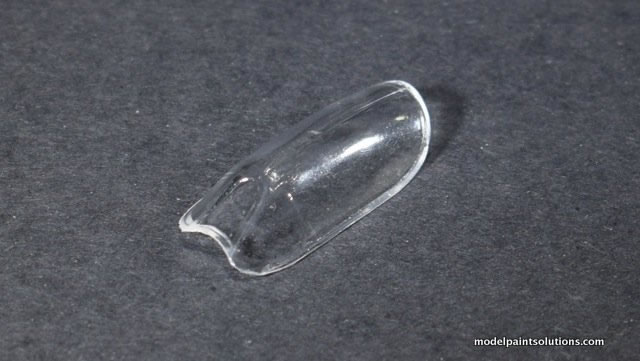 The canopy frames are scale appropriate if not a little soft. To facilitate painting, the kit includes white vinyl canopy masks.
---
Markings
The very nice decal sheet, printed by Mikro Mir, has excellent registration and color density. Of note the carrier film is very thin suggesting the decals will snug down nicely.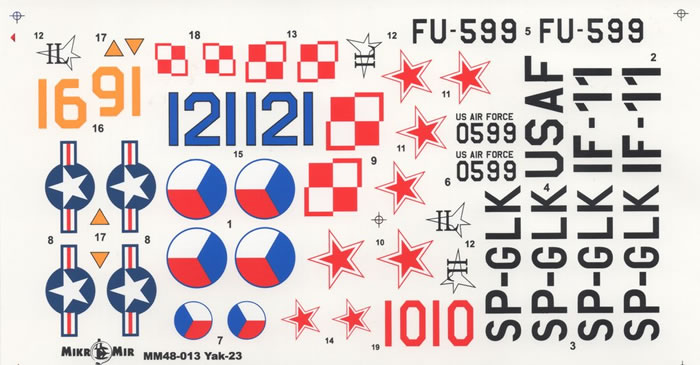 Markings for six airframes are provided all of which wore a natural metal finish.
USSR Air Force, 1949. Aircraft had Russian stars with the tip of the vertical stabilizer painted red and a red "01" on the nose.

Czechoslovak Air Force, 1955. Aircraft had Czech roundels and "IF-11" in large black letters on nose.

Polish Aviation Institute, 1956 (featured on bow top). Aircraft had a yellow vertical stabilizer/rudder with "SP-GLK" in large black letters on the fuselage sides.

Polish Air Force, 2nd Fighter Regiment, 1952. Aircraft had Polish red/white checkerboard insignia with "121" in large dark blue letters on nose.

USAF Markings, Wright-Patterson AFB, November 4th, 1953. Aircraft had US Stars and Bars on fuselage sides and wings with "FU-599" in black on rear fuselage.

Polish Air Force, 1955. Aircraft had Polish red/white checkerboard insignia with a yellow "16" on the nose with yellow trim on vertical stabilizer.
This is a not a kit that's going to drop together. Far from it. Most parts will require a little clean up and reworking prior to use. That said most of the inscribed details are very well done with many of the smaller parts exhibit pretty crisp molding. As with any limited run kit there will be a lot of test fitting and re-working of most parts to assure proper fit. Once done, the resulting model will be a rarity and sure to turn a few heads at the next model club meeting. Highly recommended to those with a little experience with limited-run kits.
For more on this review visit Modelpaintsolutions.com.
Kit purchased by reviewer (because I have no will power).
---
Review Text and Images Copyright © 2018 by John Miller
Page Created 18 May, 2018
Last updated 18 July, 2018
Back to HyperScale Main Page
Back to Reviews Page