Yokosuka D4Y2 Type 12 Suisei "Judy"
F-Toys, 1/72 scale
S u m m a r y :

Catalogue Number:

F-Toys Kit No. 603279 - Yokosuka D4Y2 Type 12 Suisei "Judy"

Scale:

1/72

Contents & Media:

70 in green styrene (some pre-painted), three clear parts, one decal sheet with markings for three airframes.

Price:

Review Type:

First Look

Advantages:

Major components (fuselage/wing) are pre-painted, as are many detail parts. This will be a quick build that results in a surprisingly detailed model.

Disadvantages:

Dealing with the inevitable paint touch-ups and extra work required for this type of build might not be everyone's cup of tea.

Conclusion:

With a pretty small parts count and the majority of the components pre-painted, this will be a fast and near effortless build. The result will be a surprisingly detailed model of a historically significant aircraft.

Reviewed by Jim Bates


Kitty Hawk's 1/32 scale OS2U Kingfisher will be available online from Squadron.com

The Yokosuka D4Y Suisei "Comet" was a carrier borne dive-bomber operated by the Imperial Japanese Navy during WWII. Its Allied reporting name was "Judy". The D4Y was one of the fastest dive bombers of the war but suffered developmental delays that hindered its introduction into service requiring that it's predecessor, the slower fixed-gear Aichi D3A, remained in service much longer than intended. Despite limited use, the speed and the range of the D4Y were nevertheless valuable, and the type was used with success as reconnaissance aircraft as well as for kamikaze missions.
(Edited from Wikipedia)
I admit it; I have a Japanese modeling fetish. While I'm known as a hard core Canadian modeler, I am strangely attracted to Japanese kits, modeling supplies, and Japanese aircraft of WWII.
With this in mind, it isn't surprising that I've sampled a few of the "Gashapon" kits. Gashapon appears to have two definitions. One means toys sold in capsules from vending machines, which are quite common in Japan. The second is the topic of this review: collectables sold in blind boxes that are apparently for trading.
The Gashapon kits of the past were most often in 1/144 or "egg" scales and pre-painted. Some were assembled and some were sold as kits with decals. Several years ago, a Sea Fury and Lancaster, both in 1/144, somehow found their way into my model collection for future use. However, when I heard that F-Toys had issued a Kugisho Judy in 1/72, I just had to acquire one.
The Judy has been previously kitted three times in 1/72. First were two LS kits in the early 1960s, which depicted the radial engined D4Y3 and the inline D4Y2. The kits had recessed panel lines but were quite simple otherwise and lacking in detail. In the early 1980s, Fujimi issued a series of Judy's which - while still lacking detail, especially in the interior – represented a huge improvement on the LS kits. Finally, a few years ago, AZ Models issued a family of short run style Judys that look quite nice but being limited run I suspect they might be a bit of a challenge.
---
In the Box
Arriving in a deceptively small box, the F-Toys inline engined Judy is packaged with four sprue, canopy sections, fuselage, engine, and wings--all in a clear vacu-form tray. All parts are pre-painted on the sprue.
I know this last statement will immediately cause serious modelers to roll their eyes and stop reading. For those of us who still retain some essence of our inner child (or are just plain lazy), a rather interesting kit is contained within.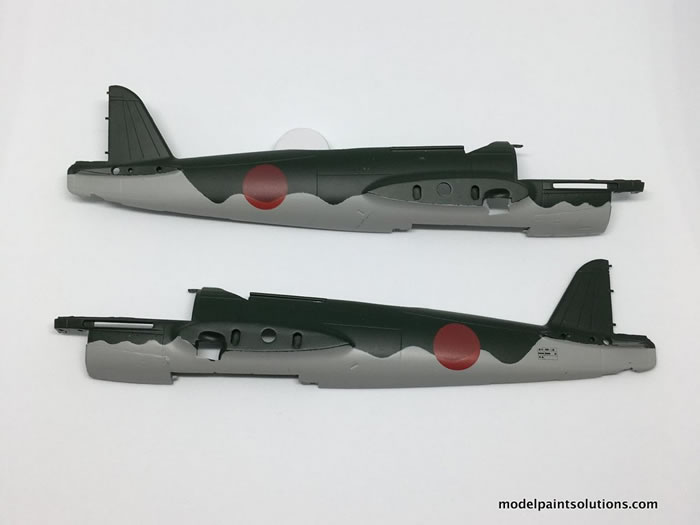 The fuselage and wings come snapped together and have to be separated in order to assemble the cockpit and landing gear. The surface detail is all recessed and panel lines are similar to those in recent Airfix kits.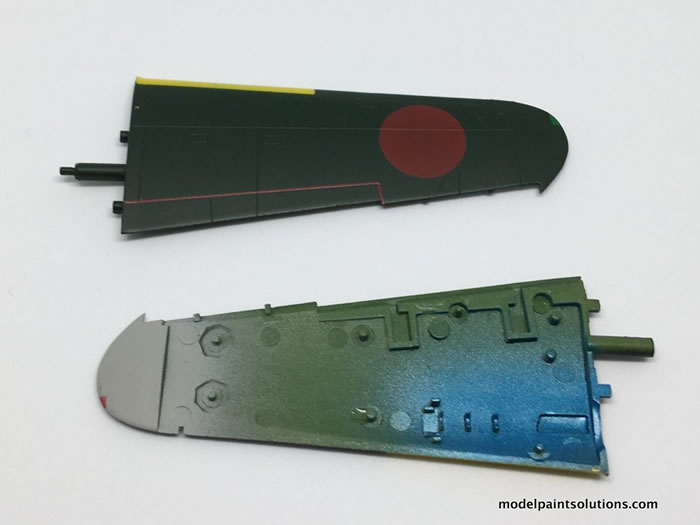 Quite a bit of detail is molded inside the fuselage halves and it is all pre-painted. To this a floor, seats, panels, guns, and other assorted items are added. Certain parts would benefit from some additional paint and some weathering would help accentuate the detail. Of course, seatbelts are missing. But out of the box this is the most detailed Judy cockpit in 1/72. A well-detailed (six piece) engine can be mounted on the engine bearers and displayed under the removable cowling piece.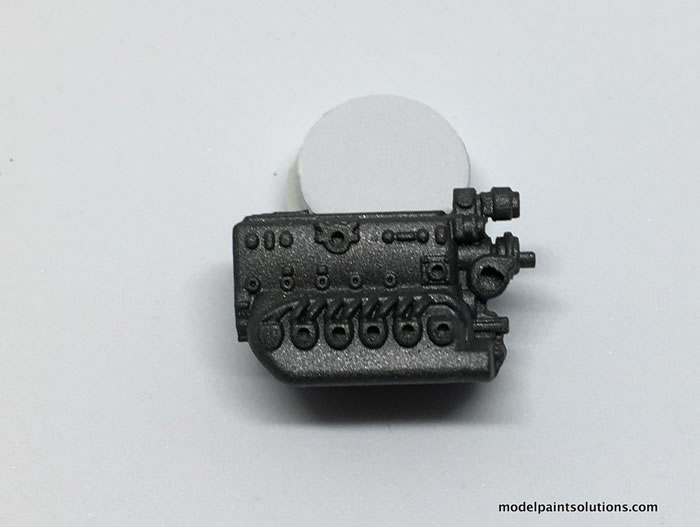 One area in which simplification is obvious is the bomb and crutch. The bomb is made to extend and retract, so it looks like something out of a 1950's kit. My solution is to leave the bomb doors closed. The landing gear are designed to retract and all flying surfaces are separate, but, if needed, these can easily be glued fixed.
So about the pre-painting…
Most of the paintwork is well done, outside of the silver/aluminum items, which have quite the grain. The Hinomarus on the fuselage will need to be re-painted, as the transition of the green to grey is obvious. But really, the problem is how well will the fuselage halves go together and how will the modeler touch up the inevitable seams. This remains to be determined. A few flaws exist in the fuselage and wings, which many modelers would want to buff out. Maybe a clear flat or semi-gloss clear coat would help?
The clear parts are a tad thick with some rather large mounting points but have painted frames. While not perfect, they are about equal to what the author can accomplish without a masking set.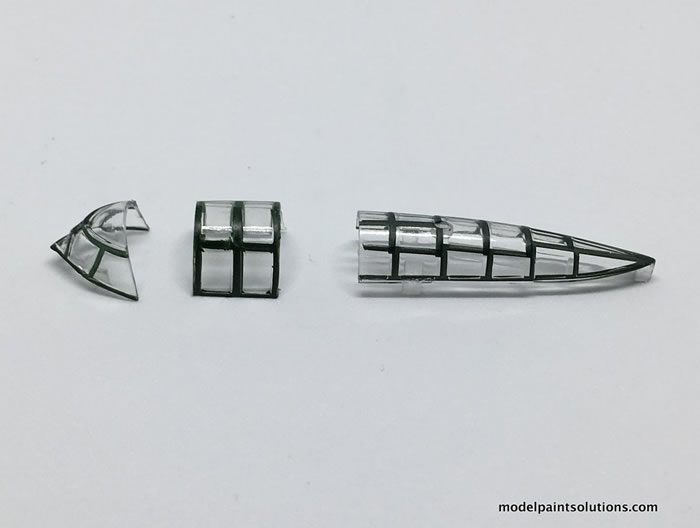 The rather pedestrian decal sheet has three options, but not enough Hinomarus to correct the issues with the fuselage insignia.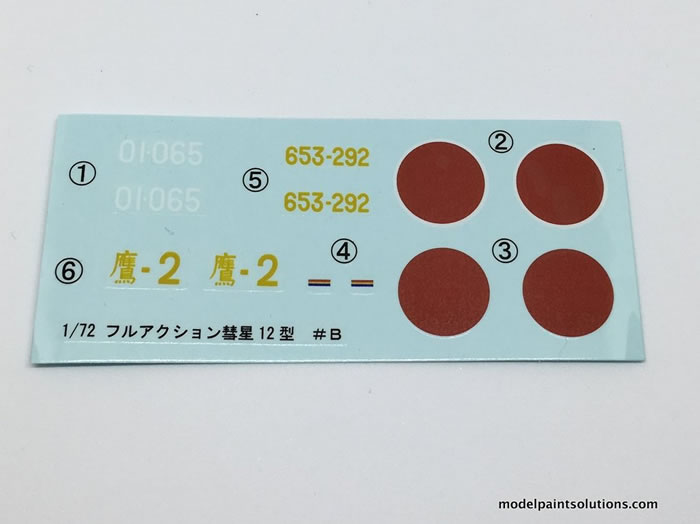 Being lazy, I see some of the pre-painted parts as a benefit. The level of surface detail and fidelity of inscribing are equal to that of recent Airfix kits, which is a good thing. I suspect that if this kit were issued unpainted, modelers would be crowing this as the best Judy in the scale. Even with the painting, I think it can be called as such. Now I have a Judy that will be a quick and easy build and one on which to experiment with different weathering techniques.
Kit purchased by reviewer.
For more on this review visit Modelpaintsolutions.com
---
Review Text Copyright © 2018 by Jim Bates
Images Copyright © 2018 by John Miller
Page Created 27 May, 2018
Last updated 27 May, 2018
Back to HyperScale Main Page
Back to Reviews Page