"Mersu" Bf 109 G in Finland Dual Combo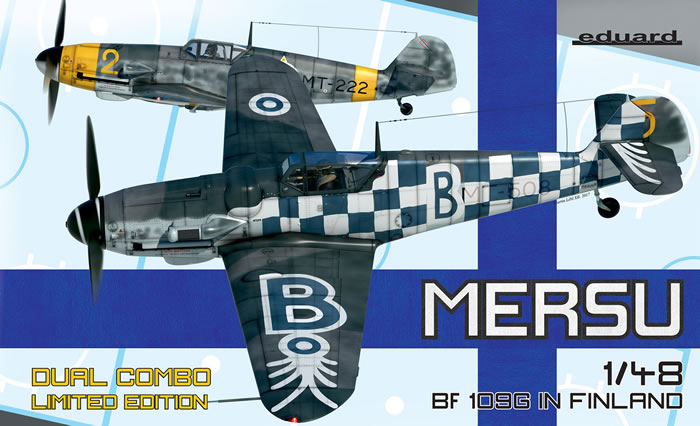 Eduard, 1/48 scale
S u m m a r y :

Catalogue Number:

Eduard Kit No.11114 – "Mersu" Bf 109 G in Finland Dual Combo

Scale:

1/48

Contents and Media:

Parts for two complete kits (G-2 and G-6) are provided. This equates to ~217 parts in grey styrene (x2)(not all are used), 14 clear parts (x2), 2 color photo-etch frets, die-cut canopy masks (x2), markings for 9 aircraft, and airframe stencil data in German and Finnish.

Price:

</strong>USD$89.95 plus shipping available online from Eduard

£58.20 plus shipping available online from Hannants

USD$71.99 plus shipping available online from Squadron

and specialist hobby retailers worldwide

Review Type:

First Look

Advantages:

Beautifully rendered surface details, accurate, scale-appropriate inscribing, subtle rivet lines, and crisp, recessed panels; separate leading edge slats, control surfaces, and multiple canopy options all with poseable center sections.; numerous optional/unused parts including propellers, bomb racks, underwing gun gondolas, and drop tanks provided; beautifully printed decals for nine schemes and airframe stencils in German and Finnish.

Disadvantages:

Conclusion:

This long-wing version really is a beauty and one that I've been personally wanting to see for a while.

Reviewed by James Hatch


Eduard's 1/48 scale Bf 109 E-3 is available on sale from Squadron.com for only $21.99!

The Messerschmitt Bf 109 is a German World War II fighter aircraft that was the backbone of the Luftwaffe's fighter force. The Bf 109 first saw operational service in 1937 during the Spanish Civil War and was still in service at the dawn of the jet age at the end of World War II in 1945. It was one of the most advanced fighters of the era, including such features as all-metal monocoque construction, a closed canopy, and retractable landing gear. It was powered by a liquid-cooled, inverted-V12 aero engine. From the end of 1941, the Bf 109 was steadily being supplemented by the Focke-Wulf Fw 190. Whilst the 109 was conceived as an interceptor, later models were developed to fulfil multiple tasks, serving as bomber escort, fighter-bomber, day-, night-, all-weather fighter, ground-attack aircraft, and as reconnaissance aircraft. It was supplied to and operated by several states during World War II and served with several countries for many years after the war. The Bf 109 is the most produced fighter aircraft in history, with a total of 33,984 airframes produced from 1936 up to April 1945.
The G series, or "Gustav", was introduced in mid-1942. Its initial variants (G-1 through G-4) differed only in minor details from the Bf 109F, most notably in the more powerful 1475 PS (1,455 HP) DB 605 engine. Odd-numbered variants were built as high-altitude fighters with a pressurized cockpit and GM-1 boost, while even-numbered variants were not pressurized, air superiority fighters, and fighter-bombers. Bf 109s remained in foreign service for many years after World War II. The Swiss used their Bf 109Gs well into the 1950s. The Finnish Air Force did not retire their Bf 109Gs until March 1954. Romania used its Bf 109s until 1955. The Spanish Hispanos flew even longer. Some were still in service in the late 1960s. They appeared in films (notably Battle of Britain) playing the role of Bf 109Es. Some Hispano airframes were sold to museums, which rebuilt them as Bf 109s.
Edit courtesy of Wikipedia


Since Eduard initially announced this release, it was one that I was pretty eager to get my hands upon. I've always liked to build the esoteric, or where I can't, then something which sports colours that are most definitely out of the ordinary, and Eduard's Mersu fits that bill perfectly. Just for info, Mersu is just the nickname given to the Bf 109G by its Finnish pilots. This kit is also a Dual Combo, containing two kits, as the name suggests. For this, Eduard has supplies sprues for a G-2 and a G-6 to be built. If the schemes made you want to build two G-2 models, for example, then a set of Overtrees can be bought quite cheaply. See links at end of article for G-2 and G-6 Overtrees options, plus extra PE sets.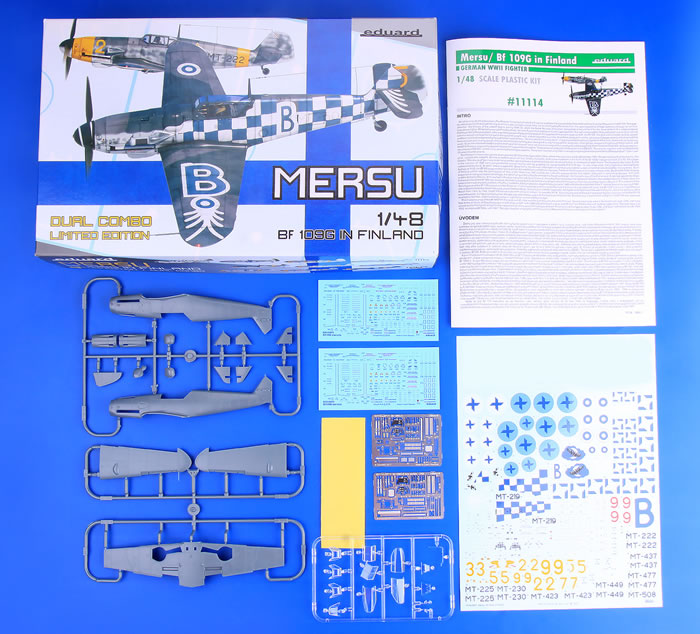 Eduard sure know how to produce an attractive box art and this one is certainly pretty colourful. The box size seems to be more or less the same as for a single kit, so one thing you'll notice here is the weight and little space there is in the box with the way things are packed. All of the TWELVE mid-grey sprues are packaged into two re-sealable clear sleeves, with the clear parts having their own wallets to protect them. In the bottom of the box you will find TWO PE frets (one for G-2 and one for G-6), a single, large Cartograf-printed decal sheet, and a glossy 32-page A4 instruction manual. In this Limited Edition release, there are no resin parts provided. If you want to go that route, Eduard have just about everything to cater to your very whim.

The instruction manual takes each of the two 109G variants in turn so that there is no confusion between the two sub-types. There are a small number of variations in the sub-types themselves without over-complicating things any more than is needed. When Eduard re-launched their G-6 kit in 2016, they did it with more than the obvious scale-correcting revisions. This time the wingtips were moulded as part of the upper wing panels instead of being a separate component. The pitot, however, is still moulded to the wingtip. Care will be needed when handling the model during construction. Externally, the wings have some beautifully rendered detail with thin, sharp and even panel lines, rivets and port access details etc. The rivets themselves look good to the eye and don't look over-emphasized. Slats are separate parts, as are the landing flaps and ailerons. Recesses are moulded into the lower wings in order to accommodate the radiator intake grilles. For the G-2 machine, no upper wing blisters exist, but correctly on the G-6 version, the small kidney-like bulges are included and look very good in shape and size to my own reference.

On all control surfaces (ailerons, elevators and rudder) the fabric and tape depiction is quite measured in appearance. All of these parts are also moulded as single pieces, which makes sense in this scale, with trailing edges being suitably thin.

Of course, the real differences you will see between the two sub-types are in the appearance of the fuselage, and Eduard supply one fuselage for each of those types. This of course means that you can't build two G-2 or two G-6 models. You will need those Overtrees I was telling you about. The G-2 fuselage of course doesn't have the characteristic gun cowl bulges that the G-6 had, and of course, the G-2 didn't have the tall wooden fin and rudder ensemble, as evidenced on the sprue (despite there being parts for the latter moulded here). The G-6 fuselage halves, as well as recesses to add the bulged cowl parts, also has a cut-down fin which can accommodate both the early and late fin versions, plus the associated rudder option too. Another change externally is that the G-6 has the upper cowl moulded separately whereas the G-2 simply has the gun troughs that install from within the fuselage. Both kits have separate exhausts which must be installed from within, and there are two exhaust options; one with and without flash plates. If you wish to fit exhausts with a PE plate, then that options is available.

As with the wings, the exterior of the fuselage is rendered with superbly fine panel lines, port access, fasteners and rivets. The wing root is atypical 'G' minus the small knuckle joint bulge that Eduard erroneously added to their now scrapped 2014 G-6 release. There are two supercharger intake options, depending on which machine you will build.

Although Eduard do produce a superb resin cockpit for the G-6, there isn't one yet available for the G-2. This really doesn't matter though as the stock parts more than make the grade, with what builds up into a busy and complete pilot's office. The kit parts include a clear fuel flow line and pretty complete sidewall and cockpit floor details. With this release, however, those details are supplemented with both additional details, refined details and replacement details, including rudder pedals, and a colour-printed instrument panel amongst other parts. The PE also has a set of seatbelts which are totally omitted from the standard release.

This kit is supplied with a pretty comprehensive clear sprue that contains three windscreen options, three Erla canopy options and two regular hood options and rear fixed canopy. Out of these though, two windscreen options, one standard hood and one Erla is up for use, and you'll need to crosscheck the specific machine options for the parts you'll need to fit. I'm quite a fan of the appearance of the Erla hoods and when I build this for Tamiya magazine, both machines will be fitted with these.

I think I would quite like to have seen some resin wheels in this release as the standard kit parts aren't as nice, nor are they weighted. Generally, the undercarriage parts are excellent in depiction with nicely defined main gear struts with integral compression scissor. A brake line should ideally be added for extra realism. Should you buy the Brassin alternative, this detail is added, and supplied with resin gear doors, but I do think the standard kit parts should suffice under normal circumstances.

There are a lot of parts on these sprues that aren't scheduled for use with this release, including propeller options, centreline bomb racks and munitions, cowl bulges, rudders, fuel tanks etc, but the instructions will clearly show you what can be consigned to the spares box.
---
Photo Etch
Two frets are included here, with numerous colour-printed parts.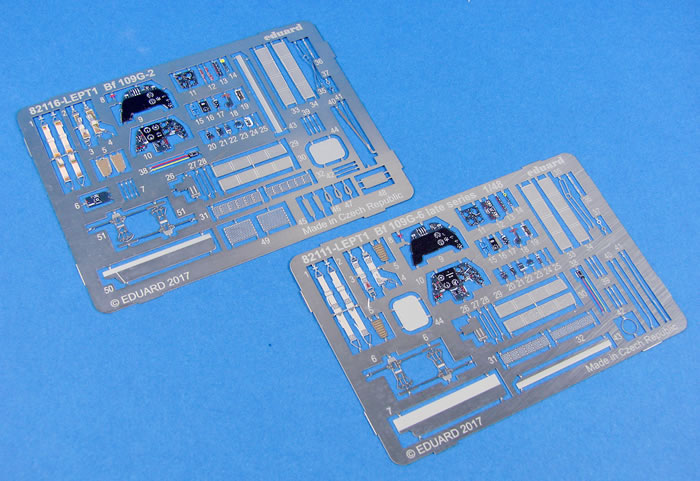 Whilst these mostly concern the cockpit with the instrument panel, console details, seatbelts and rudder pedals etc. other parts are included for external details, such as panel detail and radiator grilles.

Production is excellent, as we have come to expect from one of our hobby's premier aftermarket manufacturers.
---
Masks
A single sheet here contains the masks for two standard canopy versions and one Erla, as the latter was never fitted to the G-2. Masks are also provided for the tailwheel hubs, but strangely enough, not the main wheel hubs. The familiar Kabuki tape is used to produce these, and they are sharply cut, with references in the instructions as to the position of each mask.
---
Markings
A single, large sheet is provided here, and printed by Cartograf. As my version is sold in what is generally thought as the free world, swastika decals are supplied, as well as options which contain the markings in two parts, as you would expect as the sole option if you live in a country such as Germany (despite the Finnish swastika not being a symbol of a banned political party). Thanks Eduard for the extra options!
This very comprehensive decal sheet contains markings for all of the TEN scheme options available here as well as stencils and cockpit decals in case you don't wish to use the colour PE parts. All printing is first rate with nice thin inking, solid and authentic colour, minimal carrier films and perfect registration. A good example of just how good these decals are is to look at the blue and white chequers of one scheme, complete with semi-obliterated serial number. These really are excellent. The supplied schemes are:
Bf 109G-2, MT-219, flown by lentomestari (Warrant Officer) Yrjφ Turkka, 1/LeLv 34, Utti, Finland, June 1943

Bf 109G-2, MT-222, flown by lentomestari (Warrant Officer) Ilmari Juutilainen, 1/LeLv 34, Malmi, Finland, May 1943

Bf 109G-2, MT-225, flown by luutnantti (Lieutenant) Lauri Nissinen, 1/HLeLv 24, Suulajδrvi, Finland, April 1944

Bf 109G-2, MT-230, flown by kapteeni (Captain) Jaakko Puolakkainen, 2/HLeLv 28, Vδrtsilδ, Finland, August 1944

Bf 109G-6, MT-423, flown by ylikersantti (Staff Sergeant) Hemmo Leino, 1/HLeLv 34, Kymi, Finland, June 1944

Bf 109G-6, MT-437, flown by ylikersantti (Staff Sergeant) Leo Ahokas, 3/HLeLv 24, Lappeenranta, Finland, June 1944

Bf 109G-6, MT-449, flown by luutnantti (Lieutenant) Olavi Puro, 2/HLeLv 24, Lappeenranta, Finland, June 1944

Bf 109G-6, MT-477, flown by luutnantti (Lieutenant) Mikko Pasila, 1/HLeLv 24, Utti, Finland, September 1944

Bf 109G-6, MT-477, HLeLv 31, Utti, Finland, summer 1948

Bf 109G-6, MT-508, flown by luutnantti (Lieutenant) Arvo Arima, HLeLv 31, Air Race, Utti, Finland, June 1950
A separate sheet of stencil markings, also printed by Eduard, is included.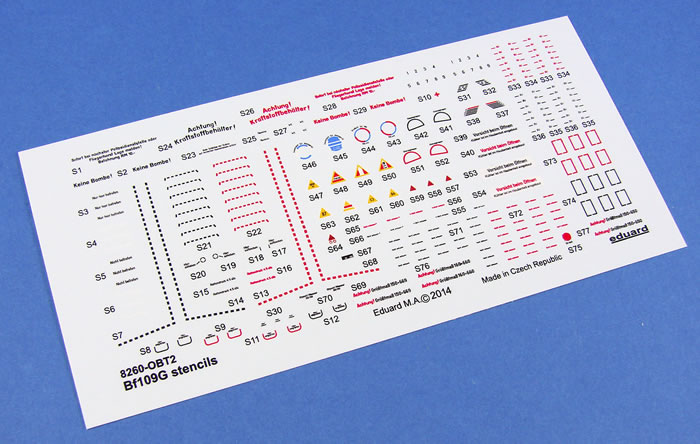 If you are a Bunny Fighter Club member and want this kit, then there is a special version that has a shark-mouth scheme available.

I've included that scheme here for you to see.
---
Instructions
Eduard's instructions are clear, concise, thoughtfully laid out in terms of variant assembly, and also very attractive. Starting with a potted history of the type, and then a parts map, each G version is shown is illustrated with zero ambiguity when it comes to parts options, and the modeller shouldn't experience any confusion if following the drawings properly.
Annotation is made throughout for any specifics related to the ten different aircraft. Paint references are given for Gunze Aqueous and Mr. Color paint types.
The last pages of the instructions are given up to the individual colour scheme profiles and a stencil guide.
In my mind, there is little doubt that Eduard's 1/48 Bf 109 range is just about the best you can buy, with the kits being proven in terms of accuracy and engineering. Ok, there was 109G-6-gate in 2014 when the new tool G-6 was found to be over-scale, but that was withdrawn from the market and the kit re-tooled for 2016, and we see an example of it here in the Mersu release. You'll see many builds of the G-series online and in magazines, and they do indeed create a stunning little reproduction. Eduard is of course always looking for new angles for its kits, and the Mersu package is a stunner. Two excellent model kits and some of the more unusual schemes that the Gustav wore whilst under Finnish service. If the 109 is an interest for you then this really is a kit that you should consider adding to your stash as it won't be around forever.
---
If you want to make more use of the supplied decals (and why not!), then these kits are also available as Overtrees options:
Extra Sprues
82116X – Bf 109G-2 Overtrees – LINK
82111X – Bf 109G-6 Overtrees – LINK
Lept (PE sets)
82116-LEPT – Bf 109G-2 – LINK
82111-LEPT1 – Bf 109G-6 - LINK
Thanks to Eduard for the sample
---

Review Text & Images Copyright © 2018 by James Hatch
Page Created 16 May, 2018
Last updated 16 May, 2018
Back to HyperScale Main Page
Back to Reviews Page