S u m m a r y

Publisher and Title:

Windsock Worldwide Modelling Special No.6 - Building the Wingnut Wings Junkers D.I

ISBN: 1-90-5698-54-3

Media:
Soft-cover A4 portrait format; 44 pages; full colour and black and white photographs and drawings.
Price:
£25.00 available online from Albatros Productions' website
Review Type:
First Read
Advantages:

Sensible layout; engaging text; hundreds of photos and drawings.

Disadvantages:

Not really a criticism, but some of the photos could be bigger.

Conclusion:

A close-to-essential guide for building the Wingnut Wings Junkers D.I, this book will further enhance your experience with this excellent kit.

Reviewed by Brad Fallen



HyperScale is proudly supported by Squadron.com

I'm a huge fan of Wingnut Wings kits. I've only built three so far, but they've all been great kits and as a result I've bought many of the company's releases. However until now I hadn't felt the urge to pick up their latest release, the Junkers D.I – the type just didn't appeal to me. That's changed after reading the latest addition to Windsock's 'Building the Wingnut Wings…' series.
Written by Great War aviation expert and modeller Ray Rimell, each of these books focuses on a specific Wingnut Wings kit. I have Ray's earlier publications on the Gotha G.IV, Albatros D.V/Va, AEG G.IV and Sopwith Camel/LVG C.VI, and have found them to be well-executed guides. This volume on Wingnut's 1/32 interpretation of the 'Tin Donkey' is just as good, with a couple of features we haven't seen previously.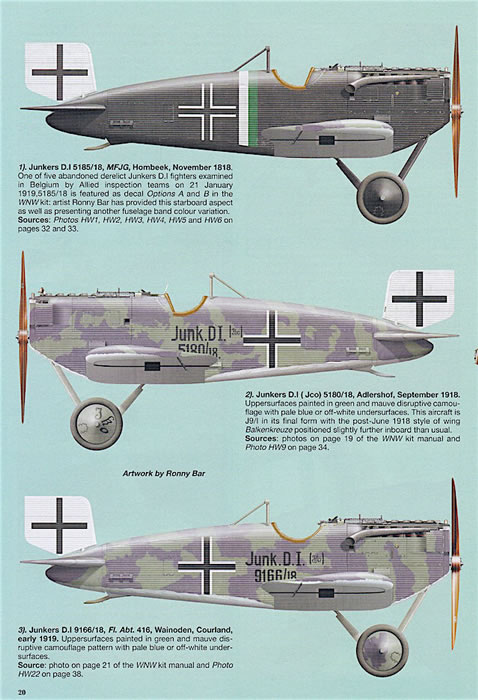 At 44 A4 pages, the book's magazine-style format allows it to be easily propped open on your modelling bench as you work on your D.I kit. Its slim appearance belies the amount of information that has been assembled within.
Ray uses a short Introduction to provide context to Wingnut Wings' D.I in relation to the company's earlier releases as well as other kit manufacturer's representations of the aircraft. In this and the following Part 1 – Inside the Box chapters, Ray concludes that the D.I "is Wingnut Wings at their very best" with "little, if anything, to fault it". He adds that the D.I's clean, monoplane lines combine with Wingnut's excellent engineering to make this kit an ideal first project for those interested in building a World War I aircraft model, but daunted by the complexity of biplane subjects. Ray goes on to devote specific sections of text to such builders – more on this shortly.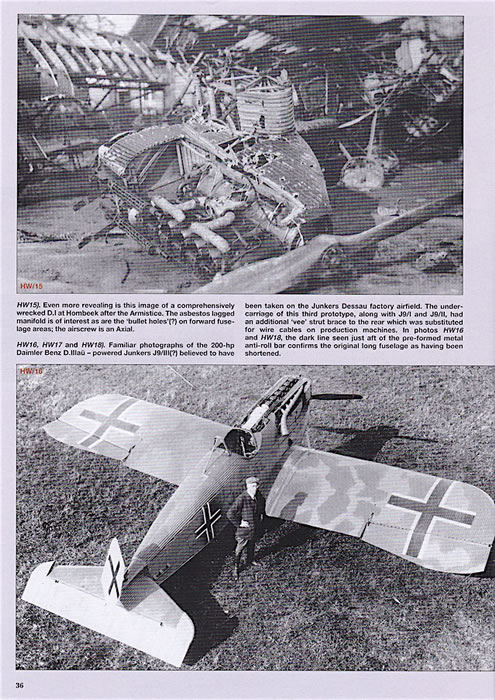 Nearly 50 per cent of the book is devoted to Part 2 – Building the Junkers D.I, which as the name suggests is a comprehensive log of Ray's D.I build. One of this chapter's strengths is its structure, which deliberately mirrors the steps in the Wingnut Wings instruction manual – step 1 deals with the cockpit interior, step 2 the engine, and so on.
This approach is carried through to captioning of the accompanying photos, which are labeled '1/1', '1/2' etc to ensure there is no mistaking which section of the build they relate to. The photos are all in colour, and of good quality. The only minor criticism I'd make is that some of them seem a little small, but this doesn't really matter because they are well complemented by the supporting text, and vice versa.
The main section of the build log is pitched at experienced modelers. Ray uses a number of detailing techniques and aftermarket sets to enhance the already high quality of the base kit. His improvement and finishing of the kit engine is a particularly impressive example of this.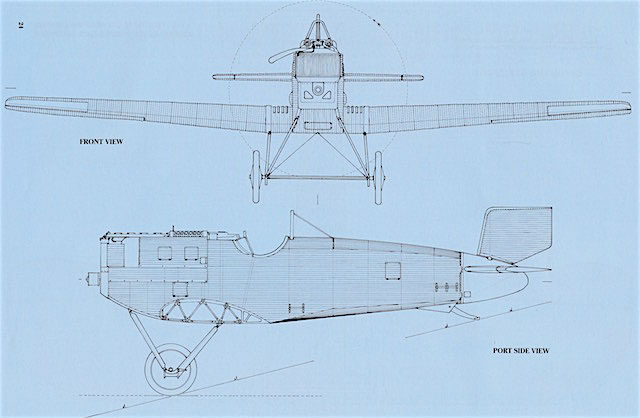 As I mentioned earlier, however, Ray also includes parallel sections of text that focus on building the kit out-of-the-box. The tone of these sections is very encouraging, and in no way condescending; Ray's goal is to show what good results can be achieved using the kit parts alone. His no-frills build of a second Daimler-Mercedes engine demonstrates this perfectly: photographed alongside the first, aftermarket-laden engine, the second engine definitely holds its own and looks the part.
In addition to the text and colour photos, Ray has included a number of black-and-white period photos and drawings as added reference material. These are organised sensibly (mostly adjacent to the stage of construction involving their subject) and should be invaluable primary sources during the build process.
Other welcome additions are two 1/32 wing planforms that can be used as templates for cutting out the complex upper surface camouflage pattern, and three D.I profiles by Ronny Barr. One of these is a slightly different version of a kit subject, while the other two are machines whose photos appear in the Wingnut instruction manual but for which markings are not provided.
Part 3 is a set of 1:32 pull out plans by World War I aviation artist Marty Digmayer. These are located at the centre of the book for easy removal, although I'll probably leave mine in place. The plans will be useful points of comparison during the build.
Part 4 is yet more reference material – 23 black-and-white period photos from the archives of the late Harry Woodman. The supporting text notes that Harry was an expert on Junkers aircraft of World War I, who'd authored several books on the subject. The photos will be very helpful to anyone building the Wingnut Wings kit, with some good images of paint schemes and structural details.
Part 5 – The Sole Survivor presents ten colour photos of the last original D.I, taken at the Air and Space Museum in Paris. More help for modellers here, notwithstanding the inaccurate camouflage and markings in which the aircraft has been restored.
Part 6 is a one-page appendix that lists the (unsurprisingly) slim range of aftermarket products currently available for the Wingnut Wings D.I.
Overall production quality is high. The contents are logically organised, the illustrations are clearly reproduced, and Ray's text is readable and well edited.
I think this book is close to essential if you are planning to build the Wingnut Wings Junkers D.I. It contains a huge amount of information – both how-to and reference – that will further enhance what by all accounts should be a very satisfying modelling experience.
Ray's enthusiasm for the kit, and original aircraft, is infectious and has led me to change my mind about both. I've now ordered the kit from Wingnut Wings and it is currently in transit from New Zealand.
Thanks to Albatros Productions for the review sample
---
Review Copyright © 2018 by Brad Fallen
This Page Created on 9 July, 2018
Last updated 10 July, 2018
Back to HyperScale Main Page
Back to Reviews Page