F9F-8P Photo-Cougar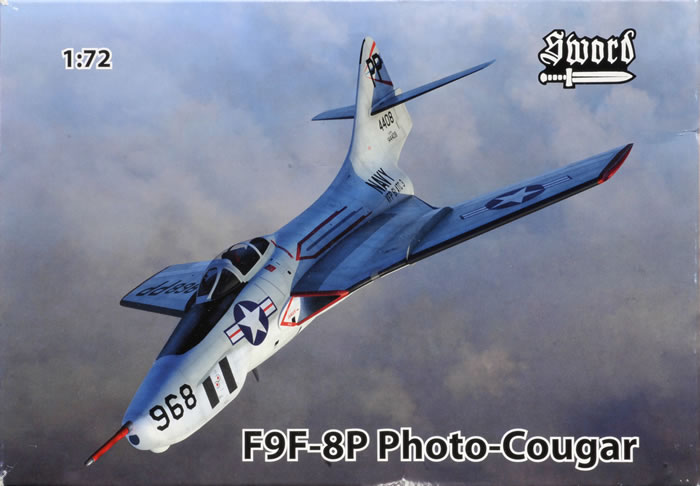 Sword, 1/72 scale
S u m m a r y :

Catalogue Number:

Sword Kit No. SW72087 – F9F-8P Photo-Cougar

Scale:

1/72

Contents & Media

48 grey and 13 clear styrene parts, one resin part, one PE fret of twenty-three pieces, one photo-foil, and decals for two subjects.

Price:

On-line stockists:

Click here for currency conversion.

Review Type:

First Look.

Advantages:

Good detail, accurate appearance, good value too, from the right supplier.

Disadvantages:

The wing pitot is poorly moulded and needs a scratch-built replacement (easily done).

Conclusions:

This is a very nicely executed kit of what is for me an interesting Cougar derivative.

It is nicely detailed, especially so in the cockpit, and should be straightforward to build. The need to replace the wing pitot is but a minor issue.

I highly recommend it.
Reviewed by

Mark Davies


Sword's 1/72 scale scale Gannet AEW.3 is available online from Squadron.com

The Grumman F9F/F-9 Cougar was a carrier-based fighter aircraft for the United States Navy. Based on Grumman's earlier F9F Panther, the Cougar replaced the Panther's straight wing with a more modern swept wing. The Navy considered the Cougar an updated version of the Panther, despite having a different official name, and thus Cougars started from F9F-6 upward.

A total of 110 F9F-8P's were produced with an extensively modified nose carrying cameras. They were withdrawn after 1960 to reserve squadrons. In 1962, surviving F9F-6P and F9F-8P aircraft were re-designated RF-9F and RF-9J respectively.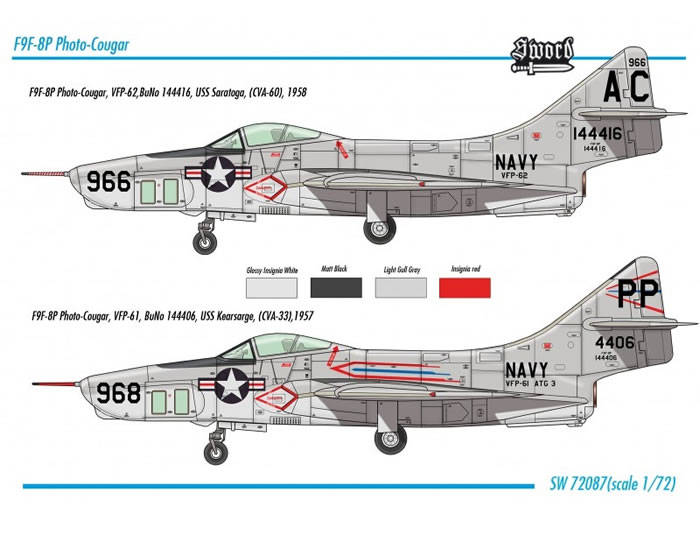 The modifications to eliminate the guns and related equipment, and incorporate the photographic equipment and automatic pilot and their controls and instruments, resulted in the following changes:
Rearrangement of electronics equipment installed in the area enclosed by the fuselage nose section, lengthening of this section by 12 inches, and shortening of the sliding nose section.

Rearrangement of the left and right consoles and the main instrument panel to provide space for the controls associated with the additional equipment.

Some minor changes of the fuselage structure and equipment installations to provide for the necessary ducting control for hot air from the engine compressor, which is used for defrosting the camera windows and heating the camera compartment.

Removal of all armament and the Armament Control System, removal of AN/APG-30 system and installation of an additional armour plate bulkhead.
F9F-8s were withdrawn from front-line service in 1958–59, replaced by F11F Tigers and F8U Crusaders. The Naval Reserves used them until the mid-1960s, but none of the single-seat versions were used in the Vietnam War.
Source: Wikipedia
---
Previous 1/72 Scale F9F-8P Kits
There has not previously been a photo-Cougar kit in 1/72; and as far as I am aware, there were until now three paths to obtaining an F9F-8P in "The One True Scale". You could convert the Hasegawa F9F-8 kit using Falcon's vac-form conversion, or take the nose from Airmodel's very crude F9F-8/8P/8T vac-form kit, or scratch-build as Asao Shirai did here on HyperScale in May 2007.
So Sword's new kit obviously stands to fill an important gap in 1/72 USN jet collections. (An F9F-8T twin-seater would also be starter, as we currently have to depend on vac-form conversions from Falcon and Airmodel, or a rather nice resin conversion by Esoteric).
Contents
The kit comes in an end-opening box with digital artwork on the front. The decals, plastic and resin parts come in a zip-lock bag, with the clear parts and PE fret further enclosed in small bags of their own.
---
The Instructions
The instructions provide a brief history of the aircraft, a parts map, and an easy to follow assembly format with well-drawn diagrams. Detail colour call-outs are given as generic colours in Czech and English, with all other text in English.
The painting and decal guides use generally adequate black & white shaded drawings in the instructions, and colour profiles on the rear of the box. There is also a page covering stencilling placement.
---
The Kit
This is a typical Sword kit with nicely moulded parts, fine surface detail, and reasonably narrow sprue gates. There is a little flash in places, but this is easy to deal with. There are also quite a few prominent ejector stubs, fortunately in areas that cannot be seen. Some will require removal in order for parts to fit correctly; but again, this is easily done. Parts break down is conventional for the type. The clear canopy parts are clear and acceptably thin.
The cockpit detail is very well catered for; with PE providing the instrument panel (with photo-foil), side consoles, seatbelts for the resin seat, throttle and other levers, and a canopy handle.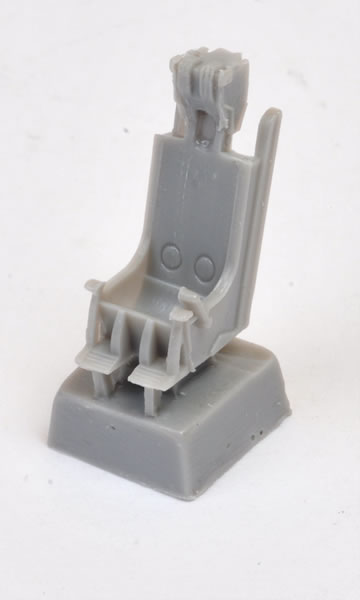 The tub, bulkheads, rudder pedals and control column are all moulded in styrene. The instructional images below illustrate the good detail for this quite small area of the model:

I noticed that the parts map drawing of the PE fret implies that the instrument panel, side consoles and seatbelts are coloured PE. This would be consistent with recent Sword practice, but instead the fret is plain brass.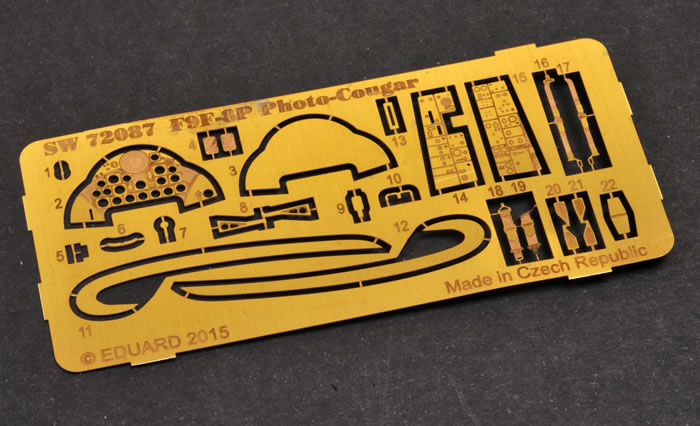 The surface detail is nicely done using fine engraved panel lines. I did notice a slight floor in the angled panel line between the nose and starboard air-intake, where the panel line was not fully scribed due mould damage; but such things can be par for the course with limited-run kits and are easily dealt with.
Internal detail within the wheel wells and camera-bay are adequately catered for. The main undercarriage legs have solid torque-links, but much finer PE replacements are provided. Wing fences are nicely to scale as they are supplied as separate PE items, but these will need careful fixing to the wings.
A turbine face and length of jet pipe are provided for the rear fuselage, and the air- intake ducting is nicely represented with plenty of depth going back into the wing roots.
The clear parts are well done, and aside from the pilot's two-piece canopy include the camera windows, wing root landing light, and wingtip navigation lights.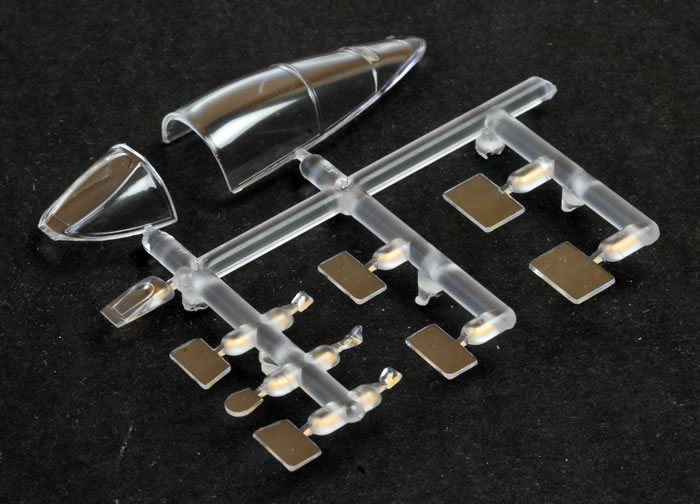 There are a few small PE and plastic details to add, along with a nose boom and wing pitot. This latter item requires replacement. It is poorly moulded, and for some strange reason is flat on one side rather than being circular in section; it seems that the other side was never included in one half of the two-piece mould!

Overall, I should think that this kit should be an enjoyable one to build, provided you accept that its limited-run nature may demand some fettling here and there.
---
Marking Options
Techmod prints the decals, and these are well registered with what appears to be good opacity. I am sure they will prove to be excellent to apply based on my experience of this brand.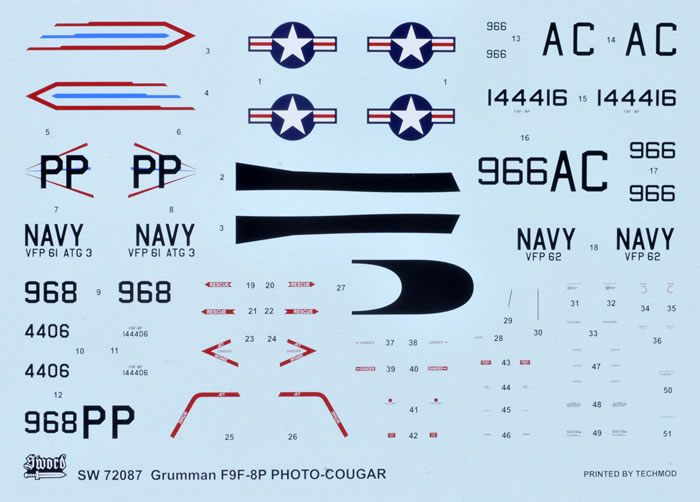 The instructions provide two pages of four-view drawings with the national insignia and unit markings for each of the two schemes, with colour profiles on the box rear. The subjects covered are shown below:
This is a very nicely executed kit of what is for me an interesting Cougar derivative.
It is nicely detailed, especially so in the cockpit, and should be straightforward to build. The need to replace the wing pitot is but a minor issue.
I highly recommend it.
Thanks to Sword Models for this review sample.
---
Review Text & Blue Background Images Copyright © 2015 by Mark Davies
Page Created 2 July, 2015
Last updated 2 July, 2015
Back to HyperScale Main Page