Arado Ar 96 B-1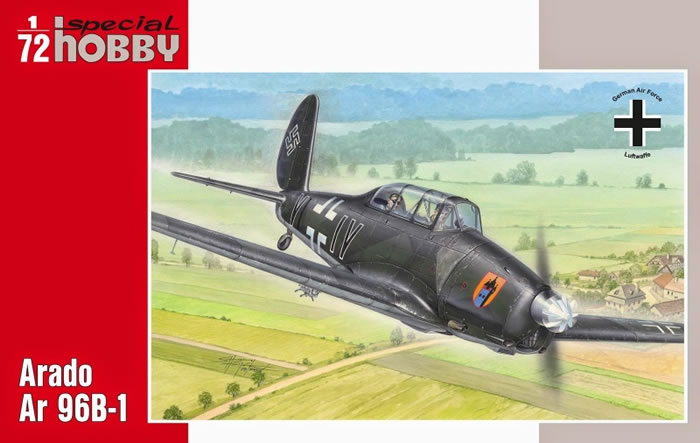 Special Hobby, 1/72 scale
S u m m a r y :

Catalogue Number:

Special Hobby Kit No. SH72312 - Arado Ar 96 B-1

Scale:

1/72

Contents & Media

One clear and thirty-eight grey styrene parts, eleven resin parts, one PE fret of forty-nine pieces, one photo-foil, and three decal options. (There are a few surplus styrene and resin parts in addition to the above that are not required for this boxing.)

Price:

On-line stockists:

Click here for currency conversion.

Review Type:

First Look

Advantages:

Modern, refined, good detail levels, good decals, and good value.

Disadvantages:

None noted.

Conclusions:

This new tooling from Special Hobby is a definite improvement on the kits that have gone before; being modern, refined, well detailed, and very reasonably priced. It is the best Arado Ar 96/Avia C.2 kit in "The One True Scale", and I happily recommend it and the other two similar boxings
Reviewed by

Mark Davies

Sword's 1/72 scale scale Gannet AEW.3 is available online from Squadron.com
The Arado Ar 96 was a German single-engine, low-wing monoplane of all-metal construction produced by Arado Flugzeugwerke. It was the Luftwaffe's standard advanced trainer during World War II. Designed by Walter Blume as the result of a 1936 Reich Air Ministry tender, the prototype, powered by a 179 kW (240 hp) Argus As 10c engine, first flew in 1938. In 1939, an initial batch of Ar 96A aircraft was produced. This was followed by the major production series, the more powerful Ar 96B, fitted with the Argus As 410 engine.
The Ar 96 was used for advanced, night and instrument flying training. Famously, during the evening of 28 April 1945, pilot Hanna Reitsch was flown with then-Luftwaffe head Generaloberst Robert Ritter von Greim out from Berlin under Soviet fire in an Arado Ar 96 trainer from an improvised airstrip in the Tiergarten, piloted by a Luftwaffe sergeant.
Shadow production was undertaken by Letov and the Avia factory in occupied Czechoslovakia, where manufacturing continued for some years after the war, being designated the C-2. A wooden version known as the Ar 396 was built in France and was designated the SIPA SS.11.
Production figures to 1945 are provided in the table below:
| | | | | | | |
| --- | --- | --- | --- | --- | --- | --- |
| Version | Arado | AGO | Avia | Letov | Total | Construction Period |
| Prototypes | 4 | | | | 4 | 1937 - 1938 |
| A-0 | 6 | | | | 6 | Including 3 delivered on 1 April 1939 |
| A | 23 | 69 | | | 92 | Mid 1939 - May 1940 |
| B-0 | 2 | | | | 2 | 1940 |
| B-1 | 144 | 223 | 997 | 17 | 1,381 | July 1940 - April 1944 |
| B-3 | | | 210 | | 210 | 1941 - 1943 |
| B-6 | | | 100 | | 100 | July 1943 - January 1944 |
| B-7 | | | 518 | 378 | 896 | May 1944 - March 1945 |
| B-7/B-8 | | | | 81 | 81 | December 1944 - March 1945 |
| B-8 | | | | 74 | 74 | June 1944 - January 1945 |
| Sales series | 45 | | | | 45 | 1939 - 1940 |
| TOTALS | 224 | 292 | 1825 | 550 | 2891 | |
Source: Wikipedia
---
Previous 1/72 Scale Ar 96 Kits
For years we had a choice of two Ar 96 kits "One True Scale". One from Heller, re-boxed by Encore; and the other by the original Kovozavody Prostejov, not to be confused with the recently resurrected brand related to AZ-Models. This older Czech kit has been re-boxed by Aeroteam, Kopro, and KP Models. Now rather dated, there were also two vac-forms from Airmodel and Intermodel, and three early technology resin kits by Eurokit, KMP and CMR.
The Kovozavody Prostejov kit is quite nice, whilst the more refined Heller offering dates from the French brand's heyday, and is one I rate very highly. Both kits feature fine raised detail, although the Heller kit's is more restrained. There are plenty of aftermarket detail, conversion and decals sets for both brand kits.
Despite the Heller kit holding up well, especially with aftermarket enhancements, a modern injected kit with recessed panel lines and good interior detail is sure to be welcomed by Ar 96 fans. Special Hobby released three different boxings of their new tool Arado at E-day in September last year; these being an Ar 96B-1, Avia C.3, and Ar 96B-3, so to some extent this "first look" is old news!
Contents
The kit comes packed in an end-opening box with attractive art-work on the front and colour scheme profiles on the rear. The main sprues are in a re-sealable bag, with the clear sprue, resin parts, decals and PE fret plus photo-foil further enclosed in their own plastic bags.
The instructions are folded A4 sheets printed in colour on matte paper with a brief aircraft history in Czech and English. They include a parts map that identifies surplus parts and use diagrammatic assembly stages that are clear and easy to follow.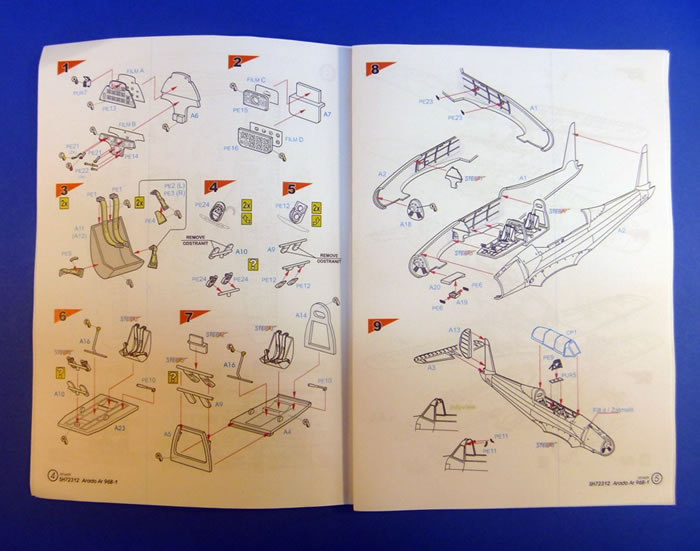 Detail colour call-outs are indicated by letters keyed to a table of colours below the parts map. Four-view colours and markings diagrams are also provided within the instructions. These are nicely done and printed in colour, with RLM codes and colour names plus Gunze Sangyo paint-range numbers.
---
The Kit
The sprue gates are fine enough, and the mouldings are generally quite clean, although some easily removed flash was evident in several places (no surprise for a limited run kit). The clear sprue is crisp, with a very nice clear and acceptably thin canopy. The resin and PE parts appear flawless.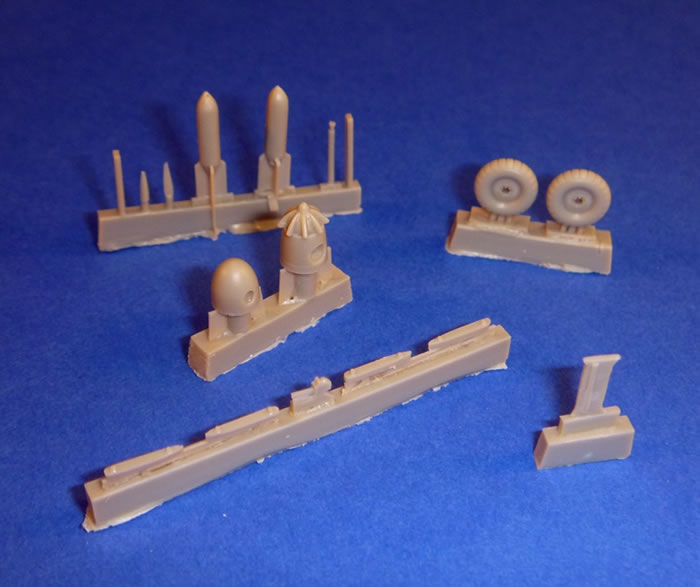 The airframe surface detail is very nicely done with the delicate recessed panel lines and underlying structure subtly apparent where appropriate.
Cockpit detail is good for the scale, being more than adequate for a closed canopy model. PE detail is quite extensive, and includes the instrument panel with photo-foil instrument faces, seatbelts, small levers, and rudder pedals. In fact, there are two styles of PE rudder pedals to choose from, or you can retain the simpler moulded styrene items. A PE roll-over frame and two tiny handles that fit inside the windscreen round things out cockpit-wise.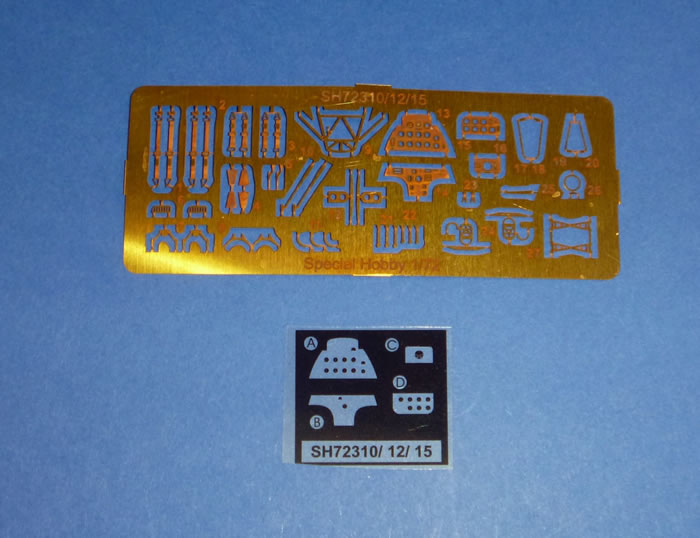 One strange thing about the cockpit however is separate floors for the front and rear cockpits; I would have thought that a one-piece floor would make alignment within the fuselage easier. The one-piece canopy is crisply moulded and clear, which is a plus given the good detail within.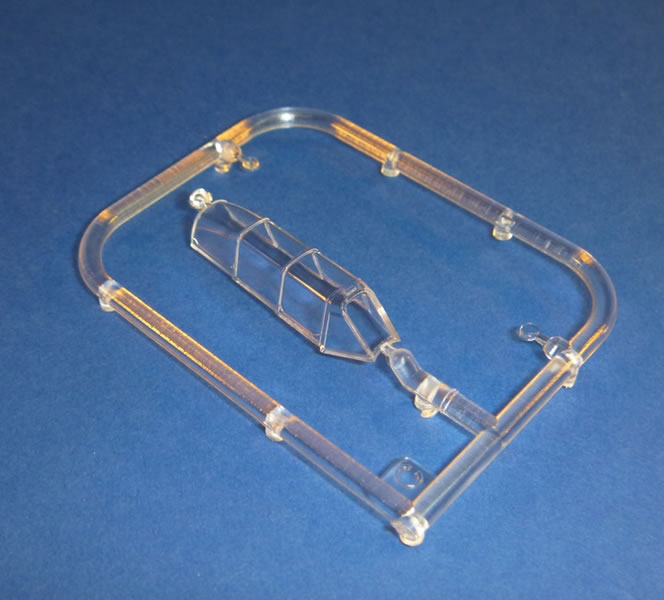 The Argus engine is represented by its two front cylinders moulded into a blanking plate. This should look fine given the small inlet it is visible through. PE provides for the faces of the oil cooler matrix. The fuselage halves can be joined with these items and the cockpit in place. The instructions include a note to fill the moulded machine gun blast-trough just off centre in the starboard half of the upper cowling as this is a B-3 feature. The tailplane and rudder are simple butt fits to the assembled fuselage. Resin exhaust pipes and small faired-in intakes fit to the lower cowl sides. The propeller consists of two styrene blades that fit to a resin hub which captures the fluted fin style of the original rather nicely.
The insides of the main wheel wells are enclosed by a spar at their rear (some may choose to drill out the eight moulded lightening holes), and a roof that hides the cockpit interior. Another part fits to this floor which I think represents the bottom of the main fuel tank. The simple undercarriage legs are enhanced by PE torque-links and resin wheels.
Two optional resin bombs fit to resin bomb-racks with PE sway braces, and some PE control actuators and a pitot finish things off.
I have read a couple of build accounts of this new kit (actually one was an Ar 96B-1 and the other B-3). Reportedly, all went well with assembly and the decals, although one account reported some minor adjustments around a slight difference in the wing root thickness between the fuselage and wing. This was easily fixed with a plastic shim.
---
Marking Options
Three markings options are provided these being:
VI+IV, Flugzeugführerschule FFA A/B 23, Kaufbeuren airfield, Germany, summer 1943;
KE+MR of Flugzeugführerschule FFA A/B 4, Neudorf-Oppeln airfield, Silesia, spring 1943;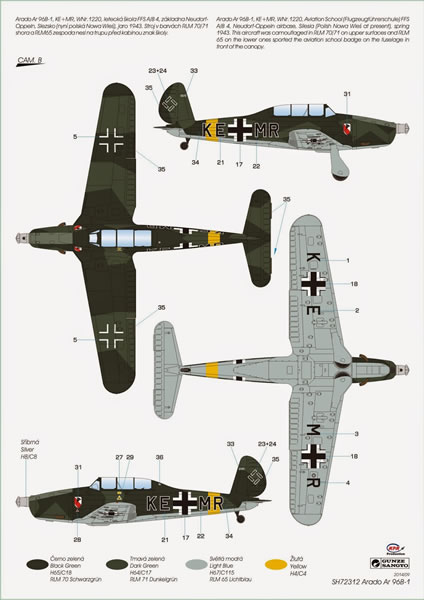 RB+UF, Flugzeugführerschule FFA A/B 52, Danzig-Langfuhr airfield, April 1942.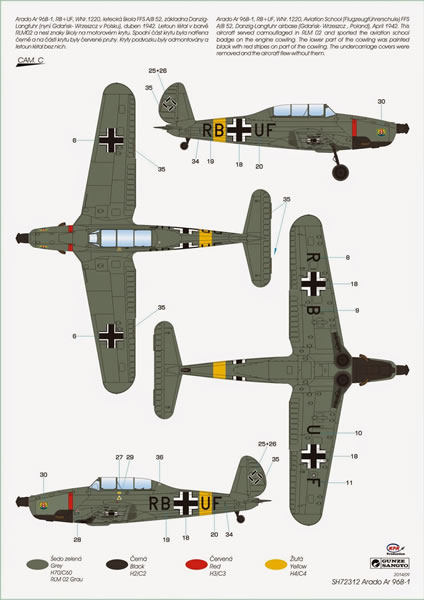 The decals by Aviprint appear to be excellent. Divided swastika decals are provided on a separate small sheet; presumably so that these symbols can be easily excluded from boxes for some European markets where the swastika is banned.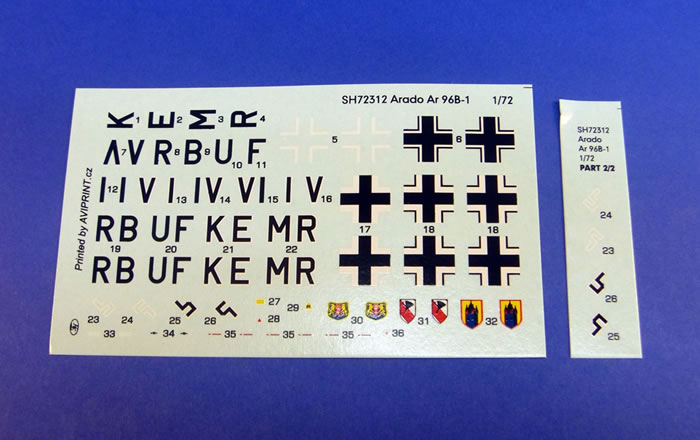 This new tooling from Special Hobby is a definite improvement on the kits that have gone before; being modern, refined, well detailed, and very reasonably priced. It is the best Arado Ar 96/Avia C.2 kit in "The One True Scale", and I happily recommend it and the other two similar boxings.
Thanks to for the review sample.
Thanks to MPM/Special Hobby for this review sample.
---
Review Text & Blue Background Images Copyright © 2015 by Mark Davies
Page Created 27 August, 2015
Last updated 28 August, 2015
Back to HyperScale Main Page