Florov I.F. Samolyot 4302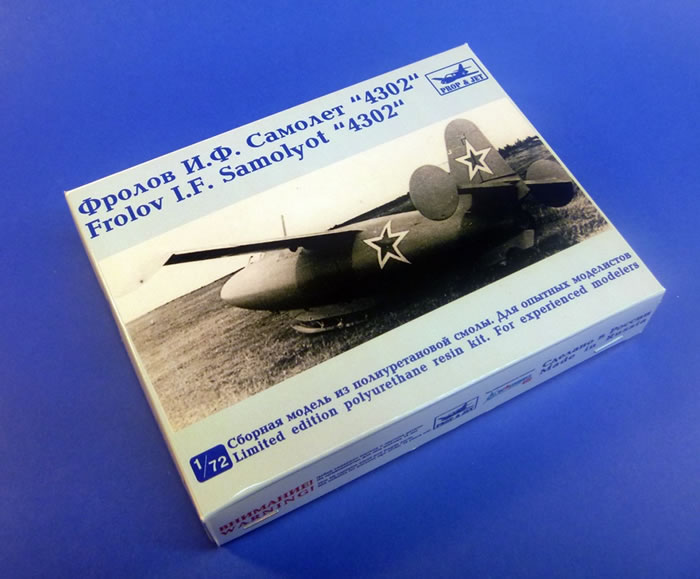 Prop & Jet, 1/72 scale
S u m m a r y :

Catalogue Number:

Prop & Jet Kit No. 72219 – Florov I.F. Samolyot 4302

Scale:

1/72

Contents & Media

45 light-grey resin parts, two vac-form canopies, and decals for one option.

Price:

Online stockists

(I could only find one stockist with a clear system for ordering (ModelsUA), but have listed Linden Hill as they carry several Prop & Jet products, and the IRA as it lists prices but does not appear to have an obvious ordering mechanism).

Review Type:

First Look

Advantages:

Excellent quality, nice surface detail, simple assembly.

Disadvantages:

Missing part in review sample.

Conclusions:

This is a very good little kit indeed, with excellent quality parts, good decals and clear instructions. It has very nice surface detail and fine small parts.

I highly recommend this kit, and encourage readers to check out Prop & Jets other offerings as well.
Reviewed by

Mark Davies

Sword's 1/72 scale scale Gannet AEW.3 is available online from Squadron.com
Ilya Florov worked with several soviet aircraft design bureaux in the 1930's, and led a special design cell that formed part of the Air Force Research Institute (NIIWS) during WW2.
In 1943 his cell designed and produced a small rocket-powered research aircraft for testing wing shapes and control systems known as Aircraft 4302; of which three were ordered. The first 4302 flew as an unpowered glider used to test for handling after being released by Tu-2 tug aircraft.
The second 4302 used a 2,425 lb thrust rocket engine designed by Isayev and Dushkin, and first flew in August 1947, reaching a maximum speed of 513mph. However, the programme was cancelled just after this, and its funding was re-allocated to Mikoyan's 1-270 project.
The third airframe was to use a more powerful Dushkin and Glushko RD-2M-3 rocket engine. It was redesignated 4303, but it never actually had a power-plant fitted.
The 4302/3's were made of light alloys, and the powered versions used a jettisonable trolley to take-off and landed on an extendable skid; a similar method to that used by the Me 163 rocket interceptor.

Source: Red Star: Soviet Secret Projects - Fighters since 1945


---
Previous Frolov 4302 kits in 1/72 Scale
I am unaware of any previous 4302 'The One True Scale' or any of the 'heretic' scales for that matter; so Prop & Jet's kit clearly fills a gap for fans of Soviet prototypes and rocket-planes in general.
---
The Company
Prop & Jet is a Russian company I had little knowledge of until I took a first look at the Su-9 (K) here on HyperScale in January this year. My first impressions of that kit were very positive, and so they are for the Su-11 (KL) reviewed here.
Prop & Jet is based in Nalchik, capital the Russian Caucasus Republic of Kabardino-Balkaria. It offers a range of very interesting kits, that is if you like rare Soviet subjects and prototypes. Prop & Jet's website does not give too much away, in English at least, as I could not get it to translate very well. However it does feature many useful images of the kits the company produces.
Fortunately, their range is listed in some detail in English here on the International Resin Modellers Association website. I recommend checking out the other subjects Prop & Jet has released (be sure to scroll down the linked page to see their range of kits).
The IRMA also offers to organize purchase but this involves double shipping and handling between Jet & Pro, IRMA and the customer.
Contents
The contents come in a quite small but adequately sized top-opening box made of glossy card with a good photo image of the real aircraft on the lid. The resin parts are packaged in several heat-sealed plastic bags, and are further protected by a bubble-wrap envelope, whilst the decals and colour-printed instructions are loose in the box.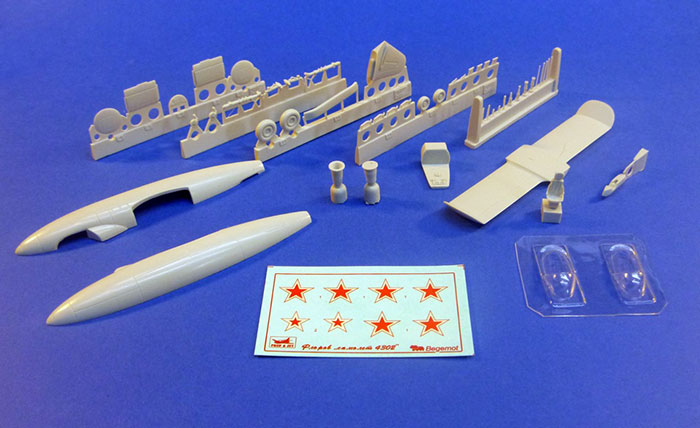 The instructions are predominantly in Russian, but include clear English translations with the assembly diagrams where necessary. They include a parts map, use well-drawn diagrams that appear easy to follow.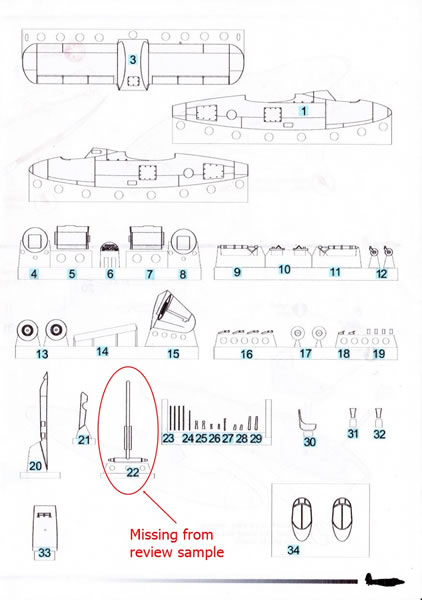 A colour printed painting and markings diagram covers off the simple single decal option using profile and plan views. Paint call-outs are generic.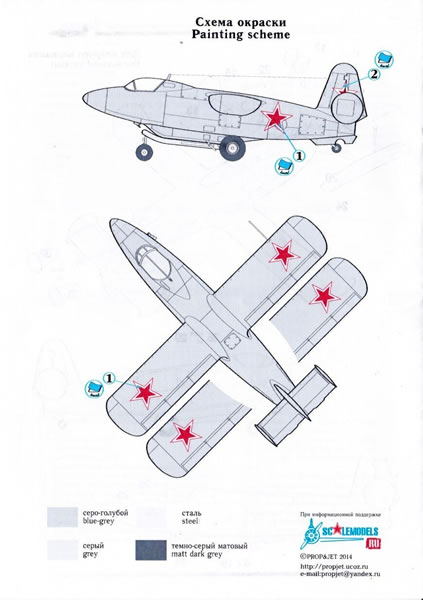 The light grey resin parts are cast beautifully, and were it not for their casting blocks you could almost mistake them for being made of styrene. The blocks also have the part numbers cast into them to aid parts identification. The attachment points are thin and should be easy to remove and clean up. Surface detail is very delicately done, as are some small detail parts. Regrettably, my sample was missing part number 22, the jettisonable take-off dolly's chassis.
Either the first glider prototype or the second powered version can be built. The glider version's undercarriage legs are nicely done, as are the rocket version's short legs; but I could not either has metal wire running through their cores likes Prop & Jet's Su-9 and Su-11 kits do. I doubt they need reinforcement given the kit's small size.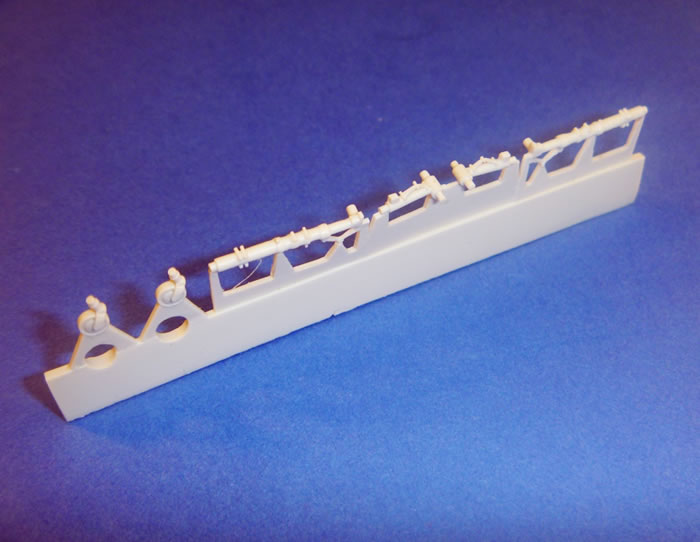 The vac-form canopy appears flawless, and thankfully, two copies are provided. However, there is not much to see in the cockpit; only an instrument panel, floor & bulkhead, control column, and seat with a very delicately cast harness.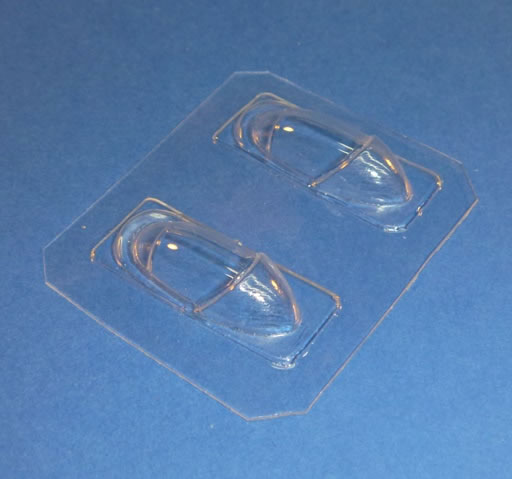 I would expect assembly to be very straightforward from looking at the quality of the parts. Click here to see an assembled but unpainted example of the kit. A single overall blue-grey scheme is all that applies, with decals printed by Begemont that look to be very good.
This is a very good little kit indeed, with excellent quality parts, good decals and clear instructions. It has very nice surface detail and fine small parts.
I highly recommend this kit, and encourage readers to check out Prop & Jets other offerings as well.
Thanks to Prop & Jet for the review sample.
---
Review Text & Blue Background Images Copyright © 2015 by Mark Davies
Page Created 9 September, 2015
Last updated 11 September, 2015
Back to HyperScale Main Page