Kinetic 1/48 scale Preview
Su-33 Naval Flanker
Kinetic has announced an exciting new kit, due for release in December:
Kinetic fans, we present you the 1:48 Su-33 Naval Flanker.
The Su-33 Flanker-D is an all-weather carrier-based twin-engine air superiority fighter designed by Sukhoi. It is a derivative of the Su-27 and was initially known as the Su-27K. First used in operations in 1995 aboard the carrier Admiral Kuznetsov, the fighter officially entered service in August 1998. Following the break-up of the Soviet Union and the subsequent downsizing of the Russian Navy, only 24 aircraft were produced.
Compared with the Su-27, the Su-33 has a strengthened undercarriage and structure, folding wings and stabilators, all for carrier operations. The wings are larger than on land-based aircraft for increased lift. The Su-33 has upgraded engines and a twin nose wheel, and is air refuelable.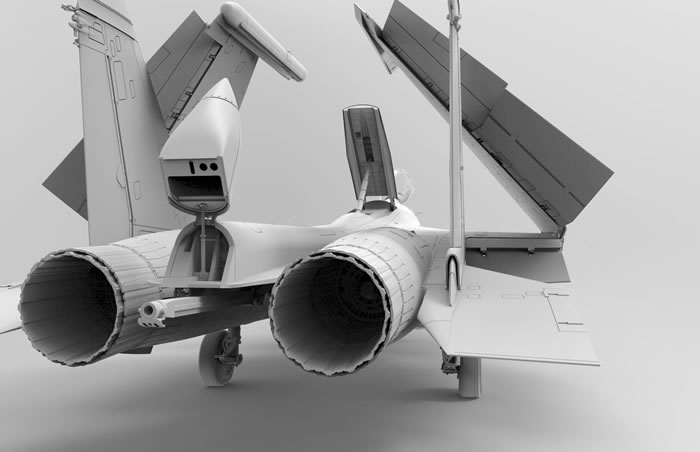 The Su-33 carries guided missiles such as the R-73 and R-27E on twelve hardpoints, supplemented by the 150-round 30 mm GSh-30-1. It can carry an assortment of unguided rockets, bombs and cluster bombs for secondary air-to-ground missions. The aircraft can be used in both night and day operations at sea. The radar used, "Slot Back", has been speculated to have poor multi-target tracking, making the Su-33 reliant on other radar platforms and airborne warning and control system (AWACS) aircraft like the Kamov Ka-31 early-warning helicopter. The R-27EM missiles have the capability to intercept anti-ship missiles. The infra-red search and track (IRST) system is placed to provide better downward visibility.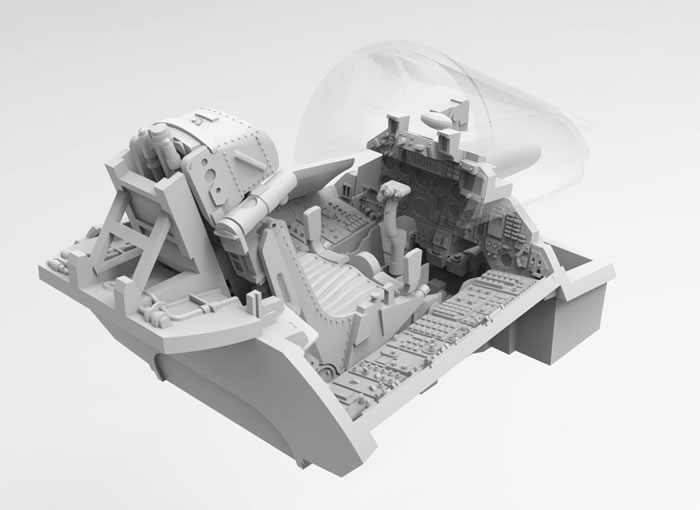 This tooling is the next step forward for Kinetic, featuring improved surface detailing, as well as highly detailed cockpit, landing gear bays, exhausts, wing fold and armaments.
This kit will be released in DECEMBER! We will have it on display at Scale Model World this morning in Telford as well.
More details to come over the next few weeks heading into the release!
Thanks to Kinetic for the information and images.
---
Images Copyright © 2015 by Kinetic Model
Page Created 9 November, 2015
Last updated 9 November, 2015
Back to HyperScale Main Page