MiG-15bis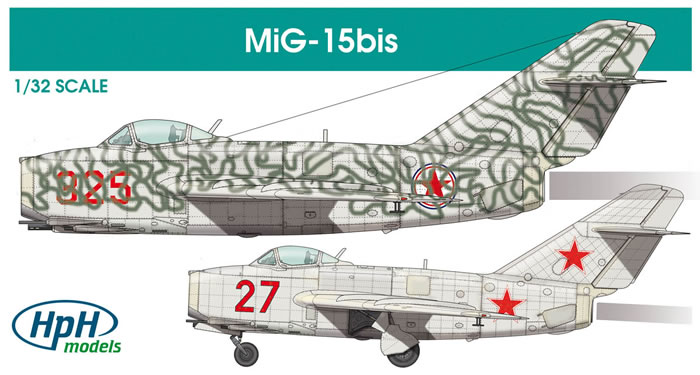 HPH Models, 1/32 scale
S u m m a r y :

Catalogue Number:

HPH Models Kit No. HPH 32025R - MiG-15bis

Scale:

1/32

Contents & Media:

See details below

Price:

Review Type:

First Look

Advantages:

Very high level of detail; conventional parts breakdown; subtle and crisp surface features.

Disadvantages:

Not for the beginner resin modeller; lack of interesting colour schemes

Conclusion:

Highly Recommended.

Reviewed by James Hatch


Kitty Hawk's 1/32 scale F-86D Sabre Dog is available online from Squadron.com

The Korean War was the first major conflict where jet fighters from both sides of the conflagration, fought against each other in pitched aerial battles. Even though the RAF operated the Meteor during WW2, and the Germans the Me 262, these two types never met in combat. Without a doubt, the most iconic jet fighters of the Korean War were the F-86 Sabre, and the MiG-15. Unlike the Allies in May 1945, the Russian jet programme wasn't particularly advanced, with the MiG-9 'Fargo' taking its first flight in 1946, after hostilities were ended.

At the end of WW2, scientists, under military jurisdiction, reaped German technology and spirited away Germany's technical programme into various countries. For the Russians, already with their own disadvantage, the path to catch up to the Allies was longer hard fought for as the Iron Curtain began to fall. As with the slightly later F-86 Sabre, the MiG-15 was a swept wing, transonic fighter aircraft, first flown in 1947 and being introduced into service in 1949. Developed by the Mikoyan-Gurevich, the type was powered by a Klimov VK-1 centrifugal flow turbojet, and the second generation bis (improved) machine, was fitted with two NR-23 cannon and one Nudelman N-37 cannon, plus a capability of carrying unguided rockets, bombs or drop tanks on external wing stores.

The MiG-15 has often been described as one of the most effective and robust fighters ever produced, and was operated by over forty countries before production ceased. Total production was around 18,000 aircraft, of which 6000 were licence built in China. The MiG-17 was designed to replace the MiG-15, but for continuity, serial production of the MiG-15 continued throughout the Korean War, and as a result, the MiG-17 never saw service in that conflict. By the time the type entered service in 1952, the MiG-19 was about ready for service.
HpH manages to cram a surprising amount of resin into their superbly designed and robust corrugated boxes. These attractive packages have a colour profile artwork on their lid, and in the case of the MiG-15, highlighting the two schemes that are possible to be modelled. The box interior is compartmented so as to snugly fit the various bags of resin and main airframe parts. On top of the various parts lies a ziplock wallet that contains an instruction manual CD, decals, photo-etch frets, turned metal parts and some nifty seatbelts from HGW. In case the initial inspection makes you a little hungry, a small Belgian chocolate is tucked away into the lower compartments. Of course, my wife always takes this little treat.
Not having a CD drive on my MacBook Pro, the first thing I do before starting to write my review is to dump the files from the CD onto my USB pen drive at work, and then print out the document. First inspection of the whole kit before photography shows that there is no flaw in casting. There are a couple of break-out points on parts where strengthening wire is included, but nothing that will cause any problem. The surface of the main parts seems to be speckled a little with what I think it simply mould release agent. I wiped this with a little isopropyl alcohol and it almost removed it. Again, I'm not overly worried about that. Only the larger parts have casting blocks that need traditional removal and clean-up. The other smaller components are cast on thin resin wafers. This means you will need to carefully grind the connecting portion of the part in order to remove the thickness of the wafer. In some cases, you could probably ignore this, but you need to test fit your part to be sure.
This kit contains:
Around 160 grey resin parts

9 clear and coloured resin parts

3 bare brass photo-etch sheets

1 plated and colour printed photo-etch sheet

Series of turned brass parts and wire rod

MiG-specific HGW seatbelts

1 comprehensive decal sheet

Set of vinyl canopy masks

CD with instructions in JPG and PDF format

1 Belgian chocolate
---
Cockpit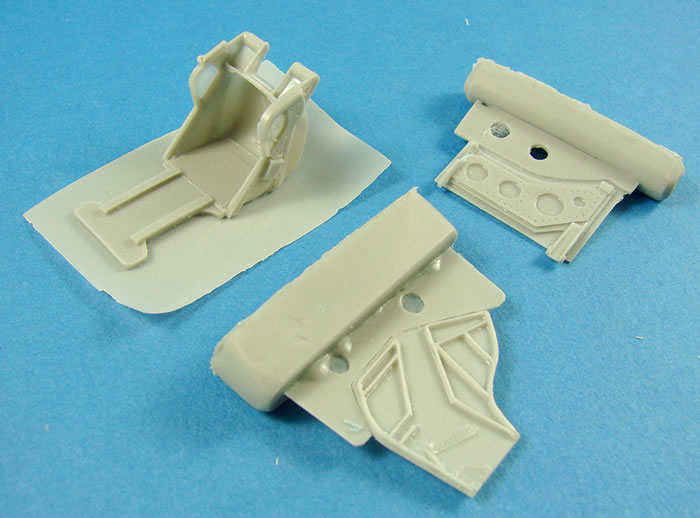 There really is no doubt that HpH's releases drip with detail, and this mini-masterpiece is built upon two intake tunnels that are first glued to the inside of the fuselage halves. Here is where you of course need to arrange your painting early on in construction. Those tunnel parts are not only detailed for the interior cockpit, but they have rivet detail all the way down the exterior faces that you can see down the intake path. The same goes for the internal face of the fuselage parts too. Deep inside those intakes, HpH have even included airflow vanes that help to evenly distribute air over the intake fan. Once you've installed those intake sections, the cockpit work can begin.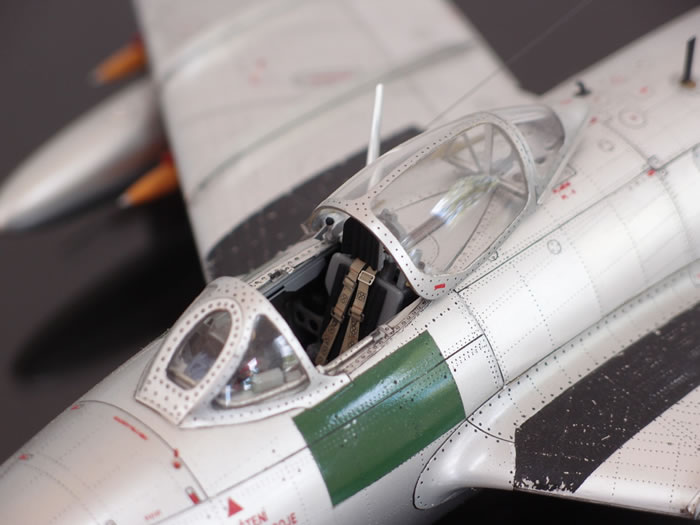 The cockpit is a true multimedia event, with some beautifully refined resin detail, supplemented by a respectable amount of photo etch work. All photo-etch parts in this kit are produced by Eduard. A combination of both brass and colour PE will be installed here. With the forward and rear bulkheads installed, the cockpit is then outfitted with ejection seat rails, avionics, regulators, valves, plus the usual gamut of parts, such as the seat, control column and hydraulic cylinder, rudder pedals etc. Cockpit detail is superb, with nice sharp resin detail shown alongside the Eduard colour PE parts. These early MiGs didn't have the interior turquoise colour that defined the typical Russian Cold War cockpits, and the instructions show this as 'Light Grey Blue. I know the some do not like the inclusion of colour PE, but the parts included here look perfect, with a non-pixelated, solid finish. I'm more than happy to use the parts supplied for this purpose. Of particular note is the laminated instrument panel, finished in black. To help you with precise location of parts in this tiny but packed cockpit, photos are included to assist you, as well as illustrations on assembling the various components themselves.
---
Fuselage
This is supplied in full length halves, with sharply refined panel line detail and subtle rivet lines. HpH added the casting blocks so that they run the full length of the fuselage underside. These are quite thin and just require a knife or razor saw to part them. You will of course need to recreate any missing detail from the surface in those areas, but you would need to do that anyway when you sanded the joint seam. There are actually a couple of areas on the underside that need to be cutaway in order to attach other parts, but these cutaways couldn't be incorporated with the casting block position. RB Productions scribers and saws look perfect for adding any missing detail, as they are fine, and the pounce wheels are available in various pitches. You are sure to find one that matches.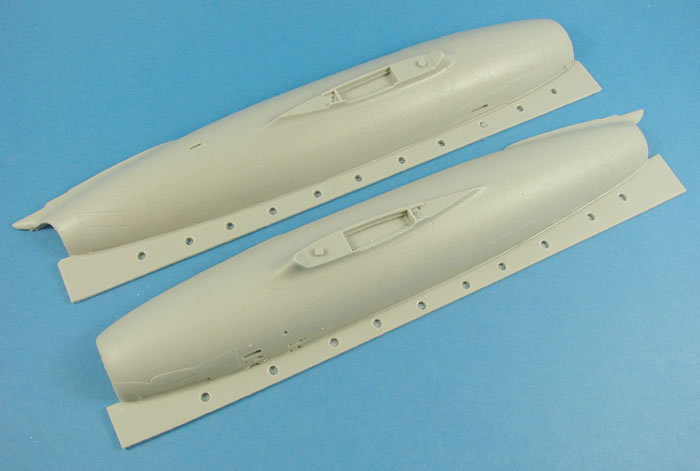 Note that the fin is cast as separate parts too, which for a resin kit is surely easier when it comes to alignment and gluing. When the time comes to attach the halves, a series of peg holes are provided so you can insert your own pins. This should remove any concern about the joints being raised/lower on one or the other parts. Just check the fit first before committing to glue. If you wish to pose the airbrakes in an open position, then you will need to first cut away the resin cast detail. This will then be replaced by photo-etch brake doors and internals surface detail, with a number of resin detail parts. This is always a leap of faith, and I would have liked to have seen some resin cast brake doors, onto which PE detail could be applied. Internal bulkheads are supplied to help you install the internal exhaust pipe. The latter is detailed with a rather nice fan surface.
---
Wings and Fins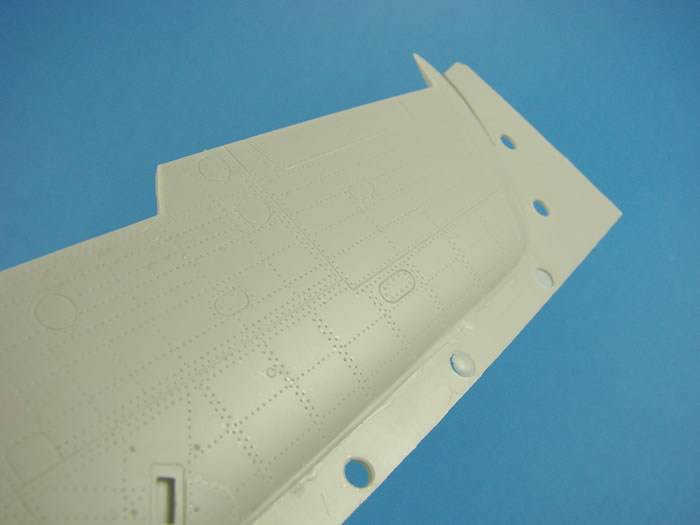 Before you can work with these parts, you will need to remove the leading edge casting blocks. Again, surface detail really is excellent and looks perfect for the scale, with fine panel lines and subtle riveting. The internal wheel bay ceiling detail will be added to with separate sidewall parts, leaving you to perhaps just add a little wiring here and there. There's no real need for anything else, as HpH seem to have it covered! As well as a number of other internal resin components, and a clear light lens that need to be installed, the rear work here will be the inclusion of the landing flaps. These are a photo-etch addition, and unlike Eduard's tried and trusted system of flat panel – fold and twist, these are mostly produced from individual parts, such as ribs etc. The result does look pretty damn good. Take a look at the photos here. For the flap itself, construction is mostly flat and curved plate, and looks very straightforward. More photo-etch is included for the wing fences, and there are clear locations to which these will insert.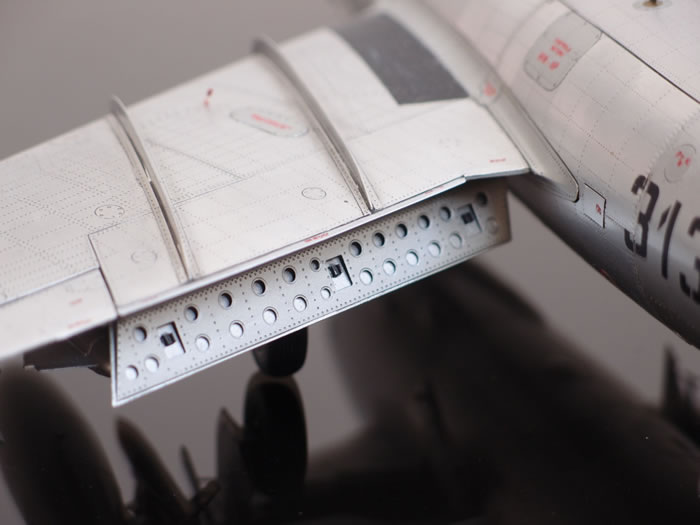 As previously stated, the vertical fin is a two-part assembly. The upper and lower rudder elements are cast as single parts, as are the stabilisers and their separate elevators. You will need to look at pinning the stabilisers to the fin, and as the latter is separate to the fuselage, you might opt to do this before assembly to the fuselage itself. Ailerons are also separate parts.
Wing tanks are suitably realistic!
---
Undercarriage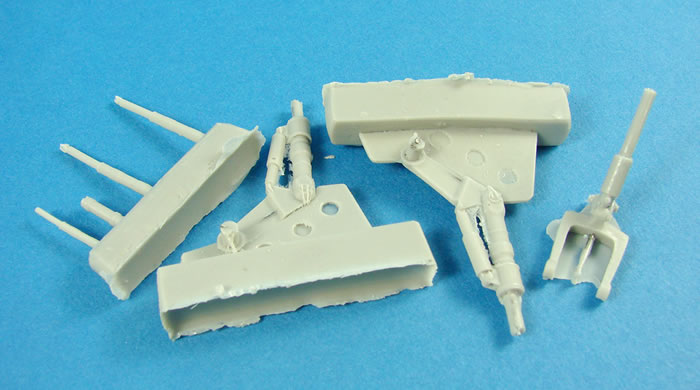 The struts themselves are steel wire reinforced, and will take the weight of the model with no problems. There is a little wire break-out at one point, but this will be entirely covered by the gear bar doors. Wheels and hubs are separate parts, which, depending on your assembly chronology, will make painting these parts much easier. All undercarriage ancillary parts are highly detailed, and all you may need here is a little plumbing from lead wire. Photo-etch parts are used for various brackets and couplings.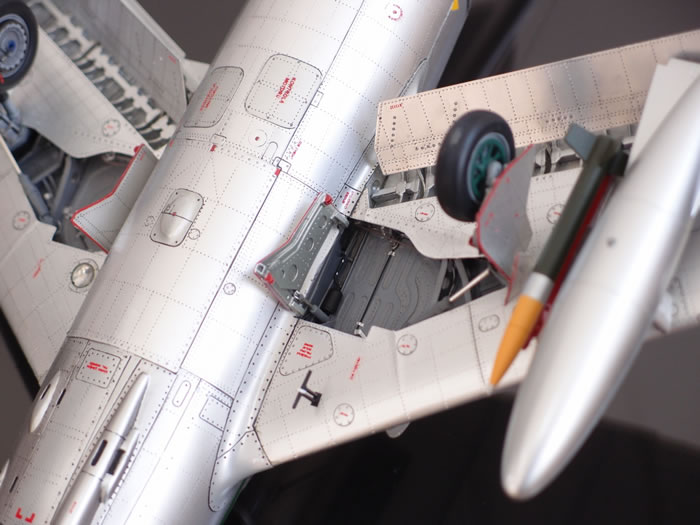 Weighted wheels have been supplied for this release, and to my reference, HpH appear to have got this right. Whilst the nose wheel is tread-less, the main gear wheels have a fine, circumferential tread. To attach the nose wheel to its strut, you will need to drill it and slide it onto a hidden length of wire that juts out between the fork.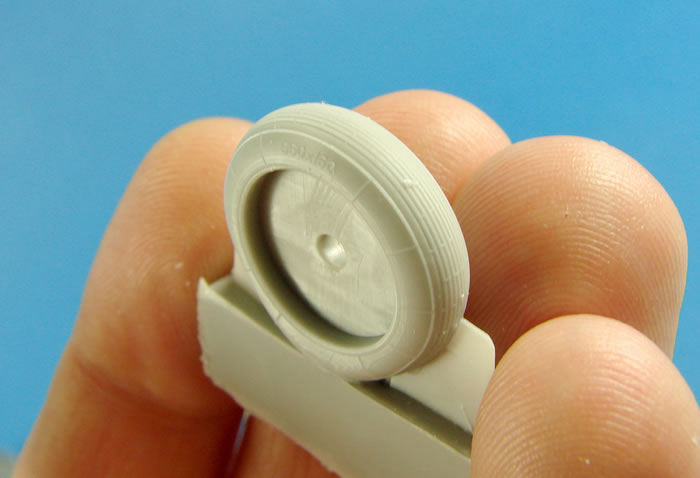 Be careful that you gauge the position correctly so the wheel 'flat' sits on the ground.
---
Clear Parts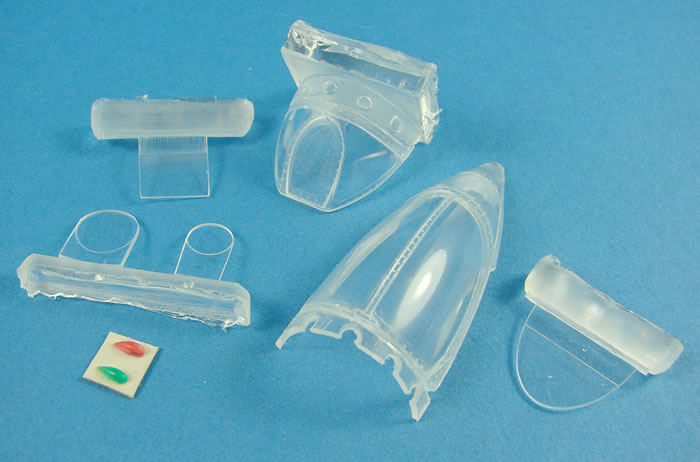 HpH really are the masters of clear resin. They have this down to a fine art. The canopy parts here are just amazing. There are casting blocks to remove, but they have thoughtfully included a resin web to separate the part from the block. Clarity is exceptional, and frame lines are sharp. A small piece of sticky-backed card is included, with a number of coloured resin parts included, such as the wing tip lights. Yes, no need to formulate your own translucent painting solution for this model!
---
Photo-Etch & Seatbelts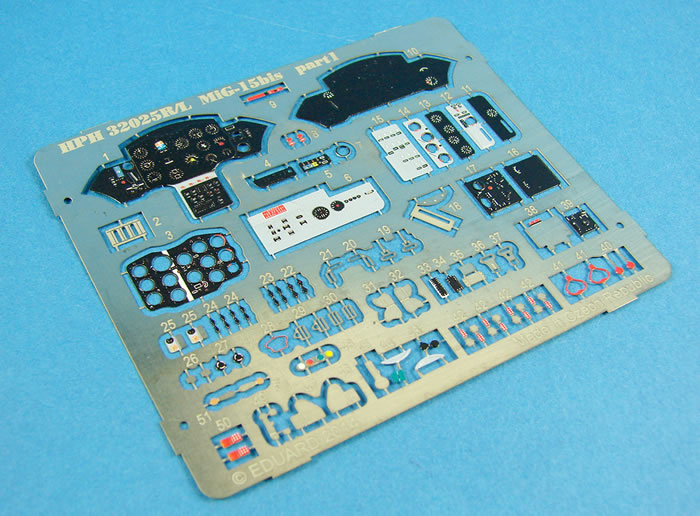 FOUR sheets are included, containing a myriad of parts that are assigned to just about every area of the airframe. These include landing flaps, airbrakes, undercarriage parts, and of course a whole colour-printed sheet for the cockpit. Buckles required for the seatbelt set are also included on these main sheets, and not as a separate fret, as is normal with an HGW release. As this is Eduard, production standard is high. All I can say is that you'll need to carefully follow the instructions so as not to miss any of the parts supplied.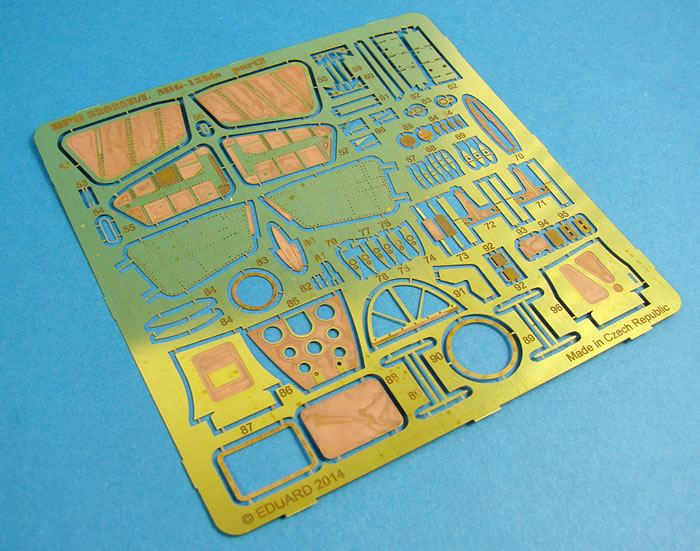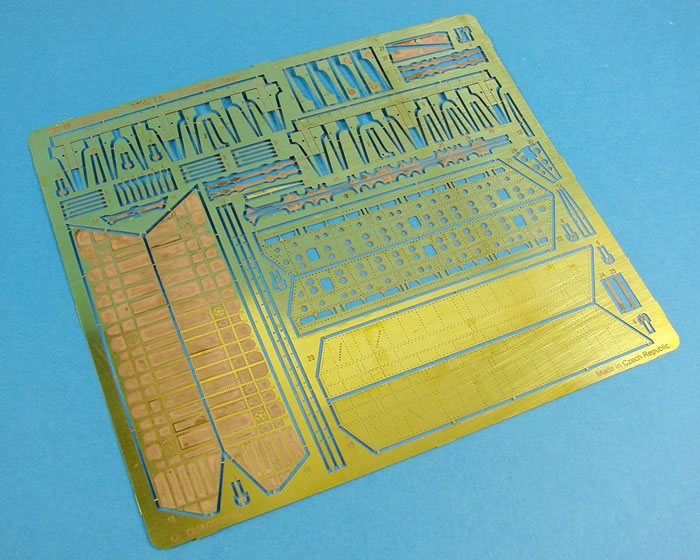 The seatbelts are made from a 'microfibre' textile and are laser cut. You'll need to peel off the packing sheet, scrunch up the parts to break their stiffness, and then assemble.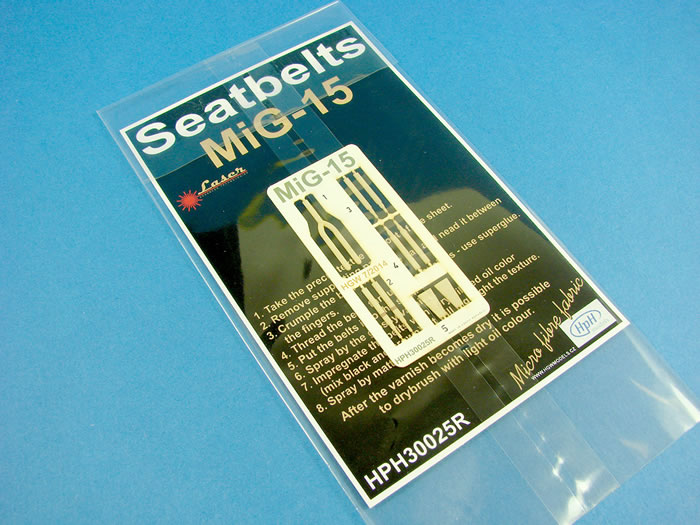 HGW's belts are incredibly realistic when assembled, and they can be washed with oils or enamels etc.
---
Turned Metal Parts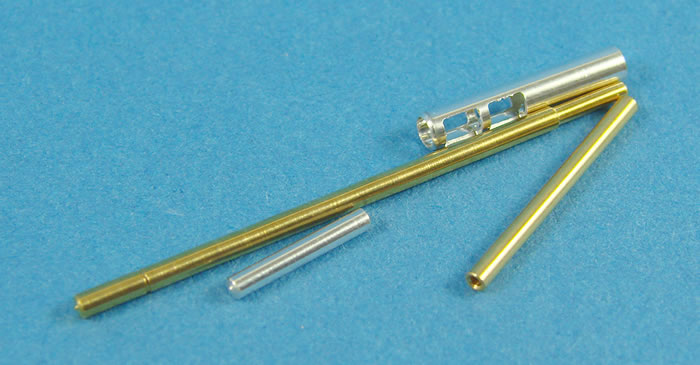 Barrels for the three cannon are included, and the larger cannon has a rather exquisite but fragile looking muzzle. A real masterpiece of turning and milling. Beautifully done. These parts are included inside a small zip-lock bag.
---
Masks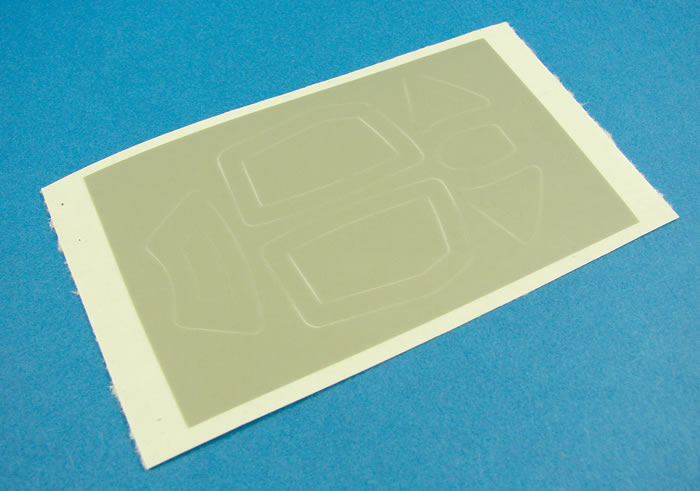 A small sheet of vinyl masks are included for the canopy, but strangely enough, not for the other clear areas such as the transparencies in the belly and lower wing. You'll need to mask these yourself!
---
Decals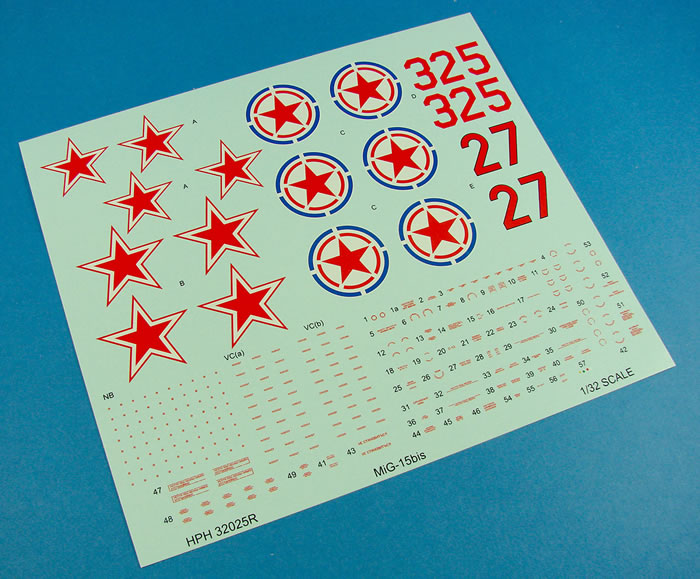 These have all the hallmark of Eduard-produced decals, and that's a possibility due to the other Eduard parts in this release. A single sheet is included which supplies decals for two machines, plus a whole load of stencil data too. Printing is very thin, and has minimal carrier film. Colours are solid and look authentic, plus everything is in perfect register. The two machines catered for here are:
MiG-15bis, 147.GIAP VVS, Soviet Air Force, Kubinka AFB, 1952

MiG-15bis, 351.IAP, Major A.M. Karelin, Korea, 1952
---
Instructions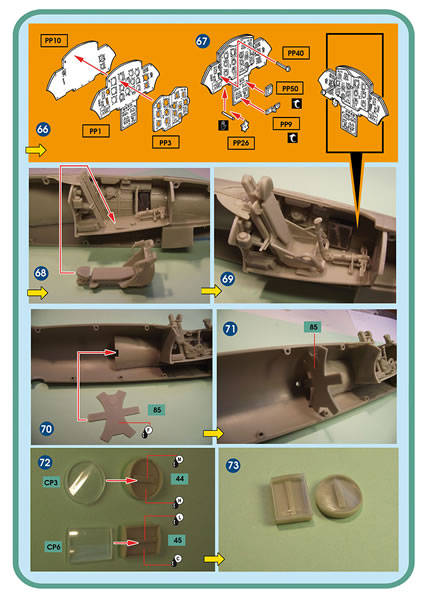 Unless you have a tablet, PC or laptop in your workroom, you will need to print out this manual. I suggest it anyway, or you'll be constantly flicking backwards and forwards to reference build sections. The instructions themselves are excellent, being a combination of both drawn illustration and photograph reference. There are 36 pages included, with a parts breakdown and simple colour reference. The colour profiles and stencil placement diagrams are excellent.
This really is no kit for the beginner to resin models. Resin can be notoriously tricky to master, and this model is very complex, as are many other HpH releases (Note, if you want an introduction kit, try their Ohka Type 11/Reichenberg kit). You'll need your wits about you at all times to ensure that everything comes together as it should, and that no parts are omitted.
Detail is just crazy, and if you crave amazing cockpits and other such areas of eye candy, then this release will fulfil your needs. I think my only real criticism is the lack of a really good scheme. One is quite standard, and the other is fairly difficult to achieve unless you are a demon with an airbrush. To ruin your model at such a late stage would be gutting. Nonetheless, we now have a fully detailed MiG-15bis, and I can't wait to start!
Note: Profimodeller have a neat engine set for this kit, complete with new rear fuselage, drip tray etc.
Highly recommended
Thanks to Profimodeller for supplying this review kit
---
Review Text Copyright © 2015 by James Hatch
Page Created 17 November, 2015
Last updated 18 November, 2015
Back to HyperScale Main Page
Back to Reviews Page