MiG-15UTI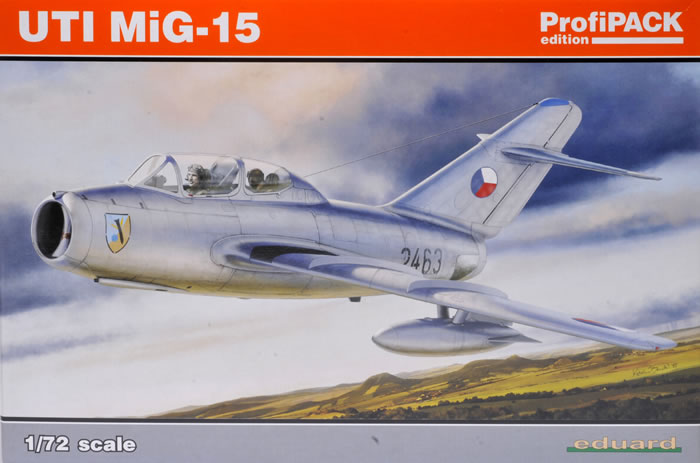 Eduard ProfiPACK, 1/72 scale
S u m m a r y

Catalogue Number:
Eduard Kit No.7055 – MiG-15UTI Profipack Edition
Scale:
1/72
Contents and Media:

78 grey and 10 clear styrene parts, one coloured PE fret with 59 pieces, a pre-cut paint mask, and decals for five subjects.

Price:

Available online from:

Click for currency conversion.
Review Type:
FirstLook
Advantages:
Superb quality components, very god detail, and nice choice of markings. The best MiG-15UTI kit 1/72 scale by far.
Disadvantages:
None noted.
Conclusion:

Superbly engineered, top quality and great value sum this kit up. I think it is possibly the finest injected jet trainer kit in 1/72-scale produced to date. If even more detail is your thing, Eduard has you covered with its various Brassin and PE detail sets sold separately.

Eduard's Midget is a most welcome addition to their range of MiG-15 variants in "The One True Scale"; it joins its Fagot siblings as being the best in its class. I cannot recommend this kit highly enough.

Reviewed by Mark Davies

Eduard's 1/72 MiG-15UTI is available online from Squadron.com
The Mikoyan-Gurevich MiG-15 (Fagot) surprised Western forces upon its service debut, and outclassed the Western fighters it opposed in the Korean War until the United Nation fielded North American F-86 Sabres to counter it. Both designs were the amongst the first widely deployed swept-wing fighter designs, and both would achieve well-deserved iconic status.
The MiG-15 exploited captured German aerodynamic research and, just as importantly, a license-built British Rolls-Royce Nene jet. The latter came about as a result of late-1940's British government lunacy to share technology in accordance with a wartime offer; despite the onset of the cold-war. Much of the credit is of course also due to the MiG design Bureau, as far more was involved than simply cobbling together other nations' ideas.

The MiG-15 effectively founded a dynasty of jet-fighters, and one of the most widely produced aircraft ever; with around 18,000 built when licensed production outside of the Soviet Union is included. Without doubt, it is one of the most widely used post-WW2 fighters, and introduced jet-powered warplanes to a multitude of air forces. Several still fly today in private hands as Warbirds, and perhaps there are still be some two-seat MiG-15UTI (Midget) trainer versions in military service somewhere.
Click on Wikipedia for more insight into the MIG-15's history, development and service.
---
Previous 1/72 MiG-15UTI Kits
Despite there being numerous kits of the single-seat Mig-15 there have only two of the twin-seater preceding Eduard's MiG-15UTI in "The One True Scale":
KP/Korpro (re-boxed by Mastercraft) - From the 1970's? Long-run with extensive fine raised detail, generally accurate, moulding in very hard plastic, often with flash, for many years the only kit of this subject.

Hobby Boss - From around 2007, long run, modern easy-build, generally accurate.
Until now, the best readily available MiG-15UTI was Hobby Boss's offering. It has many good points, not least its great value, but its simplicity left the field open for a a superior Midget. Eduard's eagerly awaited MiG-15UTI debuted as one of four MiG-15 variants in a Quattro Combo Royal Class boxing, reviewed here on HyperScale in August.
---
Previous Eduard 1/72 MiG-15 'First Looks'
I have reviewed four Eduard MiG-15 boxings and Brett Green one here on HyperScale. Readers not familiar with the various boxings released so far can refer to them by clicking on the links below:
Contents
The parts come in a top-opening box and are enclosed in resealable cellophane bags, as is the coloured PE fret (with card stiffener), pre-cut paint mask and two decal sheets. The instructions are provided as a glossy colour printed booklet. They include a parts map and have very clear and easy to follow drawings. English is used throughout. Paint colours are cross-referenced to Gunze's Aqueous and Mr. Color paint ranges (stocked and sold by Eduard on-line), and detail colour call-outs are provided throughout. A copy of the instructions can be down-loaded or opened as a PDF by clicking here.
Obviously the UTI kit shares parts with Eduard's MiG-15 and MiG-15bis kits, but despite this, only one sprue is 100% common with the other two. This is 'Sprue B' with the wings, tailplane, rudder, and the jet-pipe used for the MiG-15 boxing. The two new grey sprues, 'G & H', provide the UTI's fuselage components, cockpit, wheels (with the same choice of hub styles as the other two kits), a wider MiG-15bis jet-pipe, and common to all drop-tank choices. Obviously, the clear sprue also differs from the previous kits because of the two-place canopy, as does the coloured PE fret and canopy paint mask for the same reason.
---
The Kit
The kit is straightforward with a conventional parts breakdown, and is well-engineered. Parts are crisply moulded with delicate recessed surface detail, and include some quite delicate pieces.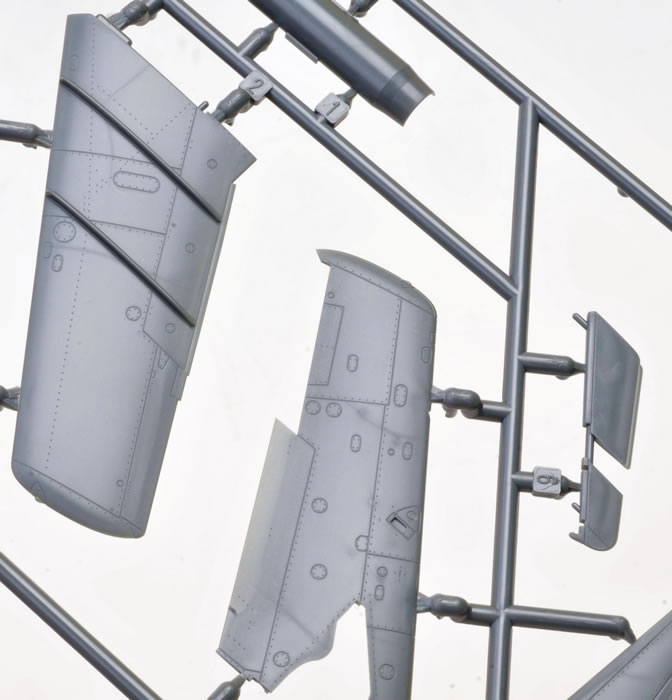 The cockpits are very well detailed for the scale, in part due to the use pre-coloured PE, although this is optional in the case of the instrument and side panels, where decals may be use instead, or alternate panels with raised instrument detail that can be painted. Most will opt to use the coloured PE I think. There is a very nicely done pair of seats that are garnished with coloured PE belts, detailed control columns, PE rudder pedals and various small controls. The cockpit and nose wheel-well are enclosed within the intake trunking as per the original plane. There is a clear part for the gun-sight, which is clearly an ASP-3N gyro-site (a copy of the US Mk.18 captured in Korea). I think that the cockpits look superb when finished, despite their small size; see here and here for examples.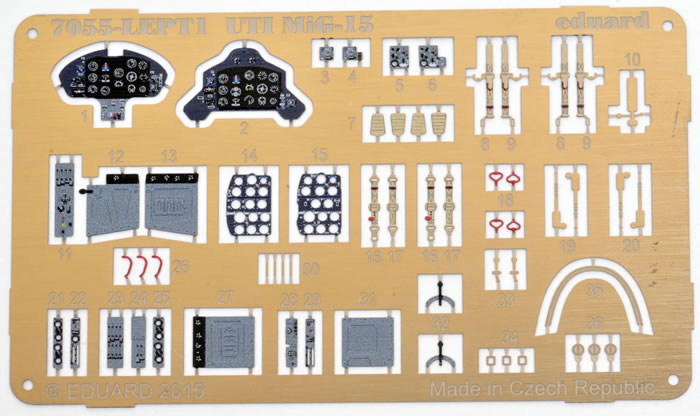 A lengthy two-piece jet-pipe is blanked of by a turbine face, although I think this would only be visible with the aid of a torch. The cockpit and jet-pipe sub-assemblies are enclosed in the fuselage halves along with the separate rudder.
The forward underside from the wing leading-edge to the nose-ring is a separate piece; this provides the nose wheel-well and mounting point for the single 23-mm cannon. The instructions identify the need for nose ballast to be placed under the cockpit floor to prevent tail-sitting, but I would advise to include some more right behind the cockpit as well to be safe, as the under-floor space is quite small. Beware of placing ballast under the rear of the cockpit floor, as this is visible through two clear dielectric panels (see later). The nose ring fitted with the leading edge of the intake splitter caps this area off.
There are two small clear panels that fit one behind the other just aft of the nose wheel-well. The forward-most is circular covers the ARK-5 radio-compass, and the rearmost the MRP-48P marker-receiver. The paint mask includes two panels to fit these clear covers (they are located inside the main canopy masks, so they are easy to overlook). Remember to paint the cockpit floor underside since it will be visible through these clear covers.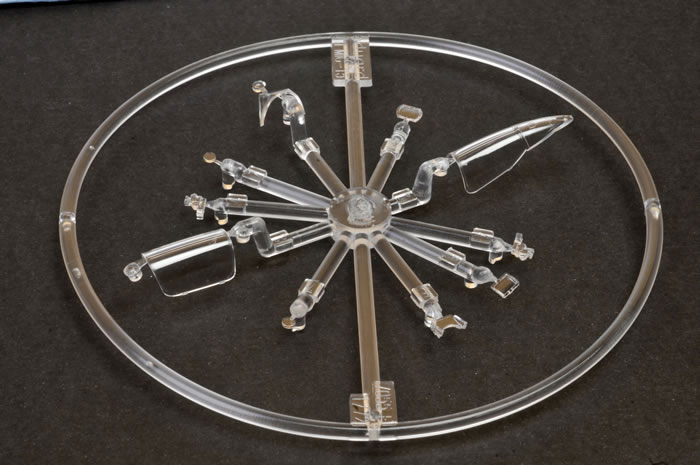 The three clear pieces that form the canopies are acceptably thin and very clear. There is a PE "horseshoe" to fit to windscreen frame, and a hoop-shaped grey plastic part to fit behind the front cockpit that divides the front and rear canopies (it does not look sturdy enough to be called a roll-over frame, I think it is just part of the UTI's structure). There is a small clear part representing a clear panel with mounting brackets that fits onto the rear cockpit's coaming (I assume it is an internal windscreen as the Midget predates HUD technology). You can model the canopy open or closed, and as already touched on, the kit has pre-cut paint masks for the canopy.
All that remains for the fuselage is to fit the antenna mast and a small dorsal blade antenna, plus the nose wheel and its doors. The nose-wheel and it leg are one-piece, as to be expected given its size, but it still looks very finely done indeed.
The wings are divided into top and bottom halves, with the trailing-edge for both moulded with the top piece to provide a sharp finish. The instructions advise which of the partial holes in the lower wing halves to fully penetrate to locate the drop tanks if wished. They instructions also give dimensional guidance on how far to insert the wing-mounted pitot, which is a nice touch. A small clear landing light (which has its own mask) inserts near the port wing-root just ahead of the wheel-well. The two single-piece tailplanes simply locate onto the tailfin.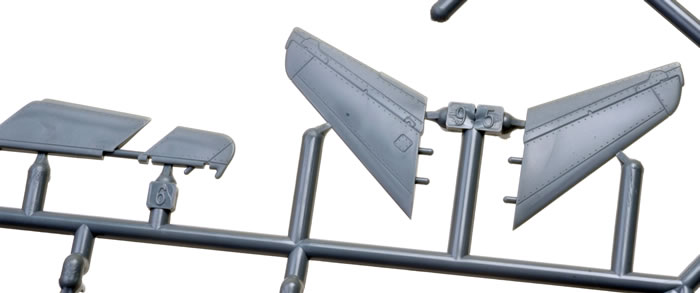 The wheel wells are boxed in and feature moulded detail on the inside of the wing. The main legs are very nicely done, and are garnished with some PE details. There is a choice of wheel hub style, but the choice is not cross-referenced to the markings options. The undercarriage doors are nicely detailed, and the instructions include a couple of detail sketches to guide the angled placement of the doors.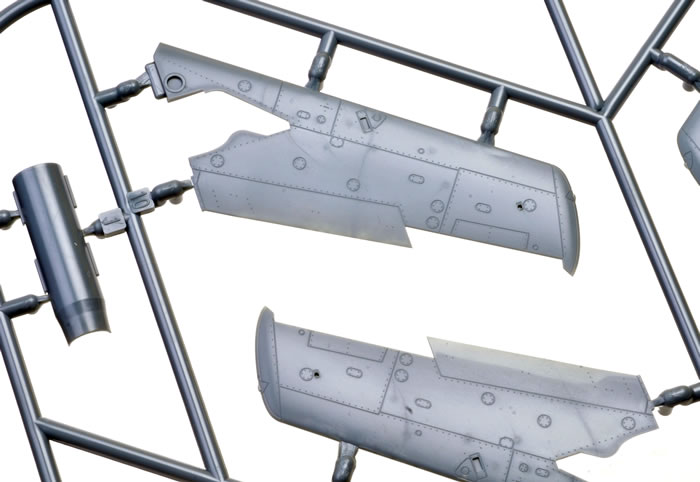 The sheer quality of Eduard's moulding is apparent from the accompanying images. Kits like this make Eduard Tamiya's closest rival when it comes to 1/72-scale aircraft kits. In fact, some might say, that in this scale at least, the coloured PE and paint-masks put the Czech brand ahead of the Japanese one. If this is not enough for you then Eduard offers extra resin and PE detail from it Brassin and various PE ranges; take a look by clicking here.
The old Kovozavody Prostejov MiG-15UTI was bettered by the still nice, if basic, Hobby Boss kit. But now we have the definitive Midget in the 1/72-scale from Eduard. It has been well worth the wait; just take a look at this finished model on Eduard's website by clicking here and here.
The extra detail provided by the coloured PE may not be for everyone, so keep a lookout for Eduard's Weekend Edition (7433) due in November this year
---
Decals and Colours & Markings Guide
The markings options are for aircraft of the Soviet, Czechoslovak, Finnish, Indonesian and Algerian Air Forces:
6th Fighter-Bomber Air Regiment, Prerov Air Base, Czechoslovakia, Summer 1974;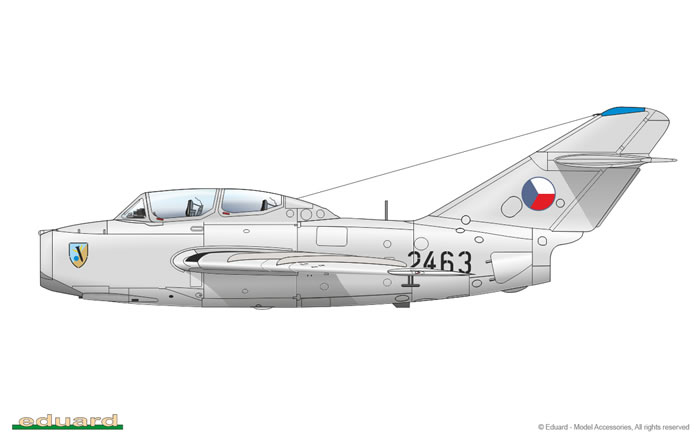 Indonesian Air Force, Jakarta-Kemajoran Air Base, 1960's;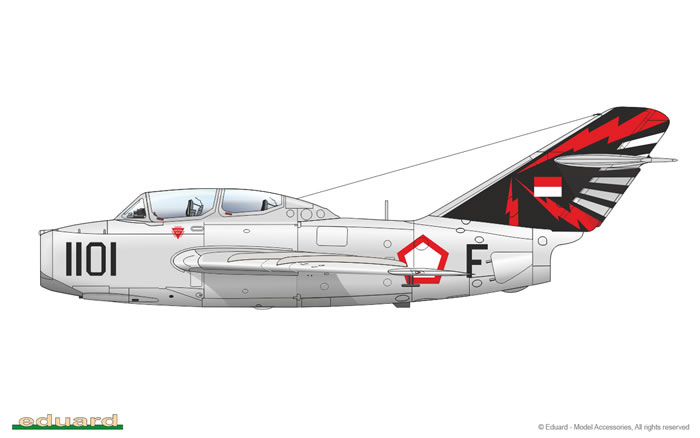 Soviet Union, 1960's -1970's;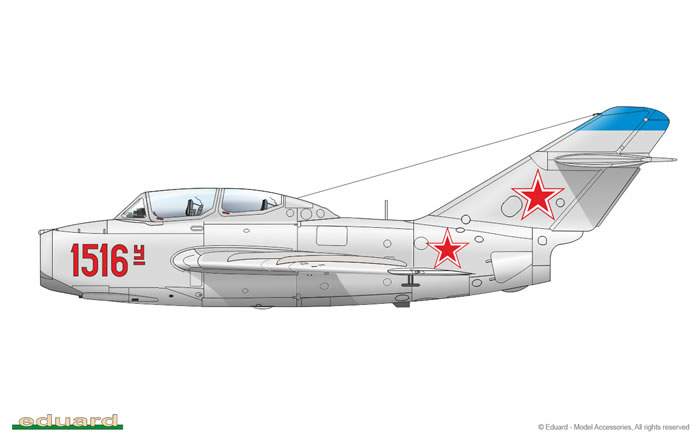 Algerian Air Force, 1960's – 1980's; and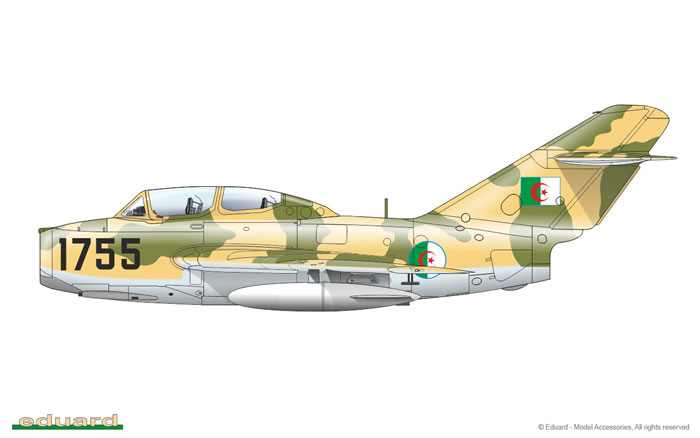 C/n 922226, Havittajalentolaivue 31, Rissala Air Base, Finland, late 1960's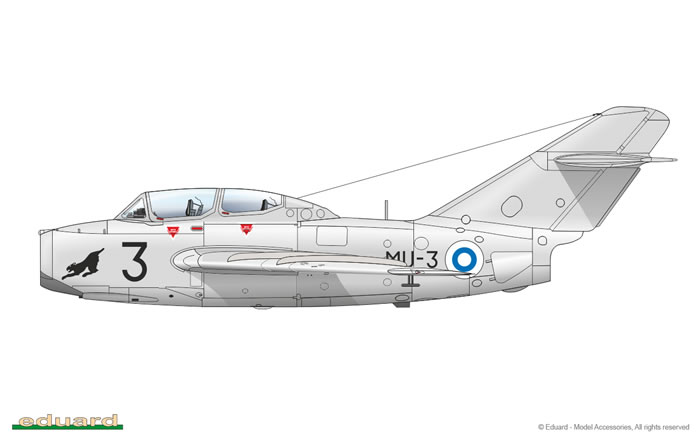 The decals appear to be excellent as would be expected Eduard.
A second decal sheet provides extensive stencilling in both Czech and Russian.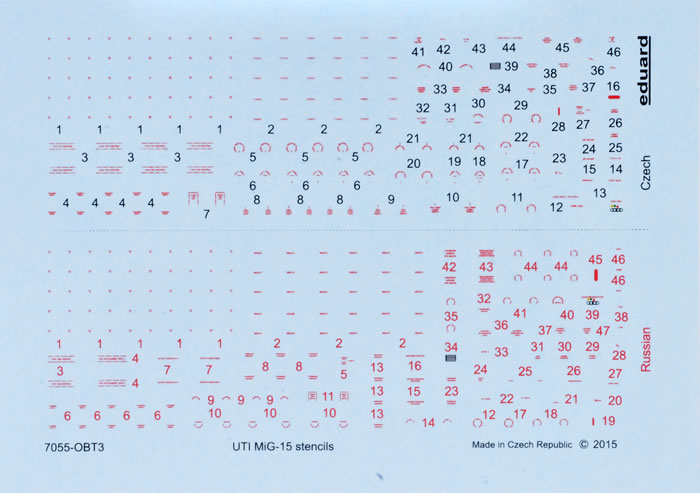 Superbly engineered, top quality and great value sum this kit up. I think it is possibly the finest injected jet trainer kit in 1/72-scale produced to date. If even more detail is your thing, Eduard has you covered with its various Brassin and PE detail sets sold separately.
Eduard's Midget is a most welcome addition to their range of MiG-15 variants in "The One True Scale"; it joins its Fagot siblings as being the best in its class. I cannot recommend this kit highly enough.
Thanks to Eduard for the sample
---
Review Text Copyright © 2015 by Mark Davies
Page Created 28 September, 2015
Last updated 28 September, 2015
Back to HyperScale Main Page
Back to Reviews Page