Guadalcanal Cobras
P-39 and P-400
Limited Edition Dual Combo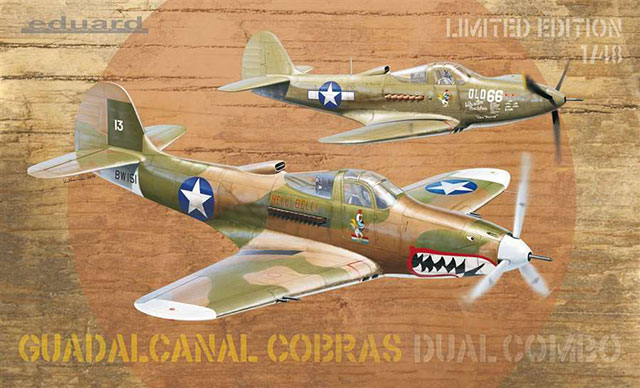 Eduard, 1/48 scale
S u m m a r y :

Catalogue Number:

Eduard Kit No.1161 - 'Guadalcanal Cobras' – P-39 and P-400 Limited Edition Dual Combo

Scale:

1/48

Contents & Media:

Approximately 252 grey coloured plastic parts (62 unused); 12 clear plastic parts; 4 frets of photo-etched brass parts (1 painted, 3 unpainted); 1 sheet of die-cut tape masks; 2 sets of Brassin wheels; 1 decal sheet containing 8 sets of markings for 7 different aircraft; 16 page A5 full colour instruction booklet..

Price:

USD$59.95 plus shipping available online from Eduard's website and specialist hobby retailers worldwide

Review Type:

First Look

Advantages:

Highly regarded base kit with lots of useful extras.

Disadvantages:

Nose weights not provided as they were in some earlier Eduard P-39 releases.

Conclusions:

Another quality release of Eduard's 1/48 P-39 kit, with sound plastic parts, finely detailed resin and photo etch, high quality decals and interesting marking options. Highly recommended.

Reviewed by Brad Fallen


Eduard's 1/48 scale "Guadalcanal Cobras" Dual Combo
is available online from Squadron.com for only USD$44.96!

USAAF Airacobras played an important role in the defence of Guadalcanal in 1942-43. The first P-400s and P-39Ds arrived within weeks of the Marine landings in August 1942 and, as part of the 'Cactus Air Force', helped defeat Japanese attempts to re-take Henderson Field. The Airacobra was a potent ground attack weapon and – while largely outclassed by Japanese fighters – could take lots of punishment and return to fight another day.
As the campaign ground on into 1943 the first Airacobras were supplemented with later versions, some of which remained on Guadalcanal as unit hacks after the Japanese evacuated and fighting moved further up the Solomons chain.
Many Airacobras used on Guadalcanal never left – either destroyed in combat or deemed irreparable and left behind. Despite being picked over for scrap, some of these wrecks were recogniseable for decades, including this P-39 I photographed at a war relics museum outside Honiara, Guadalcanal in 1991.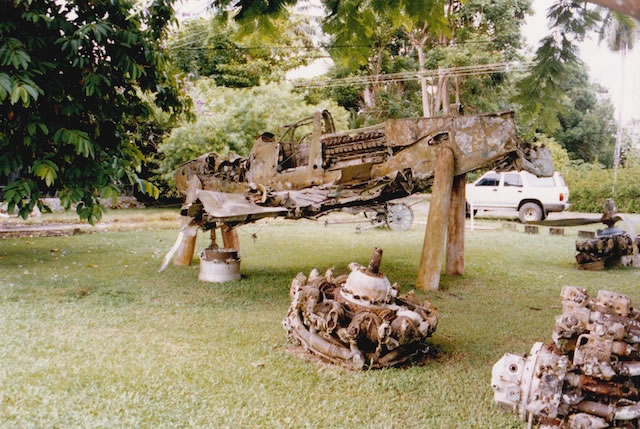 12-stub exhausts suggest (but don't confirm) a P-400, P-39F or possibly P-39D, and while one wing and the entire tail structure were missing, the engine, nose wheel strut and some of the cockpit detail remained. Camouflage is hard to determine – most likely Olive Drab over Neutral Gray, but just possibly ANA equivalents for Dark Earth, Dark Green and Sky. Regardless of the specifics, it was a privilege to see this veteran of Guadalcanal half a century after it arrived on the island.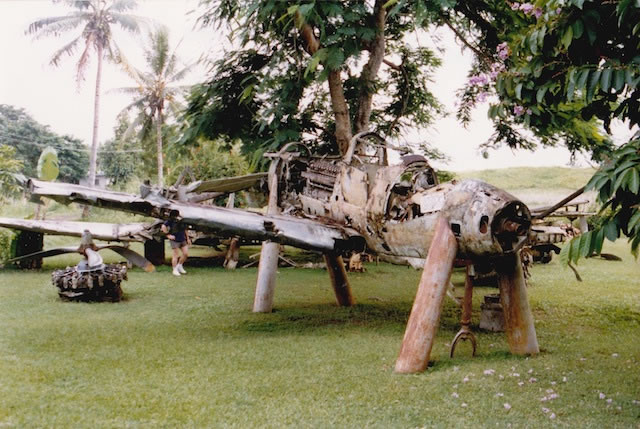 Eduard launched its 1/48 P-39 series 15 years ago. Since then it has released at least a dozen different boxings, including last year's P-39L/N Profipack. Several of these releases have been Limited Edition Dual Combo kits – 2006's P-39 Airacobra Mk.I, which included markings for British-ordered P-39s in RAF and Soviet service, and 2010's P-39 Airacobra over New Guinea. I bought the Mk.I kit at my local hobby shop and was impressed with the contents, and the New Guinea release was also comprehensive.
Now Eduard has released a third Dual Combo Airacobra boxing, this time focusing on P-39s with a connection to Guadalcanal.
Beneath the stylised but effective box art the kit contains enough parts and decals to complete two well-detailed P-39 kits:
Six sprues of grey plastic parts. Eduard's Airacobra parts have been thoroughly and positively reviewed over the years, including on Hyperscale here and here, so I won't go into detail other than to say the parts are crisply moulded with fine detail and little flash. While the age of the kit shows in some of Eduard's engineering choices (such as moulding the propeller blades as separate parts) in almost all respects it holds up well against current releases. And because the sprues contain optional bits for nearly the entire P-39 family, after finishing your builds you'll be left with plenty of spares.
Two sprues of clear parts. These are well moulded – thin and transparent. Eduard has thoughtfully moulded the P-39's two 'car doors' in clear, to avoid the alternative, likely messy scenario of having to insert small clear windows into separate doors.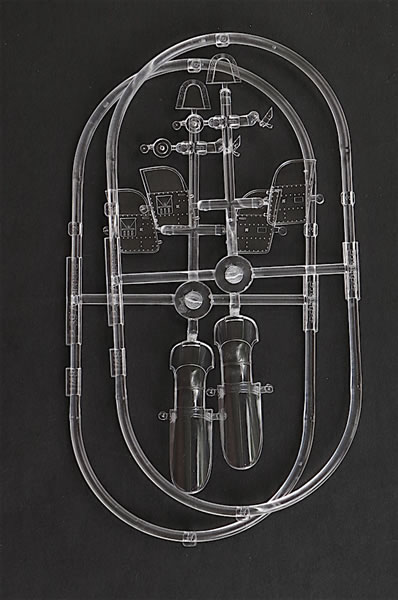 Two sets of Brassin wheels and hubs, cast in grey resin. The sets represent different types of tyres and hubs, with the instructions matching each type to specific aircraft. (I'd check my references to confirm these suggestions before gluing the wheels in place.) The resin parts are beautifully produced, and the castings have been engineered for easy clean up.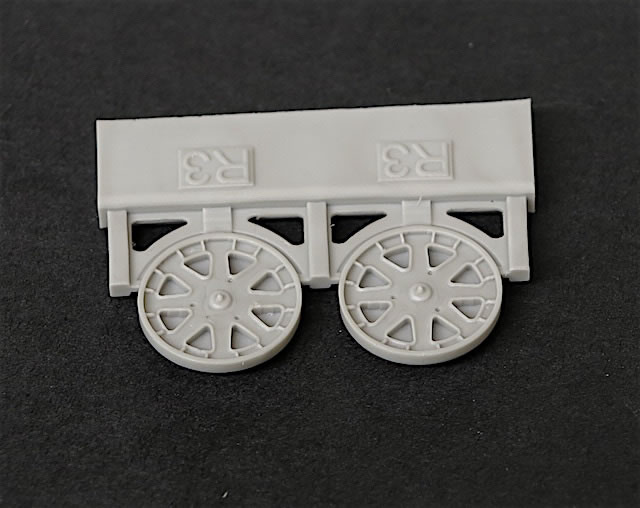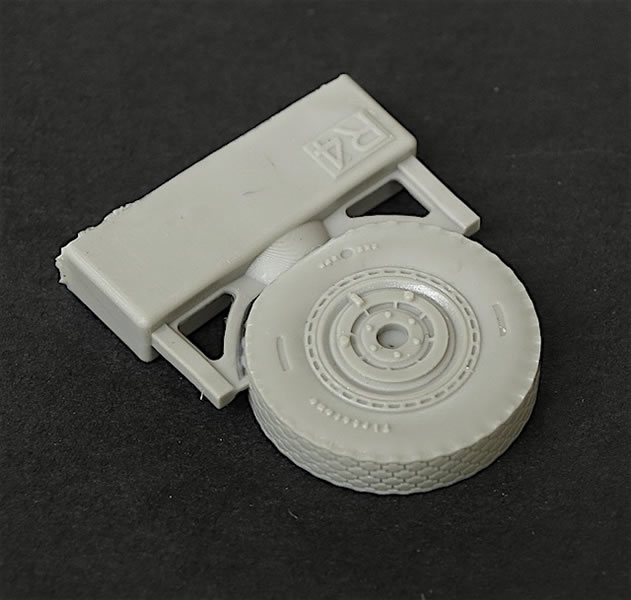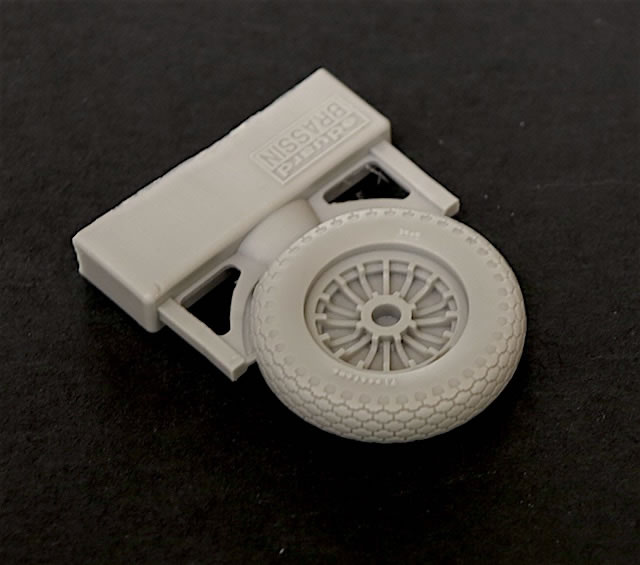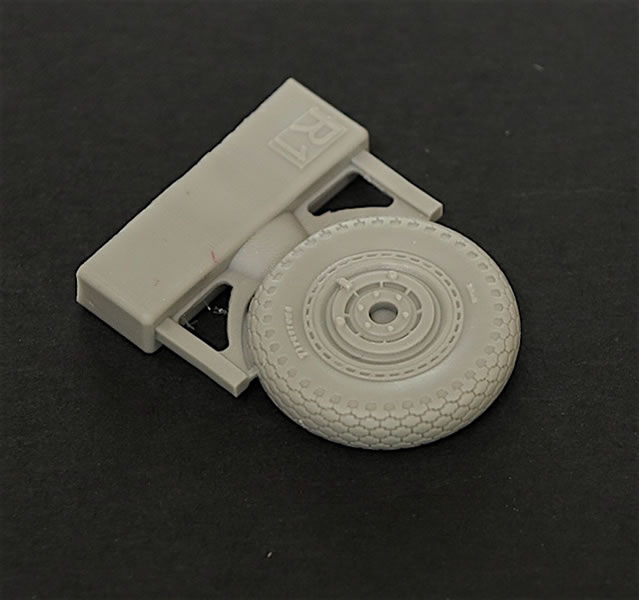 A 16-page A4 instruction booklet with full colour four view painting and decal placement guide and gray scale four view stencilling guide. Assembly is called out through clearly drawn illustrations, with particular emphasis on identifying the correct optional parts to use for each marking option. (For example, there are five different instrument panel configurations.) Gunze Sangyo paint numbers are used to identify detailing colours during construction, and main airframe colours in the painting guide.
Four frets of photo-etched brass parts, one painted and the others unpainted. The painted parts are almost all for the cockpit, and in addition to the instrument panels include seat belts, switches and wiring. Again, there are variations between aircraft so follow the instructions carefully. The larger of the unpainted frets contains radiator grills, undercarriage details and optional radio equipment, while the two smaller ones provide wheel hub covers. Some of the photo-etched parts, such as the radios, are large and will require precise folding; others are tiny and will be prey for the carpet monster. But with careful assembly and installation, the parts will add a convincing level of detail to the finished models.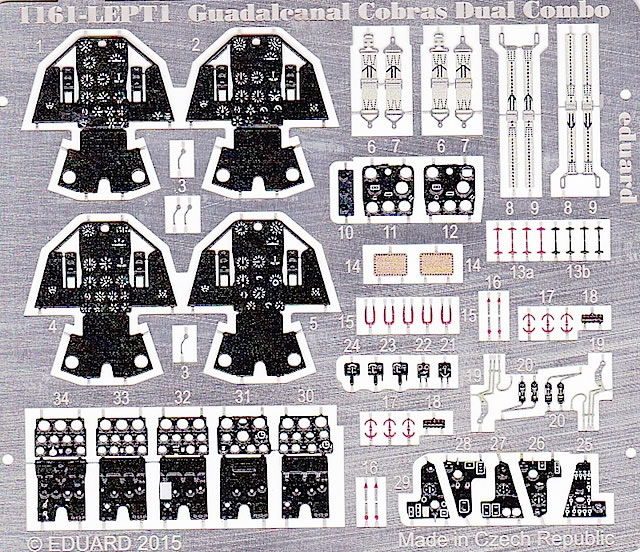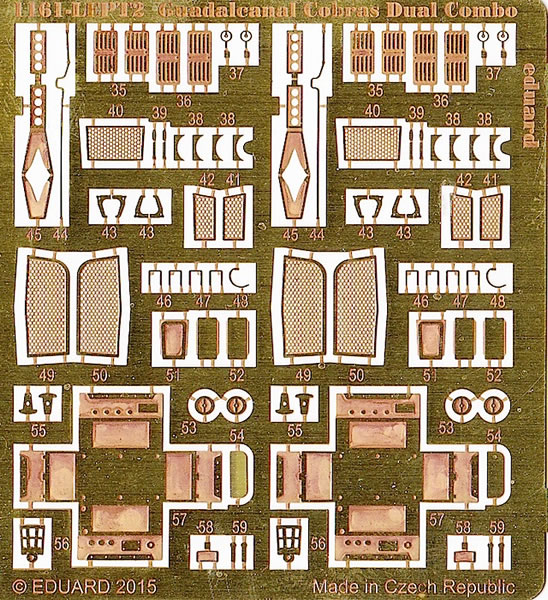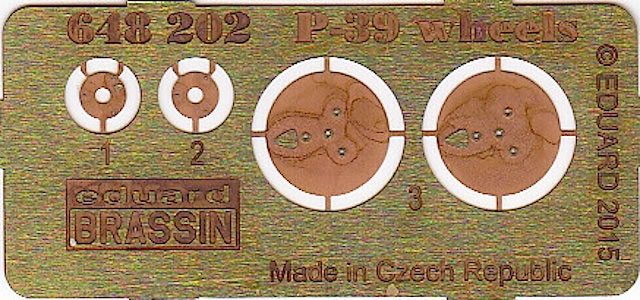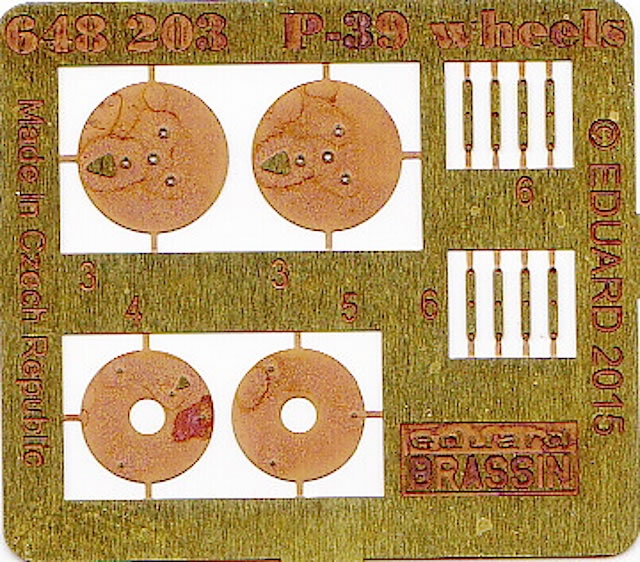 Pre-cut canopy and wheel masks. I've just used an Eduard set to mask the canopy of Airfix's 1/72 Blenheim Mk.I, and in doing so have been reminded of what a godsend these sets are. Granted the P-39's canopy framing is not as complex as that of the Blenheim, but the masks will still ease the time – and stress – involved with preparing your model for painting.
A Cartograf decal sheet containing national insignia, airframe stencils and individual aircraft markings. Production quality is of the high standard you would expect from this company, with printing and registration perfect throughout. Subtly different shark mouth decals are provided for options A and C, and the small nose art and unit insignia decals are finely reproduced.
Finally an omission rather than an inclusion – this kit does not contain the shaped nose weights that Eduard included in some earlier P-39 boxings. This is a shame, as without weighting the finished model will sit back on its main wheels; don't forget to add some lead shot or fishing sinkers before closing up the fuselage.
---

Markings
The big decals sheet is printed by Cartograf. Colour and registration looks great on my sample.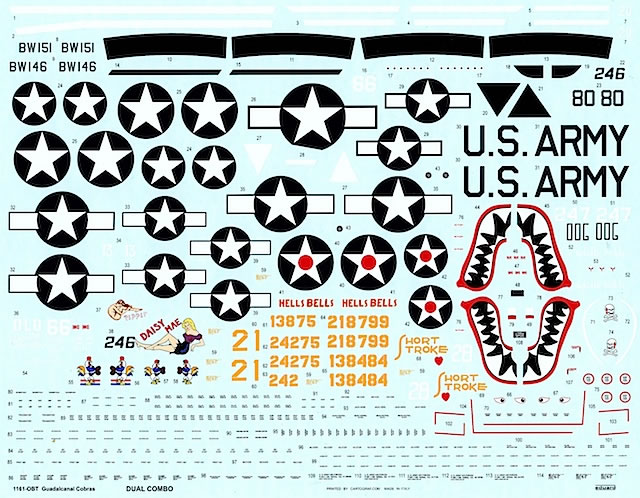 Markings are included for seven P-39s as follows:
P-400, serial BW 151/'Hells Bell', 347th Fighter Group, USAAF, Guadalcanal, October 1942. There has been conjecture over this machine's name for some years – Eduard recommends and provides decals for 'Hells Bells', but a recent thread on Plane Talking (backed by a period photo) suggests 'Hells Bell' is correct. Eduard's marking guide also has the name placed slightly out of position; fortunately both errors are straightforward to correct. As an aircraft originally intended for the RAF, 'Hells Bell' was camouflaged in ANA colours equivalent to Dark Earth and Dark Green over Sky; its distinguishing feature was a snarling shark mouth.

P-400, serial BW 146/'Whistlin' Britches', 347th FG, Guadalcanal/USA 1944. According to the instructions, 'Whistlin' Britches' was "the only Airacobra that survived the Guadalcanal campaign. It was ferried to the States in the middle of 1944 and took part in a Bell Aircraft Corporation promotional campaign". The original Dark Earth, Dark Green and Sky camouflage was replaced with Olive Drab and Neutral Gray, and publicity markings painted on the starboard forward fuselage.

Next up is 'Whistlin' Britches' in its mid-1942 guise, including shark mouth and red-centred national insignia. There is some conjecture over where and when these red centres where overpainted with white; if you don't want to use them on 'Whistlin' Britches', simply substitute the white-centred insignia intended for 'Hells Bell'.

P-39D, serial 41-38484/'Daisy Mae', 12th FS/18th FG, Guadalcanal, Spring 1944. Another long-serving Guadalcanal P-39, 'Daisy Mae' was overall natural metal with an Olive Drab anti-glare strip, blue spinner and impressive nose art. It may have been a unit hack or CO's aircraft.

Less colourful but more historically significant, P-39F '21' (serial unknown/not provided) was flown by Lt. William F. Fiedler of the 70th FS/347th FG in late 1942 and early 1943. Fiedler became a P-39 ace – the only USAAF pilot to do so – over the first half of 1943, before dying in an accident. Like other P-39s attributed to Fiedler, '21' was plainly camouflaged in Olive Drab over Neutral Gray and wore few individual markings.

P-39F, 'Pepper'/serial unknown, possibly operated by the 67th FS/247th FG, Panama Canal Zone, late 1942 – early 1943. The kit instructions are frustratingly vague about this aircraft – from the language used it isn't clear if 'Pepper' served in Guadalcanal, the Canal Zone, or both. Camouflage is cited as Olive Drab and Medium Green over Smoke Blue.

P-39K, serial 24-275/'Short Stroke', 70th FS/18th FG, Guadalcanal, Spring 1943. Olive Drab over Neutral Gray with a blue spinner.

P-39N, serial 42-18799, 12th Fighter Squadron/18th FG, Solomon Islands, 1943-44. Olive Drab over Neutral Gray with white tail surfaces, spinner/forward fuselage, and wing and fuselage stripes. This 'bonus' scheme is presented in the instructions as a port profile only, with anyone wishing to model it directed to the Eduard website. However, don't use the link provided on the instructions as this doesn't work – go to the product listing in the Eduard store and download the instructions marked as '1161-cz.pdf'. You'll find the information on option H is in the instruction booklet where it should be – although I'm not sure why it couldn't have been included in the printed instructions in the first place.
'Guadalcanal Cobras' is another quality recycling of Eduard's 1/48 P-39 kit. It's a combination of sound plastic parts, finely detailed resin and photo etch, and high quality decals. The marking choices are interesting as well – while shark mouthed P-400s have been a popular choice for kit and decal manufacturers, many of the other subjects here have not. Highly recommended.
---
Reference
Bert Kinzey, P-39 Airacobra in Detail (Squadron Signal/Detail and Scale, 1999).
Thanks to Eduard for the sample.
---
Review Text Copyright © 2015 by Brad Fallen
Page Created 29 October, 2015
Last updated 29 October, 2015
Back to HyperScale Main Page
Back to Reviews Page