Bugatti Model 100 (P100)
Record Plane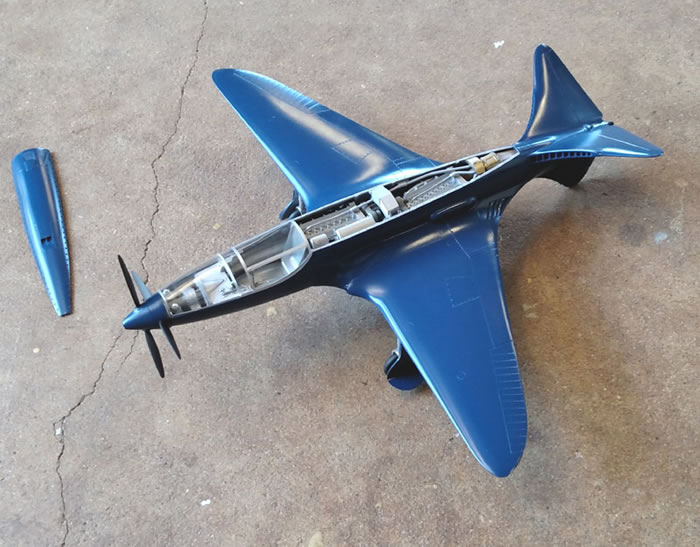 Fisher Model & Pattern, 1/24 scale
S u m m a r y :

Catalogue Number:

Fisher Model and Pattern Kit No. GA-2401 - Bugatti Model 100 (P100) Record Plane

Scale:

1/24

Contents & Media:

14 sprues of grey plastic and two of clear; photo-etched fret, vinyl tyres, decal sheet

Price:

USD$225.00 plus shipping available online from Fisher Model & Pattern

Review Type:

First Look

Advantages:

depicts this iconic aircraft in its most beautiful form, complete with an amazing interior.

Disadvantages:

None noted.

Conclusion:

Stonking model - most highly recommended.

Reviewed by James Hatch


Eduard's 1/48 scale I-16 Type 24 is available online from Squadron.com for only USD$21.86!

I've often heard it said and read that the Bugatti Model 100 was the aircraft that could've won the war in some form or other. Won it for the French against the Germans, and indeed won it for the Germans who would have used a captured design for themselves, against the allies. I don't really subscribe to either of these arguments. It's a flight of fantasy. A supposition about an aircraft that not only was designed as a racing aircraft, and indeed had never actually flown anyway, means that any data on performance simply doesn't exist. The Germans, if having captured the machine after the fall of France, probably wouldn't have used the machine for anything more than trials. I think it's fair to say that Germany's faith in their own technical ability, would have probably taken precedence over a rich man's toy. Having said that, the design of the Model 100 really shouldn't be kicked to the kerb. It truly was a revolutionary design, and way ahead of contemporary fighter design. Whether it could've been used for Military service is simply a matter of conjecture.
Designed by Louis de Monge, Ettore Buggati's chief designer, the Model 100 was actually powered by TWO Bugatti automotive engines that were fitted into the airframe at slightly opposing angles, driving two contra-rotating propellers. The design also incorporated an inverted V-tail layout that contained the engine's cooling intakes, as well as a fully retractable undercarriage. Construction was also mainly of timber. This design was so promising that the French approached Bugatti with a proposal to utilise the Model 100 as a fighter aircraft, despite it being designed specifically for the Deutsche de la Meurthe cup race. History had caught up with Bugatti's Model 100, and the machine wasn't completed for the designated event, and as Hitler's troops began their assault on Europe, the Model 100 was safely stashed away before being restored and put on display.
The story doesn't end there though. In fact, it continues today as a team of aero enthusiasts recreate the beautiful and unique lines of the Model 100, with a view to flying this reproduction and putting it through its paces. This model is produced in conjunction with these guys. You really must check out their website here: http://www.bugatti100p.com
If anyone was to produce a beautiful model kit of this aircraft, then Paul Fisher would be your man. In fact, many years ago, he released this subject in 1:48 scale, and those models not can fetch a pretty penny if found for sale. With Paul's expertise in mind, he was commissioned to create this new 1:24 kit of what must surely be one of the most aesthetically pleasing machines ever to have not flown!
This one comes in quite a large and sturdy corrugated cardboard box, with a top-opening lid. The actual product label is on the side of the box, and looks quite understated. Opening the box up, you see a real hallmark of Fisher's releases; lots and lots of fine tissue paper. Main components such as the fuselage and wing, are wrapped in tissue, and the various zip-lock bags of smaller parts are tucked within the folds of tissue paper. Full marks for protecting the contents of this kit. Underneath all of the parts is the instruction manual and a small decal sheet for the cockpit instruments. There is no photo-etch required for this kit, as Paul has reproduced all detail in resin.
---
FUSELAGE
This part is copiously wrapped in tissue paper, and a quantity is also stuffed into the space between the fuselage walls, to help prevent any squashing inwards at this point. As the model has a fully detailed engine bay, the spine is cast separately, as can be seen here. Another point of note is that the inverted 'V' tail is cast in situ. The tail units on the P100 were smoothly faired into the fuselage, so this was simply the best way of ensuring that the clean lines of the Bugatti will translate through to your model kit. Please also note the fin intake vanes alone the leading edge of the tail surfaces, beautifully reproduced here. Being resin, there are some mould paring lines which need to be removed, and these are along the edges of the tail plane, and also on the underside of the nose area. A few swipes with a sanding stick should make those history. Some of the joint edges also want cleaning up, and a little filler where things are slightly jagged.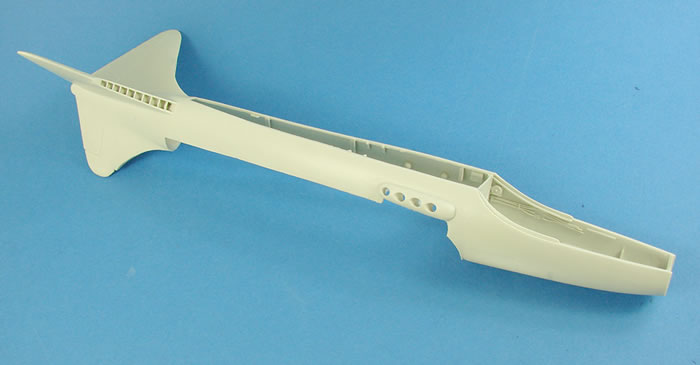 There isn't too much in the way of detail on the exterior. The P100 was mostly constructed of wood, and this was sanded smooth, sealed and filled etc, before being painted. Notice that there are two exhaust manifold fairings on the exterior; one for each of the two engines. There is some internal cockpit detail though, including floor and sidewall wiring and cast positions where the numerous cockpit internals will be placed. All elements within here are sharp and have excellent definition.
---
WING
This is an impressive, heavy, single piece casting that really has to be seen to gauge just how good it is. Externally, you will find no rivets etc. due to the Bugatti's timber construction, but you will see some beautifully scribed panel lines, fabric tapes on the elevators, sharply defined louvres on the rear wing root, and nicely shaped wheel wells. The latter don't contain any detail, with only minor detail being included during assembly, such as the strut pivot mounting plates. What detail there is, however, has been superbly executed by Paul Fisher, with the same attention to detail that we have come to expect from his work. It's safe to say that the Bugatti's slightly forward-swept wing form is perfectly captured here, along with the thin-edged wing root that mates up perfectly to the fuselage.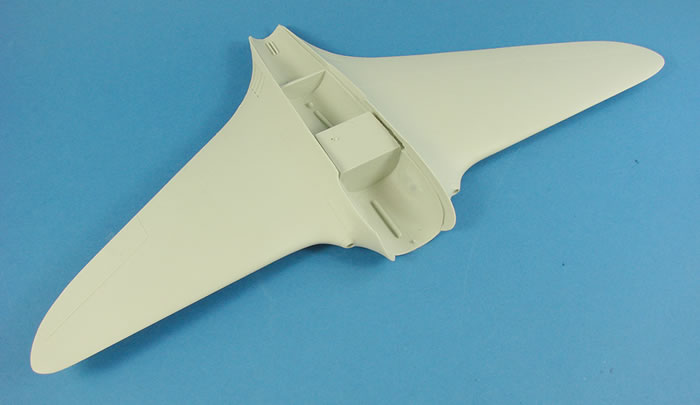 Before the wing can be attached to the aircraft, you'll have to assemble and fit an incredible amount of detail on the centre section. Here, both engines and associated hardware will be installed. Just make sure you follow the instructions carefully, and if in doubt, temporarily fit the fuselage to make certain that those parts will be properly encompassed within the sleek design.
---
OTHER COMPONENTS
Scattered around the various folds of protective tissue paper are another SIX bags of resin parts. I don't think there's strictly any rationale for what parts are bagged together, in the main, but these is a loose relation in some bags, such as main gear doors, wheels and struts etc. also packed in with the two contra-rotating propellers. One of these props is badly curled at the tip, but a dip is very hot water will fix that immediately as there is no physical damage.
Let's take a look at what these parts are, and there place in the bigger scheme of things, along with some photos to give you an idea of the detail that is present here.
---
WALLET 1
As already mentioned, here you will find the main undercarriage struts, wheels, hubs etc. Note that the struts don't actually have any reinforcement wire in them, but I'm very confident that if it's not included here, then Paul knows it's not needed. Strut detail is very simple, as per the real thing. I'm not sure whether you might need to add a hydraulic line to these, so check any reference you may have, with the Bugatti Project pages being probably the best reference you can access.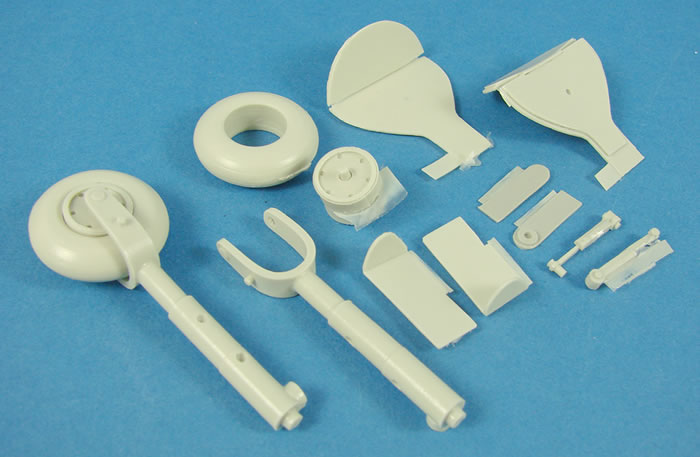 The hubs fit neatly into the wheels, and then the cast lugs sit inside the strut forks. There is a little clean up to do on some parts, such as the paring line from the mould, seen along the outside of the wheels. As the wheels are tread-less, this is an easy task to accomplish. The main gear bay doors are cast as single pieces, complete with their folded appearance. Note also the small retraction arms in this packet too.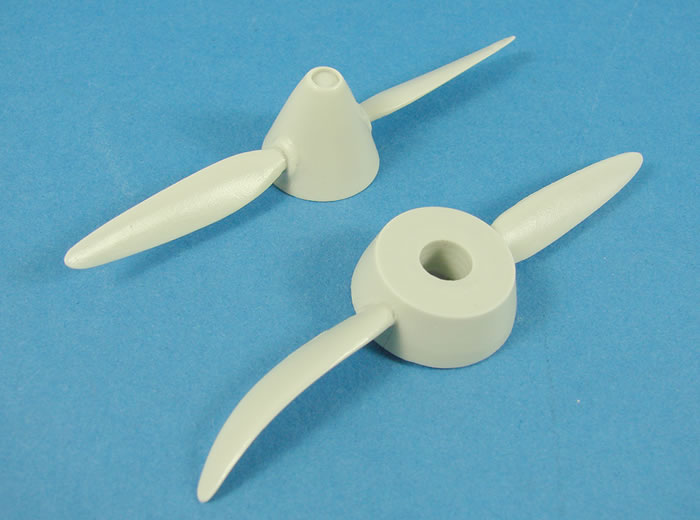 Propellers are cast integrally to their spinner parts, and putting these together shows that they match perfectly. The edges of the prop blades are nice and thin too, and minimal clean-up will be required.
---
WALLET 2
Quite a number of cockpit parts here, such as those sidewall consoles through which run the two power transmission shafts from the engines to the propellers. Sitting these inside the cockpit illustrates a perfect fit.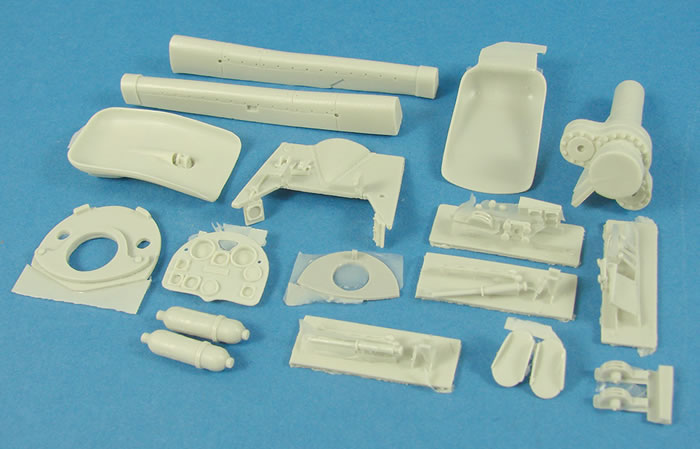 For such a small, narrow cockpit, the Bugatti was picked with enough detail to more than satisfy the modeller. Take a look at the parts here, and you'll see bulkheads, gearbox/prop-shaft unit, transverse plate with fairing and instrument detail, instrument panel that fits to the transverse plate, casting blocks with throttle details, levers, instruments etc., two part seat that's very reminiscent of those seen in modern gliders, and lastly, two compressed air bottles that sit either side of the sleeved prop shafts in the forward fuse.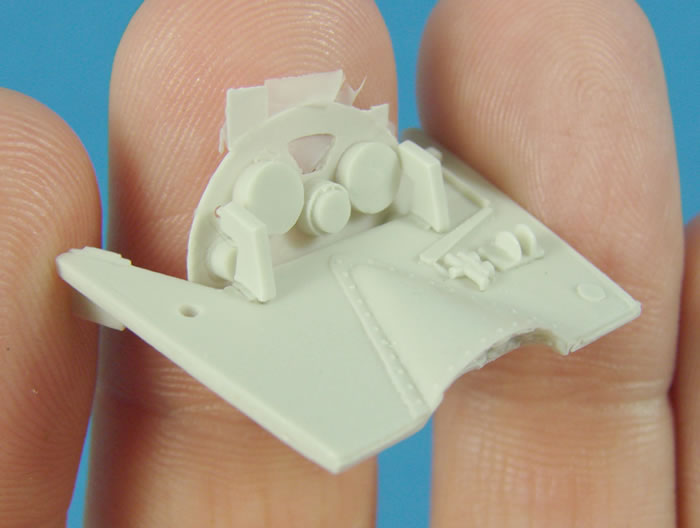 I'm very impressed with the instrument panels. The instrument fascias are bold, and also blank, to accommodate instrument decals that are included. At the rear of the panels, the instrument bodies can be seen. Again, a little wiring here should be all that's required.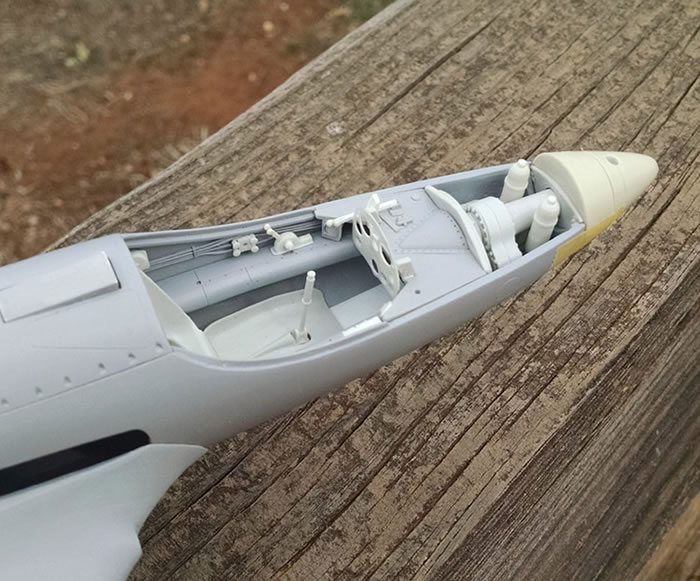 Don't think that any of this detail is wasted either, as the Bugatti has an impressive canopy that will show everything you include.
---
WALLET 3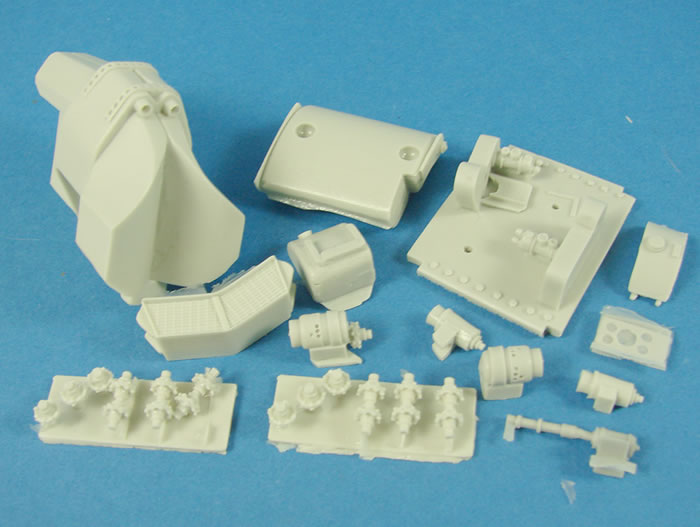 We venture into the rear engine compartment now, with a number of associated parts. These include forward and aft magnetos, oil pump/shaft, equipment mounting platform, radiator, air ducting unit, coils, oil tank, header tank, and casting blocks containing numerous timing gears….all of course essential for a high performance racing aircraft. Many parts here are either lugged or tabbed for precision assembly, and as before, the detail is just incredible. You really won't want to glue the spine over this area when completed, and nor should you!
---
WALLETS 4 & 5
These are pretty similar in content and almost identical in remit. They both concern the dual engine installations. The lower crankcase of each engine is buried deep within the fuselage, and simply won't be seen. Paul has used this for his benefit by making that lower area a block that plugs into the wing centre area, onto which the rest of the engine is built.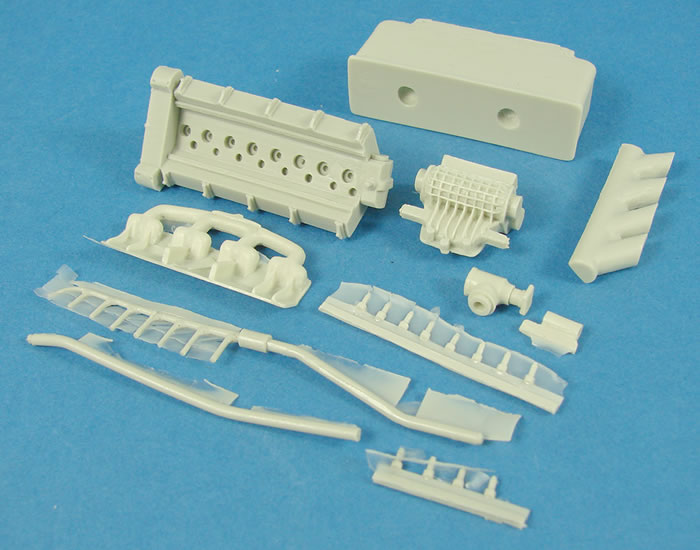 These packets contain cylinder head blocks, crankcases, intake and exhaust manifolds, a strip of spark plugs, blower and drive unit, camshaft drive, and water cooling piping. Despite the apparent complexity of the finished arrangement, this actually looks quite simple to assemble and should cause zero problems….as long as you have patience for those spark plugs! Some wiring is all that's required here.
---
WALLET 6
The last packet contains the spine, complete with vents and intakes, plus a gorgeous clear resin canopy that's wrapped up in tissue paper.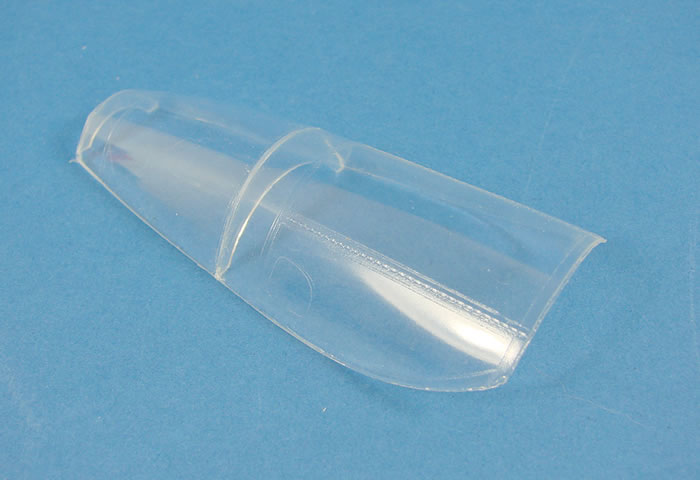 Clarity is extremely good, and framing detail means that this should be easy to mask and spray. There's also a small decal sheet for the instruments, designed by Airscale and printed by Fantasy Printshop, so quality really is assured.
---
INSTRUCTIONS
Fisher's instructions are driven by their photographic illustrations, depicted in black and white, but with descriptive text that helps you with every single area of construction. As this model is very intuitive with regards to design, many components are quite obvious when it comes to their location. Simple colour notes are given on the front page, but there is some confusion as to the interior colours as these no longer exist on the original. Suggestions are given, as well as for external colours and the use of Bugatti motorcar reference for the engine bay.
This is an absolute STONKING release from Fisher Models, and depicts this iconic aircraft in its most beautiful form, complete with an amazing interior.
Remember, this is also a 1:24 model, despite the model's wingspan of around 1ft. This means it should also fit comfortably in your display cabinet too as it's around the same size as a 1:32 single seat fighter. Production quality is first rate. If anyone knows how to master and produce a whole resin model, it's Paul Fisher. This isn't a cheap model, relatively speaking, but is still very good value for money when you consider the subject and amount of resin included. It's also a real showstopper, in terms of style and execution. This will soon be rolling from my workshop, but finished in bare wood and metal, and not the racing blue you would expect. I just hope it turns out well. If not, it was Paul's suggestion!! If you are keen on this kit, remember that there are only to be 200 made!!
Highly recommended.
My sincere thanks to Paul Fisher of Fisher Models for this review sample and build opportunity.
---
Review Text Copyright © 2015 by James Hatch
Page Created 17 August, 2015
Last updated 17 August, 2015
Back to HyperScale Main Page
Back to Reviews Page