Stampe SV.4B "Belgium", SV.4C "France", SV.4B "UK" & SV.4A/C "Aerobatics"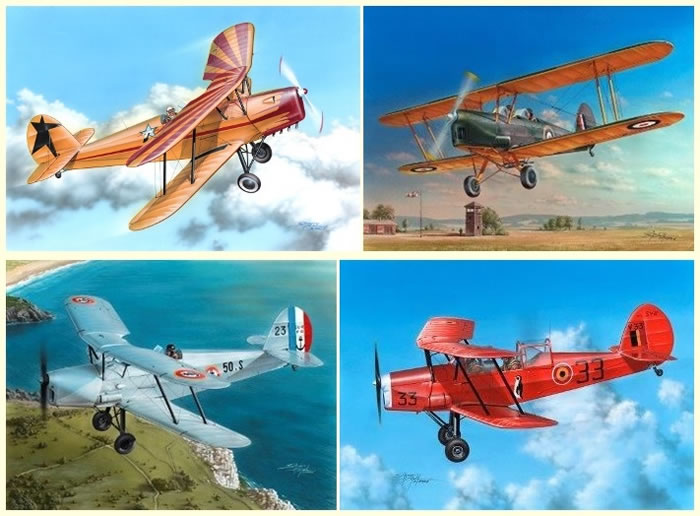 Azur serie FrRom, 1/72 scale
S u m m a r y :

Catalogue Number:

FR024 – Stampe SV.4B "Belgium"

FR025 – Stampe SV.4C "France"

FR026 – Stampe SV.4B "United Kingdom"

FR027 – Stampe SV.4A/C "Aerobatics"

Scale:

1/72

Contents & Media

Common to all four kits, with some surplus parts in each case: Fifty-seven grey and four clear styrene parts, five resin parts, and three decal options.

Each individual boxing has one or two resin parts specific to the version represented.

Price:

Available on-line from these stockists:

Stockist

Belgium

France

UK

Aerobatics

Hannants

1001 Model Kits

n/a

Aviation Megastore

Review Type:

First Look.

Advantages:

The only 1/72 scale injected Stampe SV.4 kits, good quality, good surface detail, and nice choice of markings.

Disadvantages:

None noted.

Conclusion:

1/72-scale Stampe fans will be pleased to have a modern, good quality injected kit of the SV.4, with all major versions covered across four boxing choices. The subject should also appeal to those who like colourful biplanes, especially civil subjects. Nicely moulded and detailed, with plenty of options across four boxings; these new SV.4 kits should be winners. I am happy to recommend them all.
Reviewed by

Mark Davies

Bronco's 1/72 scale scale BV P.178 will be available online from Squadron.com
The Stampe et Vertongen SV.4 (also known as the Stampe SV.4 or just Stampe) is a Belgian two-seat trainer/tourer biplane designed and built by Stampe et Vertongen. The aircraft was also built under licence in France and Algeria.
The SV.4 was designed as a biplane tourer and training aircraft in the early 1930s by Stampe et Vertongen of Antwerp. The first model was the SV.4A, an advanced aerobatic trainer followed by the SV.4B with redesigned wings and the 130 hp de Havilland Gipsy Major.
Only 35 aircraft were built before the company was closed during the Second World War. After the war the successor company Stampe et Renard built a further 65 aircraft between 1948 and 1955 as trainers for the Belgian Air Force.
A licensed SV.4C version was built in France by SNCAN (Société Nationale de Constructions Aéronautiques du Nord) and in Algeria by Atelier Industriel de l'Aéronautique d'Alger, the two firms completing a combined total of 940 aircraft. The postwar SV.4C was widely used by French military units as a primary trainer. Many also served with aero clubs in France, numbers of which were later sold secondhand to the United Kingdom and other countries.
Source: Wikipedia
---
Previous 1/72 SV.4 Kits
I'm aware of several previous SV.4 kits covering various versions. There have been resin kits from CMR, Epoxy, Eurokit/Replica, PJ Productions, Planet Models, and Vami Models; and vac-form kits from Expomodel II and Rudel.
A modern injected kit covering the major versions of this aircraft is sure to be welcomed by Stampe fans in the "One True Scale".
The Contents
The kits each come packed in an end-opening box with attractive art-work on the front and colour scheme profiles on the rear. The main sprues are in a re-sealable bag, with the clear sprue, resin parts and decals further enclosed in their own plastic bags. The instructions are A5 format booklets printed in colour on glossy paper with a brief aircraft history in French and English. They include a parts map that identifies surplus parts and use diagrammatic assembly stages that are clear and easy to follow.
Detail colour call-outs are indicated by letters keyed to a table of colours below the parts map, and are also colour shaded within the instructions. Four-view colours and marking s diagrams are also provided within the instructions. These are nicely done and printed in colour, with generic colour names in English and French, and include Gunze Sangyo paint-range numbers.
A rigging diagram is also provided, and this includes a plan and dimensions to aid scratch-building control wire horns for the rudder.
---
The Kit
The first thing I focused on when examining the three main airframe sprues was the surface detail applied to the external surfaces. This is nicely done with the delicate underlying structure well captured. There are some small and very finely moulded detail parts that will require careful removal from the sprues, even though the gates are quite fine for a limited run kit. Cockpit detail is good for the scale and more than adequate for such a small cockpit opening, although seatbelts will need to be added from other sources for best appearance.
The mouldings are generally quite clean, although some easily removed flash was evident in several places (no surprise for a limited run kit). The clear sprue is crisp, with clear and acceptably thin canopies and windscreens. The resin parts appear flawless.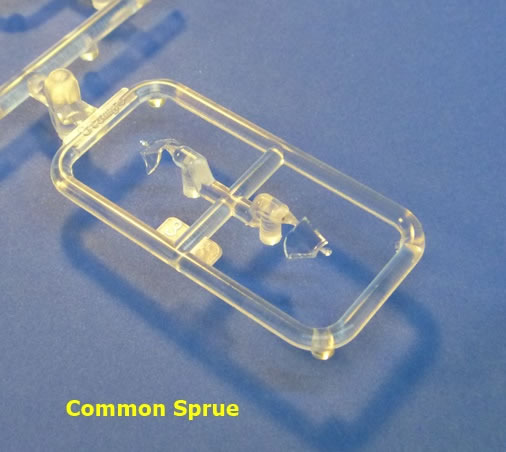 The four sprues and small block of resin parts are common to all four kits, these include two styles of engine cowl and propeller; the closed two-seat canopy, closed single-seat canopy, and dual windscreens; and in resin there are two venturi pitots, two small cowl bulges for the SV.4C, and a strut-mounted pitot.
Some resin parts are specific to individual boxings: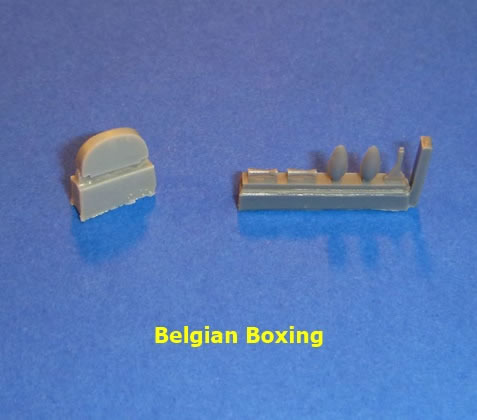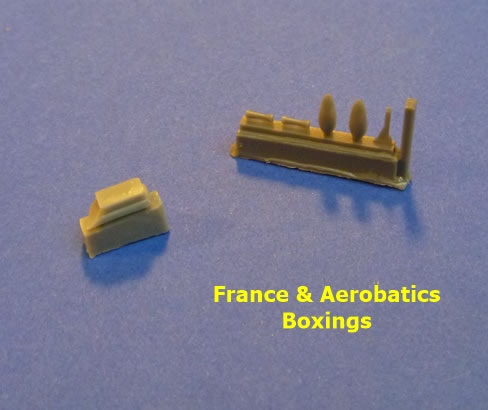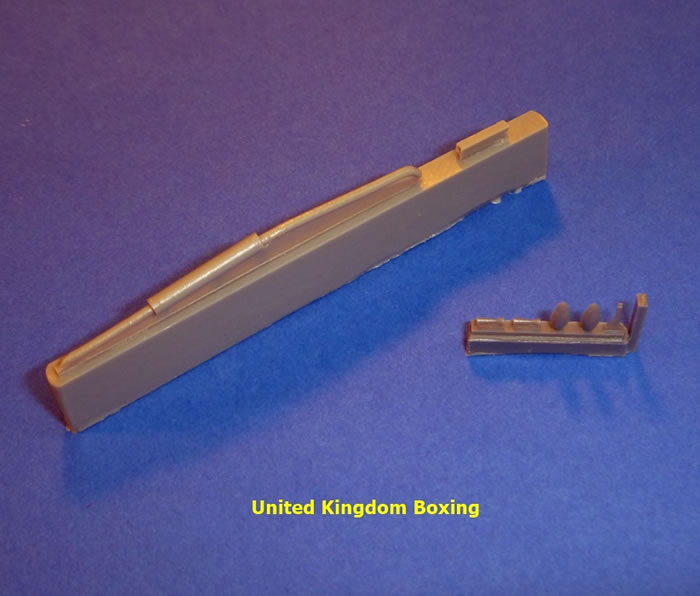 I have read only one build account of this new kit in its UK boxing. Reportedly, all went well with assembly, although some difficulty with fixing the wing struts at the correct angles was experienced by the builder. It seems that a head-on view giving the cabane strut angles would have been helpful. A jig should help in this respect, or perhaps fitting the cabane struts after the top wing is located on the interplane struts may be the way to go, as determining the interplane strut angles is far easier than for the cabanes.
---
Marking Options
Appealing schemes are provided with each boxing, although no doubt some will opt to finish their models in some other attractive finishes, as there are many examples amongst civilian operators. The schemes offered by each boxing are as follows:
FR0024, SV.4B "Belgium". Each of the Belgian options features penguin logo for some reason; whatever it is, it adds interest to the colour schemes:

V33 of the Belgian Air Force in overall orange with Day-Glo red panels on the nose, wingtips and rudder.

Belgian Air Force Display team Les Manchots. This scheme may have either the two seat closed canopy or an optional single seat canopy.

V23 of the Belgian Air Force in overall silver dope with high-visibility yellow trainer bands.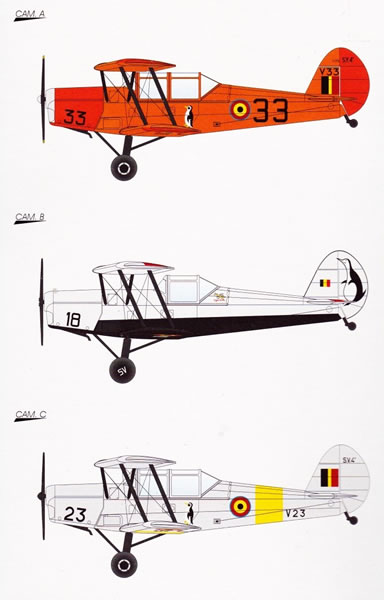 FR0025, SV.4C "France":

No. 45 of Escadrille 50S Aeronavale in overall silver dope;

No. 360 of the Armee de l'Air in overall Khaki;

F-BDEE in overall silver dope with orange nose, fin wing and tailplane tips.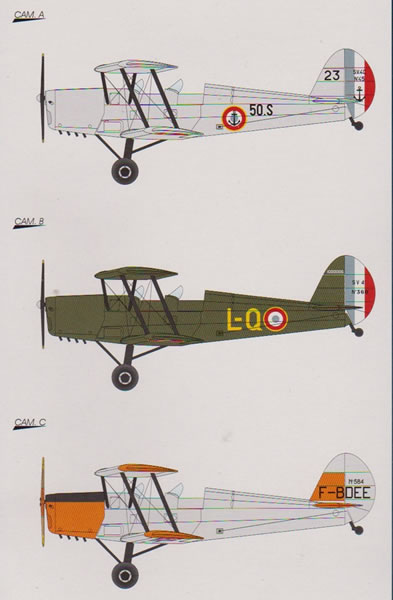 FR0026, SV.4B "United Kingdom":

MX457 ex-Belgian civil OO-ATD after application of dark green and dark earth camouflage over trainer yellow, and fitting an extended exhaust-pipe.

Ex-Belgian civil OO-ATD as it appeared immediately after its escape from Belgium on Jul 5, 1941, with RAF roundels applied over its overall silver dope civil scheme.

G-ATKC in a yellow, red and black civil scheme.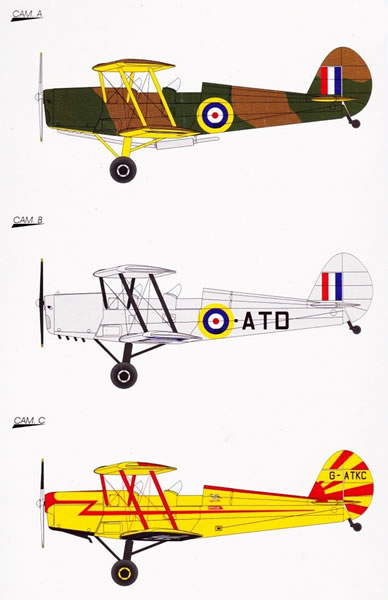 FR0027, SV.4A/C "Aerobatic":

F-BDGI flown by French aerobatic champion Marcel Charollais. There are two different variations of the same eye-catching yellow and red scheme for this aircraft, both with the front seat faired over.

F-BDNM in overall silver dope with red trim as it appeared in St Yan in the 1950s.

D-EEFB in overall red with white trim.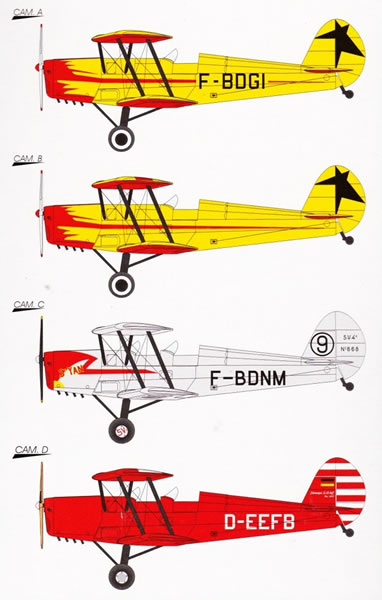 The decals by Aviprint generally appear to be excellent, with the exception of the UK boxing's, where the yellow surround to the fuselage roundel was clearly off-centre in my sample. Perhaps nit-picking, the red is also possibly a bit bright for the British national markings (a common fault with many brands).
---
Azur serie FrRom Stockists
Azur serie FrRom is a niche line of kits produced under the umbrella of the Azur label, which is an MPM-group brand. FrRom stands for France & Romania, and refers to the types of subjects originally envisaged for this series; although it has quickly expanded beyond subjects from these two nations.
I have noticed is that various on-line shops list Azur serie FrRom either under Azur, or separately as FrRom or FrRom-Azur. Also established Azur stockists do not necessarily carry Azur serie FrRom (because of their different distribution channels). So if you are looking to buy Azur FrRom kits be sure to check out all combinations of the brand name, and also suppliers you might not normally associate with Azur or other MPM-group products.
1/72-scale Stampe fans will be pleased to have a modern, good quality injected kit of the SV.4, with all major versions covered across four boxing choices. The subject should also appeal to those who like colourful biplanes, especially civil subjects.
Nicely moulded and detailed, with plenty of options across four boxings; these new SV.4 kits should be winners. I am happy to recommend them all.
Thanks to Azur serie FrRom for the sample kits.
---
Review Text and Images Copyright © 2015 by Mark Davies
Page Created 24 August, 2015
Last updated 24 August, 2015
Back to HyperScale Main Page