Battle of Britain
Ready For Battle Gift Set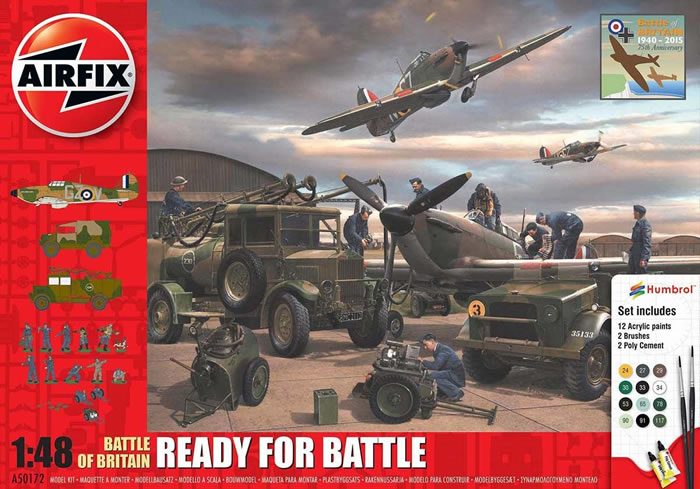 Airfix 1/48 scale
S u m m a r y

Description and Catalogue Number:

Airfix Kit No. A50172 - Battle of Britain - Ready For Battle Gift Set

Scale:
1/48
Contents and Media:

466 parts (419 in grey styrene, 26 in clear styrene, 1 length of black vinyl hose, 2 tubes of Humbrol cement, 2 paint brushes, 16 tubs of acrylic paint)

Price:

£24.16 (Export Price) or £29.99 (EU Price) plus shipping available online from Hannants

Review Type:
FirstLook
Advantages:

Diorama in a box!

Disadvantages:

Few noted (see text).

Conclusion:

Highly Recommended for all Battle of Britain and softskin vehicle fans building in 1/48 scale.
Reviewed by Cookie Sewell
Forty-six years ago I heard of a new film which, as a fervent 1/72 scale aircraft modeler at that time, that I really needed to see. The film was "Battle of Britain" in which Albert "Cubby" Broccoli had gone out of his way to make the most accurate war film of the day with nearly 110 original (more or less!) aircraft and a superb cast of "A" list British actors and an equally good German cast. While the film did stretch a few points, it was relatively faithful to its subject and still has the best RAF vs. Luftwaffe scenes from any film, period. I saw it seven times in between attending Vietnamese language classes.

The best British pattern kits of the day were those from Airfix, and they were producing very good kits at that time such as their Stirling and Hampden bombers and a number of other interesting kits like fuel bowser and airfield support vehicle sets. I built all of them (alas, the aircraft melted in my car during an inspection due to El Paso Texas having 100+ degree temperatures in the summer!) and still fondly remember them today.



Over the years Airfix has had its ups and downs but right now their 1/48 aircraft in particular mark a major upswing in quality and accuracy. And right in time for the 75th Anniversary of the Battle they are releasing some nice new kits, of which this gift set is a real gem.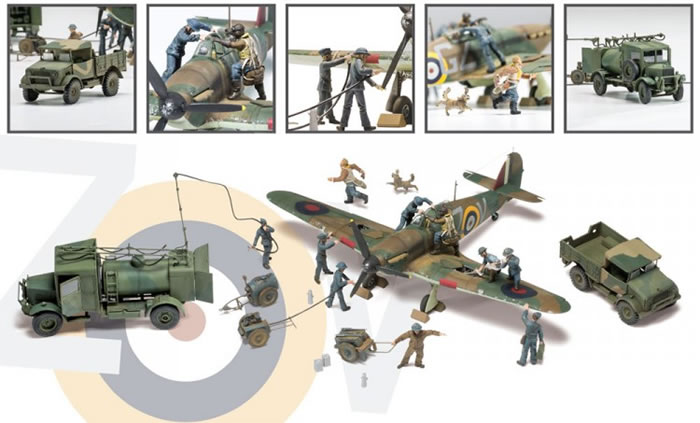 This single point of purchase set includes a very well done Hawker Hurricane Mark I, an Albion 3-Point Fueller (petrol bowser), a Bedford MWD light truck, an oil bowser, a Trolley Accumulator (starter cart), an ammunition cart, wheel chocks, accessories, and a set of ten figures - two pilots and eight ground crew (plus another pilot in the Hurricane) and even a dog. As it seems to be oriented at the casual hobbyist the box is nearly complete as it also provides two small tubes of Humbrol Poly Cement, a large and small paint brush, and 16 10cc tubs of Humbrol acrylic paint in various appropriate colors. All of this is covered in a very thick and complete 42-page instruction manual. Color is used for the painting sections as well as highlighting some subassemblies.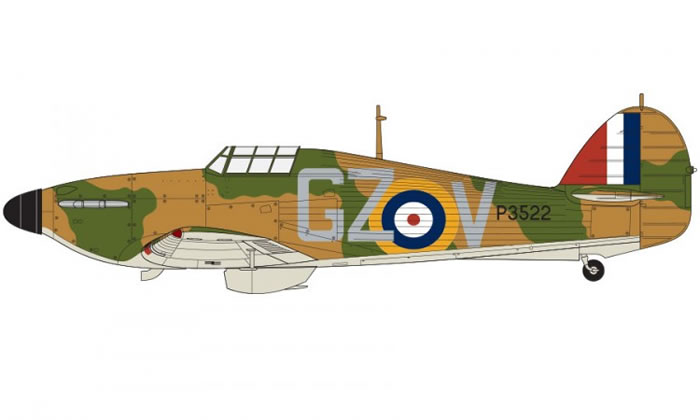 The Hurricane I consists of 128 parts and provides a large number of options such as wheels extended or retracted, two different styles of propeller and spinner, optional parts for a Sea Hurricane I and a sand filter (not used in this kit), closed or open cockpit, and closed or open gun bays with eight .303 gun breeches. The modeler must cut open the gun bay doors and remove them but scribed lines are provided inside the wing for their removal, and a complete set of replacement door sections come on the parts sprues.

A relatively complete interior (at least from what is visible through the canopy and wheel wells) is provided and is very nicely done. The model also permits posing all of the control surfaces as the modeler desires. (I do think as an inside joke someone has shown the pilot figure wearing glasses!)

Only one set of markings is provided - P3522 serving as GZ-V of 32 Squadron at RAF Biggin Hill in July 1940. This is shown in the dark green/dark earth/sky pattern of the day.

The Bedford MWD kit consists of 95 parts and also comes with several options for assembly to include open, cab roof, or full tilt with two different attachment schemes to tie the tilt to the body. It includes a basic engine of two parts, full driveline, and "flattened" tactical tires. It does provide pedals and shifter inside the cab and a rifle rack too.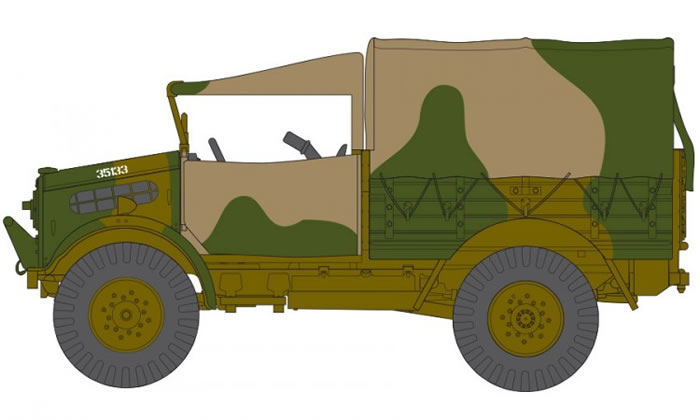 There is an inspection panel inside the body which may be displayed open and the hood (bonnet) may be shown either closed or open. Several different light/bridging plate options are available for the grille.

There are two different tailgates - one up and one down - and both are different so much be chosen to match the builder's wishes. A rear flap may be installed down or furled as well. Canvas doors and folding windscreens complete the build.

The MWD is shown in two color camo of dark green over khaki with dun color canvas.

The Albion consists of 114 parts and also provides various options for construction. It too comes with an engine and full driveline but "street" tires with civilian tread pattern (and unflattened). This vehicle has a decal for the dash panel and some interior detailing as well. The offside door is able to be either opened or closed, but the driver's side is provided only in the closed position.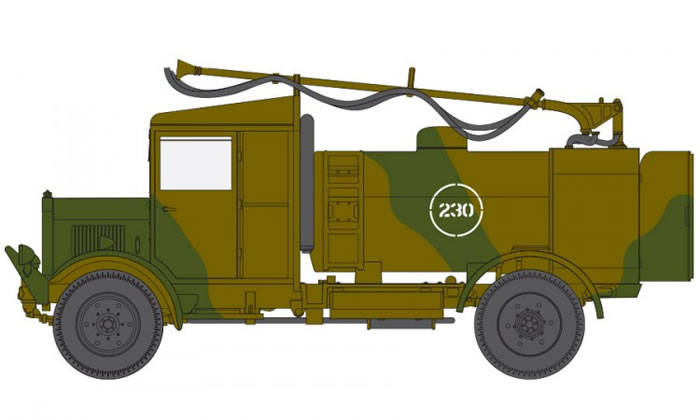 The fuel tank section comes with a pump and control section and fittings for three separate fuelling booms with hoses. The pump section may be closed up or shown with the doors open. Each boom has a hose attached to it (one was broken in my kit but both sections were present) and they may be installed pointing in three different directions.

The Albion is also shown as dark green over khaki (light olive in the directions).

The ground crew figures all come with separate arms and some with separate legs and most have two heads - either one in sidecap or in "tin hats". They include a mechanic with tool box, three fuellers, two armorers with .303 belts, two figures moving - one in coveralls and one in blue uniform, and two pilots in "scramble' mode with one with flight helmet and one bareheaded. A dog is provided but of all the figures looks more like a miniature moose than a spaniel! Some care and careful painting may give him a better look.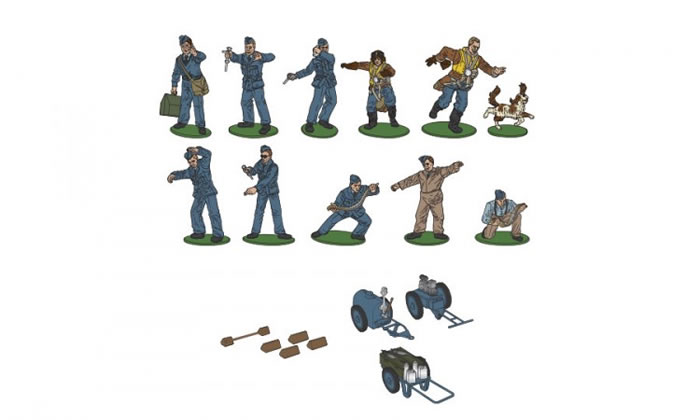 The oil bowser consists of nine parts and comes with the "pub tap" type of pump handle.

The trolley accumulator comes with an option of either batteries alone (sealed) or with a "donkey engine" on top for starter power. It consists of 15 parts.

The ammunition trolley consists of 19 parts and comes with a pair of "flimsies", two thermos like items, two spare .303 machine guns, and two ammo chests.

The last items in the kit are four single wheel chocks and a pair of linked chocks.
Overall this kit is quite impressive and while aimed at the casual "Hey, I'll give this a go!" modeler there is plenty here for the more advanced modeler as well. Well done Airfix!
---
Sprue Layout
AMTL-00345
A 5 Hurricane - Upper wings, elevators, cockpit bulkhead
B 17 Hurricane - lower wing, trusses, spars, ailerons, wheels, rudder
C 13 Hurricane - Fuselage, propellers, stabilizers
AMTL-00344
D 82 Hurricane - Interior details, exhausts, spinners, pilot, details
AMTL-00345
E 11 Hurricane - Clear styrene
ATML-00346
A 47 Trolley accumulator, ammo trolley, chocks, spare .303 guns, details
– 1 Length of vinyl tubing
AMTL-00360
A 56 MWD -Tires, interior details, engine, body parts, hood parts
B 23 MWD - Body sides, cab sections, wheels, body details
C 9 MWD - Chassis, body floor, tilt roof, details
D 7 MWD - Clear styrene
ATML-00369
A 44 Albion - wheels, cab sections, details
B 25 Albion - fuel tank, three fueling pipes, pump, details
C 15 Chassis, springs, engine details
D 22 Albion - engine, radiator, cab details, ladders
E 8 Albion - clear styrene
ATML-003554
A 61 Ten figures and a dog, two heads per figure plus bases

– 2 Paint brushes
– 2 Tubes of Humbrol Poly Cement
– 16 10cc tubs of Humbrol acrylic paint
Sample purchased by reviewer from Hannants.
---
Text Copyright © 2015 by Cookie Sewell
Page Created 27 October, 20145
Last updated 27 October, 2015
Back to HyperScale Main Page