American G-6s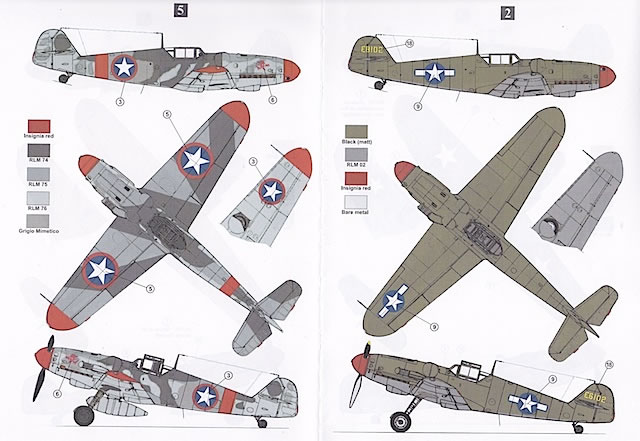 Delta One
available in 1/72, 1/48 & 1/32 scales
S u m m a r y :

Catalogue Number and Description

Delta One American G-6s (Catalogue number TBA)

Scale

1/32, 1/48 and 1/72 scales

Contents and Media

1/48 and 1/72 sets contain one waterslide decal sheet of national markings, codes and other aircraft-specific markings; 1/32 set has the same decals on two sheets; all three sets contain a 14-page full colour, loose-leaf instruction booklet featuring nine marking options

Price

1/32 decals – US $14.00

1/48 decals – US $12.00

1/72 decals – US $10.00

Available on request from Delta1decal@gmail.com

Review Type

First Look

Advantages

Interesting subject choices; comprehensive instructions; well-printed decals.

Disadvantages

None noted.

Conclusion

Excellent decals that I highly recommend to anyone interested in finishing their Gustav model in out-of-the-ordinary markings.

Reviewed by Brad Fallen


Iliad Decals' 1/48 scale ANG Mustangs is available online from Squadron.com
I hadn't heard of Delta One before I received these decals to review.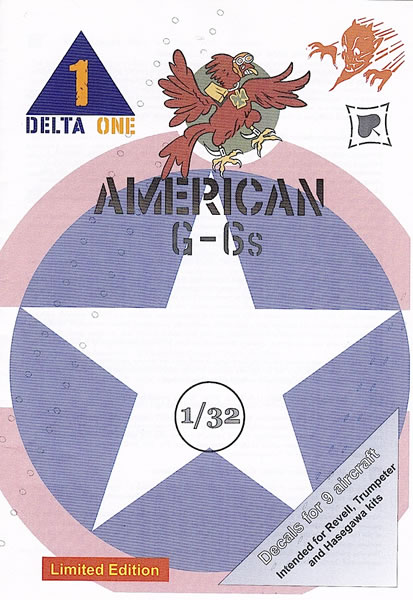 The company website is still under preparation, but I sent an email to the address on the instruction sheet and got a quick reply, which included the following information:
We are small company founded in 2014 by a few experienced Croatian modellers. At beginning our aimed niche was large scale decals for aircraft and vehicles but as each of our associates have different modeling/historical interest we had branched out so there are many new decal sets in preparation….
We do track model kits releases and it seems that for this year name of the game is Messerschmitt Bf109 G. So we made decal sets aimed for Revell's Bf109G in 1/32 scale and sets for Eduard's 1/48 kits. We are very proud about our "American G-6's" decal set, it took months of research to finish it but I think it was worth of time and money.
After examining the 'American G-6' decals in all three major scales, I can only agree with this assessment. While I have a weakness for captured and repainted Axis aircraft, particularly Bf 109s, I think the variety of schemes on offer here will appeal to a broad range of modellers.
The eight G-6s (and nine schemes) selected by Delta One were all captured and/or operated by US units in North Africa, Sicily and Italy in 1943-44, with details as follows.
Bf 109 G-6/Trop, W.Nr. unknown, of 9./JG 77 and found abandoned at Mateur, Tunisia in May 1943. Restored and used as unit hack by 325th Fighter Group; repainted overall matt black with red spinner, rudder and ailerons.

Bf 109 G-6/Trop, W.Nr.16416, of 4./JG 77 and captured by US troops at Soliman, Tunisia on 8 May 1943. Aircraft was transported to USA and repainted in Olive Drab over Neutral Gray with a red spinner. Flown by the Air Forces Scientific Research Institute until written off after a landing accident in October 1944.

Bf 109 G-6/Trop, W.Nr.18098 of 154 Squadriglia, 3° Gruppo Autonomo Caccia Terrestre, Regia Aeronautica and captured at Comiso, Sicily in July 1943. Restored to flying condition by mechanic of the 65th Fighter Squadron, 57th FG, who also removed the canopy and replaced the main fuselage fuel tank with a second seat. Original camouflage of RLM 74 Grey Green and RLM 75 Grey Violet over RLM 76 Light Blue retained; Italian markings overpainted with US stars (without bars) in six positions along with red spinner, wingtips and fuselage band.

Option 3 as subsequently repainted in overall US Dark Earth. Red spinner and wingtips retained, but US stars-and-bars on fuselage sides only (ie no wing insignia).

Bf 109 G-6/Trop, W.Nr.18096 or 18059, also of 154 Squadriglia, captured at Comiso and restored by 57th FG mechanics. Original 74/75/76 camouflage retained, along with 'Red Devil' 3° Gruppo insignia on both sides of engine cowling. Red spinner, wingtips and fuselage band, and US stars (without bars) in six positions.

Bf G-6/Trop, W.Nr. unknown, captured at Comiso or Pachino, Sicily, in July 1943. Restored by 57th FG mechanics and flown to 65th FS base at Scordia, Sicily. Repainted overall Olive Drab with red spinner and wingtips and comparatively small US stars (without bars) in six locations.

Bf 109 G-6/Trop, W.Nr. and original unit unknown. Captured at Pachino, Sicily and restored by 57th FG. Overall Sand with red wingtips and spinner and US stars-and-bars in four positions.

Bf 109 G-6/R-6/Trop, W.Nr.15270 of 6./JG 53 'Pik As' and captured at Comiso or Pachino. Original 74/75/76 camouflage and RLM 04 Yellow lower engine cowling retained, with red wingtips, spinner, fuselage bands, wing bands and US stars (without bars) in six positions. JG 53 badge also retained on both sides of engine cowling.

Bf 109 G-6/R-3, W.Nr. 160756 of 3./JG 4 and flown by Rene Darbois who defected to Americans at Santa Maria, Italy on 25 July 1044. The machine was stripped of all paint and taken to Wright Field where it was tested by the Air Technical Intelligence Command and then passed to the National Air and Space Museum in 1948. At some stage spurious German markings, as provided by Delta One, were applied on to the bare metal finish.
Many decal manufacturers include little supporting information about the aircraft they have chosen to represent. This is not the case with Delta One. Their comprehensive instructions have been printed double-sided on A4 sheets and folded in half to form a 14-page booklet. The first two pages include descriptions of each Bf 109 and a list of references, which is helpful because not all of the machines are easy to find on the internet.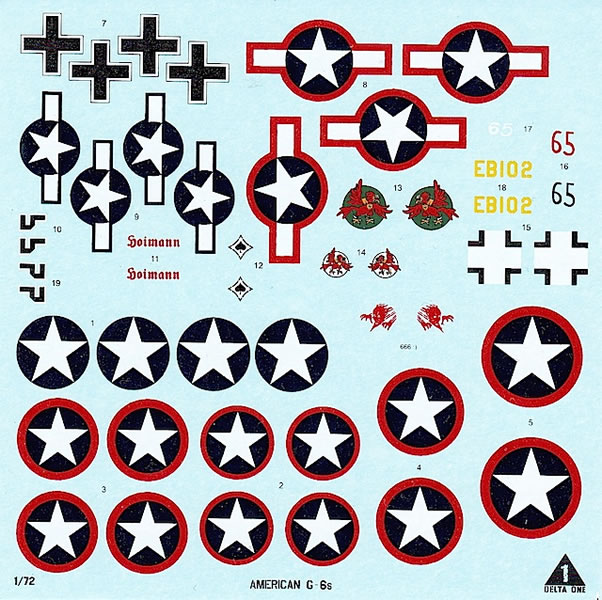 The written descriptions are followed by full-colour, three view illustrations of each marking option; scrap drawings of the port underwing are also included. Decals are called out by number, and paints by appropriate RLM, Italian, US, or generic names. Where appropriate, specific issues such as "note unusual orientation of the star" or "note inscription on the right side of the engine cowling is not confirmed" are pointed out. Finally, there is a step-by-step guide to successfully applying the decals.
The decals in all three scales are well printed, with a close examination revealing no apparent production flaws. The 'Uncle Bud' insignia for the 65th FS options are particularly finely reproduced. The reproduction Hakenkreuz for marking option 9 is supplied in two halves that you will need to carefully align.
These are excellent decals that I can highly recommend to anyone interested in finishing their Gustav model in different plumage.
Delta One has a number of other decal releases available or under planning. These include two other Bf 109 G-6 sets ('Croat Air Legion' and 'Yugoslav G-6s') in 1/32, 1/48 and 1/72 that I'll be reviewing here shortly, and 1/72 (and 1/48) Croatian Dornier Do 17 Z decals I'm tempted use on the new Airfix kit. Vehicle modellers are also catered for, as described by Delta One:
1/35 and 1/72 scale sets for tanks and vehicles used during WWII on Balkans should be finished till New Year, etc. Especially interesting is the UNEF set, decals of vehicles and aircraft used by United Nations Emergency Force at Sinai 1956-1967, because to my knowledge such decal set was never before released…. Market will show how good our publishing strategy is.
If these future releases maintain the quality of the 'American G-6s' release, then Delta One deserves every success.
Thanks to Delta One for the review sample.
---
Text and Images Copyright © 2015 by Brad Fallen
This Page Created on 20 October, 2015
Last updated 20 October, 2015
Back to HyperScale Main Page