Venturas in Canada Part 2
113 & 145 (BR) Squadrons, Eastern Air Command, RCAF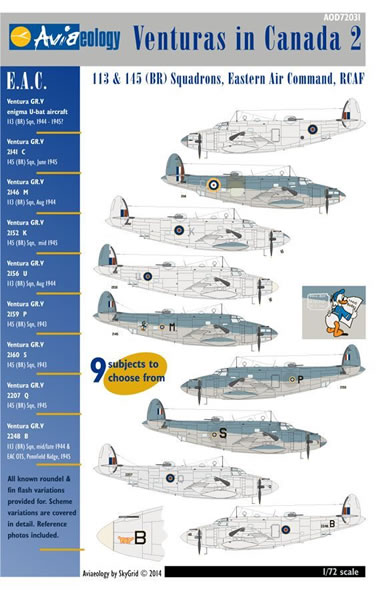 Aviaeology, 1/48 scale
S u m m a r y :

Catalogue Number and Description:

Aviaeology Item No. AOD48031 – Venturas In Canada Part 1

Scale:

1/48 (also available in 1/72)

Contents and Media:

Two sheets of waterslide decals, an eight page monochrome colours & markings guide, a copy of which is e-mailed to purchasers as a colour PDF with extremely high resolution graphics, and a page of decal application instructions.

Price:

Available online from:

Click for currency conversion

Review Type:

First Look

Advantages:

The colours and markings guide is a great resource with thoroughly researched information and superbly rendered drawings, which combined with quality decals makes for a great value package.

Disadvantages:

None noted

Conclusion:

Aviaeology is in a class of its own when it comes to the wealth of information provided by their colours and markings guides. Added to this are superb quality drawings that can be enlarged almost limitlessly without any loss of fidelity. Superbly well printed decals complete the package.

I highly recommend this set of decals, and encourage readers to check out other three sets in this Venturas in Canada series
Reviewed by Mark Davies


HyperScale is proudly supported by Squadron.com
The decal set reviewed here is the first in a series of four covering Lockheed Venturas in Canada. The sets are offered as separate 1/72 or 1/48 scale editions. I have already taken a first look at two of the 1/72 scale issues in the series, Parts 1 and 3, here and here respectively earlier this year. The set reviewed on this occasion covers nine subject form 113 and 145 (BR) Squadrons, RCAF.
At first glance the review sample could be mistaken for a fairly run of the mill decal set. The decals come in the usual plastic zip-lock bag with some rather ordinary-looking monochrome instructions. However, once the instructions are opened it soon becomes apparent that Aviaeology's products are far from ordinary.
Aviaeology's decals have the most thorough and informative colours and markings guides that I can recall (and I get to see a lot of decals). Moreover, their customers get to download the highly detailed guide as full colour PDF, where the illustrations can be enlarged by several thousand percent whilst maintaining full clarity. More on this later, but first I shall background the brand as this goes some way to explaining the thorough research involved.
The Aviaeology the house-brand of SkyGrid Studio, who undertake research and create illustrations, model decal sets, full-sized markings replicas, and publications for a diverse community of aviation history enthusiasts. Their worldwide clientele includes scale model builders, R/C model builders, vintage aircraft restorers, museums, specialty publishers, model / hobby manufacturers, and historians (both "armchair" and professional.) Whereas SkyGrid Studio provides these services for clients on a contract basis, the Aviaeology imprint is their exclusive in-house product range. Currently this encompasses a growing line of books, model decals, and profile prints.
---

The Colours & Markings Guide
I cannot help but mention some aspects related to the colours & markings guide. You get the simple monochrome copy I mentioned earlier with the decal pack. But a far superior colour copy is sent via e-mail to purchasers as a printable colour PDF. The documentation includes decal placement and painting instructions for all subject aircraft variations, reference photographs, extracts from period service manuals, and so on.
The six-page guide is almost worth the package price without the decals, so replete is it with interesting and useful information. In fact, the review sample's guide and those of several sets can be purchased as a document only without the decals. The guide does not confine itself to aspects of individual aircraft histories as you might expect, but gives much more information concerning Venturas in general. Just a few examples are provided below:
Almost "mini-articles" covering early production PV-1 factory scheme and Eastern Air Command (EAC) modifications, and Ventura GR.V Home War Establishment (HWE) and EAC late service schemes.

A discussion on the possibility that the red used on the national insignia roundels applied in North America was different in hue to the usual red applied to British-built aircraft. The decal sheet provides both the more traditionally accepted dull red as well as the brighter colour that research seems to indicate was used.

Mention is made of how, in some cases, the plexiglass nose caps were reinforced with clear-doped fabric (to resist cracking when the nose guns were fired).

Photo images, notes, and scale drawings that detail different antenna wire layouts.

Mention is made of flare chute positions and the possibility of RCAF modifications being responsible for these.

Alternate decals provided where even the slightest variation of interpretation is concerned. For example, Ventura GR.V 2248 "Pat" has two versions of its name, identical as far as I can tell except one has a fine red outline to the letters, and the other black.

The retention of USN camo-patterns and colours on the underwing drop-tanks.

A page of modelling notes with an entry for each subject.

Detailed notes explaining photo interpretation and assumptions used in determining the finishes as presented.
---
The Decals
So finally on to the markings - The decals enable any one of nine different aircraft to be modelled. There are enough national insignia for four complete models. Obviously, the remainder of the sheet's codes and serial numbers can be used if you have spare national insignia decals from elsewhere.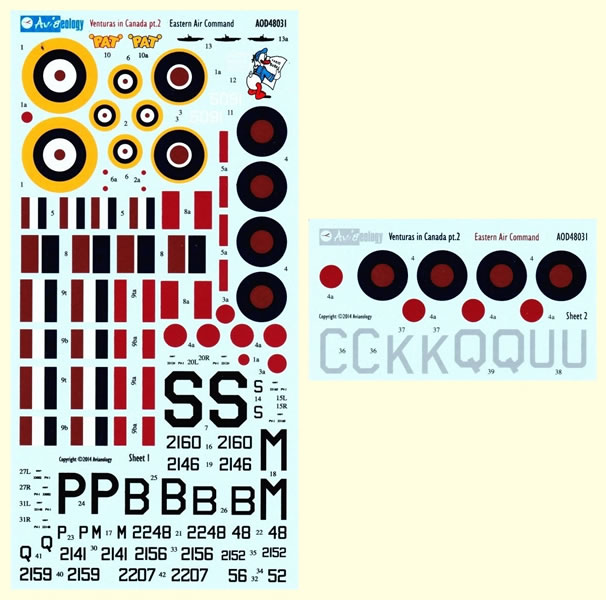 The subjects covered are:
Ventura GR.V, "Ubat" of an unidentified unit, possibly ex-PV-I Ventura Bu No 3308 or 33011? (m/t 237-27-01, c/n 50-51?)

Ventura GR.V, 2141, 1445 (BR) Sqn.

Ventura GR.V, 2146, 113 (BR) Sqn, Aug 1943.

Ventura GR.V, 2152 145 (BR) Sqn, summer 1945.

Ventura GR.V, 2156, 113 (BR) Sqn, Aug 1944.

Ventura GR.V, 2159, 145 (BR) Sqn, 1945.

Ventura GR.V, 2160, 145 (BR) Sqn, Sep 1943.

Ventura GR.V, 2207, 145 (BR) Sqn, Feb 1945.

Ventura GR.V, 2148 113 (BR) Sqn, 1943 (later OTS).
The decals are printed on two sheets and appear superb in terms of registration and opacity. A separate page provides comprehensive notes and guidance on applying the decals, advice to use milder brands of decal softener if you choose to use such products, and other general information to get best results.
---
Distribution Channels
Aviaeology decals are available through three sources; these being the e-shop at Aviaeology's website, Aviaeology's ebay store, and retail stockists. The e-shop is undergoing an extensive overhaul at the time of writing, so the ebay store is more up to date regarding stockholdings etc; particularly in the case of recent releases.
Purchasing from either of Aviaeology's own outlets automatically updates their customer database and emails a copy of the colours & markings guide to the buyer. Purchases from a third party stockist include a chit in the decal bag advising the buyer to email Aviaeology to be added to their database and receive their emailed guide.
Aviaeology is in a class of its own when it comes to the wealth of information provided by their colours and markings guides. Added to this are superb quality drawings that can be enlarged almost limitlessly without any loss of fidelity. Superbly well printed decals complete the package.
I highly recommend this set of decals, and encourage readers to check out other three sets in this Venturas in Canada series.
Thanks to Aviaeology for this sample
---