Hauptmann Godwin von Brumowski
Austria-Hungary's Ace of Aces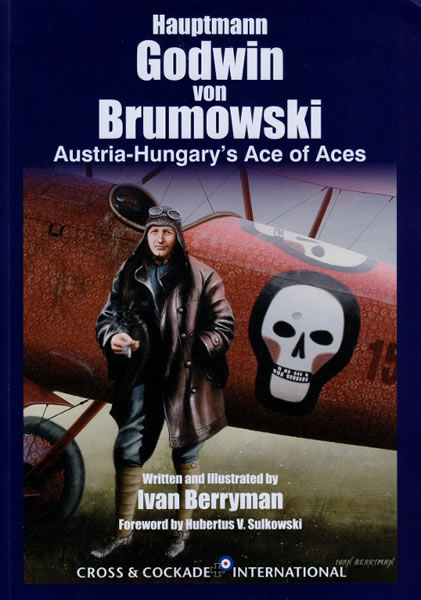 Cross and Cockade International
S u m m a r y

Title and Details:

Cross and Cockade International
Hauptmann Godwin von Brumowski - Austria-Hungary's Ace of Aces
by Ivan Berryman
ISBN 978-0-9555734-5-3

Media and Contents:

A4, 60 page Softback, illus (18 colour, 50 b/w)

Price:

£15.00 plus postage available exclusively online from Cross and Cockade's website

Review Type:
FirstRead
Advantages:

Large format; excellent artwork depicting a variety of Brumowski's aircraft and experiences; informative text; previously unpublished photos.

Disadvantages:
Conclusion:

A welcome publication that builds on the work of the late Martin O'Connor. Input from the ace's grandson permits a more detailed look at Brumowski's life and the addition of the author's own paintings add to the overall appeal. Highly recommended.
Reviewed by Rob Baumgartner


U-Boot Im Focus 12 is available online from Squadron.com
It was Dr Martin O'Connor that introduced the wider public to the elite pilots of Austria-Hungary.
His 1984 book chronicled those that scored 5 victories or more and at the top of that list was Hauptmann Godwin von Brumowski. It was this publication (Air Aces of the Austro-Hungarian Empire, 1914-1918) that inspired Ivan Berryman to write the present biography.
Flying over the Italian Front, the Dual Monarchy's highest scoring ace amassed a total of 35 confirmed victories. His progress was similar to Manfred von Richthofen's on the Western Front. Both came from a military background, both had ground experience before taking to the air, both became proficient leaders, and both flew predominantly red fighters.
The author is an accomplished artist and a chance encounter with the aviator's grandson led to the current work. Hubertus Sulkowski contributes many previously unpublished photos from the family album as well as images of a few treasured mementoes.
Contained within the 60 pages are over 50 black and white period photographs, 17 colour paintings and a smattering of maps and illustrations. The artwork is superb, with each example portraying a particular event in the pilot's wartime career.
The A4 format allows the images to be printed to a decent size and the reproduction is as good as his source material allows.
Brumowski's story is an interesting one and Ivan Berryman tells it very well. After graduating from the Technical Academy in Mödling, near Vienna in 1910, he's immediately posted to Austro-Hungarian Field Artillery Regiment 29. The outbreak of war sees him serve on the Russian Front and after transferring to 2-seaters, gains his first victories.
He soon gets his pilot's licence, despite a vision problem in his right eye, and transfers to the Isonso Front in Italy where he commands Flik 41J. Here his life gains pace as he flies an assortment of aircraft types, and adds to his victory tally against both aircraft and observation balloons.
In combat he fights an on-board fire, experiences spar failures, receives bullet holes through the struts, and faces numerous other potentially fatal situations; all to survive the war as Austria-Hungary's leading fighter pilot.
His interesting post war career is also covered, culminating in his untimely death in 1936.
This is a very welcome publication that expands on Martin O'Connor's previous excellent work.
The collaboration with Hubertus Sulkowski adds to the material available and rounds out the book nicely. The number of paintings are a bonus and help give a sense of perspective regarding the conditions seen here as opposed to the Western Front.
It's an enjoyable read of an often overlooked ace and is highly recommended to all enthusiasts of First World War aviation.
Thanks to Cross and Cockade International for the review sample.
---

Review Copyright © 2015 by Rob Baumgartner
This Page Created on 18 August, 2015
Last updated 18 August, 2015
Back to HyperScale Main Page
Back to Reviews Page