Uncovering the Lockheed (T)F-104G Starfighter
by Danny Coremans & Peter Gordts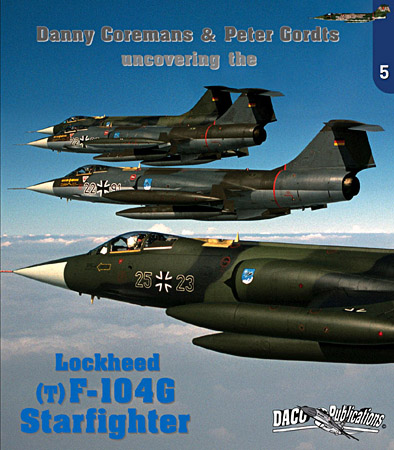 DACO Publications
S u m m a r y

Catalogue Number, Description and ISBN:

DCB005 - Uncovering the Lockheed (T)F-104G Starfighter
by Danny Coremans & Peter Gordts
DACO Publications, Antwerpen, Belgium Second Edition 2013 Printed in Belgium ISBN: 9789080674707

Media and Contents:

160 pages, softbound, 875+ colour detail photos, 2 large foldouts ~1m long each containing 1/72 and 1/48 detailed scale drawings and various cockpit layouts.

Price:

€34.75 available online from DACO's website

Review Type:
FirstRead
Advantages:

Comprehensive coverage, very clear images, perfect size for the work bench.

Disadvantages:
Conclusion:

The most comprehensive reference book for the European F-104's. Get yourself one if you're a fan of the Starfighter. Recommended.
Reviewed by Michael Drover


Uncovering the Starfighter is available online from Squadron.com
What can only be described as the modeller's bible for the F-104G, the second edition release of this book should be met with a sigh of relief for those that missed out on it the first time around. Covering every nook and cranny of the European version of the F-104, this book is the 'go to' for reference. The book contains more than 850 full colour photos of of the F-104G and it's two seater variant.
The coverage of the airframe begins at the pitot probe on the radar nose cone and slowly and thoroughly moves aft covering in great detail and clarity both internal and external features. The areas covered are:

Radome
NASARR Radar
Front Fuselage Area
M61 Vulcan Canon
Refuelling Point
Air Intake
Mid Fuselage Area
Wing Area
Sidewinder Rail
Wingtip Fuel Tank
Pylon Fuel Tank
Fuselage Aft Area
Speed Brakes
J79-GE-11A Exhaust
J79-MTU-J1K Exhaust
Tail Section
Chaff & Flare
Stabilizer
Underside
Underside Nose Section
Nose Wheel Door
Nose Landing Gear
Fuselage Middle Area
RF-104G Camera Pods
Fuselage Pylon
Wing Underside Area
Main Landing Gear
Main Gear Doors
Hydraulic Bay
Arresting Hook
Drag Chute Housing
ECM
F-104G Cockpit
C-2 Ejection Seat
MB Ejection Seat
F-104G Computers
Ammunition Bay
TF-104G Two Seater
Twoseater Fuselage
Twoseater Fuses Bay
Twoseater Nose Gear
TF-104G Front Cockpit
TF-104G Aft Cockpit
Twoseater Computers
F-104F Front Cockpit
F-104F Aft Cockpit

---
A dedicated section is also provided covering the maintenance of the F-104. Various photos of the airframe undergoing deep maintenance have been sourced which will greatly benefit the super detailers out there.
Covered in this section is

Vulcan Gun Bay
F-104G Cockpit
Fuel Tubing
Fuel Cell Tanks
Fuselage Wing Joint
Wing Area
Tail Section
Engine Bay
J79-GE-11A Engine
J79-MTU-J1K Engine
---
The final section covers the ground support equipment and stores and ordnance.

Ground Support Equipment
Armament
AIM-9B Sidewinder
AIM-9N Sidewinder
Catamaran Launcher
AS.30 Missile
Kormoran-1 Missile
GP & Cluster Bombs
Rocket Pods
Practise Bomb Dispensers
Napalm & Travel Pods
Orpheus Recce Pod
Target Towing Devices
Nuclear Bombs
---
The final gem in the book is the almost 2 metres long, YES - TWO METRES!!! (almost 6.5 feet long) double sided set of 1/48th and 1/72nd diagrams drawn by Danny Coremans for the different airframes covered. Layout diagrams drawn by Willy Peeters are also provided for each of the different cockpit configurations for the Fighter/bomber, interceptor and two seat variants. This should keep most rigorous of dimension checkers keen as the drawings are all based on 1:1 airframe measurements.


Simply put, I can't recommend this book highly enough. If you're any kind of fan of the F-104 and are looking for reference material on the European variants of this famous aircraft then there is no other alternative to this book. The coverage of the airframe is second to none and every image is clear an extremely informative. Danny Coremans and Peter Gordts and their contributors should be heaped with praise for the extensive coverage and completeness that is evident in this book.
Thanks to DACO Publications for the review sample.
---

Review Copyright © 2015 by Michael Drover
This Page Created on 16 August, 2015
Last updated 16 August, 2015
Back to HyperScale Main Page
Back to Reviews Page