U-Boot Im Focus
Edition No. 12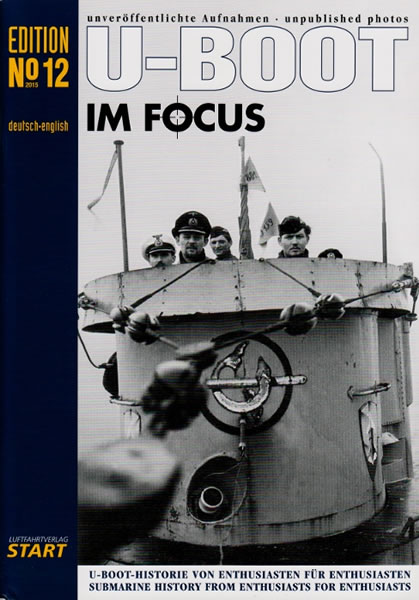 Start-Verlag
Reviewed by Rob Baumgartner


U-Boot Im Focus 12 is available online from Squadron.com
World War 2 ended 70 ago and to mark this anniversary, the contents of this issue have been biased more towards the last days of the conflict.
As a result, issue 12 of "U-Boot Im Focus" contains a fair share of inevitable tragedies as well as an incident or two that simply beggars belief.
There are 48 pages between the soft card covers with the bilingual text being split between the English and German languages. The publication is further divided into a regular series of chapters, with each one concentrating on a specific topic.
Of the 44 period photographs presented, 2 are in full colour. As before, we find a selection that are published here for the first time and complimenting these are 3 superb pieces of artwork from Juanita Franzi.
The large A4 format works perfectly for this type of publication as it allows both text and images to be presented in a well laid out and uncluttered fashion.
To get the ball rolling, there is selection of photographs which include Type VII B, Type VII C and Type XXI boats. One of these reveals a rare image of U-52s first emblem before it switched to the stork and baby.
Now we move on to the structured themes, highlights being as follows:
Conning towers – Many of the small Type II A and Type II B U-boats carried large paintings on their conning towers. This issue looks at the conspicuous Buffalo head emblem found on U-10 during 1940.
Boats in Focus – Only one Type VII C boat carried the "stovepipe". It was the submarine's FuMB 35 Athos I radar warning receiver, a device also installed on a few Type XXI boats. U-249 was the Type VII in question and we follow her trials and tribulations over 14 pages until her surrender to the British on 8 May 1945.
Colour Photos – Not many colour photographs of U-boats exist so these two late-war examples of U-733 taken in the summer of 1944 are especially welcome.
Documents – Propaganda leaflets were an excellent form of psychological warfare and a couple relating to U-boat activities are covered here.
Unknown Emblems – Some U-boat emblems have never been depicted correctly in the past. Usually it's due to misinformation or no information at all. U-387 is a case in point but fortunately a photograph has come to light that allows a proper representation of the "Moor" emblem to be made.
Scenery – A bombing raid on 14th May 1943 damaged the Krupp Germania shipyard and resulted in the partial sinking of Floating Dock 5. This is where U-236 and U-237 were undergoing repairs and they rolled over as a result of the explosions. The damage is showcased in this 4 page article.
Unusual – This next image reveals a prominent plague displayed on the bulwark a Type II D boat by its "Landlord", laying down the ground rules of his submarine.
Photos with a story – Both U-1406 and U-1407 were Type XVII B boats with the revolutionary Walter propulsion system. While submerged, they didn't have to rely on battery power, nor did they leave a tell-tale wake of bubbles. This story is about the fate of these boats and their subsequent sabotage after having been officially handed over to 21st Army Group.
Fate – A detailed eye witness account describes the loss of U-622 in the port of Trondheim. The commander's own interpretation of events (as relayed in the boat's war diary) are also presented and make for interesting reading as it differs significantly from the recollections of the crew members involved.
There is plenty here to interest the U-Boot fan.
The photos will be new to all but a selected few, and their reproduction is as good as the original image will allow. The artwork is first-class and perfectly complements the related article.
Clearly it is a publication compiled by enthusiasts...for enthusiasts.
Thanks to Start-Verlag for the review sample.
---
U-Boot Im Focus Edition No. 4 is available online from the Start website
---

Review Copyright © 2015 by Rob Baumgartner
This Page Created on 11 August, 2015
Last updated 11 August, 2015
Back to HyperScale Main Page
Back to Reviews Page