S u m m a r y :

Catalogue Number, Description and ISBN:

Philedition
Squadrons! No.9 – The Forgotten Fighters

ISBN: 978-2918590-57-6

Contents & Media:

Soft-cover format, 38 pages, black and white photos and colour illustrations

Price:

Available online from www.raf-in-combat.com and selected retailers

Review Type:

First Look

Advantages:

Focuses on interesting and previously neglected subject matter; well-written text and well-chosen photographs.

Disadvantages:

A couple of minor typos.

Conclusion:

Highly recommended – Phil's coverage of each type is brief but thorough, and the photos and profiles are well selected and will spark lots of modelling ideas. Worth tracking down, along with other titles in the series.

Reviewed by Brad Fallen


HyperScale is proudly supported by Squadron

Phil Listemann describes his Squadrons! series of books as focusing on "the operational usage of an aircraft version used by the RAF, squadron per squadron…with plenty of first hand photos and unpublished material." The series currently stands at ten volumes, each covering a single aircraft type such as the Mustang IV, Fortress Mk.I, and Spitfires Mk.V, VI, VII, XII and 21. This approach allows a detailed appraisal of the operational use and effectiveness of these aircraft in RAF and Commonwealth service, and while not aimed specifically at modellers provides a very useful set of references.
Volume 9, Forgotten Fighters, is an exception to the established format in that it deals with more than one aircraft type. As the title suggests it explores the RAF/Commonwealth service of seven aircraft that, for a variety of reasons, saw only limited squadron use. Each is discussed in its own mini-chapter as follows:
Bell Airacobra, which may have set an RAF record with an operational history of two days and eight sorties. The details of these operations are described, as are the RAF's reasons for rejecting the Airacobra. The type's longer and more successful, but still limited, use by the Royal Australian Air Force is also covered.
Bell Kingcobra. Dismayed by the Airacobra, the RAF never sought to acquire the Kingcobra for operational use. Nonetheless two examples were used by the Royal Aircraft Establishment (RAE) for testing purposes in 1944, with one flying until mid-1948 after which it was scrapped.
Bell Airacomet. Swapped for the first production Gloster Meteor, the RAF's sole Airacomet made a number of test flights in 1943-44 before being re-engined with (but never flown on) Rolls-Royce Derwents and ultimately returned to the USA.
Grumman Goblin. The fascinating history of the Goblin's almost accidental Canadian service is well covered here.
Lockheed Lightning. The details of the RAF's arguably ill-considered rejection of the Lightning are described, along with the less well-known story of several loan/ex-USAAF P-38s used on Bomber Command trials and operations. The RAAF's use of a small number of photo-reconnaissance Lightnings in Australia and the Pacific between 1942-44 is also addressed.
Republic Lancer. Eight Lancers were operated by the RAAF in 1942-43 and while their performance was not stellar, they were a welcome addition to the Australian inventory during this dark period of the war.
Vultee Vanguard. The Vanguard found its way into the RAF inventory at a similarly difficult time – part of an order originally placed by the Swedes which was diverted to France in May 1940, and then in swift order to Britain. However the RAF only received part of the order before the US Government again redirected it, this time to the Chinese Nationalists under Lend-Lease. Exactly how many Vanguards the RAF took on charge is not spelled out, but the type was never used operationally.
The story of each aircraft is presented in roughly the same format, although with some variations depending on length of service and number operated. Details covered include dates and number of sorties, operating units and statistics on damage and losses.
Phil's text is well written and easy to read, and the accompanying period photos – mostly black-and-white, but some in colour – are an ideal accompaniment. Most are of at least reasonable quality, and the few that are poor have been chosen for a reason and make a useful contribution.
The book concludes with three colour profiles by Bill Dady – a Goblin and two Airacobras (RAF and RAAF), which are beautifully rendered and allocated a full page each.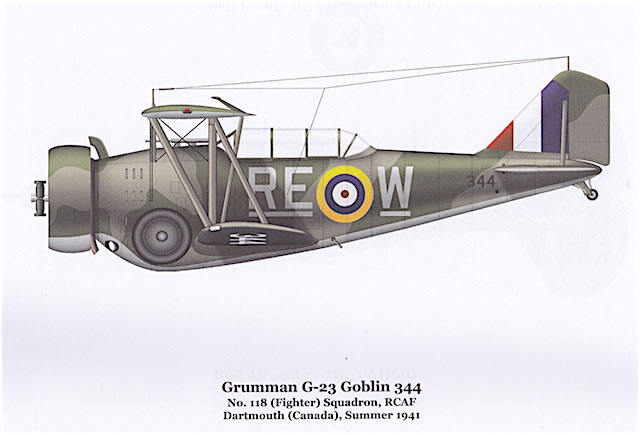 Overall editing and presentation is good. I noticed a couple of minor typos (for example, 'Lightning' is misspelled on page 35) but on a positive note, the binding is much stronger than some previous Philedition books I have read.
On the basis of this book, I'm going to be seeking out other volumes in this series. Phil's coverage of each type is brief but thorough, and provides plenty of pointers for anyone wanting to do further research. The photos and profiles are well selected and will spark lots of modelling ideas. In my case, I'm searching for those RAAF Lightning and Airacobra decals I know I have somewhere in the stash…..Highly recommended.
Thanks to Phil Listemann for the review sample.
---
Review Copyright © 2015 by Brad Fallen
This Page Created on 19 October, 2015
Last updated 19 October, 2015
Back to HyperScale Main Page
Back to Reviews Page