S u m m a r y :

Catalogue Number, Description and ISBN:

Kagero Publishing
Junkers Ju 87 D/G Volume I
ISBN: 978-83-62878-93-2

Contents & Media:

Soft cover, 110 pages, A4 format; black-and-white photographs and plans; full colour three-dimensional CAD illustrations; English text.

Price:

Review Type:

First Look

Advantages:

Extensive historical coverage through text and photographs; high-quality colour CAD illustrations of Ju 87 details.

Disadvantages:

No CAD illustrations of the Ju 87 D cockpit interior.

Conclusion:

This is a thorough study into an important World War 2 aircraft and popular modelling subject, and strikes a good balance between historical photographs and modern computer art techniques.

Reviewed by Brad Fallen


HyperScale is proudly supported by Squadron

Kagero's 3D Editions are a well-established line in their Monograph series and use CAD images to complement period photos and create a detailed reproduction of the original aircraft. I've previously looked at 3D Editions on the Messerschmitt Me 262 (Volume I and Volume II) and was impressed at what they offered to modellers, particularly their clear images of cockpit and other internal structures.
This volume on the Junkers Ju 87 D and G is credited to the same team that produced the Me 262 books, Marek Murawski and Marek Rys. The photo-realistic cover art of Lt Teo Baurle's Ju 87 D-5 releasing its bomb over the Eastern Front in 1944 is impressive; Baurle's aircraft features again on the back cover in port and starboard profile.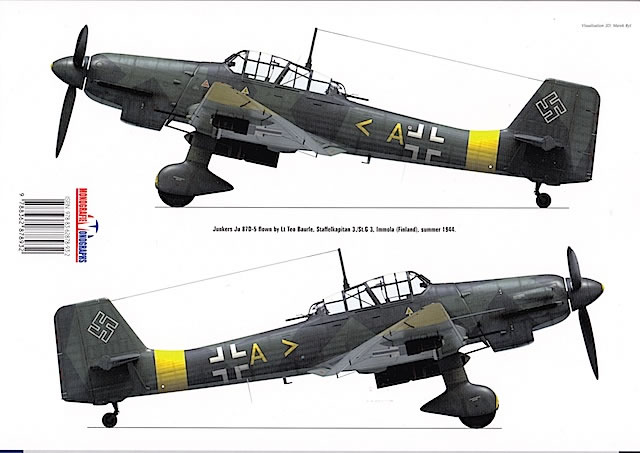 The book's structure is typical for the series and begins with a text/photo essay of the development and operational use of these two late series Ju 87 variants. The 'Dora' is tackled first and in detail. Murawski describes the development of Dora prototypes from Ju 87 B airframes in 1940-41 and then initial series production, which was delayed by supply and manufacturing problems. This is followed by a comprehensive analysis of the Dora airframe and various subtypes (D-1 to D-8) accompanied by some helpful period photos. The Ju 87 H trainer and Ju 87 E maritime strike programs are also briefly discussed.
With the scene already set the 'Gustav' is given briefer coverage, with Murawski focusing on the rationale behind the type's development as an Eastern Front 'tank buster'. What I hadn't realised before reading this section was how few Ju 87 Gs were manufactured – only 20 G-1s and 210 G-2s compared to over 3,500 Doras and a total Ju 87 production of approximately 6,500.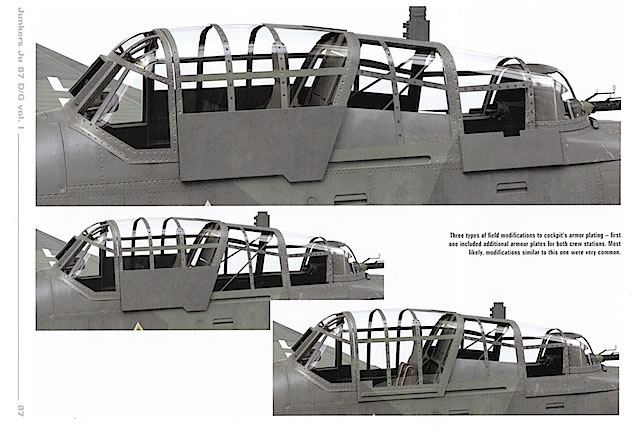 Both types were used mostly against Soviet forces. Murawski covers this war thoroughly with Ju 87 operations described chronologically from the seesawing battles of 1942 to the final harried flights of 1945. Again the accompanying photos are useful, with some excellent depictions of winter camouflaged and war weary machines.
Ju 87 D use in Africa and the Mediterranean is also addressed. Ju 87s were integral to Rommel's 1941-42 successes but were gradually driven from the skies by superior Allied aircraft, and the late 1943 Aegean campaign was the type's theatre swansong. There aren't many photos of African machines in this chapter, though, with most of the photo space taken up by Eastern Front Stukas.
The final historical section looks at the Ju 87 D in foreign service, with both allies and enemies of Germany. These countries included Bulgaria, Romania, Slovakia, Hungary, Italy, the United States, Great Britain and the Soviet Union. The Dora's brief service with General Vaslov's Russian Liberation Army Air Force in March/April 1945 is also discussed. Again, I would have liked to see a few more photos of these foreign-operated aircraft included, although the ones present are useful.
There is a specifications table compares the vital statistics of the Ju 87 D-1, D-5 and G-2, followed by three pages of black and white plans of Ju 87 D and H subtypes – presumably Gustav variants are dealt with in Volume II.
After this is the meat of the book – nearly forty pages of CAD illustrations that provide 'walk arounds' of Baurle's Ju 87 D-5 and a Ju 87 D-8/D-5N of I./NSG 9 in northern Italy, summer 1944. Nearly every feature of these aircraft is covered except for the cockpits, which again will hopefully be addressed in Volume II because these are the illustrations I find amongst the most useful when modelling. The images are superbly rendered, to the extent that they have more definition, and detail, than photos of the same parts could deliver. The absence of cockpit illustrations notwithstanding, if you are building a Ju 87 kit then you'll appreciate having this book on your desk.
Murawski and Rys have delivered another thorough study into an important World War 2 aircraft and popular modelling subject. They have struck a good balance between context-setting historical photographs and analysis, and modern computer art techniques that build on the period photos.
Volume II, which has already been published, will focus more on Ju 87 Gs and hopefully also include some illustrations of the cockpit interior. Highly recommended, and thanks to Kagero for the review sample.
Thanks to Casemate UK for the sample.
---
Review Copyright © 2015 by Brad Fallen
This Page Created on 24 August, 2015
Last updated 24 August, 2015
Back to HyperScale Main Page
Back to Reviews Page