S u m m a r y :

Catalogue Number, Description and ISBN:

Kagero Publishing
Messerschmitt Bf 109 E – The Blitzkrieg Fighter
ISBN: 978-83-62878-84-0

Contents & Media:

Soft cover, 188 pages, A4 format; black-and-white photographs and plans; full colour profiles and plans; English text; 1 separate double-sided A3 sheet of 1/32 plans.

Price:

Review Type:

First Look

Advantages:

Overall high production quality; excellent choice and reproduction of period photographs; well-written text.

Disadvantages:

Absence of a contents page and index is slightly frustrating.

Conclusion:

This book is a useful resource for modellers and historians alike. Its combination of technical data and campaign information strikes a welcome balance that isn't always present in publications of this type, and it will be an essential reference during my next Emil kit build – highly recommended.

Reviewed by Brad Fallen


HyperScale is proudly supported by Squadron

Whenever I see a new book about the Messerschmitt Bf 109 I think there can't be anything left to write about this aircraft – and yet more often than not I find there is. This is certainly the case with the latest addition to Kagero's "Monographs Special Edition" series, which devotes all of its just under 200 pages to the Bf 109 E.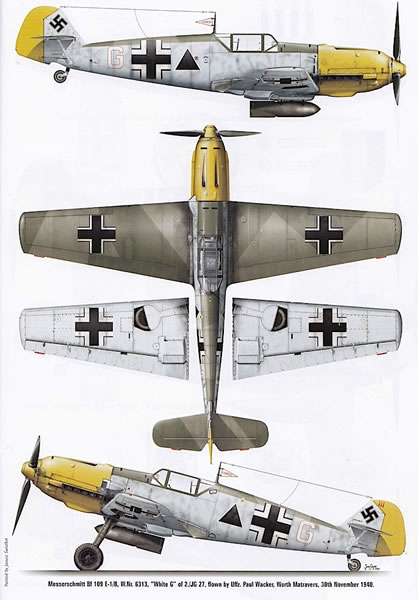 The subtitle of "Blitzkrieg fighter" reveals the authors' focus on Bf 109 E operational use, but they have also included a significant amount of development and technical information. This, along with numerous period photographs, line drawings and colour profiles makes the book very useful for anyone modelling the Emil.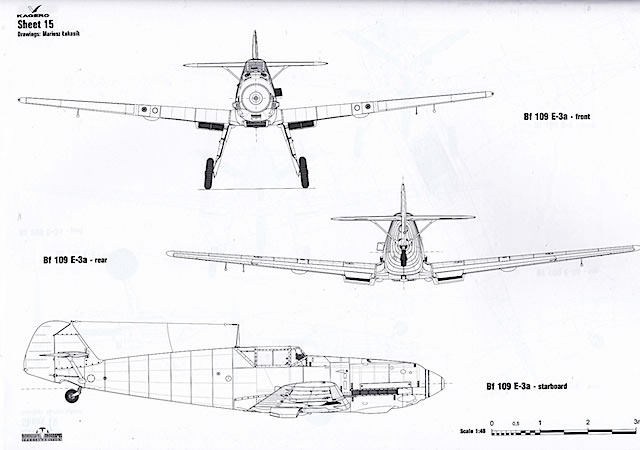 The contents are arranged in a logical order, although you'll notice that in describing the text I cite page numbers rather than chapters. I've done so because Kagero hasn't included a contents page or index, or separated the text into clearly defined chapters. This is fine once you know your way around the book – but the absences are unusual in a modern, otherwise well presented release from a major publisher.
Gripe over, the authors tackle their subject as follows:
Development (pp.3-8). This section concentrates on the ultimately successful efforts by Messerschmitt and Daimler-Benz to install the latter's DB 600-series engines into the Bf 109 airframe. There isn't a lot of new information here, but the material is clearly and succinctly presented. The development of the V-13, V-14 and V-15 prototypes from Bf 109 B airframes is well covered, as are the Emil's positive and negative flying characteristics.
Variants (pp.8-35). This section covers both production aircraft (E-1, E-3, Swiss E-3a, E-4, E-7 and E-8) and "specialised and modified versions" such as the photoreconnaissance E-5/E-6/E-9, the up-engined E-7/Z, fighter-bombers and tropicalised machines. Text here is minimal, focusing on the main features of each variant, but is greatly enhanced by the accompanying photographs that will be of enormous help to modellers. Some of the photos are familiar, but others I don't recall seeing before.
Design specifications (pp.35-46). The Emil's vital statistics are discussed under the headings of fuselage, landing gear, tail assembly, wing, powerplant, internal and external weapons, cockpit arrangement, radio equipment, and hydraulic, fuel, oil, oxygen and engine cooling systems. Descriptions are brief and to the point, but with enough information provided for readers to conduct further research if they wish.
Paint scheme evolution (pp.46-51). One of the Bf 109 E's attractions as a modelling subject is the variety of schemes in which it was finished. This section outlines the evolution of Emil camouflage, from Condor Legion grey-greens and early Luftwaffe two-tone green over blue through to the many variations of grey, green and blue seen during the Battle of Britain and later European operations. Mediterranean theatre schemes are also discussed, along with the finish of interiors, landing gear, machine gun troughs and propeller blades.
Combat operations (pp.51-137). As I mentioned earlier, this section is the meat of the book and covers the Bf 109 E's use from the Spanish Civil War in 1938 until late 1941. Shorter campaigns are dealt with briefly while major operations (for example over France, Britain and North Africa) are addressed in depth. Each campaign is described chronologically with a heavy reliance on the recollections of Emil pilots and – to a lesser extent – their opponents. Such personal touches make the campaign histories much more interesting than if the authors had focused only on statistics – although these are dealt with as well, in the form of Bf 109 E pilot and airframe losses for each campaign.
The Bf 109 E in a fighter-bomber role (pp.138-139). This brief section describes the Emil's use as a fighter-bomber from the Battle of Britain until its belated withdrawal from operations in the east in early 1943.
Endnotes and selected bibliography (pp.139-40) – a welcome addition that is indispensible for anyone who wants to undertake further research.
1/72, 1/48 and 1/32 plans. These plans are presented as black-and-white line drawings and include profile, top and bottom and front and back views for each Emil subtype in 1/72 and 1/48 scales. Also included in 1/72 and 1/48 are illustrations of fuselage station and wing cross-sections, propellers, bomb racks and bombs, drop tanks and racks, guns and instrument panels – along with the plans, 32 pages of information. This doesn't include similar drawings in 1/32 scale, which are provided as a folded, double-sided A3 insert. While plans shouldn't be relied upon as definitive references, the material presented here will be very useful to anyone modelling the Bf 109 E in the three main scales.
Colour profiles. The book wraps up with 16 pages of colour profiles and plans, covering 43 different Bf 109 Es. Many of these aircraft will be familiar to Emil aficiandos, and not everyone will agree with the colour and marking interpretations presented, but the illustrations are a great starting point for further investigation.
Production quality is high. The period photos are well chosen and clearly reproduced. The text is well written and easy to follow, and I found only a couple of minor typographic errors. Finally, but importantly, the book is well bound and looks likely to survive many hours of being propped open on the workbench.
The A4-sized pages are also welcome, in preference to a smaller format.
Kagero's "Messerschmitt Bf 109 E – the Blitzkrieg Fighter" is a useful resource for modellers and historians alike. Its combination of technical data and campaign information strikes a welcome balance that isn't always present in publications of this type.
Along with Lynn Ritger's SAM Datafile and Richard Franks' Airframe and Miniature guide, this book will be an essential reference during my next Emil build – highly recommended.
Thanks to Casemate UK for the sample.
---
Review Copyright © 2015 by Brad Fallen
This Page Created on 16 July, 2015
Last updated 16 July, 2015
Back to HyperScale Main Page
Back to Reviews Page