S u m m a r y :

Catalogue Number, Description and ISBN:

Japo

The B-24 Liberator in RAF Coastal Command Service: with focus on Aircraft of No. 311 (Czechoslovak) Squadron RAF

Authors: Pavel Türk & Miloslav Pajer (translation by Petr Janda)

Illustrators: (profiles) Tomas Poruba & Jaroslav Farkas; (other) Tomas Poruba & Jan Poruba

No ISBN registered

Contents & Media:

320 pages, hardcover A-4 portrait format, 550 photographs, 70 colour profiles, plus other illustrations. Four data-rich appendices and a complete list of primary and secondary sources are appended to the back of the book.

Price:

See the publisher's website for local distribution / availability – typically £70.00.

Review Type:

Thoroughly read, binding thoroughly tested over a period of months.

Advantages:

Seminal research – academic-level material presented in a modeler-friendly way. More coherent technical detail particulars "gen" for ASW Liberators than any other single book to date. Hundreds of the photos are published here for the first time. Profiles are not of the "cookie cutter" variety… the illustrators have taken the time to apply the correct known details (aerials, guns, markings, etc) to each subject.

Disadvantages:

Price plus shipping but….

Conclusion:

It is a heavy book – well constructed and beautifully produced. The high quality binding is sure to be put to the test by Coastal and Liberator fan owners alike. JaPo books are usually a one-shot deal. Once they're gone, used market prices tend to soar.

Despite some minor unconventional usage (some are not quite technical errors) of the language, the text is quite readable. The translator did a very good job. Other ESL (English as a second language) environment publishers could learn a lot from JaPo.

Sit this beside the Vincent and Carey volumes (see below) on your shelf and you'll have a considerable wealth of anti-sub, anti-shipping Liberator gen at your fingertips.

Reviewed by Terry Higgins


HyperScale is proudly supported by Squadron

The Consolidated Model 32 was the largest single aircraft type production programme in the United States during the Second World War. If production infrastructure (people and plant) and the collateral effort (the sheer quantities of metal, electrical wiring, electronic installations, engines, et al.) are taken into account, it could rightly be considered to have been the world's largest such effort of the era.* With the majority of the nearly 18,500 machines produced becoming B-24 bombers for the United States Army Air Forces, it is not surprising that much of what has been published about this important aircraft focuses on the operational history in that primary role, accompanied, in some, instances by coverage of the technological / industrial achievement story. Speaking from both an operational/technology history buff and an accuracy-concerned scale modeler perspectives, the 'Lib' is a complicated aircraft to sort out in terms of variant and sub-variant detail changes, production line and user-level mods, etc., I believe we're generally well served by the vast range of publications already committed to print on the type. But what of the specialist versions that saw ample service in a small number of other wartime air arms as maritime patrol (general reconnaissance in RAF nomenclature), photographic reconnaissance, and military transport aircraft?
Within the aggregate of the titles alluded to above, only a very small proportion of the overall page count deviates from the general themes of level bomber operational history and technical development. Still, the rich history represented by other roles – especially so the maritime specialist variants used in the RAF, RCAF, USAAF, and USN – has not been entirely reduced to sidebar status. Some of the bomber-focused titles do cover the maritime variants, but I'm always left with a sense of lacking in thoroughness. Thankfully the seminal works of authors like Carl Vincent et. al. (Canada's Wings vol.2: Consolidated Liberator and Boeing Fortress), James Oughton et. al. (The Liberator in Royal Air Force and Commonwealth Service, Air-Britain), and Alan Carey (a number of excellent volumes on the theme of US Navy Liberator and Privateer operations in the Second World War) go long way towards a better bigger picture. It is in such works that we come to realize the importance of the aircraft's anti-submarine (ASW) role (and also, in the case of Carey's body of work, the Pacific anti-shipping role).
The Liberator's ASW contribution was pivotal to the closing of the air-cover gap that had, in the early years of the Battle of the Atlantic, afforded a degree of sea dominance to the submarine force. Later maritime Liberators also played a decisive role either directly in, or on the periphery of, what may be considered to be more relatively minor ASW efforts – successful Bay of Biscay Cork patrols during Operation Neptune and long-endurance Indian Ocean sweeps are but two examples. As veteran RAF Liberator captain and ASW ace, S/L Terence Bulloch, DSO & Bar, DFC & Bar, points out in wrapping his foreword to this book, the Liberator "…has been credited in the RAF and US Navy to have been the most successful U-boat killer during World War II."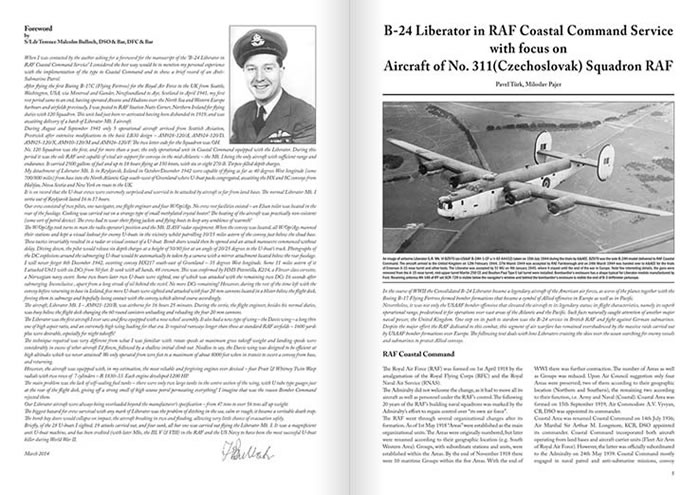 And that it most certainly was. This book has much to contribute to our understanding of that history.
In the two usefully informative introductory chapters – "RAF Coastal Command" and "RAF Liberators" – the reader is provided with the essential background for understanding the more detailed airframe-specific and squadron history accounts that follow. To my mind, this has become 'section one' of the book although it is not explicitly labeled as such in the table of contents (incidentally, the ToC is presented at the back of the book, which may seem odd to most non-European readers). The wonderful trend of heavy, contextually appropriate illustration that dominates all sections of this book starts here. A well-drawn map, clear tables, and richly captioned photographs are the perfect compliment to the text.
Section two, which begins what appears to be the opening passage of an unnumbered third chapter as "Combat operations of Liberators with RAF Coastal Command", is a succinct brief on the extent of the RAF's maritime Liberator use. Given that header wording, the quarter page (in two columns) of text is a little confusing in that it makes explicit reference to maritime units outside of Coastal Command (i.e. No. 354 Squadron in India). However, as it turns out this is all merely contextual material and a flip of the page clears things up. From there the section (chapter?) is divided into unit-specific sub-sections: summaries of the Liberator aircraft complement of each of the ten operational squadrons and three training units that operated the type within RAF Coastal Command. Each starts with a brief pre-Liberator history, usually one or two compact paragraphs, before drilling down to significant actions, aircraft inventory changes and, where appropriate or known, details of onboard mission equipment.
Most of these are presented across two to six pages each. However, that for 111 (Coastal) Operational Training Unit ((C)OTU) is a notable exception at some two dozen pages. The varied lengths appear to be due in part to the extent of the narrative text and in part to the extent of the supporting graphical material. Ample photographic coverage is provided throughout. Many photos feature captions that are often complete stories in themselves – textual snapshots of a particular airframe, crew, significant action sortie, or a lucid description of some technical detail or another; all wonderful stuff for the technophile and operational history enthusiast alike. One to four (eight for the 111 (C)OTU section being an exception) carefully rendered colour profile illustrations add an extra layer of historical interpretation to each of these unit histories. These are not of the 'cookie cutter' variety (i.e. rendering all subject aircraft as having the same detail features) that some publishers fall into the trap of using. Rather, each one is carefully crafted to represent the subject aircraft in detail, down to radar fit and the various external hints of other Airborne Radio Installations (A.R.I. in Ministry of Aircraft Production nomenclature). Finish and markings scheme particulars are also well covered. No gross overgeneralizations here, but rather all detail-minded modeler friendly stuff.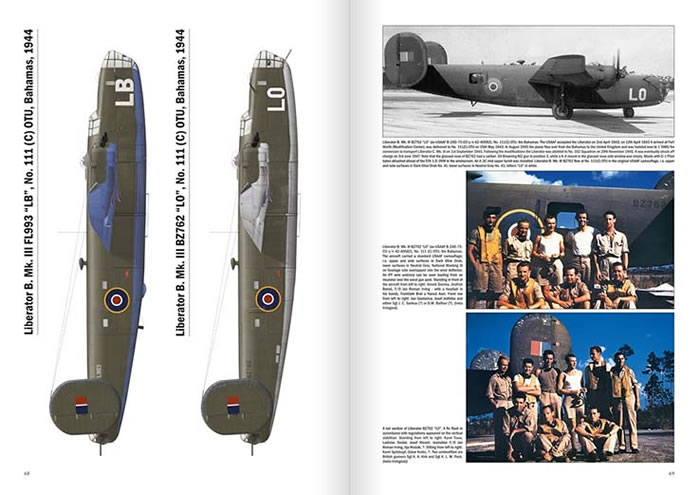 This user unit history section concludes on page 87, following which a more finely particulate history of No. 311 Squadron begins a new section of six chapters… or maybe it is a chapter in six sections(?). Whatever the case, this reviewer is again left with a momentary sense of organizational confusion. However, once caught up in the content this is quickly forgotten. Once you see it, I'm confident you'll agree that this 311 Squadron section / chapter / whatever could be a substantial book in its own right.
It begins with "Liberators allotted to No. 311 (Czechoslovak) Squadron". Before diving into the service history of each individual aircraft, this section opens with a clear statistical summary of the inventory; providing variant and serial number data as well as other useful information like which machines were equipped with rockets, which were used for combat, or practice and training duties etc.
Individual aircraft are then presented in detail, in chronological order of their original USAAF serials (these often remained inscribed on the airframe, a by-product of the Lend Lease programme). This section is a feast of textual and graphical material for anyone, regardless of squadron affiliations, with even a remote interest in the RAF's maritime war effort. Taking the first aircraft (B-24D-CO s/n 41-11610 as Liberator GR V FL961 / "O" and later / "S") as an example, we see that the author first summaries the machine's pre-history – its movements from production line to operational flight line – with the incremental additions of technical attributes noted along the way. Continuing on, the narrative pace picks up with detailed accounts of significant actions and otherwise beyond-routine sorties flown. In the case of FL961, we learn that, after joining the squadron in March, it flew 22 combat sorties between 10 June 1944 and 14 February 1945, during which two attacks (in one sortie) were made. A later sortie, during which the crew decided to continue the mission even after incurring take-off damage, is also documented in similar detail. The aircraft's 311 Sqn story is served in five pages, nicely illustrated throughout with photos, one of those excellent profiles, and the pilot's sketches from the original UBAT (U-boat battle report).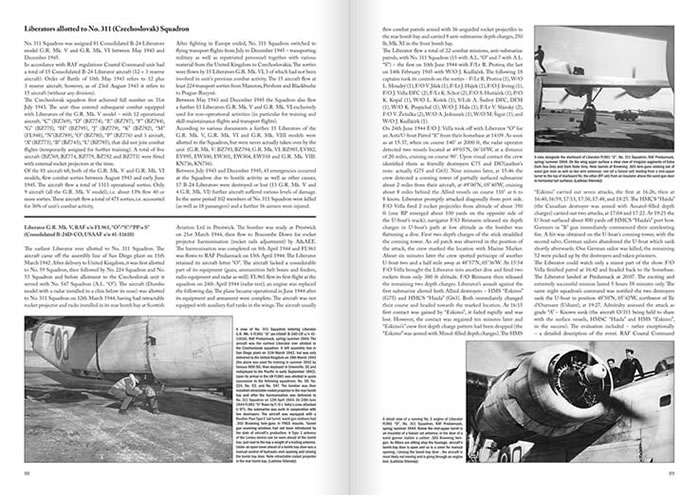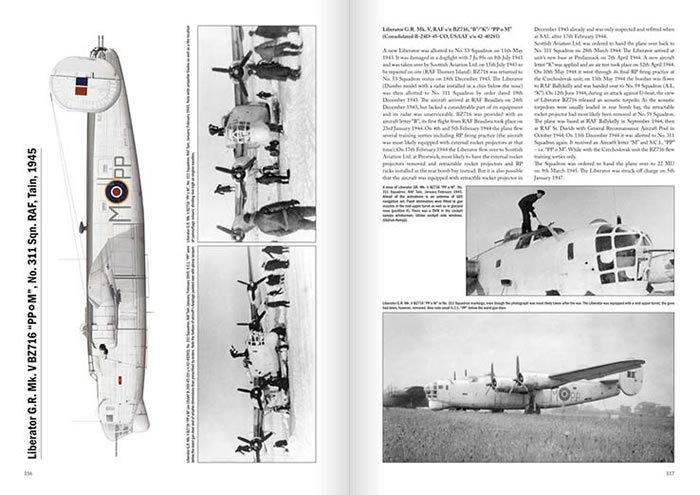 I would only take the author to task on one minor detail in this account. In the caption on page 88, he writes that the referred-to photo was taken at "… RAF Predannack, spring / summer 1944." However, in the photo there is evidence of the squadron's "number-on-airfield" code numeral ("3" in this case) having been painted out already. This reviewer's research indicates that this most probably occurred within the week following Operation Neptune, so "spring" probably does not belong in the sentence. The profile is true to all visible details in its interpretation of the photos, down to the smallest of ARI aerials and nuances of finish including the over-painted code character. Stepping back and looking at the overall excellence of the work, such things as this captioning error are microscopic glitches taken against the greater whole.
Given the complexity of many aspects of this subject (i.e. RAF Liberators), and the difficulty it can present to researchers in both weeding informational wheat from chaff, and in integrating the results into a coherent volume such as this, I'm constantly astounded with each page turn.
Continuing on…
Each of the squadrons Liberators is given equal accord in this book. Whether it had a rich history or a drab one, all findings on each machine's career are documented here. Texts are as complete as the research allowed; likewise the photo coverage. The latter varies from none (for a relative small number of individual machines) to numerous. All interesting, well captioned, and educational; the scores of caption-enhanced photos are supported by some three dozen profiles.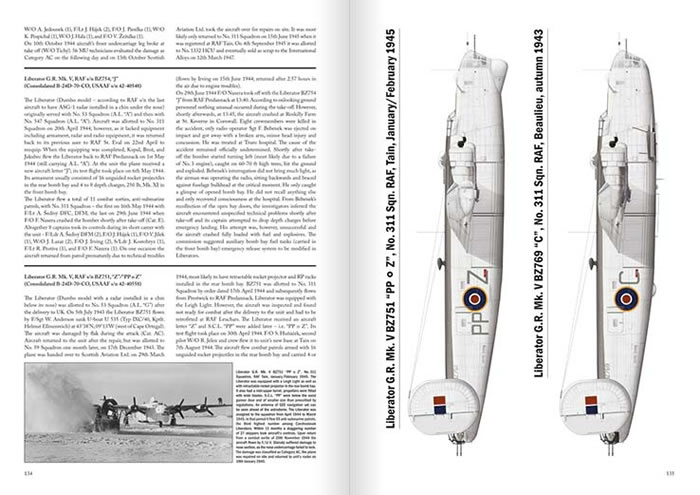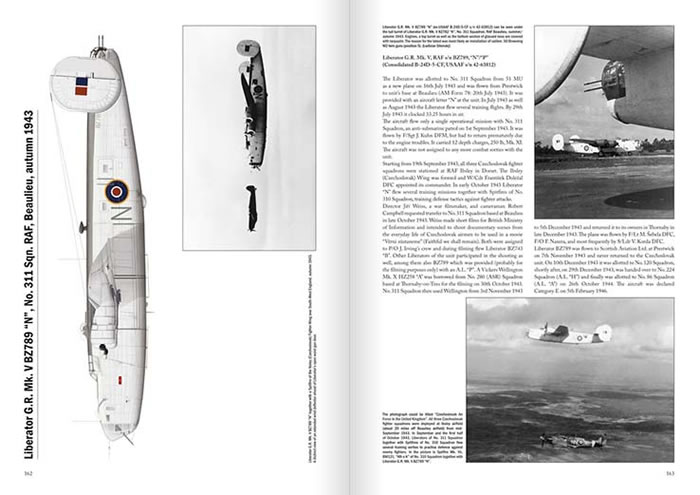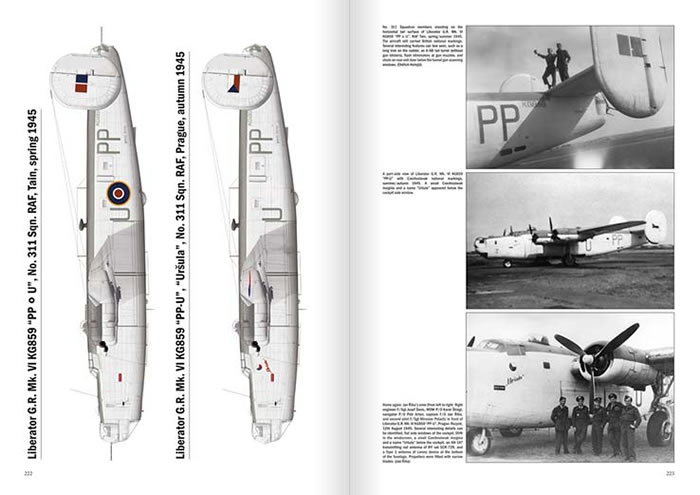 The next 311-specific section deals with the interesting topic of "Liberators allotted to No. 311 Squadron (according to AM Form 78 and other documents) but never received by the unit", listing eleven aircraft that were found to have been assigned to the squadron, but never actually taken on strength. What an interesting sidebar this makes, with one of the eleven shown in a half dozen photos. Taking up only three pages, it is followed by three very similar photographic sections: "Liberator G.R. Mk.V of No. 311 Squadron – unclear identification"; "Liberator G.R. Mk.VI of No. 311 Squadron – unclear identification"; and "Liberators of No. 311 Squadron - unclear identification." These, together with the final section, "Liberators of No. 311 Squadron – Stop Press" seem to me a justifiable excuse for the author to include orphaned photos that may not have had a comfortable home in other sections of the book. Kudos to the publisher for going along with it.
The primary content ends here, at page 280, after having served up the results of years of collection, study, and careful interpretation. The hundreds of photos (many published here for the first time), handful of maps and similar narrative-supporting graphics, plus nearly six dozen of those nicely rendered profiles make it a truly rare parcel of work. But wait, there is a little more…
Four useful appendices follow:
Appendix 1 - RAF Coastal Command Liberator Standards

Appendix 2 - Liberators of No. 1 (Coastal) Operational Training Unit

Appendix 3 - Liberators of No. 111 (Coastal) Operational Training Unit

Appendix 4 - Liberators of No. 311 (Czechoslovak) Squadron
Within these, the operational, design, and equipment details tabulated will serve as valuable reference to anyone interested in drilling down on the subject. This is especially true when taken in concert with the rest of the book (I've already done lots of rewarding page flipping as a result) or any related parts (i.e. ASW Liberator) of other books on the shelf. Valuable stuff for the serious and casual alike.
In correspondence with co-author Pavel Türk, I was excited to learn that at least one more volume, more technical in nature, is in the works. I would venture a guess that its ultimate appearance on bookstore shelves depends on the success of this initial tome. No doubt my personal interest in all things Coastal Command – piled on a similar fascination for the Liberator's wider RCAF and USAAF / USN use in the maritime war – paints me biased but if you have even a general interest in this incredible aircraft's history, I believe you owe it to yourself to set some shekels aside for this handsome volume. Don't wait too long before committing to one though… it is a JaPo book, so it may not be on the shelves for too long more. At least not at the original price.
Academic and armchair historians alike should find value here**, as would model makers, restorers, artists and flight sim enthusiasts alike.
I would like to thank JaPo Publishing for the review copy of the book.
*It was Sixth in terms of actual number of aircraft completed. More than 36,000 Ilyushin Il-2 aircraft were produced in the Soviet Union, making it the largest number of individual aircraft, but like the other most-produced types, it was a single-engined aircraft.
---
Review Copyright © 2015 by Terry Higgins
All Images are Japo Publishing ©2015
This Page Created on 16 November, 2015
Last updated 16 November, 2015
Back to HyperScale Main Page
Back to Reviews Page