S u m m a r y :

Catalogue Number, Description and ISBN:

Mushroom Model Publications Orange Series No 8115
Henschel Hs 123
by Robert Panek

ISBN: 978-83-61421-48-1

Contents & Media:

Soft cover, 136 pages, C5 format; English text; black-and-white and colour photographs; colour and black and white profile art; black and white and full colour detail sketches

Price:

GBP £17.99 available online from MMP Books or from specialist book and hobby shops

Review Type:

First Look

Advantages:

Well-written text; generally high quality period photos; excellent line drawings and colour artwork.

Disadvantages:

One captioning error noted.

Conclusion:

This is a solid dissection of a less well-known, and covered, World War 2 aircraft. You won't regret having it on your bench if you are undertaking an Hs 123 project, or on your bookshelf if you're interested in Luftwaffe or broader aviation history.

Reviewed by Brad Fallen


HyperScale is proudly supported by Squadron


The Henschel Hs 123 was one of the Luftwaffe's longest-serving aircraft: it first flew in 1935 and remained in frontline service until 1944. This is despite a total production run of fewer than 300 aircraft that ended before World War 2, by which time the Hs 123 was clearly obsolescent. Conceived as a dive-bomber, the Hs 123 found its niche as a ground attack platform able to operate in conditions unsuitable for many other aircraft. After Germany's surrender the type soldiered on in Franco's Spain until the early 1950s, when the last examples were scrapped.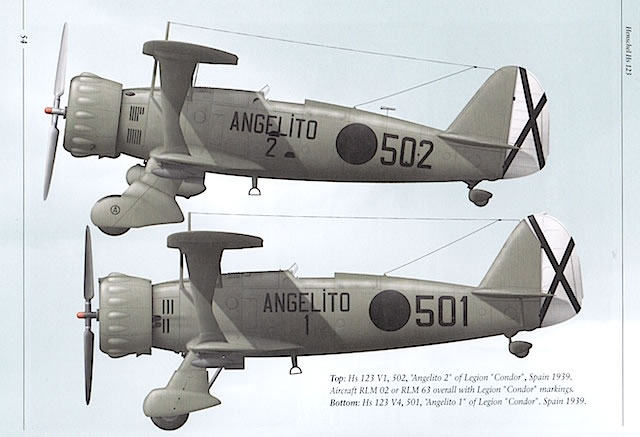 MMP's Orange Series guide to the Hs 123 explores this rich history through a combination of text, period photos, technical drawings and colour artwork. Author Robert Panek deals with his subject more-or-less chronologically, and has structured the book as follows:
Introduction. This two-page chapter outlines the reasons for the Luftwaffe's early interest in acquiring a dive-bombing capability, which led directly to the Hs 123's design. Unfortunately an accompanying photo of one of the Hs 123's ground attack predecessors from the First World War, a Junkers J.1, is mislabeled as an 'Albatros J.1'.
Creating the design. Really an extension of the introduction, this chapter briefly examines the history and wartime role of the Henschel aircraft company.
Development. Here Panek describes the Hs 123 prototypes – V1 through V8 – and the various refinements along the way that resulted in a design ready for production. There are fair to good quality photos of each aircraft except for the V8, which was in fact the V2 re-engined with a BMW 132A-3 engine (it had originally been fitted with a Wright Cyclone GR-1820-F52). There are also three pages of full-colour artwork, the first of 37 such pages throughout the book which show the wide variety of finishes applied to the Hs 123 by its various operators.
Series Production. The two production variants – Hs 123 A and B – are described in text before being exhaustively illustrated in ten pages of line drawings and period photos. Changes introduced during the production run (and other anomalies) are highlighted. There are also brief written descriptions of the several production machines used as test beds, as well as the proposed (but not produced) Hs 123 C, which would have had an enclosed cockpit and additional guns.
Technical description. Here we take a short diversion from the Hs 123's evolution and use, and examine the airframe in detail. All major sections of the aircraft are covered in both writing and illustration (mainly line drawings from wartime technical manuals). There is also a handy one-page table setting out the Hs123's technical specifications.
Luftwaffe service. Unsurprisingly the longest chapter in the book, this section begins with the Hs 123's entry into German service in 1936 and its use by the Legion Condor in Spain. World War 2 campaign use follows: Poland, France and the Balkans followed by Operation Barbarossa. The Hs 123's simplicity and ruggedness saw it perform comparatively well in the tough Russian conditions, but by 1944 the surviving aircraft were both worn-out and hopelessly outclassed by their Soviet opponents, and so withdrawn from the front. The Hs 123's important contribution is well covered, with some fascinating period photos of both machines and the conditions in which they operated; there are also many lavish colour profiles.
Foreign service. The Hs 123's Spanish service is well known, both during and after the civil war. Less familiar are the 12 aircraft purchased by the Chinese Nationalists in 1937 and used operationally, including against the Japanese, until late 1939. Both countries' experience with the Hs 123 is described in detail, as are the machines themselves through profiles and photographs. The chapter ends with a short section on two foreign sales that didn't come through: by Austria (which was absorbed into the Reich before the planes were delivered) and Portugal, which decided to buy Breda Ba.65s from Italy instead.
Detail photos. The final 28 pages of detail illustrations – both photos and line drawings – will be an essential reference for anyone building a Hs 123 model. The airframe is examined from every angle, with the cockpit covered in particular detail; the full colour instrument panel is a highlight. The final two pages address stores carried by the Hs 123.
Overall production values are high. The text is workmanlike but easy to read, with no typographic errors that I saw.
The quality of the period photos varies, but this is more a reflection on the available source material than MMP's reproduction techniques. Captions are succinct and – apart from the error noted above – appear to be accurate. The colour illustrations are by Chris Sandham-Bailey and one of the book's strongest features; it's hard to leaf through without being distracted into contemplating future projects. The absence of both contents page and index is slightly frustrating, but because the book is well laid out and comparatively slim, it's fairly easy to find what you are looking for.
This is another solid dissection by MMP of a less well-known, and covered, World War 2 aircraft. You won't regret having it on your bench if you are undertaking an Hs 123 project, or on your bookshelf if you're interested in Luftwaffe or broader aviation history. I'm looking forward to more similar titles in the future.
Highly recommended
Thanks to MMP Books for the sample.
---
All MMP Books are available direct from the publishers, who now accept credit cards (Visa, MC, Amex, Switch)
North American distributors are MMD, Australian distributors are Platypus Publications. In Europe, the books are available from any good bookshop (via our UK distributors, Orca). Contact MMP direct in case of difficulties.
Thanks to Roger at MMO Books for the sample.
---
Review Copyright © 2015 by Brad Fallen
This Page Created on 19 August, 2015
Last updated 19 August, 2015
Back to HyperScale Main Page
Back to Reviews Page