American Secret Projects: Fighters, Bombers and Attack Aircraft 1937-1945
Preview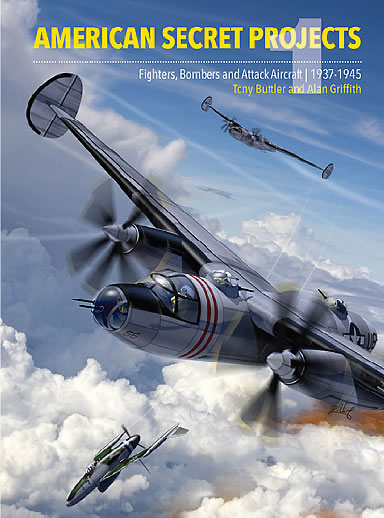 Crecy Publishing

HyperScale is proudly sponsored by Squadron.com

Alan Griffith has sent information and images on a forthcoming book:
Here is the cover art by Daniel Uhr for noted author Tony Buttler and my forthcoming book (expected in October, 2015), "American Secret Projects: Fighters, Bombers and Attack Aircraft 1937-1945" from Crecy Publishers.
This book, the latest in Tony's famous "Secret Projects" series, delves deeply into the original files of the U.S. Army Air Corps, U.S. Navy and American aircraft manufacturers to uncover over 125 virtually or completely unknown aircraft projects. These fighters, bombers and attack aircraft were submitted to the U.S. armed services in response to requests for proposals prior to war or as suggested projects once the U.S. was committed to combat. Not only filled with hundreds of original and redrawn illustrations from original factory 3-views and General Arrangement drawings, the book contains over 200 photos and 75,000+ words of detailed descriptions of the aircraft, their mission and the needs they were offered to fill.
The aircraft shown on the cover is one of Consolidated Aircraft's "tailless bomber" designs and the fighter based on the BV 208. The Consol "tailless" design came in a variety of "flavors" as Consolidated tried to find ways to sell the concept. I can think of at least three different iterations varying in both numbers of engines and wingspan, only one of which was the patrol bomber.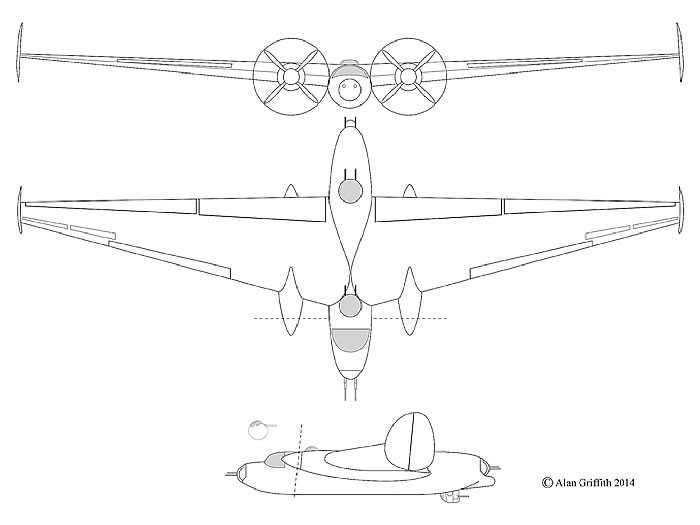 The first that I found was a two-engine bomber - not specifically a patrol plane - with a wing span of 130 feet dated 11-30-41. Another variant was to have a wingspan of 134 feet with a gross weight of 90,000lbs. This version was tested in GALCIT wind tunnel in 1943. Finally, there was a 180,000lb, 180ft wing span beast sporting four engines. This final version was to have a range of 7500 miles.
The so-called "Patrol Bomber", Consolidated designation P5Y1, was an apparent attempt to sell the shorter-spam tailless concept to the Navy, but the original concept was developed for the Air Corps.

There may indeed be more variants, but this is all I've found to date. All will be thoroughly covered in a future book I'm working on.
Finally, for those interested, here is a 3-view put together from a variety of Consolidated drawings that was used by Daniel Uhr as a basis for his brilliant artwork.
Thanks to Alan Griffith for the information and images
---

Text and Images Copyright © 2015 by Alan Griffith
Page Created 10 July, 2015
Last updated 10 July, 2015
Back to HyperScale Main Page