M117 Bomb Late
M117 Bomb With Airbrake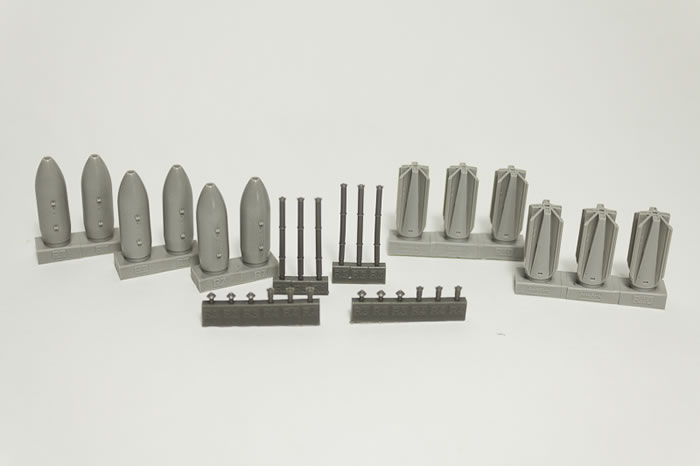 Eduard BRASSIN , 1/48 scale

Reviewed by Mick Drover


Eduard's 1/48 scale M117 Bomb Late set is available online from Squadron.com
The M117 bomb is a 750 pound general purpose bomb used by the Unites States military. The bomb comes in several variants, two of which are covered in this review, the standard M117 used for medium and high altitude deliveries and the retarded tail M117R for low altitude deliveries.
The Mk.117 was used extensively during the Vietname conflict as a general purpose bomb. The bombs were a typical weapon carried by the F-100 Super Sabre, F-104 Starfighter, F-105 Thunderchief, F-111 and F-4 Phantom. During Operation Desert Storm 44,600 M117 and M11R bombs were dropped by B-52G Stratofortress aircraft alone.
Only the B-52 still carries the M117 bombs.
648189 - M117 bomb late (image at top of page)
Supplied in the standard Eduard blister pack this set comprises of six complete units broken down into fuse, bomb body and tail fin assembly. The bomb bodies are cast in a light great resin and are blemish free while the fuses are cast in a darker grey resin. The tail fins are cast suitably thin a look excellent for the scale and are of the later style compared to the early variety. Three choices of fuse are supplied for various configurations. Mounting lugs for the bombs are cast onto the bomb body exterior.
All resin is cleanly cast with no signs of air bubbles, flash or shrinkage.
---
648190 - M117 bomb w/airbrake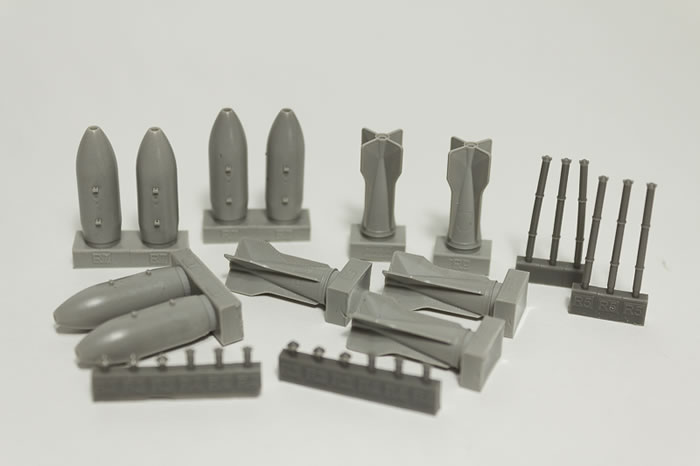 This set is identical to the aforementioned item except for the different tail configuration. The retard tail fin featured four slab sections that opened into the airflow, drastically increasing drag and slowing the bomb significantly. This allowed the delivery aircraft to drop them from lower altitudes and escape the blast zone before the bomb impacted.
As with the 'late' version three fuse types are supplied. Again the resin is superbly cast with no visible blemishe.
Paint callouts are Gunze and a decals sheet is supplied for the yellow nose ring and stencil data.
These two sets are again a welcome addition to the growing line of ordnance from Eduard. Produced to the usual standard we are familiar with from Eduard, they will look great on any Vietnam era US aircraft.
Recommended.
Thanks to Eduard for the samples and images.
---
Review Text Copyright © 2015 by Mick Drover
Page Created 8 September, 2015
Last updated 8 September, 2015
Back to HyperScale Main Page
Back to Reviews Page