Two-Stage Merlin Conversion
for Tamiya Mosquito Kits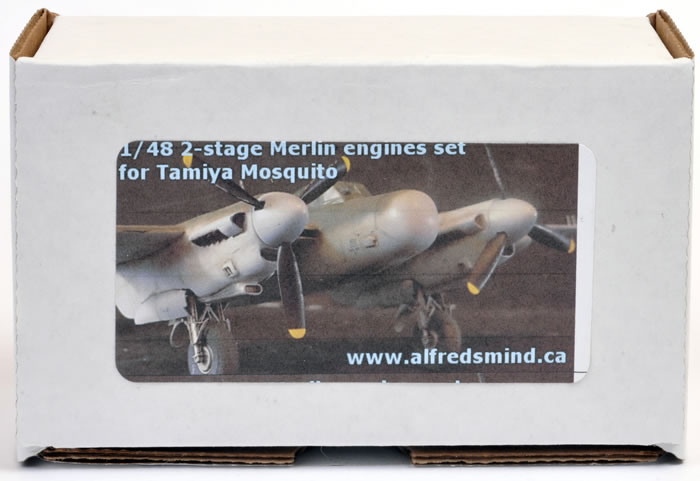 www.alfredsmind.ca 1/48 scale
S u m m a r y

Catalogue Number and Description:

www.alfredsmind.ca - Two-Stage Merlin for Tamiya Mosquito

Scale:
1/48
Review Type:
FirstLook
Contents and Media:

Ten pieces in cream coloured resin.

Price:
USD$30.00 plus USD$12.00 from alfredsmind online store
Advantages:
Two-stage Merlin adds many options for Mosquito modellers; decent quality casting free from pin holes and other imperfections; includes night fighter (semi-shrouded) and standard (six-stack) exhaust stacks; relatively simple conversion.
Disadvantages:
Soft and indistinct surface details (panel lines etc.); decent representation but just misses some of the subtle shapes and locations; casting a bit ragged around the edges - will need some cleanup
Conclusion:
A nice, basic conversion that will suit experienced modellers willing to do a little extra work.
Reviewed by Brett Green


HyperScale is proudly supported by Squadron.com
Alfredsmind is a new name to me. This Canadian cottage industry company has recently released a 1/48 scale two-stage Merlin conversion for Tamiya's Mosquito kits.
Over the years, Airfix has offered a couple of 1/48 scale two-stage Mosquito kits, although they have been almost a conversion-in-a-kit with a new engine nacelle sprue added to the ancient FB.VI kit. The dimensions of the Airfix two stage nacelles are okay but they are noticeably too angular in places.
There have been a number of 1/48 scale resin two-stage Merlin conversions available over the years. The best of these by far was from Paragon, but this has been long out of production.
CMK also offered a two-stage conversion, but it was very short in length and failed in a number of important areas, accuracy-wise.
Valom was next with a full-nacelle replacement, but this missed the mark too. The exhausts were short (representing the single-stage five stackers), details were missing and the lower intake was seriously undernourished .
I was therefore very interested when I heard of this new two-stage Merlin conversion.
Alfredsmind's 1/48 scale two-stage Merlin conversion comprises ten parts in cream coloured resin packed into a stout cardboard box.
The focus of the conversion is the one-piece nacelles. These are cast with a solid front and an open rear nacelle for the main undercarriage bays.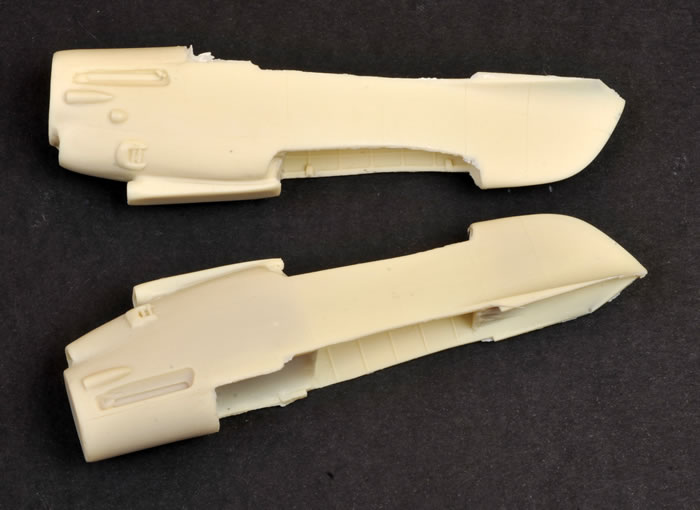 This is not state of the art casting. Surface detail is soft, with somewhat indistinct panel lines that almost disappear in places. These will benefit from a bit of careful rescribing.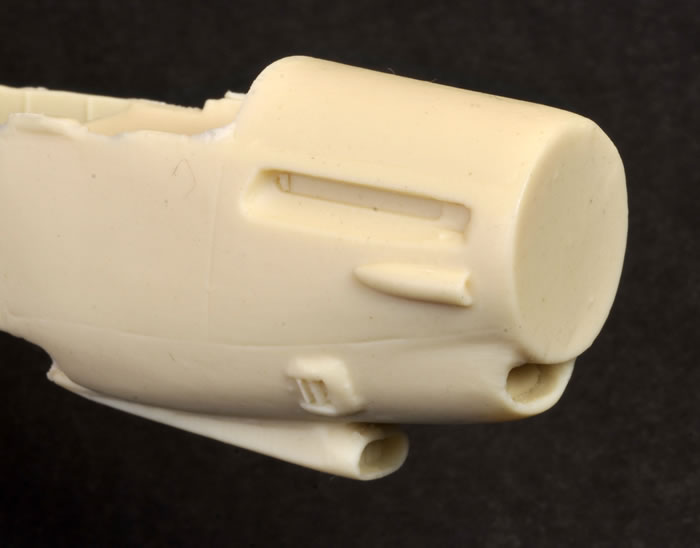 The various vents and intakes are not super sharp either. The nacelles are ragged around the edges and there will be a bit of cleanup required. To their credit though, there are no pin holes of other casting imperfections on the large areas of the nacelles.
Structural detail is cast to the wheel well interior sidewalls - a nice touch.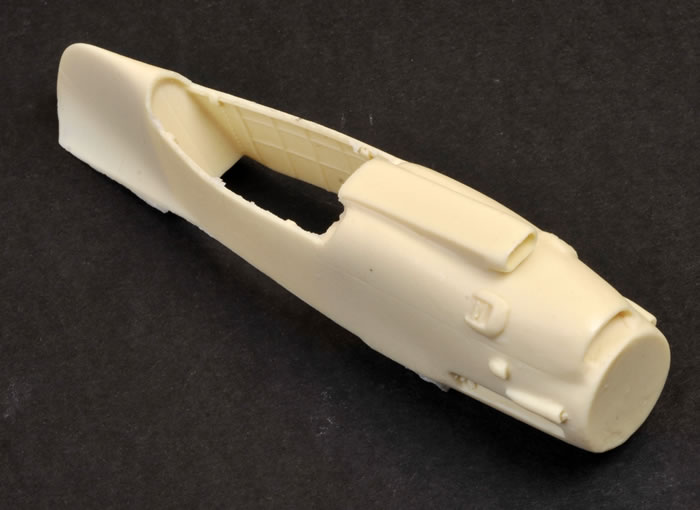 The basic shape of the nacelles looks good. I think the bottom of the lower carberettor intake is a bit too flat/straight and lacks definition at the front. The three sets of grilles along the sides of the intakes are present, but they are so faint as to be almost invisible in places. These need to be much more prominent.
The intercooler vent fairings are present on the lower nacelle sides (these are the bulges just above the carby intake), but it looks to me as if they are slightly too high on the sides. Also, the covered front of the fairing should be longer and the open rear vents should be shorter.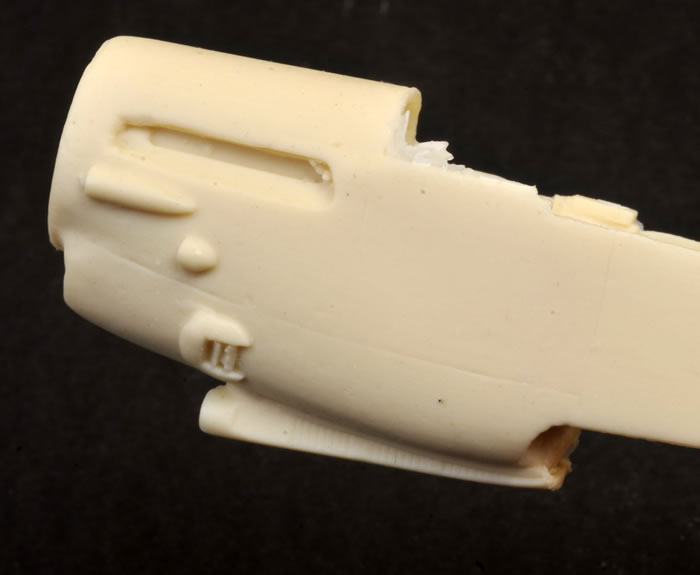 The small intakes under the exhausts are cast in place. These should be removed if you are fitting the night fighter exhausts.
For a better idea of some of the characteristics of the two-stage Merlin nacelle, take a look at Phil Mead's walk around photos elsewhere on HyperScale.
Each side of the exhausts are supplied in one-piece each, for both the six-stack and the shrouded options. The stacks are solid so if you want the ends hollowed out, you'll need to do this yourself.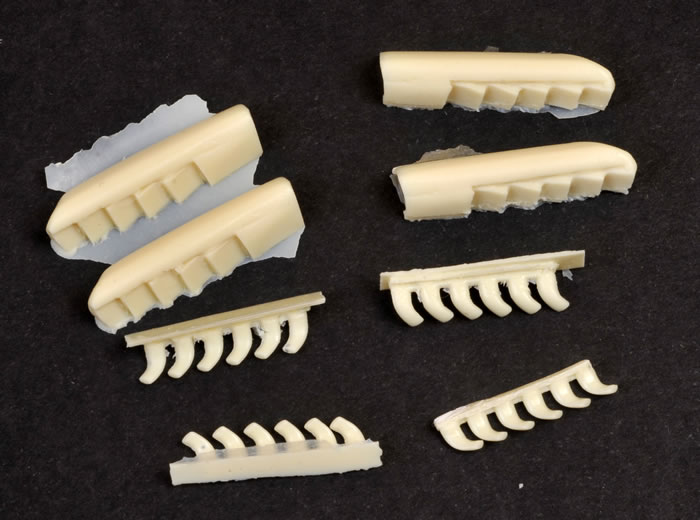 A small sheet is included with four photos and brief notes describing the conversion steps.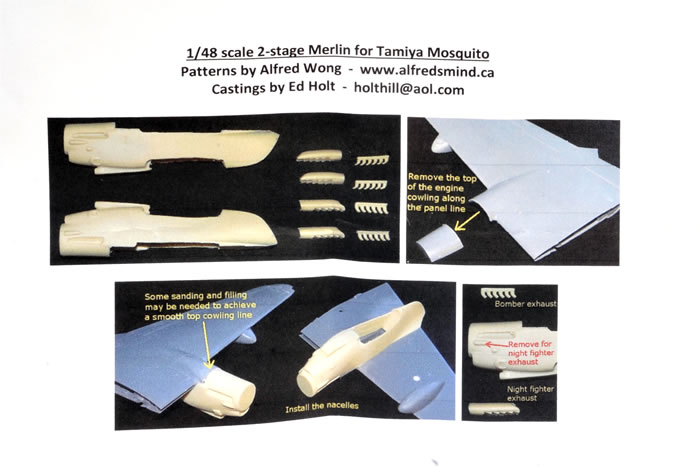 The surgery is really quite simple, with only the top of the engine cowling needing to be cut from the kit's upper wing halves.
Resin casting technology has come a long way in the last decade and many of us have come to expect a very high standard today. However, I believe that there is still a place for the cottage industry.
Despite the issues listed above, I would still recommend Alfredsmind's new release as a better starting point for a two-stage Merlin conversion than either CMK's or Valom's. Some of the details are slightly off, and surface textures need to be sharpened up, but the fundamentals are much better than the other two.
If you have experience working with resin conversions, and you have been looking for a viable option for a two-stage Merlin conversion of Tamiya's Mosquito kits, this one might fit the bill!
Thanks to alfredsmind or the images and information
---
Text and Images Copyright © 2015 by Brett Green
This Page Created on 18 June, 2015
Last updated 19 June, 2015
Back to HyperScale Main Page