Kh-25ML Short-Range Modular Missile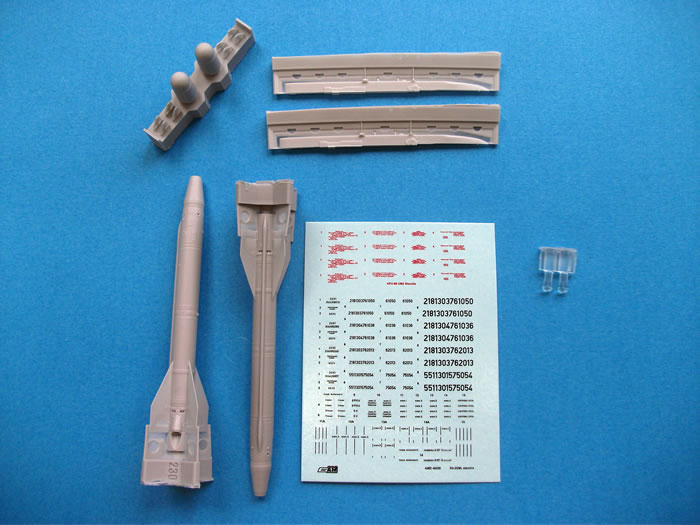 Advanced Modeling, 1/48 scale
S u m m a r y :

Catalogue Number

Advanced Modelling Item No. AMC 48230 – Kh-25ML Short-Range Modular Missile

Contents and media

14 grey and two clear resin parts, decals and instruction sheet

Scale

1/48

Price:

Available online from these stockists:

Review Type

First Look

Advantages:

Superb detail.

Disadvantages:

None noted.

Recommendation:

These are superbly detailed bombs that will enhance any suitable aircraft model. I am very impressed with what Advanced Modeling has to offer, and happily recommend their KAB-500Kr guided bombs.

Reviewed by Marcus Thornley


Eduard's BRASSIN 1/72 Bullpup B is available online from Squadron.com
The Company
Advanced Modeling is a newer company that many modellers may not yet be aware, here is some previously provided information
The team at Advanced Modeling's staff members are all skilled modellers focused on producing really accurate modeling products. When developing 3D models they use original technical drawings and check their results against real ammunition! The company does not currently have a website as all efforts are focused on expanding their product range. Distribution is through a growing number of on-line stockists and distributors; currently these include:
---
The Missile
The Kh-25/Kh-25M (Russian: X-25; NATO:AS-10 'Karen') is a family of Soviet lightweight air-to-ground missiles with a modular range of guidance systems and a range of 10 km
Source: Wikipedia & Ausairpower
Similar in some respects to the AGM-65 Maverick missile this light tactical Air to Ground Missile has had several different guidance packages use it during its operational and development life. This particular version, the Kh-25ML has a semi active laser guidance system and a tandem warhead.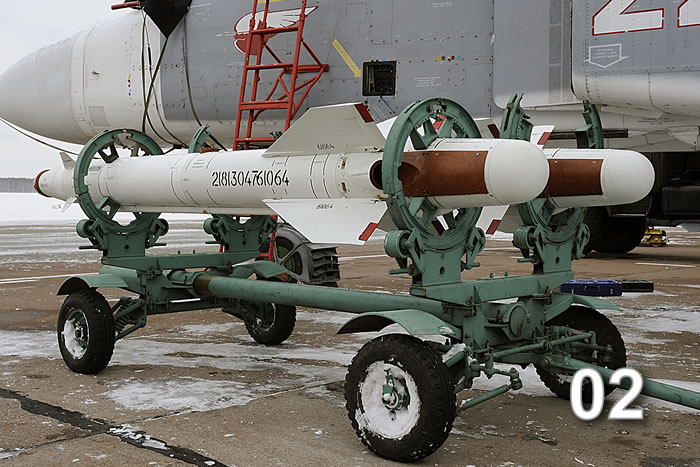 The visually striking feature of this missile for myself and those not used to seeing Russian weapons will be the twin rocket nozzles astride the aft missile body and the centre cone at the very back which contains the second part of the tandem warhead. The first warhead section naturally enough being between the seeker and the rocket motor.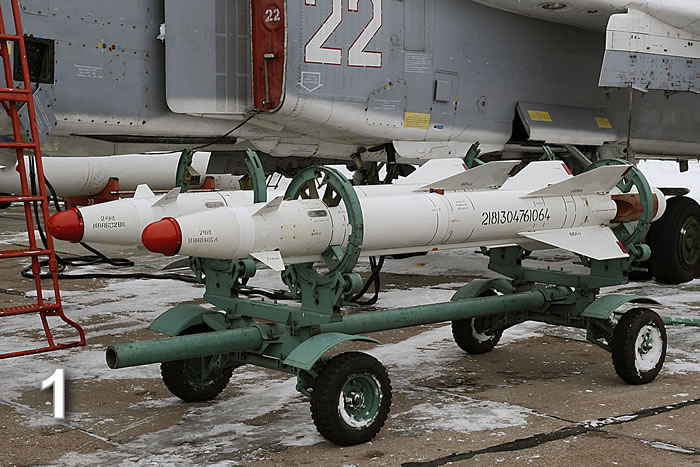 Images proved courtesy of Advanced Modeling
Not being previously aware of Advanced Modeling their products have made a strong initial impression on me.
As provided the kit will build and decal two missiles and launchers. Packaged in a single use cellophane bags are the resin pieces instructions and backing card, with more bags for the clear resin and decals.
The resin has a nice smooth finish with no imperfections or air bubbles. The detailed areas are well done with fine engraved lines for the panel joins and raised access panels with visible fasteners.
The 1/1 missile body itself is far from smooth , recessed areas house the section mounting bolts and the thermal insulation plates are scab mounted aft of the rocket motor nozzles. These are all moulded in great detail. The rocket motor nozzles are moulded with a realistic depth down the nozzle and fine edges. On my sample I do note a slight wave in some of the large aft fins as sometimes does happen with very thin resin castings. The usual process of some hot water and finger pressure should true these up.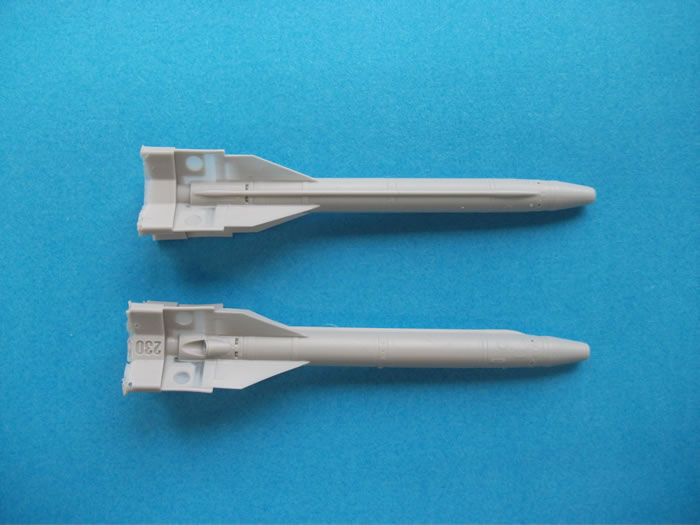 Two clear resin pieces are included for the seeker lens and will fit into the nose off the missile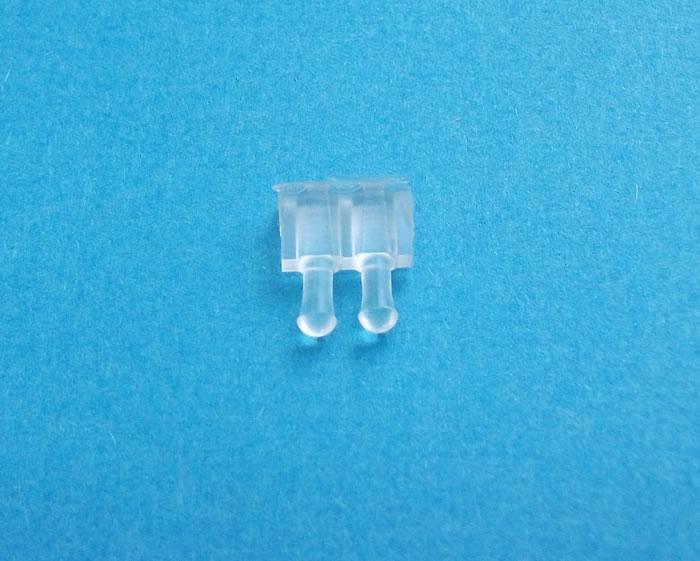 On a separate casting block are both the aft body sections and the eight canard fins. The launch rails are each on their own casting block, all with great shape and no imperfections.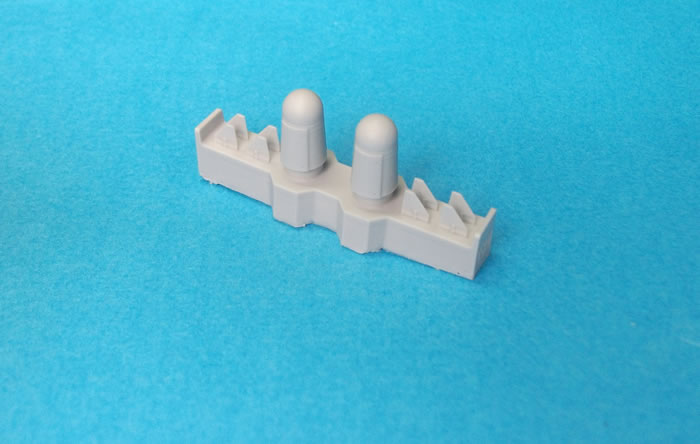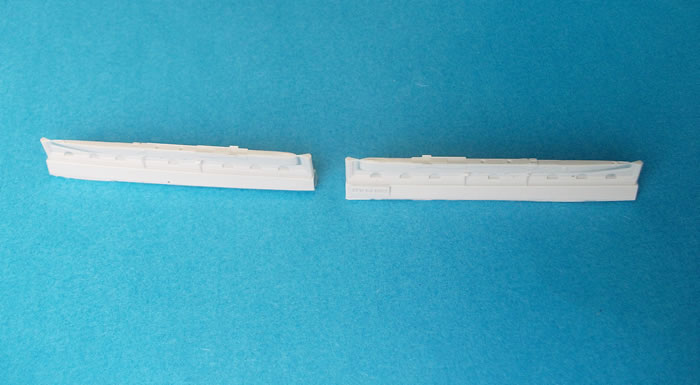 Assembly should prove to be straight forward with proper preparation. The aft body is a butt join to the main missile body and the fwd fins have a pin to fit into a hole at the front of the missile body. The clear resin seeker lenses slide into the missile body, after painting and decals it just needs a small drop of glue at the mounting lugs to fix to the launch rail.
Where modelling skills will come into play is separating the pieces from the casting blocks. The fins are very thin with prominent pins and on the missile body there are fine wafers of resin that run out along the trailing edge. The launchers similarly have a wafer of resin running along the spine and over the sway braces and mounting lugs. This is all standard fare in resin sets and some care and patience should see all the parts come away clean up well.
A small but comprehensive decal sheet covers the markings for both the launchers and missiles. Interestingly the missiles are serialised with several prominent decals around the missile body four different sets of serials are included. The decals are well printed in register with good colour density and legible. Admittedly you will need a magnifier and the ability to read Cyrillic script to know if it makes any sense, I am sure it does Advanced Modeling is a Russian enterprise after all. The launcher decals are printed in red and the missiles are in black.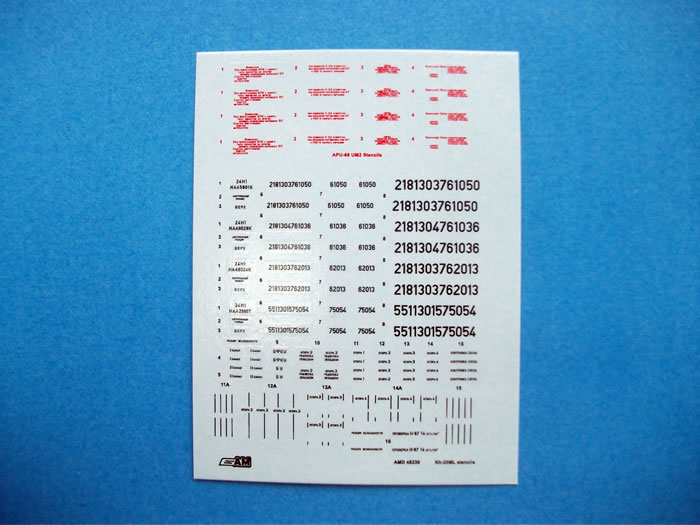 The instructions are printed on two fold out sheets glued to the backing card. The text is bilingual, in Russian and English. The first with Background, Assembly and Painting instructions, the second with decal placement.
There is room for improvement In the painting instructions. It simply states that 'Soviet/Russian missiles are painted White enamel (FS 17925), I assume the FS reference is just for modellers to be able to use their cross reference charts to their favourite paint. Reference to the photos at the top of this review were provided by Advanced Modeling and show missiles with natural metal finish ring around the seeker in the nose, brown coloured rocket nozzles and heat shields and red control surfaces on the fins.
I believe most modellers building this set will refer to references to ensure they are building an accurate miniature but still there is plenty of room for improvement with the instructions. It would be interesting to see if Advanced Modeling do create a website for their products, the images provided with their products show that they do have good references, it just remains for them to get that information to the end user, whether it be through instruction sheets or downloadable web based content.
This is a well thought out accessory, nicely cast with a very complete decal sheet. Acknowledging the spartan painting instructions it should build into a very nice pair of missiles to hang under your Soviet era aircraft. Recommended.
Thanks to Advanced Modeling for the review sample
---
Review Text Copyright © 2015 by Marcus Thornley
Page Created 11 June, 2015
Last updated 11 June, 2015
Back to HyperScale Main Page
Back to Reviews Page