Airfix 1/48 scale
Supermarine Spitfire PR.19
by Pat Donahue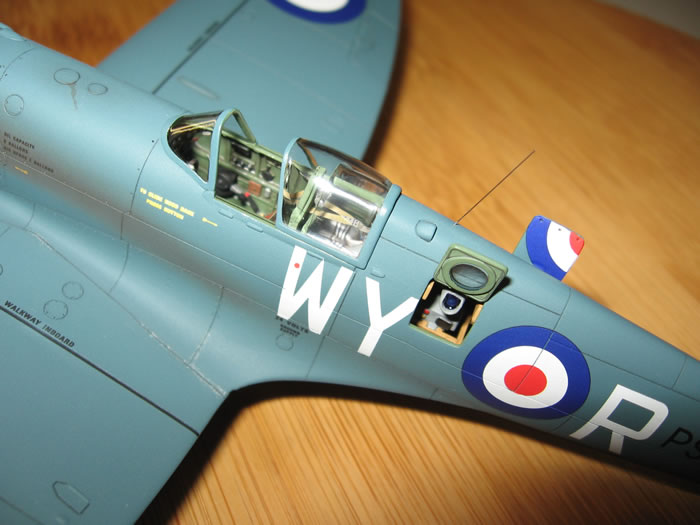 Supermarine Spitfire PR.19

Airfix's 1/48 scale Spitfire PR.19 is available online from Squadron.com
This is an Airfix 1/48 Spitfire PR XIX built to IPMS/USA Out of the Box (OOB) rules The model is a nice but slightly frustrating kit for an OOB build. The main problem is some soft detail molding in some areas coupled with some rather prominent mold parting lines on certain parts, especially the prop and landing gear. I redid the gear 3 times trying to balance keeping the soft detail with the removal of the prominent seam lines. Nothing of any consequence that a little time on the bench will not cure.
IPMS OOB rules this year state that seatbelts are allowed and the restriction that they be simple tape belts or paper has been removed so I added an Eduard photo etch belt set.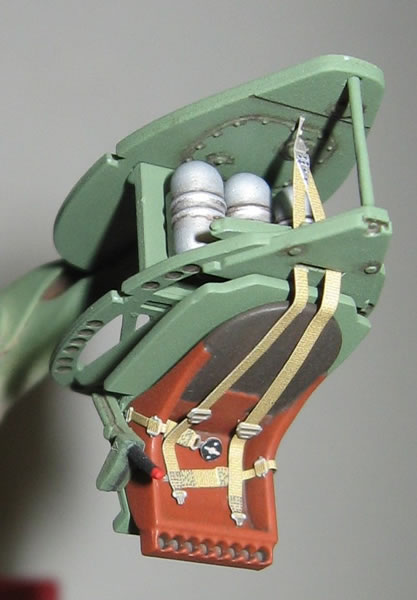 Airfix gives you the extra parts to open up the camera bay and shows it in the instructions so that is allowed under OOB rules. Here is a shot of the cockpit and camera bay with the "plywood" bulkhead and "wooden" cameras mounts done with a base coat of RLM 79 and the "grain" applied with a Prisma pencil, then Futured.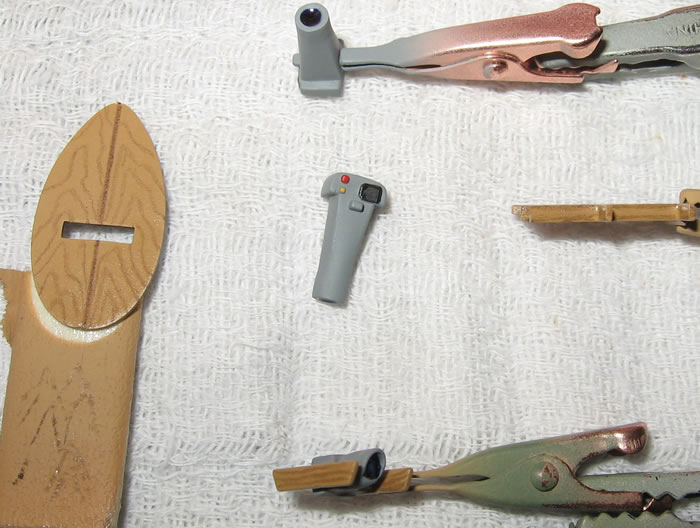 The instrument panel was done with substitute decals which is permitted, plus basic painting and details done with a Prisma pencil.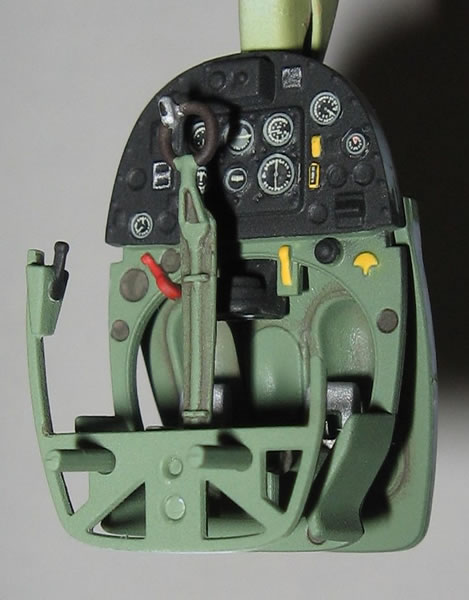 The radiators faces were drybrushed with Floquil Platinum Mist and after much tedious masking that big Rotol prop was finished.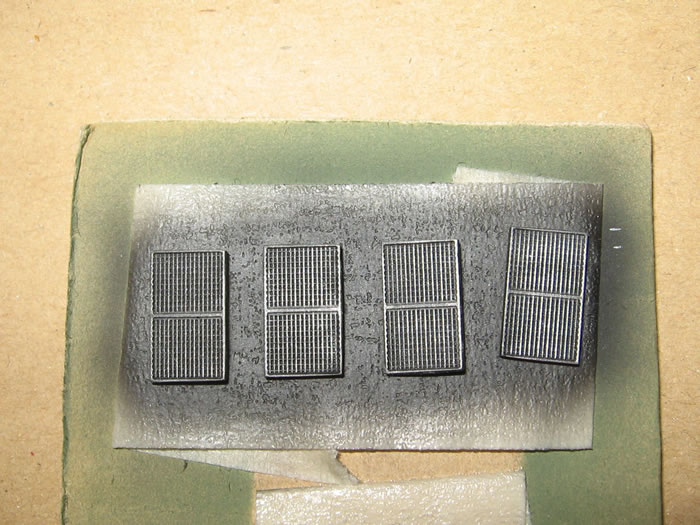 The wing nav lights was a head scratcher to stay within OOB rules as they are very faintly molded and I could not drill out a hole and insert a colored sprue to represent a light. Since OOB rules state that all finishing techniques are allowed, they were built out with a small dab of superglue for the lens ( to give them some body instead of using Future which is not thick enough ) then polished and painted with Gunze clear paints.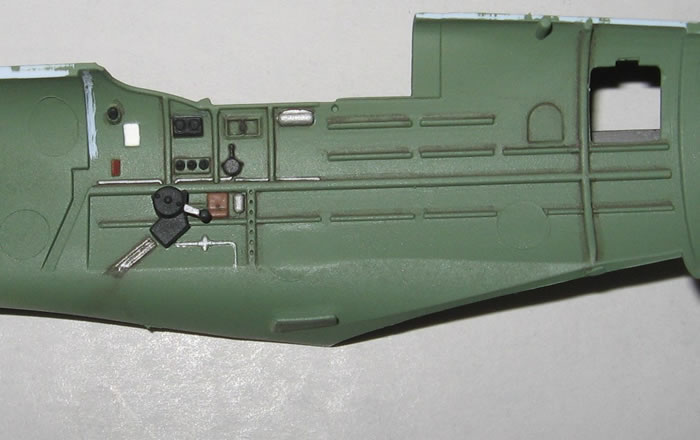 The tail light was painted semi-gloss white then coated with Future. They were masked with a dab of white glue. The fuel filler caps are Bare Metal Foil.
The model was painted with a home brew of PRU Blue using the chip in "British Aviation Colours" (RAF Museum Series).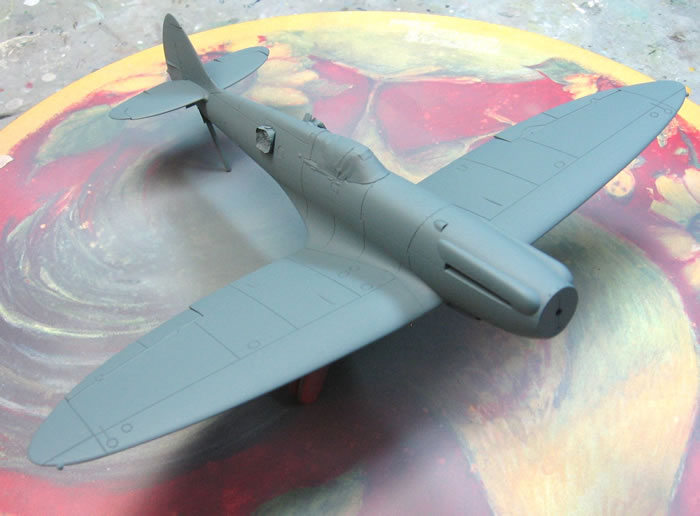 As usual with an OOB model I try some crazy ideas that have been running around in my under exercised cranium. I did the panel lines BEFORE I applied the Future coat, using a sharp #2 pencil and then wiping over the area with a moist Q tip to remove any excess pencil lead. Future was applied and then the decals, I used the Xtradecal and Kits World sheets(stenciling) for the 1/48 PRXIX. After the decals were on and settled with Micro Sol and Solveaset, I gently went over the decal panel lines with a Paasche AB airbrush needle which settled them into the panel lines AND exposed the already penciled panel line underneath. A few select areas like screw heads under the decals were given another penciling and then a few shots of Micro Sol to settle everything in on the panel lines, followed by a few light final Future coats.
After flat coating with DullCoat some mild weathering was applied with Tamiya Weathering powders and regular chalk pastels and Prisma color pencils.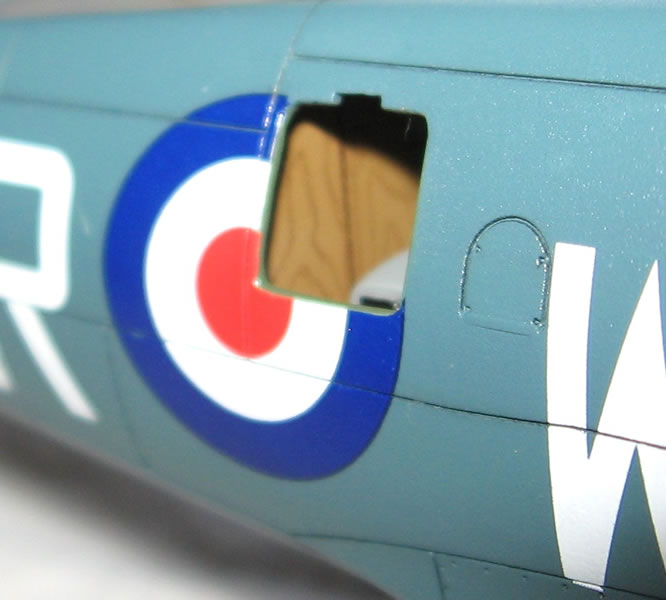 These post war aircraft were well maintained and I tried to give it the look after flying a long mission. I assume that big 5 blader prop would produce some different airflows along the fuselage sides and slightly altered the exhaust patterns on the port and starboard sides.
The canopy was fine sanded, polished and waxed to within a micron of its useful life.
As an aside I personally think OOB is harder to do than a regular all out build. Had this been a regular unlimited build the plywood bulkhead would have probably been done in stained basswood, the nav lights would have been colored rod, the gear legs for sure would have gone in file 13 and would possibly been replaced with Eduard Brassin items and the prop would have come from Barracudacast as would the exhausts, not to mention Roy Sutherland's lovely cockpit and intake upgrades.... Having said THAT OOB forces me (at least) to search for other ideas that in many cases I can use in my regular builds.
---
Text and Images Copyright © 2015 by Pat Donahue
Page Created 19 August, 2015
Last Updated 19 August, 2015
Back to HyperScale Main Page