Kagero Preview
January, 2012


HyperScale is proudly supported by Squadron.com


Kagero has provided Preview information on two new books, available later this month from their online shop: www.sklep.kagero.pl.
MiniTopcolors 28
Luftwaffe over the Far North Part I
Maciej Goralczyk, Arkadiusz Wróbel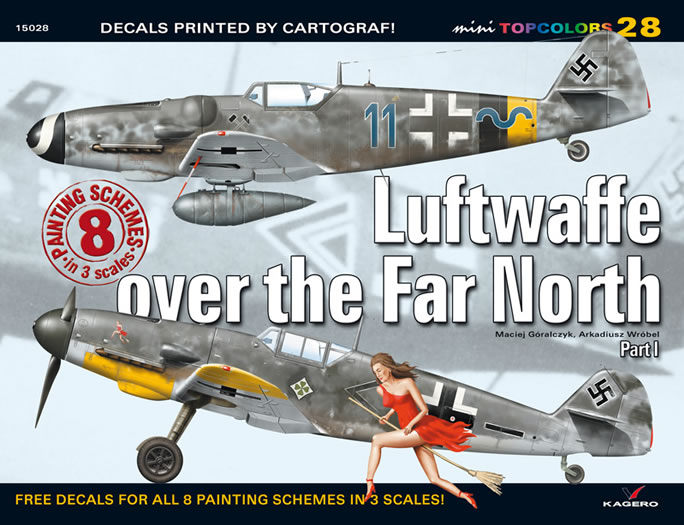 A big decal sheet with 1:72, 1:48 and 1:32 individual markings for 8 various Luftwaffe aircraft, which served in the Far North. The decal sheet was printed by Cartograf. Each painting scheme is depicted on beautifully drawn 4-view colour profiles and thoroughly described in the 20 page guidebook with English and Polish text. The selection contains the following aircraft:
Bf 109 E-7; 'Yellow 7', flown by Oblt. Horst Carganico, Staffelkapitän of 1./JG 77 (JGr. z.b.V.), Petsamo, 25 September 1941,

Bf 109 E-7, W.Nr. 6274; 'Red 19', flown by Fw. Josef Wirtz of 5./JG 5, Kirkenes-Høybuktmoen, April 1942,

Bf 109 F-4; 'Yellow 10', flown by Fw. Hans Döbrich of 6./JG 5, Petsamo, 30 June 1942,

Bf 109 E-7; flown by Hptm. Günther Scholz, Gruppenkommandeur of III./JG 5, Petsamo, August 1942,

Bf 109 G-2; flown by Oblt. Günther Schwanecke of Stab II./JG 5, Salmijärvi, August-September 1943,

Bf 109 G-14; 'Blue 11', flown by Uffz. Karl-Heinz Erler of 16./JG 5, Rygge, April 1945,

Bf 109 G-6, W.Nr. 411960; flown by Hptm. Franz Dörr, Gruppenkommandeur of III./JG 5, Gossen, May 1945,

Bf 110 C-4, possibly W.Nr. 3271; coded '2N+DR', flown by Oblt. Hans Kriegel, Staffelkapitän of 7./ZG 76, Stavanger-Sola, February 1941.
---
Topdrawings 14
Arado Ar 196 All models
Mariusz Lukasik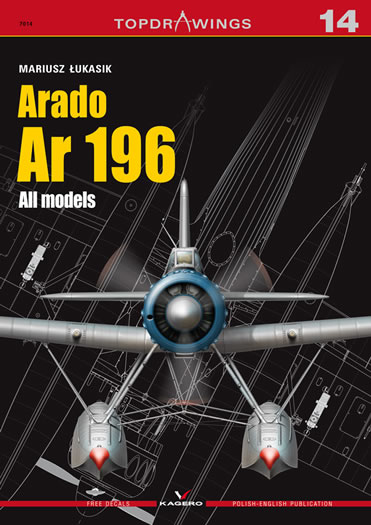 The 14th publication of the Todrawings series focuses on the Arado Ar 196, German shipboard reconnaissance float plane. The 20 page, A4 size booklet contains 10 sheets of 1:48 scale drawings, 5 sheets of 1:72 scale drawings (which include a specification of external changes in various versions of the aircraft) and colour profiles of 4 planes. The drawings in 1:32 scale are attached as A2 size sheets. Also attached are two decal sheets printed by Cartograf, which include 1:32 scale individual cockpit instrument dials; 1:48 and 1:72 scale cockpit instrument panels as well as 1:32, 1:48 and 1:72 scale individual markings for the following machines depicted on colour profiles:
Ar 196 A-2, W.Nr. 0056; coded '6W+IN', crewed by Uffz. Sacritz and Lt. zur See Karl-Ernst Schmidt of 5./BfGr. 196, Aalborg-See, May 1940,

Ar 196 A-3; 'White 3' of 161st Floatplane Yato (Squadron), Varna, 1943-1944,

Ar 196 A-2; boarded on the heavy cruiser Admiral Scheer during its combat raid between 27 October 1940 and 1 April 1941,

Ar 196 A-3, W.Nr. 1006; coded 'SE-AWY', used by A.B. Ahrenbergsflyg, Lindarängen, 1947.
The decals also contain Bulgarian national markings for 1 plane and 2 sets of German swastikas
Thanks to Kagero for the images and information
---
Images Copyright © 2012 by Kagero
This Page Created on 6 January, 2012
Last updated 6 January, 2012
Back to HyperScale Main Page
Back to Reviews Page