Northrop P-61A Black Widow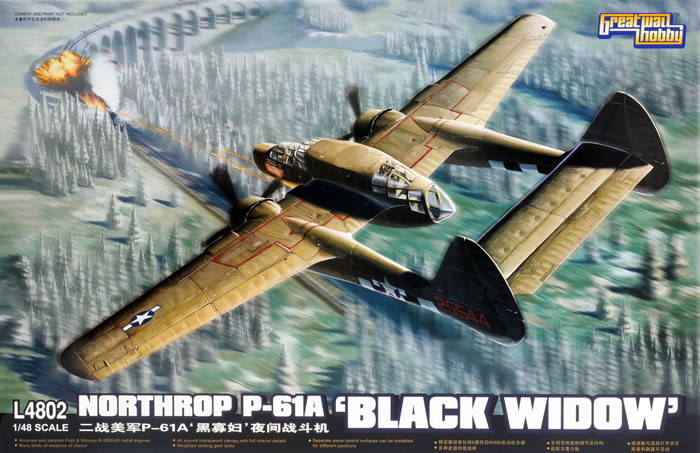 Great Wall Hobby, 1/48 scale
S u m m a r y

Description and Stock No.:

Great Wall Hobby Kit No. L4802 - Northrop P-61A Black Widow

Contents and Media:

161 parts in light grey plastic; 12 parts in clear plastic; photo-etched fret; brass tube; three decal sheets with markings for two aircraft.

Price:

TBA

Scale:

1/48

Review Type:

First Look

Advantages:

Easily the best "out of the box" kit of this type available in any scale; crisp and finely recessed panel lines; raised surface detail where appropriate; separate control surfaces including flaps that may be fixed open or closed; separate photo-etched spoileron access covers; optional open or closed cowl flaps; poseable crew entry doors and ladders; includes drop tanks; sparkling clear parts; good engine detail; very high level of detail including photo-etched parts.

Disadvantages:

Small ejector pin marks in a few inappropriate places; fabric / rib texture will be a bit heavy for some tastes; one-piece propeller assembly.

Recommendation:

Great Wall Hobby's 1/48 scale Northrop P-61A Black Widow is an excellent kit that is just crying out to be built.
Reviewed by Brett Green


HyperScale is proudly supported by Squadron.com
Both the Lufwaffe and the RAF were caught on the hop in 1940 with the commencement of large-scale night bombing campaigns. Initially, unmodified day fighters were pressed into service as nocturnal defenders, vectored to their targets by the relatively primitive radar of the day.
Eventually, a higher degree of success was achieved on both sides when radar was fitted to the aircraft themselves.
The American military observed the early evolution of the radar-equipped night fighter. When war broke out in the Pacific, the US Navy fitted Hellcats and Corsairs with wing-mounted radar pods to take the fight to the Japanese after dark.
The US Army Air Corps, however, ordered a dedicated night fighter design. Northrop's proposal for this specification was the XP-61, a large twin engine aircraft with a crew of three and radar mounted in the nose. It featured a number of innovations including slotted flaps and "spoilerons" that popped up from the wings' upper surfaces instead of conventional ailerons. The XP-61first took to the air on 26 May 1942.
Operational service commenced in mid-1944, and the Black Widow's first victim fell on 6 July. During its short wartime career, the P-61 Black Widow served in the European, Mediterranean, Pacific and Burma/China/India theatres. Although large and heavy, it could operate from short fields and was successful in its intended role despite being deployed in relatively small numbers. In fact, the Black Widow was credited with the very last aerial victory of the Second World War on 14 August 1945.
In addition to its night fighting role, the Black Widow also undertook reconnaissance and intruder missions.
---
What's in the box?
Great Wall Hobby made a splash in the 1/48 scale aircraft model market with their very nice Focke-Wulf Fw 189 A-1 and A-2 kits in the last 12 months.
Their newest tooling is the early version Black Widow - the P-61A.
Great Wall's 1/48 scale P-61A Black Widow comprises 161 grey plastic parts, 12 parts in clear plastic, a photo-etched fret, a length of brass tube and three decal sheets with markings for two aircraft.
The interior of the fuselage is very well fitted out. Structural details on the floors and bulkheads are impressive, and seats are equipped with photo-etched harness straps. The instrument panel is a plastic part with raised instrument bezels and separate dial decals and very clearly numbered directions on where each decal is to be placed. I do like this approach - it should look great when complete.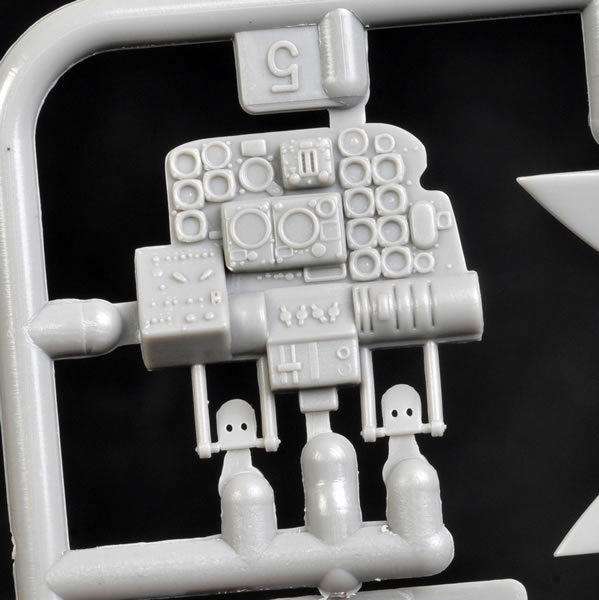 Great Wall also supplies a good selection of placard decals for the cockpit. The printing of these is really crisp and readable under high magnification. Reference photos must have been unclear though, so someone has had a bit of fun with the inscriptions. Some of the tiny placard text includes "LOOK AT THATE CAT" and PEOPLESWEETDGROT".
Separate crew entry hatches and ladders are supplied for the forward and rear fuselage sections.
The clear parts are beautiful. One of the criticisms levelled at Great Wall's Fw 189 was the heavy canopy framing. The canopy frames on the P-61A are crisp and petite - just lovely. All the transparencies are crystal clear and free from distortion too.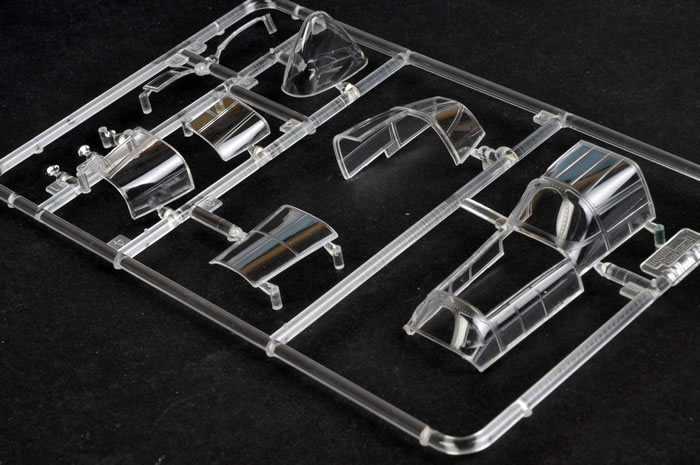 The radome part is packed into a two-piece vacform box to protect it from scuffing and damage prior to assembly.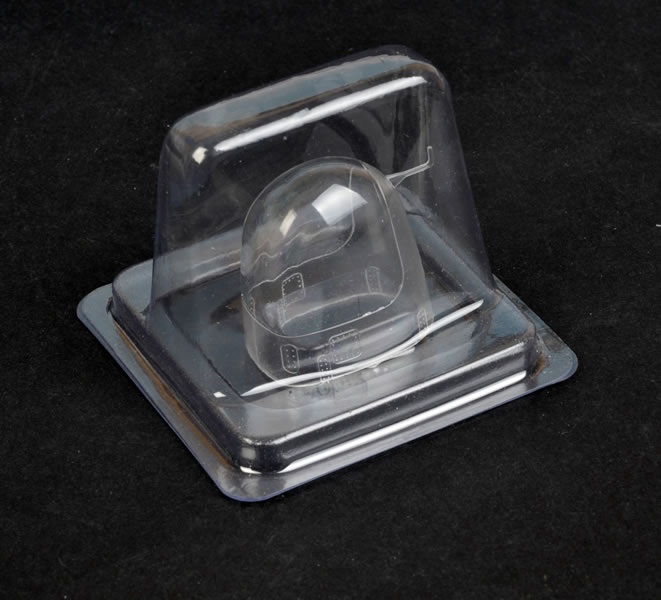 Gun bay detail is included. Two access doors to the gun bay may be posed open or closed. The upper turret does not apply to this variant so a blanking plate is provided for this opening.
The radar is made up from nine pieces and looks good.
Surface texture is state-of-the-art. On the metal surfaces, panel lines are recessed and rivets are crisp but employed with restraint. Raised detail is included where appropriate too.
Fabric control surfaces are a definite improvement compared to the deep indentations on the Uhu kit, but may still be a bit too prominent and uniform for some tastes.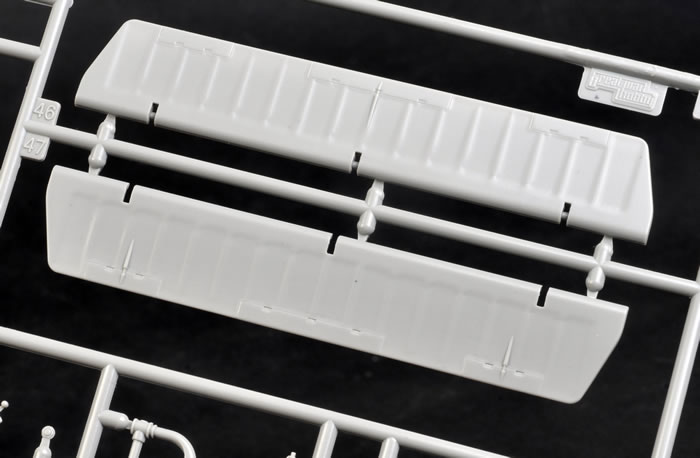 The wings and tailplanes are moulded with some pretty serious chordwise reinforcements on the inside surfaces. These will also act as additional gluing points.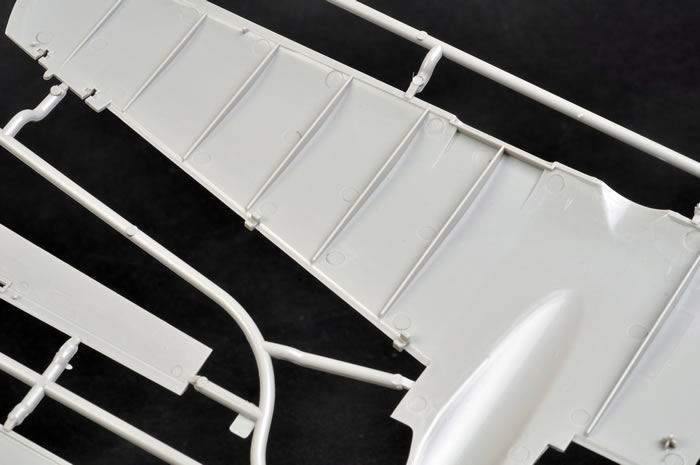 The upper wings have recesses for the spoileron access covers. The access covers are separate photo-etched parts, and these may be posed open or closed. Please note that these are not the spoilerons themselves. Terry Dean advises that the spoilerons are curved, perforated panels that are hinged on a swing arm so that they can rotate up out of the wing. These were hard linked in with the operation of the small ailerons so you might see one up and one down, but never both up at the same time. They were usually locked in the neutral (closed) position on the ground.
Flaps might be seen anywhere from full up to full down.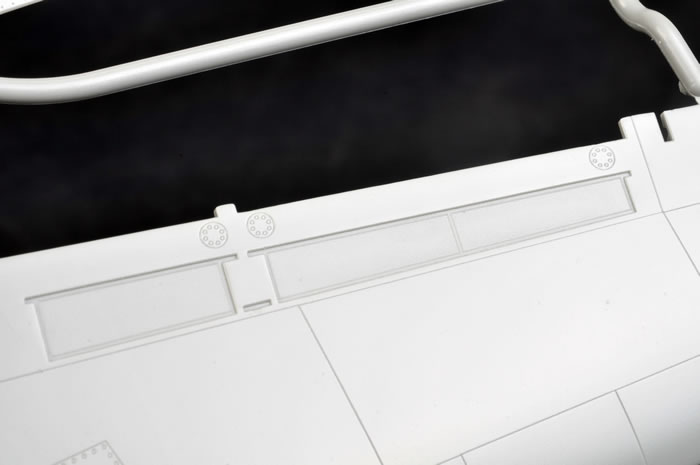 The R-2800 engines look really good, and include a ring of plastic pushrods and photo-etched ignition harness. Alternate parts are offered for open and closed cowl flaps.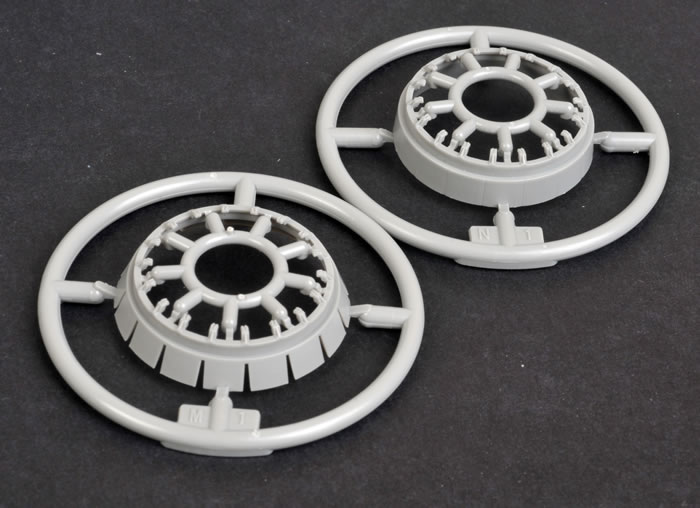 A lovely exhaust assembly with hollowed-out ends may be used if you choose the open option.
The propeller assemblies are a single piece each, with the spinner moulded in place. This will make painting a bit tricky.
Wheel well detail is complete with bulkeads and structural detail moulded to the interior of the booms. The wheels are injection moulded plastic (hooray!) with the main wheels being bulged and flattened.
A pair of drop tanks is included.
Packaging of the kit is exellent, with a stout top opening box, and each sprue individually packed in a resealable plastic bag.
Construction should be straightforward with locating pins and tabs assisting assembly. No mention is made of the requirement for nose weight, but I am sure that this model will be a tail sitter without it. With the detailed cockpit, radome and gun bay, you'll need to use the space in front of the wheel wells and behind the engines, and possibly the void immediately behind the cockpit to add some weight.
Markings are provided for two aircraft - one in Olive Drab and Neutral Grey and one in overall black.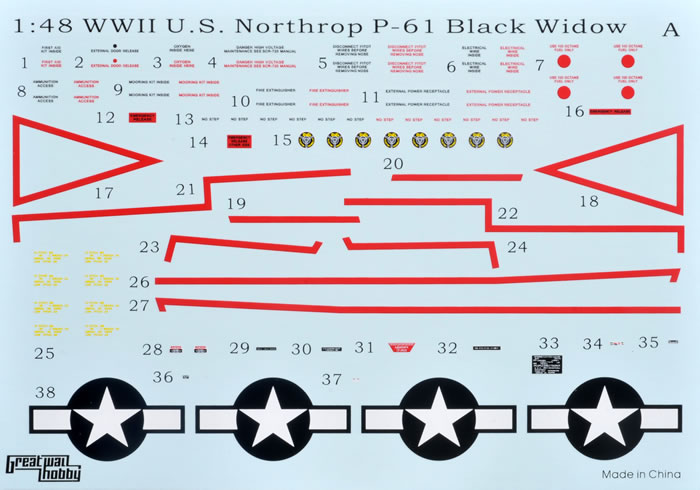 The three decals sheets are crisply printed and in register, and flat in finish.
Great Wall's debut aircraft, the Fw 189 Uhu, was an impressive effort but this new 1/48 scale P-61A Black Widow is better again.
Interior detail is very complete, use of multi-media parts restrained and appropriate, surface detail is convincing (especially the metal surfaces), and features such as poseable control surfaces and open or closed cowl flaps are useful. The new subtler approach to canopy framing on this kit is welcome too.
Great Wall Hobby's 1/48 scale Northrop P-61A Black Widow is an excellent kit that is just crying out to be built.
I won't be leaving it crying for long!
Highly Recommended
Thanks to Great Wall Hobby for the sample
---
Review Text and Images Copyright © 2011 by Brett Green
Page Created 17 August, 2011
Last updated 18 August, 2011
Back to HyperScale Main Page
Back to Reviews Page