Reviewed by Brad Fallen

HyperScale is proudly supported by Sq
uadron.com
For those who aren't familiar with his work, Radu Brinzan of RB Productions offers aircraft modelers some of the best aftermarket products and tools available. Radu's range includes a number of decal sets in 1/32, 1/48 and 1/72 scales, which focus on Romanian aircraft markings over the past century.
The two 1/32 sets reviewed here provide the stencil-type King Michael Cross insignia that were used on Romanian aircraft from mid-1941, when Romania entered World War 2 as a German ally, until they were simplified later in the war. The 960mm crosses on sheet RB-D32008 were used on Hawker Hurricane Mk Is, the upper wings of some Heinkel He 111s, and some Messerschmitt Bf 109s, while the 860mm crosses on sheet RB-D32009 were used on Bf 109s – most likely the Emils with which Romania entered the conflict, rather than the later Gustavs, but my references aren't clear on this. Also included on both sheets are decals for the Mickey Mouse emblem seen on many Romanian fighters during this period.
The decals are printed by Fantasy Printshop, and appear to be of high quality. Twelve crosses and four Mickey Mouse emblems are provided on each sheet. To limit the potential for misregistration, both the crosses and emblems are printed in multiple parts. This approach also gives modelers the flexibility to reproduce the slightly different styles of cross used on individual aircraft and over time. For this accurate references will be essential, and here Radu specifically recommends Morosanu and Melinte's Romanian Fighter Colours 1941-45, published by MMP Books in 2010. The only flaws I found in the review samples were a tiny amount of bleed through of blue onto yellow on one cross, and a few bits of fluff trapped between the decal and the carrier film on a couple of other crosses.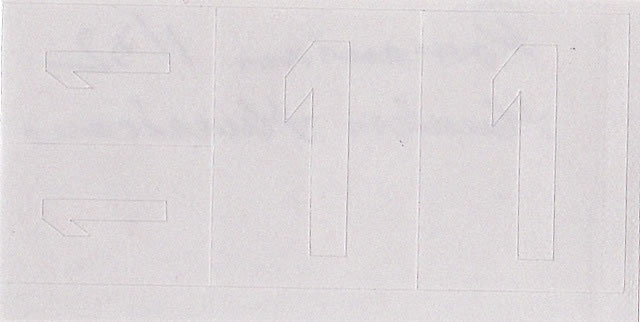 For modelers who want to reproduce a specific aircraft that isn't represented on decal sheets, or for those who prefer to paint their markings, Radu also offers a range of custom vinyl airbrush masks. The sample mask provided ties in nicely with the decals reviewed above, being 1/32 identification numbers for a Romanian Hurricane. However, on the RB Productions website, Radu indicates he will make masks to "specifications based on photos, profiles, scans, hand drawing or even description. You can order codes, national insignia, markings, etc – there are no design or scale limitations". I wish I had known of this service last year when I was cobbling and slicing decals to replicate an unusual Bf 109 identification number! While masks can be tricky to use – accurate placement is essential – they can deliver stunning results, and so this service from RB Productions is very welcome.
Other RB Productions items I have used, such as Radu's multi-media seat harness sets, have been of very high quality, and I have no reason to doubt that the decals and masks reviewed here are any different. Highly recommended.
Thanks to Radu Brinzan for the review samples.
Thanks to Linden Hill Imports for the review sample.
---
Review Copyright © 2011 by Brad Fallen
Page Created 28 November, 2011
Last updated 28 November, 2011
Back to HyperScale Main Page