Mushroom Model Publications – Camouflage and Decals
Messerschmitt
Bf 109 G-10 and G-14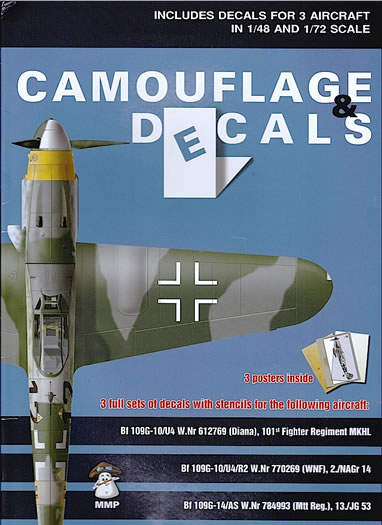 S u m m a r y

Publication Details:

Messerschmitt Bf 109 G-10 and G-14
Mushroom Model Publications – Camouflage and Decals

ISBN:

978-83-61421-54-2

Decal Scales:

1/72 and 1/48

Media and Contents:

1 x A4 waterslide decal sheet of national insignia, code numbers, stencils etc for two Bf 109G-10s and one Bf 109G-14; four x A4 full colour, very high quality double-sided sheets containing detailed aircraft descriptions, 3 and 4-view drawings, stencil placement guide, RLM colour chips and line drawings of late model Bf 109 rudder variants.

Price:

GBP£9.99 available online from Mushroom Model Publications' website

Review Type:

FirstRead

Advantages:

High quality decals and camouflage and marking illustrations are particular highlights.

Disadvantages:

More information on several of the subject aircraft would have been welcome.

Conclusion:

A deluxe package that covers three interesting and very different Bf 109Gs in style.
Reviewed by Brad Fallen

HyperScale is proudly supported by Squadron
This is the second title in Mushroom Model Publications' "Camouflage and Decals" series – following last year's release that focused on French aircraft flown by Polish pilots in 1939-40 – and showcases late model Messerschmitt Bf 109Gs.
This title highlights the diversity of 1944-45 Bf 109 camouflage, with three very different but well documented schemes provided for modelers to reproduce.
The featured aircraft are:

Messerschmitt Bf 109G-14/AS, "White 13"/W.Nr.784993, of Unteroffizier Herbert Maxis, 13.JG53, based at Nellingen, Belgium, December 1944/January 1945. This aircraft was shot down by US anti-aircraft gunners during Operation Bodenplatte on 1 January 1945, with Maxis then shot dead when exiting the crash-landed plane. I found a number of excellent photographs on the internet of "White 13" lying bent but reasonably intact on the snow, surrounded by posing US soldiers. The camouflage and marking information provided by MMP corresponds very closely with these photographs, which were presumably used as a reference guide. While interpreting late war Luftwaffe colours from black-and-white photos can be fraught, MMP's recommendations of a base RLM 81/82/"84" camouflage appear reasonable (although the use of "RLM 84" to describe the greener version of RLM 76 is old-fashioned and misleading).


Messerschmitt Bf 109G-10/U4/R2, "Black 12"/W.Nr.770269, of 2.NAGr.14, Furth, Germany, May 1945. According to my copy of Jackiewicz and Wawrzynski's "Captured Me 109s", this machine was forced down intact by a USAAF P-51 pilot, and subsequently used by US pilots as a familiarisation hack. "Captured Me 109s" also contains a superb colour photograph of "Black 12" in full German markings, parked in front of a P-51D. While MMP unfortunately don't include this great back-story in their description of "Black 12", they have clearly drawn on the colour photograph, or one very similar, in preparing their camouflage and marking guide, which means the latter appears to be very accurate. What isn't captured in MMP's description is the war-weary appearance of the actual aircraft, the slightly ragged edges of the "5F" codes on the rear fuselage (which are a little too pristine on the decal sheet), or the fact that the type's "R2" designator meant that an Rb 50/30 camera had been fitted inside the lower fuselage behind the drop tank, with associated changes to the aircraft's appearance. While the camera fairing is depicted in MMP's profile paintings of "Black 12", it would have been helpful for modelers if this fitting had been specifically pointed out, as it could be overlooked (as could the fact that the undercarriage doors had been removed, which is likewise illustrated but not otherwise mentioned).

Messerschmitt Bf 109G-10/U4, "Blue 12"/W.Nr.612769, of 101st Fighter Regiment, Royal Hungarian Air Force, Neubiberg, Germany, April 1945. One of a bloc of G-10s produced by a satellite factory at Diana in what is now the Czech Republic, "Blue 12" is presented by MMP as having "standard early Diana camouflage of RLM 82/75/76". However, while this interpretation is plausible, the colours and other details of this particular aircraft remain contested. For example, "Captured Me 109s" refers to it as "Red 12/W.Nr.612169", and I have seen it described elsewhere as "Yellow 12". As a result, I would recommend that any modelers thinking of recreating this aircraft do their research carefully, and come to their own conclusions. What is not in doubt is that MMP appears to have nailed the complex camouflage pattern and delineations on the airframe, with a number of photos in several of my references matching MMP's information closely.

Turning to the decals themselves, these appear very good, with markings and stencils provided for each aircraft in 1/72 and 1/48 scales on a very full single A4 sheet. The decals are by Techmod and are very crisply printed, with even the 1/72 stencils clearly legible. I like that a full set of stenciling is provided for each aircraft, which means that if a modeler wished, he or she could replicate all three aircraft in both scales without having to scrounge extra stencils from the spares box – a welcome rarity in decal sheets.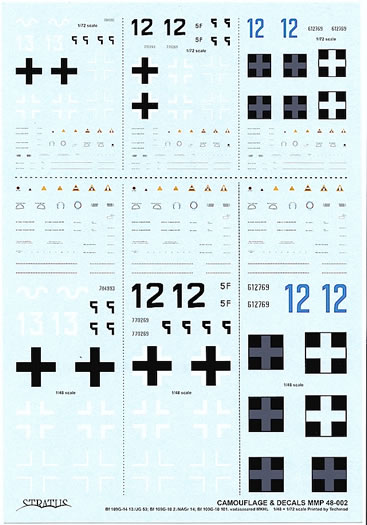 Also welcome is the package's overall deluxe presentation. Each aircraft is depicted on its own full-colour, glossy, double-sided A4 card. On one side of this is a starboard profile, upper and lower view drawing (except for "White 13", where only an upper view is provided), and a detailed description of the aircraft; on the other side is a port profile and a basic description of the aircraft, presented in a style suitable for framing. Another card of similar quality provides detailed stencil placement information on one side, and on the other a set of RLM colour chips and line drawings of nine different late Bf 109 rudder variants. I'm not an expert on either RLM colours or Bf 109 rudders, so can't vouch for the accuracy of the information, but its inclusion is welcome. Finally, all of these cards, along with the decal sheet, are presented in an attractive and sturdy A4 folder, which if you wish will fit neatly in your bookshelf.
Mushroom Models Publications' "Camouflage and Decals" releases are a little hard to categorise – they are either a loose-leaf mini-book with decals, or a decal sheet with the most lavish illustrations you are ever likely to see. Either way, they are a great product, particularly when the price is taken into account. While I would like to see future releases in the series provide more detail and background on their subject aircraft, particularly in terms of the idiosyncrasies of each airframe, the Bf 109G release reviewed here provides modelers with everything they need to complete a number of stunning models.
Highly Recommended.
---

References
L. Ritger, "The Messerschmitt Bf 109: A Comprehensive Guide for the Modeller, Part 2: 'F' to 'K' Variants" (SAM Publications, 2007).

J. Jackiewicz and M. Wawrzynski, "Captured Me 109s" (Kecay, 2009)

G. Punka, "Hungarian Aces of World War 2" (Osprey, 2002)


Thanks to Mushroom Model Publictions for the sample.
---
All Mushroom Model Publications books are available direct from the publishers, who now accept credit cards (Visa, MC, Amex, Switch)
North American distributors are MMD, Australian distributors are Platypus Publications. In Europe, the books are available from any good bookshop (via our UK distributors, Orca). Contact MMP direct in case of difficulties.
Thanks to Roger at Mushroom Model Magazine for the sample.
---
Review Copyright 2011 by Brad Fallen
This Page Created on 29 December, 2011
Last updated 29 December, 2011
Back to HyperScale Main Page
Back to Reviews Page