Brengun 1/144 scale Accessories and Upgrades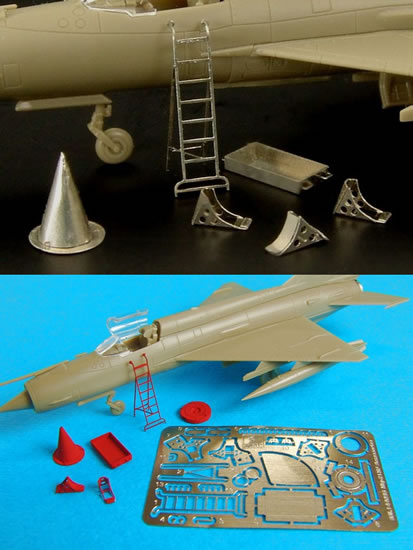 Late 2011
S u m m a r y :

Catalogue Number:

Detail Accessories:
BRL144032: Hunter Flaps
BRL144033: Luftwaffe Wheel Chocks
BRL144035: AV-8B Harrier II Plus
BRL144036: MiG-21 Maintenance Accessories
BRL144037: Propellers for B-29 Superfortress
BRL144039: Engine BMW 132 (for Ju 52)
BRL144040: MiG-21 MF/MFN
Kits:
BRS144012: BMG-109 Tomahawk (should be BGM)
BRS144014:P-25 Fire Engine

Description:

Various aircraft accessories & kits.

Price:

Available on-line from these stockists:
BRL144032: Brengun €3.99, Modelimex €4.17
BRL144033: Brengun €4.00, Modelimex €4.17
BRL144035: Brengun €4.40, Modelimex €4.58
BRL144036: Brengun €3.70, Modelimex €3.75
BRL144037: Brengun €5.50, Modelimex €5.41
BRL144039: Brengun €7.30, Modelimex €7.29
BRL144040: Brengun €7.30, Modelimex €7.29
BRS144012: Brengun €8.34, Modelimex €8.33
BRS144014: Brengun €12.70, Modelimex €12.71

Scale:

1/144

Contents & Media

Detail Accessories:
BRL144032: PE fret & instructions.
BRL144033: PE fret & instructions.
BRL144035: PE fret & instructions.
BRL144036: PE fret & instructions.
BRL144037: 20 resin parts.
BRL144039: 9 resin parts & 3 sets of PE push-rods.
BRL144040: PE fret & instructions.
Kits:
BRS144012: 12 resin and 12 PE parts.
BRS144014:15 resin and 21 PE parts, plus water-slide decals

Review Type:

First Look.

Advantages:

Very good quality production, the accessory sets will add considerable finesse to their intended kits, whilst the two kits are little gems.

Disadvantages:

No assembly jig for the B-29 props.

Conclusions:

Very well produced detail accessories and kits. You will need good eyesight and very, very steady hands. In fact you will probably need to build the Hunter flaps between heartbeats!
Definitely recommended in all cases.
Reviewed by Mark Davies

HyperScale is proudly supported by
Squadron.com
The accessory sets and kits reviewed here each come in a cellophane bag stapled to a card header, except the P.25 Fire Engine which has a box. The simpler sets are without instructions, whereas the others have them. I have used Brengun's own images from their web-site as I would not be able to improve on them, and several illustrate the parts in place on their intended kits which is often more informative than an image of a PE fret alone.
In each case the PE and resin items are produced to very high standards and offer levels of finesse unachievable in this scale by injection moulding.
Accessory Sets:
BRL144032 - Hunter Flaps and Air-Brake (for Revell kit): Very convincing if you have the skill to assemble them!

BRL144033 - Luftwaffe Wheel Chocks: Five pairs of very dainty chocks to add interest to any 1/144 Luftwaffe vignette or diorama.
BRL144035 - AV-8B Harrier II Plus (for Revell kit): A fairly comprehensive set consisting of cockpit enhancements including tub, seat-belts, instrument panel & HUD, pitot & wind vane, chaff/flare dispensers, drop-tank and missile fins, hot exhaust shields and undercarriage detail.
BRL144036 - MiG-21 Maintenance Accessories: Boarding ladder, intake and exhaust covers, wheel chocks and large drain tray.
BRL144037 - Propellers for B-29 Superfortress: 16 resin blades and 4 hubs. Care will be needed fixing these at the right pitch and 90 degrees to each other. It's a pity no resin assembly jig is included. However they should still be a big improvement over kit injected items and would also compliment Brengun's replacement resin B-29 Engines (BRL144026).
BRL144040 - MiG-21 MF/MFN (foe Eduard kits): Three choices of instrument panel and cockpit sidewalls, seat-belts, undercarriage doors, wing fences, exhaust ring, missile fins, various antennae and pitot blades.
---
Kit Sets:
BRS144012: BMG-109 Tomahawk: Should be titled BGM-109; two Tomahawk kits and their transport dollies are provided. The fuselages and dollies are resin and the missiles wings add fins are PE. This is a simple and relatively undemanding kit No decals or painting guide provided.
BRS144014:P-25 Fire Engine: This is a very dainty kit with high levels of detail for the scale. Fitting some of the PE parts will be a challenge because of the very fine nature of many parts and their small size, but the results should be quite stunning (about 12 of the PE parts are tiny towing shackles, of which most seem to be spares to replenish losses to the carpet monster!) The instructions provide extensive colour call-outs as well as guiding decal placement.
The resin for both kits parts appear faultless, and the PE is also to a high standard. As the accompanying images from Brengun's website attest, these kits build into impressive little models.
These are very well produced accessories and kits that are sure to appeal to 1/144-scale aircraft and diorama builders. I have to say that as a dedicated 1/72-scale builder that I'm impressed with the level of refinement Brengun has made possible in such a small scale.
Generally I think that the two kits will be easier to build than most of the PE detail accessories, simply because the PE parts are so small and fine, especially in the case of the Hunter flaps and the Luftwaffe wheel chocks. This is not a criticism, just an observation. (I would really like to see a build article by a skilled 1/144 builder showing his or her techniques for dealing with the challenges sets like these offer.)
All of the items reviewed here are highly recommended.
Thanks to Brengun Models for the review sample.
---
Review Text and Images Copyright © 2011 by Mark Davies
Page Created 30 December, 2011
Last updated 30 December, 2011
Back to HyperScale Main Page
Back to Reviews Page