Bristol Buckingham B.1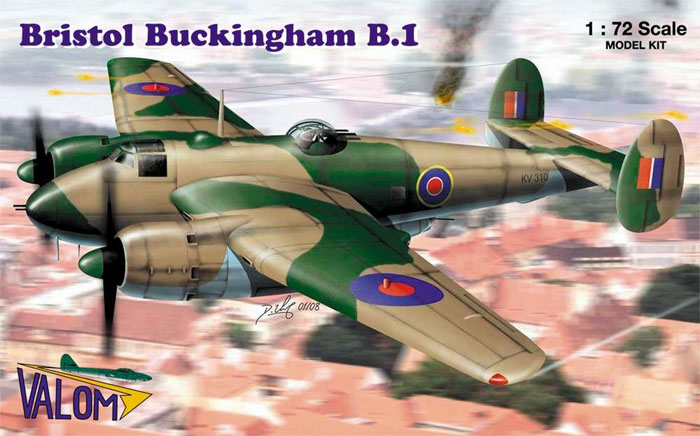 Valom, 1/72 scale
S u m m a r y :

Catalogue Number:

Valom Kit No. 72032 - Bristol Buckingham B.1

Scale:

1/72

Contents & Media:

84 x grey styrene airframe parts, 7 x clear styrene canopy parts, 2 x grey resin engines, 1 x Photo Etch (PE) fret of small details, and decals for one aircraft.

Price:

Available on-line from Hannants for £36.30, Modelimex for €25.20, and NKR Models for Au$44.00 (Click here for currency conversion)

Review Type:

First Look

Advantages:

Good quality multi-media kit with nice surface and interior detail.

Disadvantages:

Proportions of national marking decals are incorrect.

Conclusion:

A very good kit of an interesting subject.
Reviewed by Mark Davies

Valom's 1/72 scale Willow is available online from Squadron.com
The Type 163 Buckingham was Bristol's response to specification B2/41, which was one of a line of specifications seeking a replacement for the Bristol Blenheim (which was well past its used-by-date in 1941). Prior to this Bristol had been working on their Type 159, a bomber development of the Beaufighter – which of course was a fighter development of their Beaufort torpedo bomber. This progressed to the Type 161, and then continuing specification changes with a multi-role flavour led to the Type 162 that was to be called the Beaumont. The Beaumont never progressed beyond being a design concept, as it had become too heavy for the power of the two Hercules engines specified. Therefore development moved onto the Type 163 powered by Centaurus engines and was called Buckingham. This design was proceeded with and first flew in February 1943.
As it turned out the Mosquito could do most things the Buckingham was required for, and faster with two fewer crewmembers. In addition, the Douglas Boston was proving adequate in the light bomber role previously undertaken by the Blenheim. Possibly the one advantage the Buckingham had was long range, and this made it appear to be a suitable type for the war against Japan, but this need was overtaken by events as WW2 ended.
Buckingham B.1 orders were reduced by around 75% at the war's end, and of 119 on order 65 were completed as Buckingham C.1 high-speed long-range transports. This was surely a fast but very inefficient use of 5,000 HP to transport just four passengers! The remaining B.1's were also to be converted to C.1's, but it seems most were scrapped. A crew-trainer derivative was produced in limited numbers and known as the Buckmaster.
Ironically the most significant derivative was to take a leaf out of the Beaufort/Beaufighter story, and take the Buckingham bomber's wings, engine and tail and add a new fuselage to produce a torpedo and strike fighter called the Brigand. These saw service in the 1950's whilst Britain quashed various colonial insurgencies. Design flaws and reliability issues meant the Brigand never challenged the Beaufighter's operational reputation – but that's another story.
Valom have established a good reputation for filling sought-after gaps in the 1/72 pantheon of injected kits with some very interesting multi-media releases. Their Buckingham/Buckmaster/Brigand family of kits falls firmly into this category. I'm aware of this trio being kitted previously in resin by Magna Models. Magna's Buckingham was ok according to a build review in Scale Aircraft Modelling, February 1998. No doubt there have also been some vac-forms as well. Regardless, a modern injected kit of this series of aircraft is still very welcome.
The kit comes in Valom's standard and adequately sturdy top-opening box with artwork that leaves no doubt about the Buckingham's slightly portly and pugnacious lines. The contents are sealed in a cellophane bag, with the clear parts, resin engines, PE and decals further sensibly protected in their own little bags.
The instructions are again to Valom's usual standard, printed on glossy paper and folded to form a booklet. They provide an aircraft history in both Czech and English. A parts map soon reveals that the spares box will be getting some goodies because the wing, engine and tailplane sprues are obviously shared by the Brigand and Buckmaster kits. The assembly diagrams are clear to follow with just occasional instructions in Czech and English as needed. The painting and decaling guide is in colour, and a stand-out feature of Valom kits is their cross-referencing of colours to FS 595B, and the paint ranges of Humbrol, Agama, Model Master and Gunze Sangyo.
---
The Kit
The kit parts are all clean and crisply moulded on three sprues with small sprue gates. The parts have very delicate recessed panel lines, and include extremely finely done rivets that are well done and unobtrusive. If you don't like them a light sand or extra primer coat should eliminate them. I suspect most will want to keep them.
The kit follows a conventional parts breakdown for a WW2 twin-engined bomber, and looks as if it will build in a straightforward manner. I think that the parts fit should be good, although there is no way to be sure without building. Not everyone will like the butt-fit of the wings to the protruding wing-roots. Care will be need to ensure the wing sections are matched before the wing halves are cemented together, and gentle sanding both faces against a perfectly flat surface may prove beneficial in ensuring a flush join.
The modeller is directed to scribe two lines in the flaps either side of the cowling (the distance for these lines is given in mm). I can't say if these are an oversight or something that varied between the Buckingham and Brigand, but it's easily addressed. The detail parts are nicely done a nicely furnished cockpit and gun turret (although the kit design means this must face fixed to the rear). The main wheel wells have some detail that will meet the needs and expectations of most modellers.
The clear parts are acceptably clear, although a slightly thinner section on the turret would have been nice, but this is a minor quibble. Many will be happy to have the wingtip lights supplied in clear to save the effort of making their own or resorting to painted lights.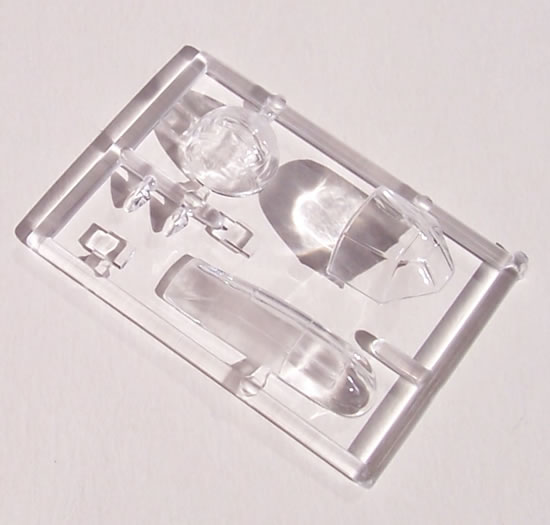 Two beautiful resin Centaurus engines are provided. These have high levels of detail on both rows of cylinders and the cylinder heads; there are even some engine ancillaries to each engine's rear. Of course most of this will go unseen behind the Buckingham's close-fitting cowls.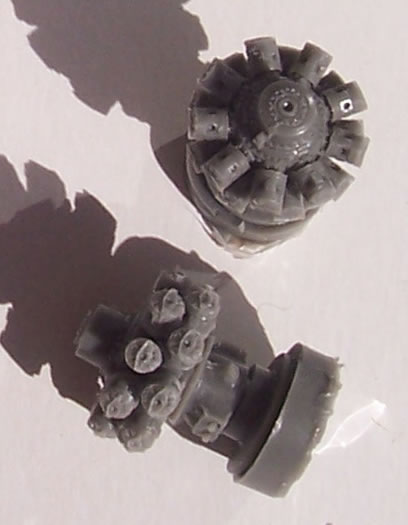 The props are moulded as four separate blades and a spinner each, and the instructions direct you to drill out the holes in the spinners to mount the blades. This reflects the limits of Valom's tooling, and where to drill is indicated by a small pit in the spinner, so it's an easy task to accomplish.
As with most (all?) Valom kits a photo-etched fret caters for seat belts and other small details (in fact it is here where the spares box again scores nicely with leftover seat belts).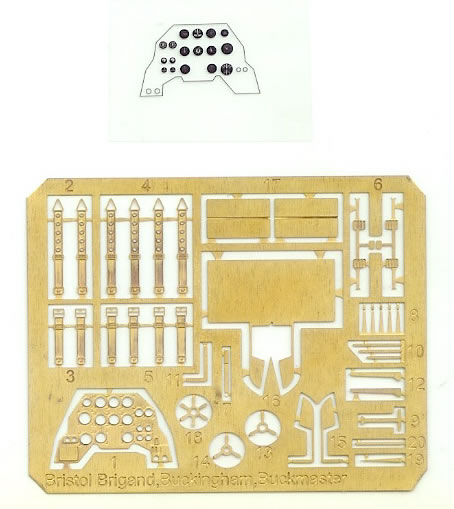 A PE instrument panel with photo film is provided, and I should think will look good installed. However I could not help but notice that it is somewhat differently shaped to the more three-dimensional and nicely moulded styrene panel (see photo 5 in the thumbnail Gallery above). It may be that one style is for the Brigand and the PE is better suited to the Buckingham, but the same PE is used for all three related kits. If the PE panel is to be used then I feel you should reverse the styrene panel to serve as its base and mounting panel, rather than fix the PE to the detailed face of the styrene panel as the instructions indicate.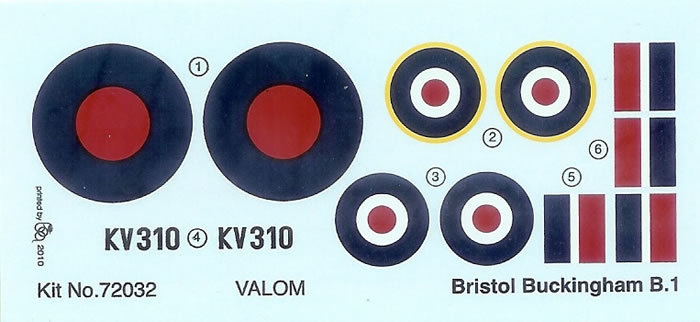 The decals appear to good opacity and are well registered, although the proportions are peculiar Photographs of this aircraft show that it wore standard national markings.
All in al this appears to be a quality rendition of an interesting type. I've mentioned a couple of very minor niggles, but these are not substantive enough to be repeated here. Good levels of surface and interior detail mean that most will be happy building straight from the box without additions or changes; but who will be tempted to expose those engines?
Thanks to Valom for this review sample.
---
Review Text Copyright © 2010 by Mark Davies
Images Copyright © 2009 by Brett Green
Page Created 9 May, 2010
Last updated 9 May, 2010
Back to HyperScale Main Page
Back to Reviews Page