RS Models 1/72 Avia B.534
(3 Boxings)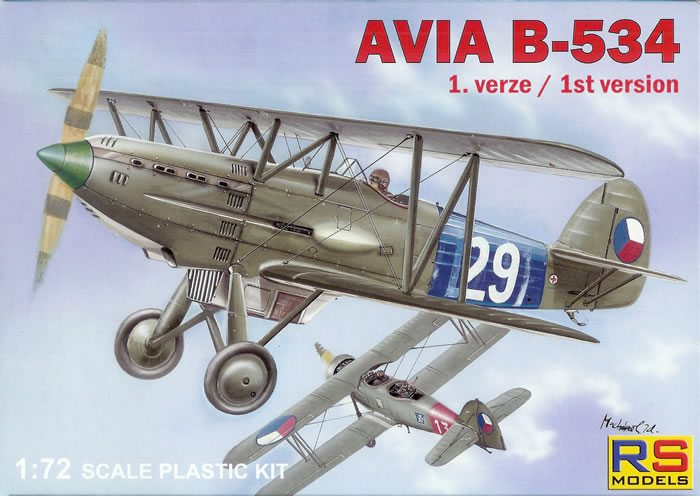 RS Model, 1/72 scale
S u m m a r y :

Catalogue Numbers:

92067 (1st Version), 92066 (2nd Version) &
92070 (4th Version)

Scale:

1/72

Contents & Media

40 to 43 x grey styrene airframe parts, 2 x clear windscreens (9206 & 92067) 1 x clear styrene canopy (92070) and decals for 5 (92070) or 6 (9206 & 92067) aircraft.

Price:

Available on-line from Hannants for £13.19, Squadron for US$25.46 and Modelimex for €14.60. (Click here for currency conversion)

Review Type:

First Look

Advantages:

A high degree of research is obvious from the subtle differences between the kits. Very nice surface detail, cleanly moulded and look straightforward to build. All three have a good selection of colour schemes

Disadvantages:

A bit more cockpit detail would have been nice for the two open-top versions; and parts not required would be better crossed out on parts maps rather than left blank, as I for one experienced some confusion (Of course I may just be a bit thick!)

Conclusions:

Thoroughly researched and executed kits that should result in excellent models.
Reviewed by Mark Davies

Valom's 1/72 scale Willow is available online from Squadron.com
The Avia Company was a leading supplier of military aircraft to the Czechoslovak Air Force as well as various export customers. It had designed a long line of fighter types, and the B.34 that was to lead to the 534 series, first flew in 1932 using a licence-built Hispano-Suiza V-12 of 650hp. Its designer was Ing Novotny who had spent time in Britain with Hawker. This experience was put to use with construction methods that followed Hawker practice, although the chin radiator installation was somewhat ungainly compared to the sleek lines of the Hawker Fury it otherwise resembled.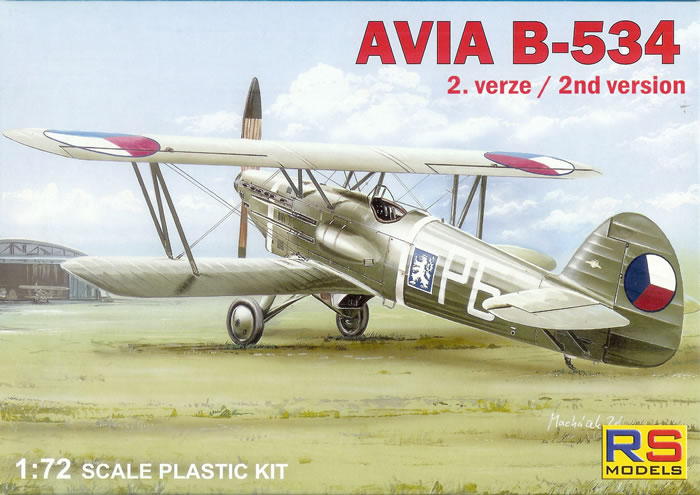 The B.34 was a bit of a stopgap design, and developments with other engines, including a radial, were tested (B.134 & B.234) without being adopted for production. Meanwhile, the licence-production of the latest and more powerful Hispano Suiza 12-Ydr of 860hp meant that Avia could adopt this engine and produce a state of the art biplane fighter. It was known as the B.534 and first flew in September 1933.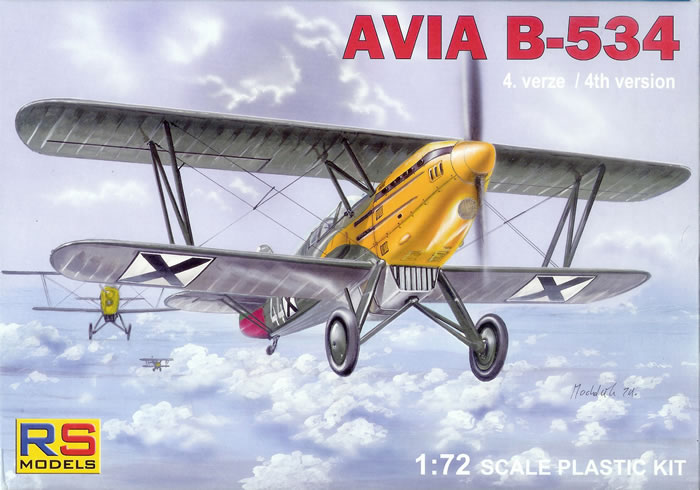 Various changes were made over the life of the design, and without giving a definitive list these included some of the following:
A change from two fuselage and two wing guns to just two fuselage guns in the 1st series because the wing guns apparently did not provide accurate enough fire (presumably due to flexing of their mounts under recoil or when pulling G). Then four fuselage guns were adopted for the 2nd series onwards.

The 3rd series onwards also had a single round air intake under the nose replacing the earlier series' twin intakes.

The use of wheel spats on 3rd & 4th series aircraft (but often removed in service due to clogging)

The 4th series' adoption of metal propellers.

The 2nd prototype's canopy was dropped in favour of open cockpits on the early series aircraft, only for a different style of closed canopy to be readopted in the 4th series. A bubble-style canopy was also developed as a retrofit option for open cockpit series aircraft, but was rarely used.

All 4th series aircraft abandoned a tail-skid in favour of a tail-wheel, and this was retrofitted to some earlier series machines.

4th series machines were equipped for night flying and fitted with navigation lights.
The B.534 did not to see combat service with the Czechoslovak Air Force, but a few would serve with the First Slovak Republic that had become a puppet state of Nazi Germany following the Nazi invasion and division of Czechoslovakia. (Having already occupied the Sudetenland in 1938, Germany renamed the remaining Czech lands as the Protectorate of Bohemia & Moravia.) In fact, Germany and Bulgaria were to be the largest operators of the B.534, although a few aircraft were also acquired by a number of other countries including Greece (two bought privately and gifted to the Greek government), Croatia, Romania, Hungary and apparently the Soviet Union.
I have only seen one other 1/72 injected kit of the B.534, and that is the old but credible KP kit. I'm also aware that HR Models produced several boxings of a styrene B.534 kit with extensive PE details and vac-from clear parts. I have only seen images of these kits, but they look pretty good. However I am sure that another modern injected rendition of this elegant and purposeful looking biplane fighter will be welcomed.
The Kits
This is a new tooling of by RS Models. Three alternate boxings are reviewed here, although a check of suppliers indicates six boxings are offered. At first glance the contents of the three kits seem almost identical other than different fuselages and the markings provided, but it turns out a that there are more alternatives than first impressions suggest. The kits are packaged in typical Czech end-opening boxes with attractive box art. The parts and decals are in a zip-lock bag.
Straightforward, basic but clear instructions consisting of two A4 pages are provided. There are brief notes on the aircraft in English and Czech, as are the few written instructions where required. The colours and markings guide for each kit is on the reverse of box in colour, with paint colours referred to by generic names. Each kit's instructions differ slightly and are coded with the kit's number. It will be clearer to discuss differences between the kits later, after commenting on the things they have in common.
The parts breakdown is completely conventional for a small biplane. The airframe parts capture the look of the original, and the surface detail is to a very high standard and most convincing. I like the taught effect simulating the fabric covering, rather than a more sagging look seen on some kits. A separate rudder is provided, but all other control surfaces are fixed. There is some slight flash, but this should be easily removable.
No locating lugs are provided, but none are really needed. Locating holes for the various struts are there however. Cockpit interior detail is adequate for the enclosed cockpit version, but perhaps a little sparse for the open cockpit versions. Some PE seatbelts and additional details would have been nice, but their absence is not a major issue.
The struts and undercarriage are well moulded. The remaining items on the sprues address various small details and are moulded delicately enough. Whilst bomb-racks are provided there are surprisingly no bombs. The propellers are quite nicely moulded and about as refined as tooling will allow. The windscreens and canopy are acceptably clear and moulded within the limits the medium and scale.
Decals are well registered and suggest good opacity. All three kits feature five or six schemes, all of which are interesting and attractive in my opinion.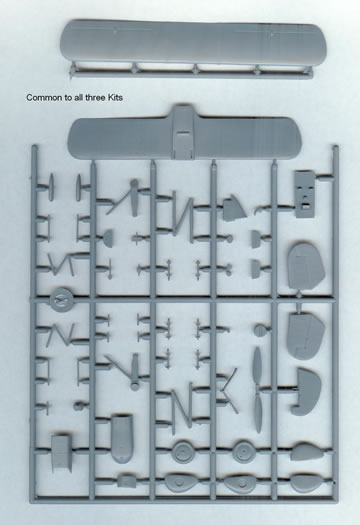 ---
Kit 92070 - 4th Version
This is the version with and enclosed cockpit and features a raised rear fuselage with four gun troughs in the sides. This kit is discussed first as it has the fewest parts on its unique secondary sprue. The main sprue common to all three provides all the parts other than the three fuselage pieces needed for this version. There are a few pieces on the main sprue not applicable to the 4th version, including a tail-skid and podded underwing guns. These parts are excluded from the parts map, but I think it would be clearer to include them on the map and have them shaded or crossed out.
The main sprue provides a metal blade propeller, spinner and fin for the 4th version (with the tiny night-flying navigation light blisters). It also has wheel spats applicable to one of the boxing's options. I think some will be displeased with having to cut 4.5mm off the main wheels if they are to be used with the spats. The cut portion will then fit into a narrow slot in the underside of the spat. This has some advantages over moulding the wheels with the spats, in that the wheels should appear more separate, and painting will be easier. Some might think that a correctly shaped wheel to fit the spat without cutting is preferable, but it's not a major issue.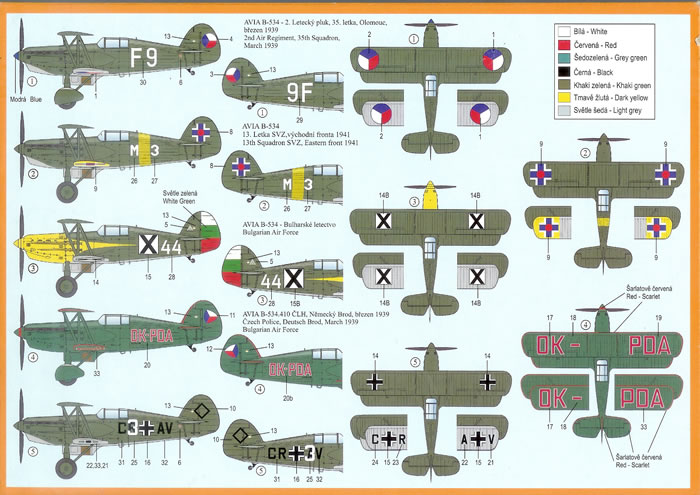 Decal options are for five aircraft. There is one option each for the Czechoslovak AF, Slovak AF, Bulgarian AF, Czech Air Police and Luftwaffe.
---
Kit 92067 – 1st Version
As mentioned earlier, this kit shares the common sprue used for the 4th version, and this time the parts map eliminates the 4th version-specific parts not required (wheel spats, metal prop & spinner, tail-wheel and fin etc).
The sprue unique to this version provides an open cockpit fuselage with one gun trough in its side, a wooden propeller & rear plate, a small panel to go behind the seat, an alternate lower cowl section with two separate scoops, plus a second lower wing. There is a different fin to the main sprue; the only difference appears to be the absence of the two navigation lights. Some of these quite subtle differences suggest that considerable research has gone into tooling for the various versions.
As mentioned, there are two lower wings provided with this boxing. At first I thought an extra part had been packed in error, so similar were the two wings. However only the lower wing joined to the unique sprue is shown in the parts map, with the one attached to the common sprue not being shown. I again feel crossed out unneeded parts are easier to understand on parts maps, than pieces that are physically present but left out of the parts map. In my case the standard wing had fallen off the common sprue, so its absence from the parts map did suggest it was extra until I figured the small differences out.
Anyway, the wing on the unique 1st Version sprue is the one to use, as it reflects a wing suited to take the gun pods mentioned earlier as parts on the common sprue. This wing has a panel blanking the area where the gun pods mount in its upper surface, and has cartridge & link ejection chutes in the lower surface. It's not immediately obvious from the instructions that the guns were mounted above rather than below the wings, so mind you don't fix them in the more intuitive underside position! This said, only one of the six decal options in this boxing had wing guns fitted, but the wing used for the other five will still need to be the one with the blanking plate over the gun mounting and ejection chutes.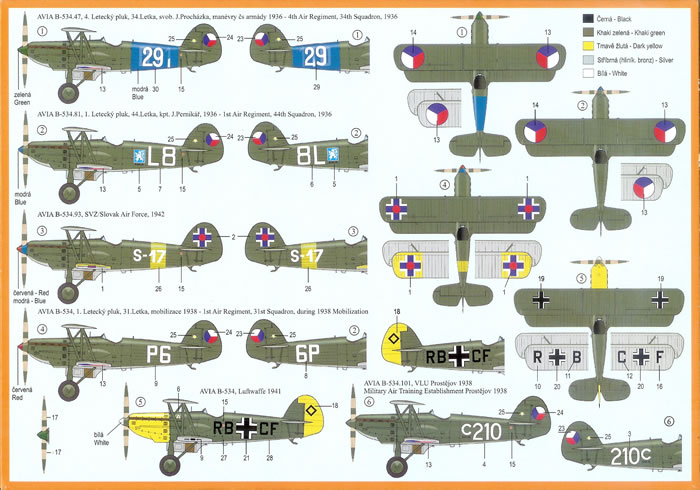 Decal options are for six aircraft. These are four Czechoslovak AF, one Slovak AF and one Luftwaffe.
---
Kit 92066 – 2nd Version
Again this kit has the common sprue with the 4th version's parts excluded from the parts map, as for the 1st version. In fact the only difference in parts between this and the 1st version above is an open cockpit fuselage with four gun troughs in its sides, and no lower wing designed for podded wing guns.
One thing that was a little strange is the parts map has drawn the sprue specific to this version with a different parts layout to that supplied, although all the parts on the sprue are included in the drawing. This is not and issue of any consequence, just an observation.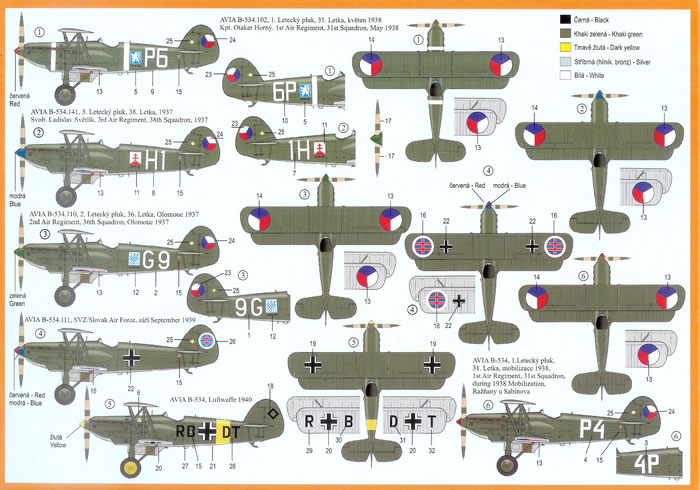 Decal options are for six aircraft. These are four Czechoslovak AF, one Slovak AF (early style insignia used in conjunction with German Balkenkreuz) and one Luftwaffe:
It was a bit of a challenge at times to examine three very similar kits with parts maps that only show what you should use from the sprues rather than showing what you shouldn't use as well. Perhaps a minor issue overall, but one RS Models may care to consider.
It seems clear that RS Models has gone to commendable lengths to provide for the subtle differences between the various versions. I'm not sure that not all smaller manufacturers like RS Models would be so comprehensive and thorough. I suspect that an element of national pride comes into play when Czech makers kit Czechoslovak subjects, and it is we as modellers who will benefit from the extra effort that is so apparent in this series of kits.
These are very well executed kits of an interesting subject, and I feel confident in recommending them highly.
Thanks to RS Models* for the review samples.
* For the benefit of some Australian readers, the "RS" stands for the firm's founder: Robert Schneider.
---
Review Text and Images Copyright © 2010 by Mark Davies
Page Created 26 May, 2010
Last updated 26 May, 2010
Back to HyperScale Main Page
Back to Reviews Page