A-7B Corsair II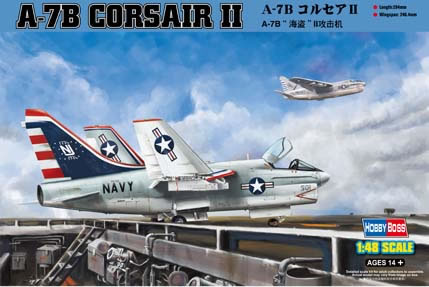 HobbyBoss, 1/48 scale
S u m m a r y

Catalogue Number:
HobbyBoss Kit No. HB-80343 - A-7B Corsair II
Scale:
1/48
Contents and Media:
Grey and clear injection moulded styrene; markings for two aircraft.
Price:
USD$62.09 available online from Squadron
Review Type:
FirstLook
Advantages:

Finely recessed panel lines; correct gun for this variant; gorgeous decal sheet.

Disadvantages:

Many dimensional and shape errors; poor ejection seat; poor ordnance; incorrect flap/slat configuration.

Conclusion:

I cannot recommend this kit for serious modelers. It has far too many shape and measurement discrepancies.

Reviewed by Scotty Battistoni


HobbyBoss' 1/48 scale A-7B Corsair II is available online from Squadron.com

I always felt that the US Navy had it right during the Vietnam War with attack aircraft. First they had the A-4, and then they introduced the extremely capable A-6. Finally came the A-7 Corsair II or otherwise affectionately know as the SLUF. While the A-7 D/E were the ultimate versions of the SLUF, the A-7 A/B's did most of the fighting in Vietnam.
Back in the 1960s, Aurora released a 1/48 scale kit of the A-7. Then in the 1980s Monogram rehashed this kit, corrected a few things on it and released it as an A-7B. However this kit still had some shape issues around the nose area. Then ESCI/ERTL released their A-7D/E kits. While accurate in outline these kits suffered from lack of detail and poor fit. Finally Hasegawa released their gorgeous A-7 D/E kits. I have kept my fingers crossed that someday Hasegawa would release an earlier version of their A-7's but to no avail would these appear.
Now Hobby Boss has released a newly tooled A-7 A/B kit in their 1/48 scale range.
So how does this kit measure up?
Let me preface this review by saying if you follow the philosophy of "if it looks like a duck, walks like a duck and quacks like a duck, then it must be a duck" then read no further. You are one of those happy few modelers who realise that this is a hobby and enjoys it as a hobby.
However, if you, like me, have AMS (advanced modeler syndrome) then this review is for you.
I was excited when my kit arrived in the mail from Lucky Models. I opened the box and at first was impressed with what I saw. Fine recessed panel lines, a really gorgeous decal sheet. Lots of small details and weapons, and yes the correct guns for the A/B version.
However, upon closer inspection I became disappointed and somewhat angry as there is no excuse for the gross errors found on this kit.
Let's start of with dimensions.
The fuselage is a scale 11 inches too long (.229 inches or 5.817mm). Most of this error is from the main wheel well forward which causes the nose to be too pointy and long.
The fuselage is too wide by a scale 5 inches (.105 inches or 2.667mm)
The main wingspan is too wide by a scale 9.79 inches (.204 inches or 5.182mm). Interestingly enough it is the inner wing panels that are too long, with the outer wing panels being too short.
The rear end width of the canopy should measure .9 inches or 22.86mm. The kit canopy measures 1.005 inches or 25.53mm. This makes the canopy .105 inches or 2.667mm too wide which is a scale 5 inches too wide.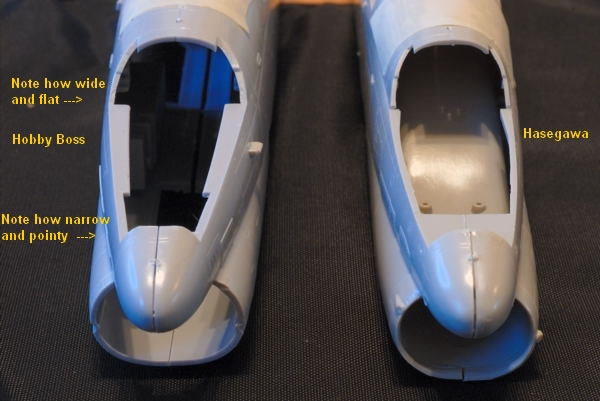 Drop tanks are a scale 12.48 inches too long (.260 inches or 6.604mm) and about 3 scale inches too narrow.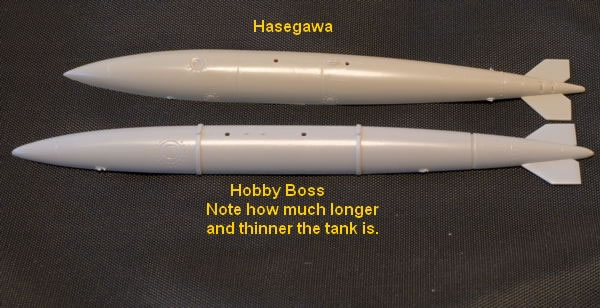 Getting back to the nose area. The canopy is too wide making it squashed, dramatically too squashed. The overall length of the canopy/windscreen area is also too long and comes to a narrow taper when viewed from the top. This poor shape gives it a chisel point look to it. Actually to me it looks closer to an F-8 Crusader. The same goes for the cockpit opening itself being more chisel shaped instead of an almost rectangular shape. Even worse there is a seam line down the middle of the canopy and the A-7 does not have a bubble canopy like F-16's and F-18's to justify the seam line.
The nose radome is too pointy and actually too slab sided. The intake opening is really bad. The opening is too wide and has a squashed appearance to it.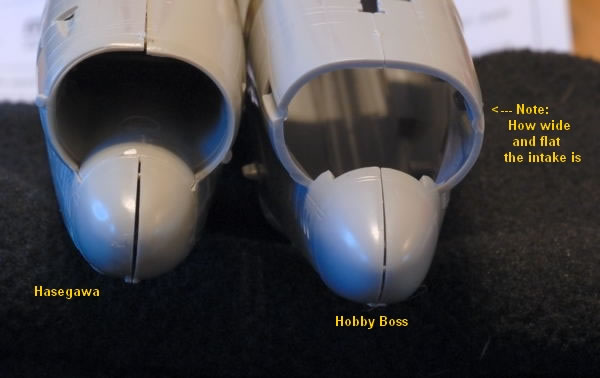 The exhaust area of the rear fuselage also suffers from being too wide and having that squashed appearance as well. Hobby Boss must be commended for their boxing in the wheel wells the way they did, but the rear most portion of the main wheel wells is far too shallow only being about .050 inches deep or 1.27mm. It should be closer to about .120 inches deep or 3.048mm
Hobby Boss goofed on the flaps on the main wings. The A-7 has it where the trailing and leading edge slats work in unison. I.e. if the trailing edge flap is down the leading edge slat also has to be down. Hobby Boss only gives you separate trailing edge flaps so either you leave them up or cut the leading edge flaps off and reposition them yourself. Also the wingtip shapes are not quite right, but a quick filing on them and they will work.
The horizontal stabilators are interestingly enough the correct size and shape, as is the vertical tail.
Another goof (although minor) is that Hobby Boss got the Air Starter access panel on the wrong side of the fuselage. The only reason I brought it up is that the shape would be difficult to rescribe. On the A-7 A/B the panel should be on the port or left side. On A-7E's this panel is on the starboard side which is what the kit has incorrectly depicted.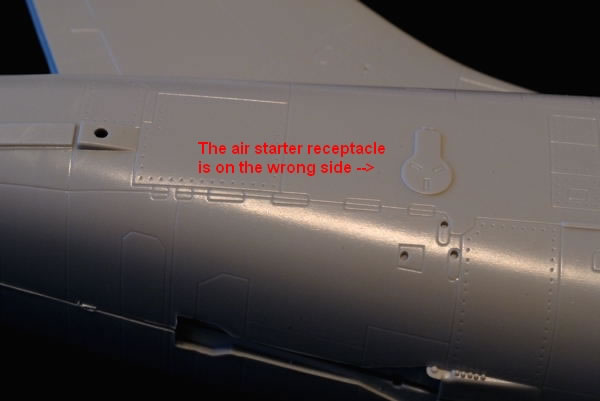 The main cockpit tub is not that bad, but the ESCAPAC seat is a very poor rendition as is the instrument panel. You will be better off using a True Details ESCAPAC seat which has the rabbit ear canopy breakers correct for A-7s, but not correct for A-4s.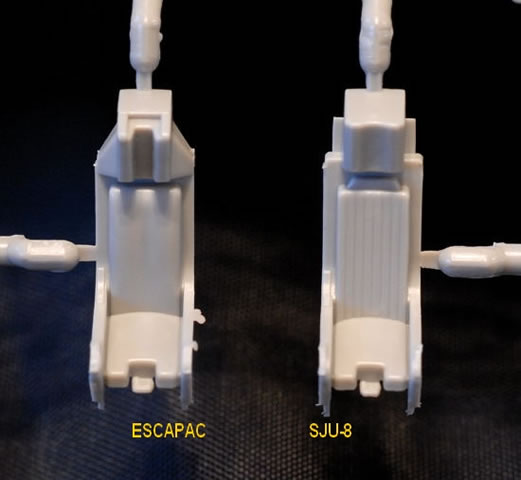 All of the small details in say the wheel wells and on the landing gear as well as around the airframe look sufficiently busy. You can make an early A-7A from the A-7B kit by leaving off the RHAW fairing on the vertical tail. Otherwise you cannot visibly tell a late A-7A from an A-7B. The nose wheels though have a strange tread on them, but a quick swipe with a file and the tread will be acceptable. Also the intake duct is a little shallow in length and has no engine face.
Weapons? Well these are not very good. The iron bombs are supposed to be Mk 82s but I would call them Mk 81.5s. They are the length of an Mk 82, but the diameter of an Mk 81. They give you some LGBs in the kit but this style of LGB is incorrect for the Vietnam era. The CBUs and AIM 9Bs look passable as does the GBU-15. The MERS and sway braces are not really bad either, but not as good as Hasegawa versions. They also incorrectly give you a FLIR pod which were not used on A-7 A/B versions, but instead used on A-7E's. I cannot say that I have ever seen A-7s with LGB's or GBU -15's. I have seen them with Walleye's though of which the kit does not give you. However, I have to confess though that I am not a weapons expert such as Jim Rotrammel.
The decal sheet is beautifully rendered and gives you the option of a Bicentennial bird from VA-125 or a regular marked VA- 87 bird.
Just test fitting the model revealed that it has surprisingly good fit, even better than Hasegawa's A-7's.
In conclusion, I cannot recommend this kit for serious modelers. It has far too many shape and measurement discrepancies. This is a real shame as a modern tooled accurate early version of the A-7's is still needed.
As of right now I would still say your best bet is to modify the Hasegawa kit back to an A or B version. If you were on of the lucky ones and got the Meteor Productions/Cutting Edge conversion I patterned, it would make this easier for you. I cannot say for certain, but the Hobby Boss A-7's right now are engineered for them to do the D/E variants as well as the TA-7C, and A-7K. There are parts on the sprues for these other variants that you do not use for the A/B version.
Purchased by reviewer
---
Review Text Copyright © 2009 by Scotty Battistoni
Page Created 4 January, 2010
Last updated 4 January, 2010
Back to HyperScale Main Page
Back to Reviews Page