Focke-Wulf Fw 190 D-11/13
Dual Combo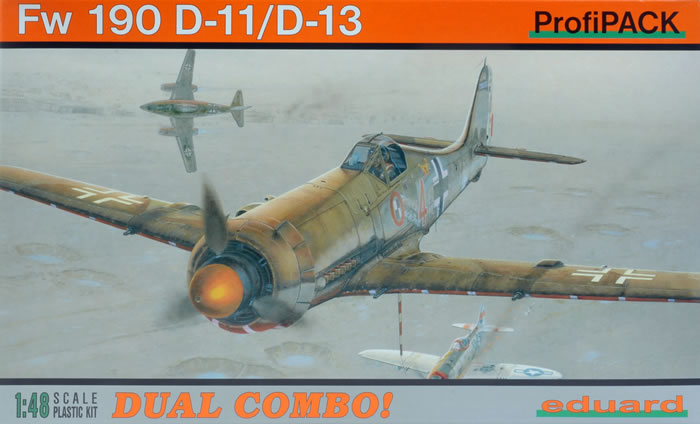 Eduard, 1/48 scale
S u m m a r y

Catalogue Number:
Eduard Kit No. 8185 - Focke-Wulf Fw 190 D-11 / D-13 Dual Combo
Scale:
1/48
Contents and Media:
294 olive coloured plastic parts; 16 clear parts; 1 x large coloured photo etched fret; 2 x masking sheet for canopy and wheels; large decal sheet covering six markings options
Price:
USD$79.95 plus shipping available online from Eduard's website
and specialist hobby retailers worldwide
Review Type:
FirstLook
Advantages:
High level of detail; includes two full kits (one D-11 and one D-13); restrained surface texture; straightforward parts breakdown; accurate see-through wheel wells with rear engine detail visible; useful options including alternate centreline fuel tank, closed or open cowl flaps, choice of main and tail wheels, excellent clear parts with different sliding sections for open and closed options; optional open wing gun bays; perfect moulding; excellent quality decals.
Disadvantages:
Conclusion:
These will be simpler kits to build than Eduard's Fw 190 A/F family thanks to the absence of an engine, but detail is not compromised. Eduard has delivered two beautiful new variants of the Dora in one stroke.

Reviewed by Brett Green


Eduard's 1/48 scale Focke-Wulf Fw 190 D-11/D-13 Dual Combo is available online from Squadron.com

The Focke-Wulf Fw 190 D was not built in huge quantities nor did it affect the outcome of the war, but it was a highly competent fighter that was more than a match for its Allied contemporaries in the hands of an experienced pilot. Even though the Dora was in service for less than eight months, its good looks and wide range of colour schemes makes it a perennially popular modelling subject.
At the very tail end of the war, a few handfuls of the ultimate Doras rolled off the production and lines into service with front line Luftwaffe units.
These were the Focke-Wulf Fw 190 D-11 and D-13 variants. The final operational Doras were fitted with the improved Junkers Jumo 213E engine, and armament differed from the D-9. The D-11 featured two 30mm cannon in the outboard wing positons, while the D-13 was fitted with 20mm outboard wing cannon plus a third 20mm cannon firing through the propeller hub. Neither of these Doras were fitted with cowl guns, resulting in a smooth upper line to the nose of the aircraft.

ProModeler released a 1/48 scale Focke-Wulf Fw 190 D-11 based on Trimaster / Dragon mouldings back in 2001. This was not a bad kit, capturing most of the important characteristics of the D-11. It disappeared from the shelves quickly though, and I do not recall it ever being released by Dragon.
There has never been a mainstream injection moulded D-13 released to date.
Eduard has now brought these popular late-war fighters to life with their 1/48 scale Dual Combo Focke-Wulf Fw 190 D-11/D-13 kit. This box contains all the parts needed to build one Fw 190 D-11 and one Fw 190 D-13.
Eduard has provided all of the different features of the Fw 190 D-11 and D-13 - new fuselage halves; flat upper cowl panels; new spinners (different for the D-11 and D-13); one new wing for each variant, fitted with appropriate armament (they are different from each other, so check the instructions carefully before committing to glue); and the big supercharger intake.
The forward fuselage of the Fw 190 D-11 and D-13 features a very subtle bulge. In fact, it is so subtle that I can barely make it out on the real aircraft (check HyperScale's Reference Library for photos of the real thing), but Eduard seem to have gotten the shape right.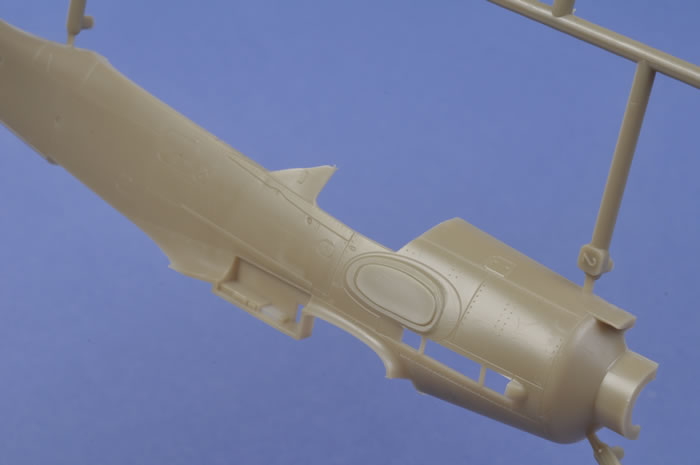 The centre section of the bottom of both wings fair smoothly into the bottom of the engine cowling. This is definitely correct for the D-13, but there is still some question about whether the D-11 should feature the redundant recessed lower exhaust ramp, similar to the Fw 190 A series and the D-9. One other minor issue is that both wings feature slots for the shell ejector chutes between the wheel wells. In the case of the D-11, which did not have any cowl guns or hub-firing cannon, both these slots should be filled.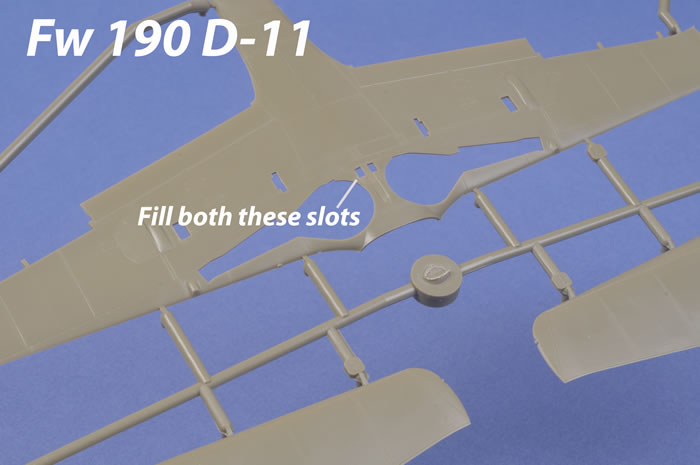 For the D-13, which had a single cannon firing through the hub, the starboard side slot should be filled. Eduard does actually supply a plug (Part V7), but if you are really picky you might like to enlarge the port-side slot to cater for the 30mm ammunition too.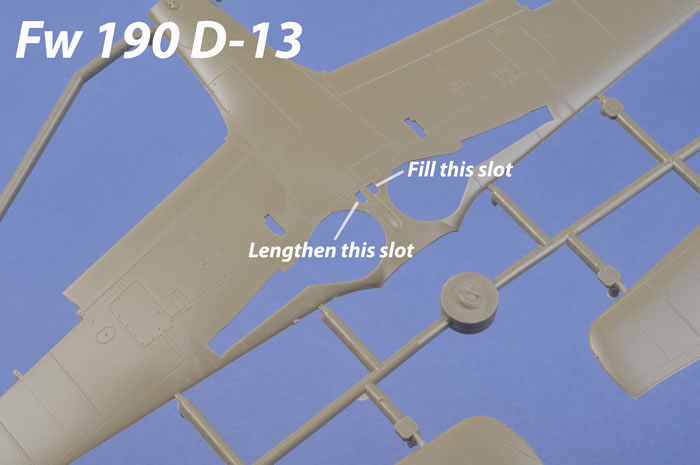 Surface texture on Eduard's latest releases has been superb, and this new Fw 190 D-11/D-13 is no exception. The airframe is finished in finely recessed panel lines and selected rows of rivets The fabric ribs on the control surfaces are also very convincing.
Details are equally good. The cockpit is supplemented with the usual compliment of colour photo-etched parts including a layered instrument panel, switch panel and harness straps. For those who prefer to paint their cockpit, an alternative (and very nicely detailed) injection moulded instrument panel is also supplied, along with instrument decals.

In common with the D-9 kit, the wheel well features the correct see-through effect, with a rear portion of the engine and the supercharger supplied. This will be visible through the open centre section of the wheel well. Two styles of main wheels are provided. Check your references for your selected marking option.
The cowl and wing gun bays are also fitted out, although alternative parts are provided for modellers who would prefer to keep theirs closed. Some minor surgery will be required for the wings in this case.
Different parts are offered for open or closed cowl flaps.
The exhausts are supplied in one-piece each. The narrow ends are not hollowed out, but we will likely see after-market updates before long.
The new three-piece tail wheel assembly with a separate wheel that first appeared in the D-9 kit makes a return appearance here, but the simpler one-piece assembly is also provided.
Ailerons and the rudder are separate parts.
A drop tank is provided. The instructions appear to illustrate the later smooth drop tank, but it is the earlier ribbed version that is actually supplied.
The canopy parts are crystal clear and thin. Separate parts are supplied to permit the sliding canopy to be displayed open or closed. Parts are provided for the blown and flat hoods, but you will only need the blown version for these late variants.
---
Markings
Six attractive and varied marking options are included on the large decal sheet:
Fw 190 D-11, W.Nr.2200XX, Lt. Karl-Heinz Hofmann, Sachsenberg Schwarm of JV 44, München – Riem, May 1945

Fw 190 D-11, W.Nr. 2200XX, VFS des G. d. J., Bad Wörishofen, March - April 194

Fw 190 D-11, W.Nr. 220014, VFS des G. d. J., Bad Wörishofen, April 1945

Fw 190 D-13, W.Nr. 836016, V./EJG 2(?), Pilsen – Bory, Czechoslovakia, May 1945

Fw 190 D-13/R11, W.Nr. 836017, Stab./JG 26, Flensburg - Weiche, Germany, May 1945

Fw 190 D-13/R11, W.Nr. 836017, Flensburg – Weiche, Germany, summer 1945
All six marking options are variations on the (relatively) chaotic application of late-war Luftwaffe camouflage.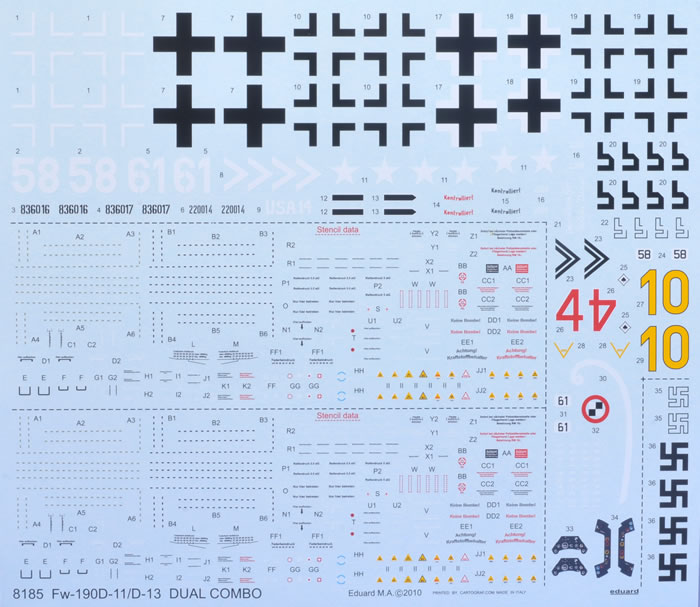 The decals, printed by Cartograf, look absolutely beautiful on the sheet. Eduard's decals have always been trouble free in their application for me too.
As usual, Eduard has supplied self-adhesive die-cut masks for the canopy and wheels.
Eduard's is not the first mainstream company to produce a 1/48 scale Focke-Wulf Fw 190 D-11, but it is the most best offering of these late-war variants to date. Furthermore, this is the first Fw 190 D-13 available straight from the box.
Eduard has clearly taken note of comments that their Fw 190 A and F kits were too complex, as this release will undoubtedly be easier to build with its full-length fuselage halves and no full engine to install. It appears to be closer in terms of engineering to their Hellcat kits, which are a breeze to build. Despite this, detail is still excellent and attention to detail first-rate, as evidenced by the see-though main wheel well, the alternative variants and its swag of options.
This is another lovely offering from Eduard that delivers two sought after Dora variants in one go!
Thanks to Eduard for the sample
---
Review Text and Images Copyright © 2010 by Brett Green
Page Created 27 May, 2010
Last updated 29 May, 2010
Back to HyperScale Main Page
Back to Reviews Page