S u m m a r y :

Catalogue Number:

Alley Cat Item No. ACRK 72-001 - Fairey Gannet AEW Mk.3 Full Mutimedia Kit and Decals

Scale:

1/72

Contents & Media

48 x grey resin airframe parts, 6 x clear resin canopy, side-window & landing-light parts, 32 x white metal propeller, undercarriage and detail parts, 17 PE brass antenna, sway-brace and drop-tank fin parts. Decals for 4 options. 2 grey resin propeller assembly jig parts.

Price:

Available on-line from A2Zee Models for £38.00 (£32.34 outside the EU)

Review Type:

First Look

Advantages:

Excellent quality, straightforward construction.

Disadvantages:

None worth mentioning here (see later comment in the article regarding underwing stores however)

Conclusions:

The best 1/72 Gannet AEW Mk.3 kit so far, and produced to very high standards.
& Separate Decal Package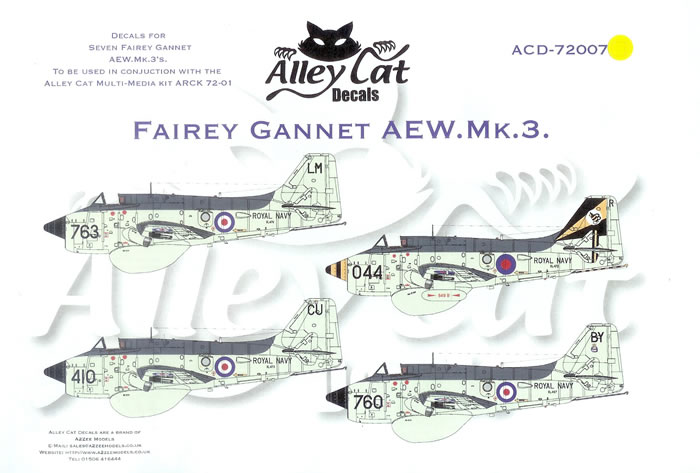 S u m m a r y :

Catalogue Number:

Alley Cat Item No. ACD 720071 - Fairey Gannet AEW Mk.3 Aftermarket Decals

Scale:

1/72

Contents & Media

Decals plus painting & markings guide for 7 subjects.

Price:

Available on-line from A2zee Models for £9.00 (£7.66 outside the EU)

Review Type:

First Look

Advantages:

Appear to be excellent quality, good markings guides and attractive schemes offered.

Disadvantages:

None (application not tested at time of review)

Conclusions:

A good compliment to Alley Cat's 1/72 Gannet AEW Mk.3 kit.
Reviewed by Mark Davies

HyperScale is proudly supported by
Squadron.com
The Gannet was designed to meet a requirement for a dedicated ship-borne Anti-Submarine Warfare (ASW) aircraft. The need was to combine both hunter and killer roles in one airframe, and retain a secondary anti-shipping strike capability. A notable feature of the design was the use of an Armstrong Siddeley Double Mamba turboprop engine. Two joined engines driving contra-rotating propellers provided for a compact streamlined installation, eliminated undesirable torque effects on take-off and landing, made for easy single engine handling, and allowed one engine to be shut down for economic cruise and loitering.
The US Navy realised the benefits of Airborne Early Warning (AEW) radar towards the end of WW2. AEW offered obvious advantages to seaborne air power. The Royal Navy first used US AEW radar carried by Douglas AD-4W Skyraiders. It was decided that a British AEW aircraft should be developed for the RN, and the Gannet was deemed the most suitable for development. The intention was to carry the same AN/APS-20 S-band (later re-designated E-band) radar as the Skyraiders.
The ASW Gannet fuselage was not suitable for the AEW role, especially as side-by-side seating of the radar operators was required. Consequently a new fuselage was designed. A significantly more powerful version of eh Double Mamba was used, and exhausted just below the wing's leading edge rather than just above the trailing edge as on other Gannets. The undercarriage was also lengthened to provide clearance for the radome on landing, along with a different fin shape.
The AEW Gannet was to disappear with the Royal Navy's aircraft carriers, but the same radar was to soldier on under the noses of Avro Shakeltons until the introduction of the RAF's Boeing E-3 Sentry.
The AEW.3 is surely the prettiest of the Gannets (not hard I hear you say?), and one I have been keen for some time to build. I was hoping as a long shot Revell might kit it, but this seems unlikely as only the Brits used it. Some years ago there was also talk of an AEW Mk.3 from Academy, but I've seen nothing about it recently.
As far as 1/72 scale AEW Mk 3 Gannets go I have until now been aware of Aeroclub's vac-form and white metal conversion for the old Frog/Novo Gannet kit, and a resin kit by Magna Models. Both no doubt their adherents, but the Aeroclub option depends on a very early and crude donor kit (although no doubt it could use to Revell and Trumpeter kits), and in my experience Magna Models quality leaves a lot to be desired. It was therefore a great pleasure to receive a very high quality multi-media kit from Alley Cat.
The kit comes in a sturdy top-opening box with attractive artwork. The kit components are sealed a variety of zip-lock plastic bags The instructions are printed A-5 format with coloured painting and decal guides, all written instructions are in English and produced to a very high standard. A note is included which acknowledges the use of Mark 1 Ltd's (4+ Publications) drawings. Mention is also made of a forthcoming release of a book on the Gannet AEW.3, so this will be a useful reference should you buy the kit. Two other Fairey Gannet references are acknowledged as being used in the kit's preparation. These are "Warpaint Fairey Gannet" and "The Gannet From The Cockpit # 7" by Hill Park Books and Adhoc Publications respectively. Another loose page provides guide on polishing clear resin parts, preparing kit parts and the best fillers to use.
The resin parts are very cleanly cast with no obvious pinholes or other flaws. The quality is consistent with the better Czech, Polish and Russian brand resin kits. Casting blocks etc will be easy to remove and clean up. The clear resin canopy and side-window parts are very good. A little polishing and some Future/Clear will ensure their clarity equals clear good styrene canopies. Whilst not quite as optically clear as vac-from acetate, many modellers will still prefer the clear resin parts to cutting out vac-from acetate. I'm happy with either.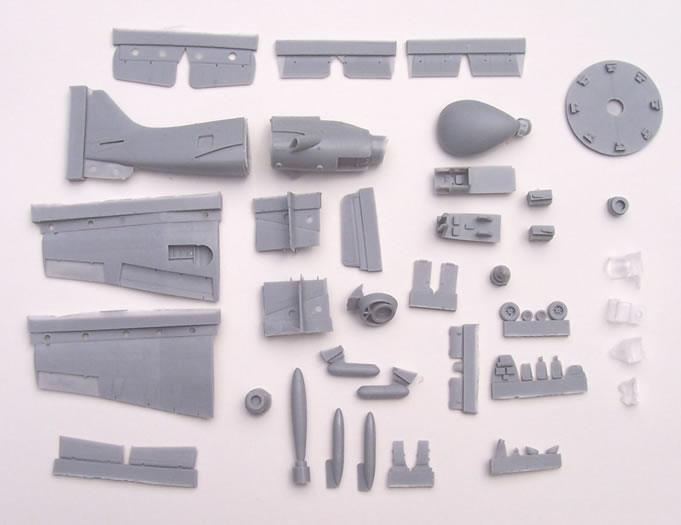 Airframe construction is a little unusual in that the fuselage consists of front and rear halves joining just ahead of the half-chord position. At first I thought that this might be a risky approach given the natural variation that can occur with resin parts, but dry fitting suggests that a very good join will result. Because of this approach the fuselage interior detail must be slid inside each half, and again this works very well. The two cockpits have more than adequate detail for the scale, but perhaps a little less in terms of PE additions and fine resin detail than might be found in some central-European brands. I have no problem with this, but some may wish to add more detail based on the references mentioned earlier.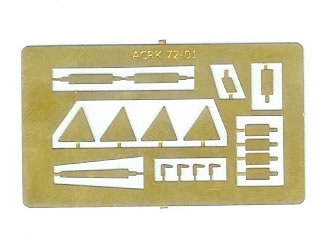 A nice feature of the kit is that the very impressive Fairey-Youngman flaps can be modelled deployed. The separate resin flaps being attached to the wing by finely cast white metal actuators. A bit of extra work may be needed if the flaps are modelled in their more typical withdrawn position simply because of the small tolerances involved, but if the fuselage fit is anything to go by a good fit may be expected first time.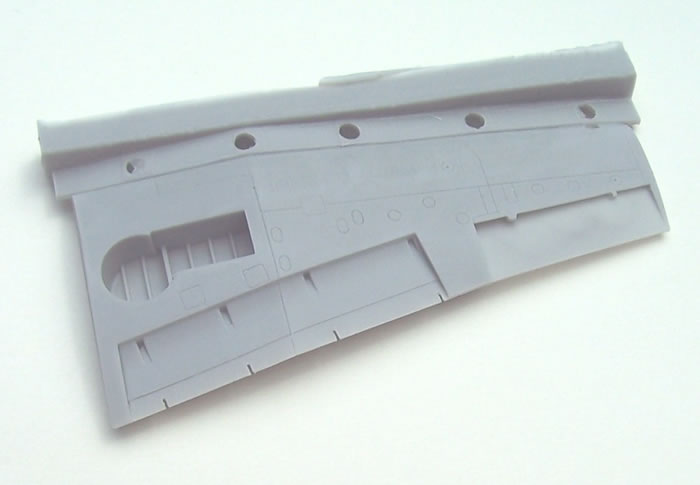 The propellers are cast in white metal. I assume that this has been done to provide weight to aid the model from sitting on its tail. Most blades on my example were well cast, but some filler and clean up will be needed on a couple of them. A very nice touch is a large circular resin jig to aid in constructing the propellers, something I wish other resin manufacturers would provide. The undercarriage is made from white metal, no doubt for reasons of strength for weight bearing.
Some other white metal parts are the arrester hook (mine needs straightening, but this is easily done), pitot, and what I think are two catapult strop hooks. I could not find a reference to these latter items in the instructions, but then realised that they are drawn in the instructions fitted in place about ¼ chord in from the leading edge where the wing crank occurs. In fact a small locating hole can be seen on the kit's wing at this location. I think it would help if there were an arrow and some reference to these parts' fitment in the instructions.
There is also a white metal control column for the pilot. It looks rather small to me with a tiny circular handle. I have to say that this small circle does not look like the control column in the AEW.3 walkaround photos in the Warpaint reference mentioned earlier. This is a minor point and easy to fix however.
Underwing drop-tank, engine starter pod and travel pods are provided, along with of course the bulbous radome. It's perhaps useful at this point to mention an email received by Hyperscale from A2Zee Models concerning this review kit which they kindly provided. After the release of their initial they found that there was a small clearance problem between the undercarriage doors and the underwing tanks and pods. They have resolved this problem with a new set of wings, and will provide these to recipients of the few early kits if their owners wish. This is a very commendable action in my view. It will add to the company's costs in the short term, but in the long run add to their quality reputation.
Decals for four aircraft are included. These are for one aircraft from each of the four flights of 849 Sqn RNAS They are very well registered and appear to have good colour opacity. An extra letter "R" decal is included to cover the markings option for a Gannet used to fly Prince Charles on a series of AEW familiarisation flights. (This R will be included within the main decal sheet of future issues according to advice in the same email covering the wing issue.) There are also quite few stencil markings, and the instructions have a separate full-page placement guide for these.
The painting and markings guides are in colour and well printed, with detail enlargements where warranted. Colour call outs have the colour's name, BS and FS codes. The colour chips seem to show both the new and faded tones for the darker colours, which if I'm correct is a nice touch.
The Separate Decal Package
Along with the review kit Hyperscale also received a set of Alley Cat decals for the Gannet AEW Mk.3. These are sold separately from the kit and provide markings for seven additional schemes.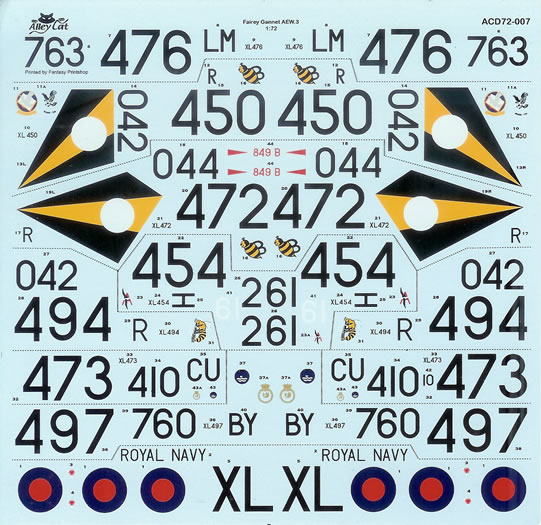 They offer some variation to the kit options. Some with more colourful tail markings and B-style dull red & blue roundels, which are not offered with the kit. Options covered are:
XL476 based at RNAS Lossiemouth early 1970's

XL450 of B flight on HMS Ark Royal 1975

XL472 of B flight on HMS Ark Royal 1976

XL454 of A flight on HMS Hermes late 1960's

XL494 of B flight on HMS Ark Royal 1970

XL473 based at RNAS Culdrose 1970's

XL497 based at RNAS Brawdy 1970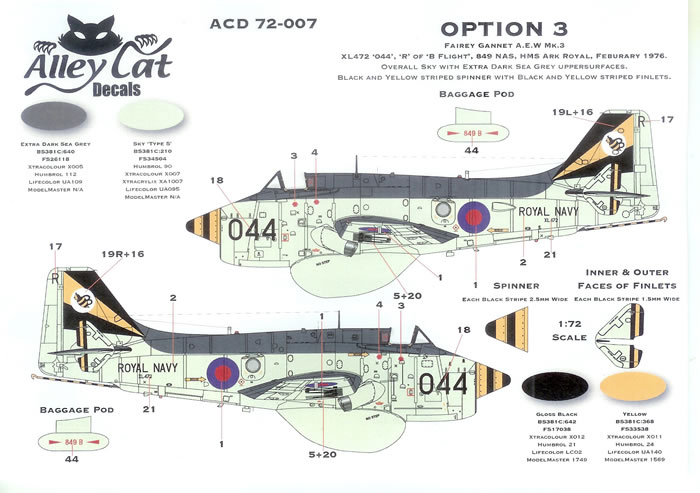 The painting and markings guide is produced to the same high standard and format as described for the kit above.
My tiny gripe about control column aside, this is a very extremely well executed kit of an interesting FAA subject. I have every confidence that it should build in a straightforward way and result in an excellent model. If you feel like spending a bit more then the separate decal package is a good option, and in my opinion provides the most appealing schemes as I like those with the B-type roundels.
It's very pleasing to see a British company equalling the standards set by the central Europeans. Highly recommended.

Thanks to A2Zee Models for the review sample
---
Alley Cat and FAA Models' accessories are available from A2Zee Models website
---
Review Text and Images Copyright © 2010 by Mark Davies
Page Created 10 March, 2010
Last updated 10 March, 2010
Back to HyperScale Main Page
Back to Reviews Page