Summary

Catalogue Number:

Victory Productions Item No. VPD32005 - Swiss Bf 109s

Scale:

1/32

Contents and Media:

Waterslide decals plus full colour instructions and notes

Price:

USD $24.95 available online from Victory Productions' website

Review Type:

FirstLook

Advantages:

Sixteen aircraft on one sheet; informative instructions that includes notes on specific aircraft modifications, decals in perfect register with minimal carrier film.

Disadvantages:

Conclusion:

This is a high quality product that allows the modeller to build a variety of Swiss Bf109s.
Reviewed by Rob Baumgartner


HyperScale is proudly supported by Squadron.com
Germany was not the sole operator of Bf109s during the Second World War.
The late 1930s saw a lot of tension in Europe during the late '30s, which prompted the Swiss Flugwaffe to think about improving their defense capabilities. After much consideration, and despite the "love – hate" relationship with Nazi Germany, they decided on Willy Messerschmitt's product.
Sources mention a contract in October 1938 for 10 Bf109Ds followed by 30 Bf109E-3s. An additional contract for 50 more of the latter aircraft was negotiated, and a further 8 were assembled from spares in 1945.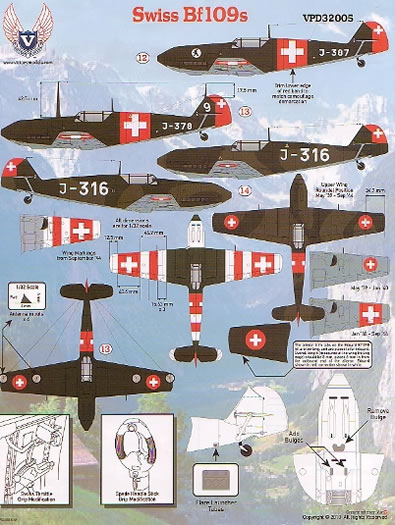 When Oblt. Johann's Me110G-4 mistakenly landed in Switzerland, it was carrying the latest version of SN-2 Lichtenstein radar, not to mention the upward firing Schräge Musik gun installation. Naturally Germany didn't want these features made available to the Allies and did a deal with the Swiss authorities. In exchange for the destruction of the aircraft they received 12 new Bf 109G-6s.
This latest release from Victory Productions illustrates some of the machines involved in these transactions.
There are 14 "Emils" catered for on this sheet with a further 2 devoted to the "Gustav".
Bf109E-3, J-315 (W.Nr.2165), Cp Av 6, Thun, Summer 1940

Bf109E-3, J-317 (W.Nr.2165), Cp Av 6, Thun, Summer 1940

Bf109E-3, J-360 (W.Nr.2427), Cp Av 6, Thun, Summer 1940

Bf109E-3, J-362 (W.Nr.?), Fl Kp 8, Avenches, Summer 1940

Bf109E-3, J-346 (W.Nr.2403), Fl Kp 8, Thun, November 1940

Bf109E-3, J-350 (W.Nr.2407), Fl Kp 9, Avenches, Spring 1941

Bf109E-3, J-318 (W.Nr.2166), Fl Kp 9, 1940

Bf109E-3, J-374 (W.Nr.2355), Fl Kp 9, Lt. Dedompierre, 1941

Bf109E-3, J-356 (W.Nr.2420), Fl Kp 21, Emmen, Summer 1940

Bf109E-3, J-371 (W.Nr.2352), Interlaken, September 1944

Bf109E-3, J-346 (W.Nr.2403), Fl Kp 15, 1940-41

Bf109E-3, J-387 (W.Nr.2379), Fl Kp 15, 1940

Bf109E-3, J-378 (W.Nr.2359), "Super S.K.R.",Fl Kp 9, June 1942

Bf109E-3, J-316 (W.Nr.2164), As delivered, 20 June 1939

Bf109G-6, J-702 (W.Nr.163320), Fl Kp 7, Interlaken, May 1944

Bf109G-6, J-705 (W.Nr.163248), Fl Kp 7, Sion, November 1945
The sheet has been designed to fit the Eduard Bf 109E-3 and Hasegawa Bf 109G-6 kits.
That being said, the nature of Swiss markings will allow these decals to be adapted for the products of other manufacturers.
The Swiss Messerschmitts were modified in various ways. Such changes included the adoption of the spade handle on the control column, an amended throttle grip, and the addition of flare launcher tubes on the rear fuselage. Bulges were also added and removed from the engine cowl (due to the replacement machine guns) so it's important to know your subject.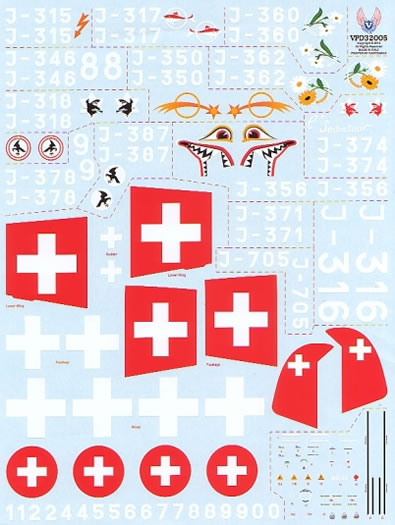 Fortunately the instructions are a great help here. They show these modifications by way of illustrations and even supply measurements for the correct placement of the new antenna amounts.
The history of these machines is covered in detail and it's a credit to Victory Productions for doing so.
The decals come on a single A4 sized sheet and are superbly printed by Cartograf. All colours showed good density and were in perfect register. The carrier film was thin and has been kept to a minimum around each design. A limited amount of stencil data can also be found which is always handy.
---
Conclusion
So if you want your Messerschmitt to stand out from its brethren, then this is the sheet for you.
Not only does it give you a varied range of subjects to choose from, but it also supplies the extra information to make them as accurate as possible.
Thanks to Victory Models for the sample
---
Victory Models products and and Victory Productions Decals are available online from their website