Macchi M5 Decals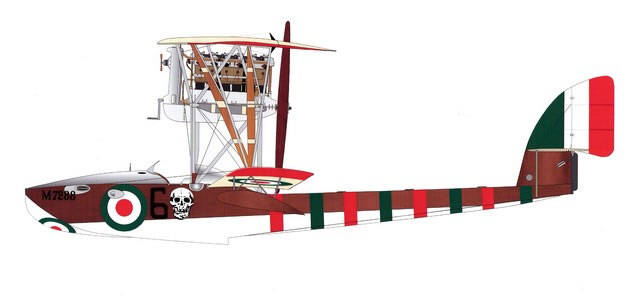 Pheon Models, 1/48 scale
S u m m a r y :

Catalogue Numbers:

Pheon Models Item No. 48010 & 72007 - Macchi M.5

Scale:

1/48 & 1/72

Contents and Media:

Waterslide decals, colour profiles, instructions and notes

Price:

Each release GBP £17.50 available from pheon.models@hotmail.co.uk
Post & packing:
1st Class £3.60 to the UK & Europe, £4.95 to the rest of the world.
2nd Class: £2.52 to the UK & Europe, £2.70 to the rest of the world.
Payment by Paypal.

Review Type:

First Look

Advantages:

Extensive selection of markings, well researched, excellent support material

Disadvantages:

Short production run necessitates a higher price

Conclusion:

Very colourful subject, top quality package
Reviewed by James Fahey

HyperScale is proudly sponsored by Squadron.com

After nine previous reviews here on Hyperscale, if you are reading this then chances are you have already heard of Pheon Models and their WWI decals. The company has a solid reputation for excellence: in research, reference information, service and most importantly decal quality. Their releases cover all the major scales 1/72, 1/48 and 1/32.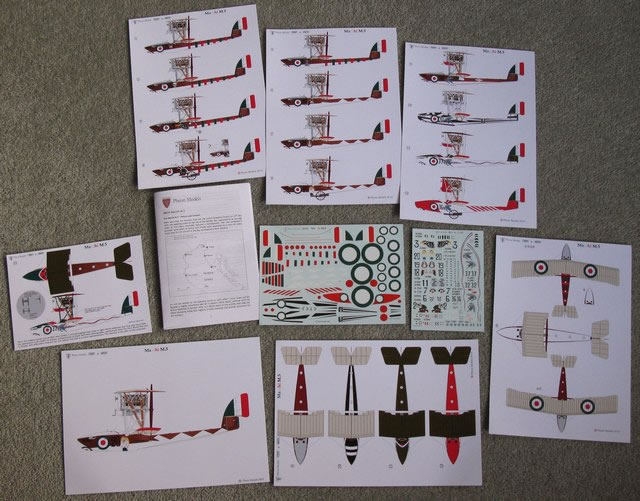 Pheon decals are manufactured by Fantasy Printshop in the UK and have perfect register. Centres for the roundels are printed separately to give the best results. Opacity appears to be very good.
---
The Macchi M.5
Although it was a flying boat, the performance of the little Macchi fighter was on a par with its Austro-Hungarian land-based opponents. Approximately 350 were built, which makes the M.5 the most widely produced flying boat fighter in the world (is that kind of like being the world's tallest dwarf?).
The American Navy also flew Macchi M.5 fighters from a flying boat base loaned to them at Porto Corsini (near Ravenna).
---
Macchi M5 Kits
In 1/72 the Polish kit maker Choroszy have a resin kit of the M5 currently available. Although this reviewer doesn't have the M.5 from Choroszy, other kits in their range are very finely moulded with lots of detail. Pegasus did a short-run injection moulded kit which was accurate and quite well detailed, but sadly no longer in production (examples do turn up occasionally in second hand model stores and auction sites).
In 1/48 scale there have been resin kits by Lone Star Models and Hippo Models but both are out of production.
Fly have a 1/48 injection moulded kit available which is quite detailed, but as Pheon point out in some detail in the instruction booklet, it has a number of accuracy issues.
Pheon have obtained a full set of original Macchi drawings and are in the process of developing a sheet of hull cross-section templates to enable modellers to scratch build a new deeper fuselage. This will overcome the most significant accuracy issues but a degree of modelling experience and patience will be required. Modellers who choose to build the Fly kit without correcting the hull shape will find Pheon's cockade on the hull side will look a bit big (use the kit decal, subject to colour differences) and the relative positions of the other markings might need some juggling, as will the white waterline position. The wing cockades will be fine.
Blue Max have a 1/48 kit of the Macchi M.5 in development and Pheon note this will be available later in 2010, and will be more accurate than the Fly kit.
---
The Decals
The M.5 is an elegant plane and featured some very distinctive personal markings, 12 of which are captured beautifully in this set.
Some of the drawings are very detailed and printed perfectly by Fantasy Printshop – especially in the 1/72 version. The most difficult decision will be choosing which option to use.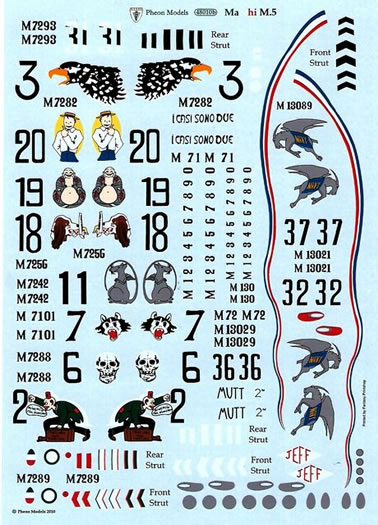 Four of the twelve options are for US Navy machines, some of the most colourful markings for any WWI aircraft.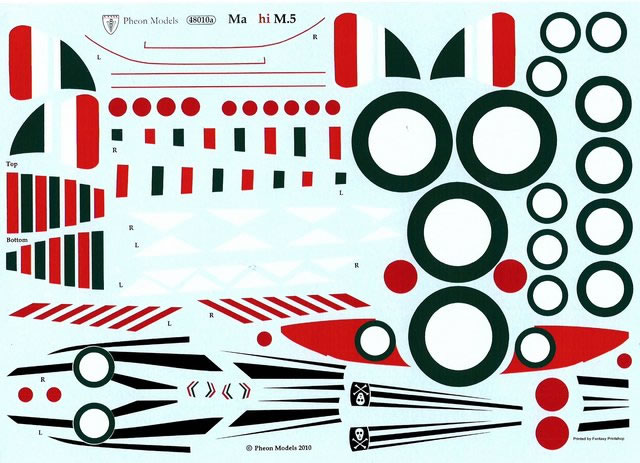 Circular decals to represent the hull inspection covers on the upper rear hull are included, as well as some smaller circles for the inspection panels at the base of the fin; shapes for the machine gun blast exits and ventilation panels, all of which are tricky to paint.
---
Instructions
The 20 page A5 sized booklet follows Pheon's standard layout: an interesting service history, comments on the kit, general colouring notes, references, decal application guide and service history for each aircraft and pilot. It's a very thorough booklet.
---
Full Colour Decal Placement Guides
Marking options are featured in full colour on five A4 sized sheets of glossy photo paper showing decal placements (side profiles and top views). A smaller sheet shows a correction for option #11 based on research which came to light after the decals had been produced. Also included is a full A4 sized side view of one of the options, chosen randomly
As with all Pheon's decal releases, this artwork is very well done, top-end quality and good enough to frame.
---
Conclusion
This decal release is one of the best yet to come from Pheon, offering modellers some very colourful markings for a very attractive aeroplane. It will make up into a stunning model for sure.
As I have noted in previous reviews, the economics of short production runs necessitates higher prices but notwithstanding this Pheon's decals offer excellent value. Highly recommended.
Thanks to Pheon Models for the review samples.
---
Forthcoming Releases
Pre-orders are now being taken for the next releases: Halberstadt CL.IV in 1/48 scale, three different sets for the Wingnut Wings 1/32 Sopwith Pup and a set of letters and numbers for the Wingnut Wings 1/32 Albatros D.V & LVG.
Until Pheon's website is finished, you can check out their products here:
http://www.britmodeller.com/forums/index.php?showtopic=34793
and the email address for orders is mailto:pheon.models@hotmail.co.uk.
Here are links to reviews of the earlier releases here at Hyperscale:
Sopwith Pups in 1/72 and 1/48 scales: http://www.hyperscale.com/2009/reviews/decals/pheon48001reviewjf_1.htm
Lafayette Spad VII decals in 1/48 and 1/32: http://www.hyperscale.com/2009/reviews/decals/pheon48002reviewjf_1.htm
Fokker Dr.1 decals in 1/72, 1/48 and 1/32 for Jagdgeschwader II:
http://www.hyperscale.com/2009/reviews/decals/pheon48003reviewjf_1.htm
1/32 SE5a Aces in France and Home Defense
http://www.hyperscale.com/2009/reviews/decals/pheon32003reviewjf_1.htm
1/32 Bristol F.2B Aces in France
http://www.hyperscale.com/2009/reviews/decals/pheon32005reviewjf_1.htm
Jasta 40 under Degelow in 1/72 and 1/48 scales
http://www.hyperscale.com/2009/reviews/decals/pheon48005reviewjf_1.htm
Sopwith Triplane in 1/72 and 1/48 scales
http://www.hyperscale.com/2010/reviews/decals/pheon48004reviewjf_1.htm
SE5a Aces in France in 1/72 and 1/48 scales
http://www.hyperscale.com/2010/reviews/decals/pheon48006reviewjf_1.htm
Sopwith Dolphin in 1/48
http://www.hyperscale.com/2010/reviews/decals/pheon48009reviewjf_1.htm
Thanks to Pheon Models for the review samples.
---
available from pheon.models@hotmail.co.uk
---
Text and Images Copyright © 2010 by James Fahey
Page Created 3 May, 2010
Last updated 9 June, 2010
Back to HyperScale Main Page