Sopwith Dolphin Decals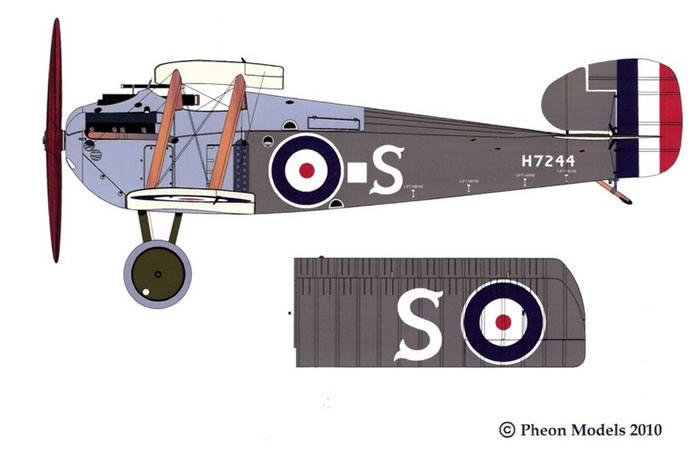 Pheon Models, 1/48 scale
S u m m a r y

Catalogue Numbers:

Pheon Models Item No. 48009 - Sopwith Dolphin

Scale:

1/48

Contents and Media:

Waterslide decals, colour profiles, instructions and notes

Price:

GBP £17.50 available from pheon.models@hotmail.co.uk
Post & packing: 1st Class £3.60 to the UK and Europe, £4.95 to the rest of the world. 2nd Class: £2.52 to the UK and Europe, £2.70 to the rest of the world.
Payment by Paypal.

Review Type:

First Look

Advantages:

Extensive selection of markings, well researched, excellent support material including a template for building an alignment jig

Disadvantages:

Short production run has necessitated a higher price

Conclusion:

Comprehensive, top quality package
Reviewed by James Fahey

HyperScale is proudly sponsored by Squadron.com

Since launching about a year ago Pheon Models has earned a solid reputation for producing quality decals for WWI aircraft models. The decal range spans all the major scales 1/72, 1/48 and 1/32.
Pheon decals are manufactured by Fantasy Printshop in the UK and have perfect register (centres for the larger roundels are printed separately to give the best results). Opacity appears to be very good.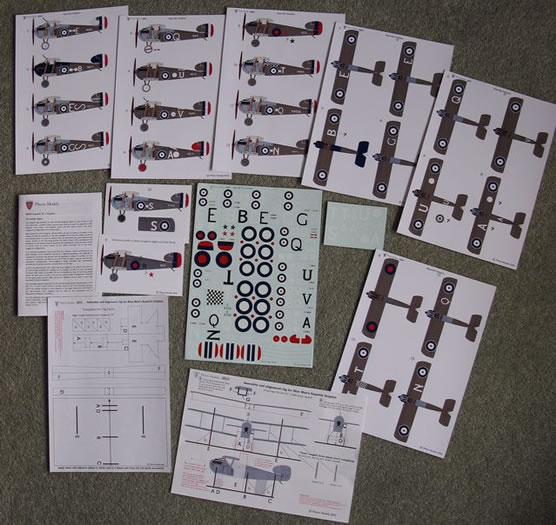 Following Rowan Broadbent's relocation to France, Pheon's postage costs have risen slightly and UK cheques are no longer accepted.
---
Dolphin Kits
This decal set is intended for the Blue Max 1/48 scale kit, designed by Chris Gannon. This kit has recently been reissued by Freightdog Models in the UK after a long period of unavailability: www.freightdogmodels.co.uk
Copper State Models have also kitted the Dolphin in 1/48 scale. Although it has not been available for some time, some modellers may have it in their stash.
---
The Decals
With 13 markings options provided, there's something here to interest most Dolphin modellers. The top two Dolphin aces are there; lots of Canadians, three Americans, even a Kiwi pilot (good on you Rowan!) and a couple of relatively 'colourful' options if that's what you're after.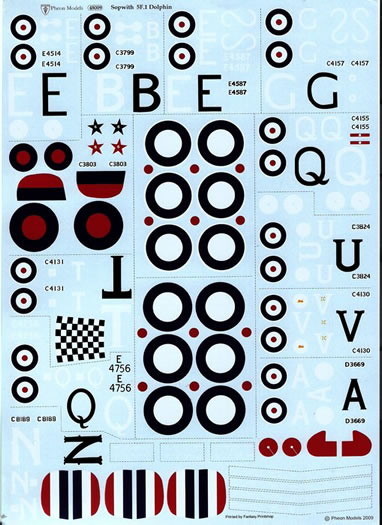 All four Dolphin squadrons based in France are represented plus an interesting night fighter/Home Defense scheme.
1. 19 Squadron E4514, Lt C M Moore (4 victories)
2. 19 Squadron C3799, Capt G B Irving (Canadian, 12 victories)
3. 87 Squadron E4587, pilot unknown
4. 87 Squadron C4157, Lt C E Worthington (British, 5 victories)
5. 87 Squadron C4155, Lt R M Macdonald (Canadian, 5 victories)
6. 23 Squadron C3824, Lt J W Pearson (American, 12 victories)
7. 23 Squadron C4130, Lt H N Compton (Canadian, 5 victories)
8. 23 Squadron D3669, Capt A B Fairclough (Canadian, 19 victories)
9. 141 Squadron (Home Defense) C3803, pilot not known, night fighter
10. 79 Squadron C4131, Capt F I Lord (American, 12 victories)
11. 79 Squadron E4756, Capt R B Bannerman (New Zealander, 17 victories)
12. 79 Squadron C8189, Capt F J Stevenson
13. 79 Squadron H7244, Capt F W Gillet (American, 20 victories)
Sufficient cockades and 'Lift Here' markings are provided to complete three aircraft.
Pheon note that the red and blue used in the national markings has been matched to actual samples of First World War VR2 and VB3 doped fabric. My scan of the decal sheet has the blue somewhat darker than on the decals, a consequence of fiddling with the contrast to show the white markings more clearly against the pale blue decal paper.
---
Instructions
The 15 page A5 sized booklet follows Pheon's standard layout: an interesting service history, comments on the kit, general colouring notes, references, decal application guide and service history for each aircraft and pilot. It's a very thorough booklet.
---
Full Colour Decal Placement Guides
12 of the marking options are printed in full colour on six A4 sized sheets of glossy photo paper showing decal placements (side profiles and top views).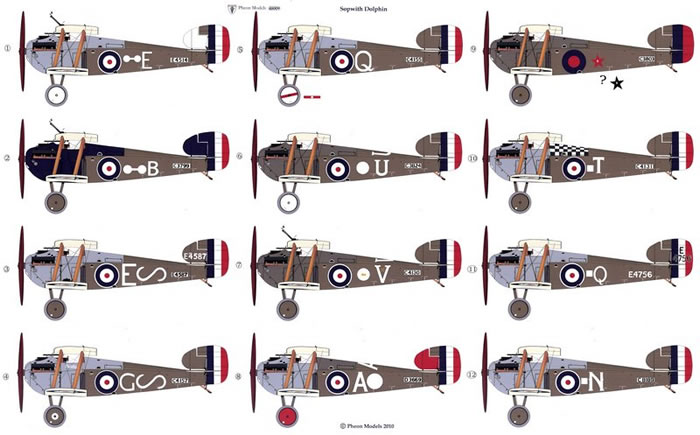 Two smaller sheets illustrate option #13 and an additional profile of the Home Defence Dolphin showing navigation lights and Holt flares. As with all Pheon's decal releases, these cards are very nicely done, top-end quality and good enough to frame.
---
Conclusion
Although the price is not inexpensive (due to the short production run) this is a very comprehensive package with high production values. A great selection of subjects, well researched and with a very useful pattern for an assembly jig.
---
Forthcoming Releases
Pre-orders are now being taken for the next releases: Macchi M5 floatplanes in 1/72 and 1/48 scales (fantastic artwork!), Halberstadt CL.IV in 1/48 scale and three different sets for the Wingnut Wings 1/32 Sopwith Pup.
Until Pheon's website is finished, you can check out their products here:
http://www.britmodeller.com/forums/index.php?showtopic=34793
and the email address for orders is mailto:pheon.models@hotmail.co.uk.
Here are links to reviews of the earlier releases here at Hyperscale:
Sopwith Pups in 1/72 and 1/48 scales: http://www.hyperscale.com/2009/reviews/decals/pheon48001reviewjf_1.htm
Lafayette Spad VII decals in 1/48 and 1/32: http://www.hyperscale.com/2009/reviews/decals/pheon48002reviewjf_1.htm
Fokker Dr.1 decals in 1/72, 1/48 and 1/32 for Jagdgeschwader II:
http://www.hyperscale.com/2009/reviews/decals/pheon48003reviewjf_1.htm
1/32 SE5a Aces in France and Home Defense
http://www.hyperscale.com/2009/reviews/decals/pheon32003reviewjf_1.htm
1/32 Bristol F.2B Aces in France
http://www.hyperscale.com/2009/reviews/decals/pheon32005reviewjf_1.htm
Jasta 40 under Degelow in 1/72 and 1/48 scales
http://www.hyperscale.com/2009/reviews/decals/pheon48005reviewjf_1.htm
Sopwith Triplane in 1/72 and 1/48 scales
http://www.hyperscale.com/2010/reviews/decals/pheon48004reviewjf_1.htm
SE5a Aces in France in 1/72 and 1/48 scales
http://www.hyperscale.com/2010/reviews/decals/pheon48006reviewjf_1.htm
Thanks to Pheon Models for the review samples.
---
available from pheon.models@hotmail.co.uk
---
Text and Images Copyright © 2010 by James Fahey
Page Created 3 May, 2010
Last updated 3 May, 2010
Back to HyperScale Main Page