SE5a Aces in France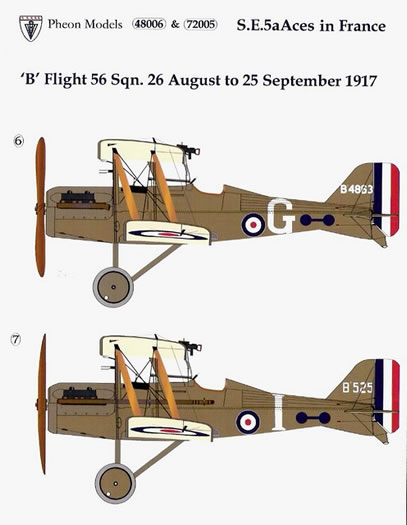 Pheon Models, 1/72 and 1/48 scales
S u m m a r y

Catalogue Numbers:

Pheon Models' SE5a Aces in France. Item No. 72005 & 48006

Scale:

1/72 & 1/48

Contents and Media:

Waterslide decals, colour profiles, instructions and notes

Price:

72005: GBP £11.50, 48006: £13.50 available from pheon.models@hotmail.co.uk
Post & packing: £1.57 to the UK and Europe, £2.09 to the rest of the world. Payment by Paypal.

Review Type:

First Look

Advantages:

Extensive selection of markings, well researched, excellent support material.

Disadvantages:

Conclusion:

Excellent value for money
Reviewed by James Fahey

HyperScale is proudly sponsored by Squadron.com


Pheon specialise in decals for WWI aircraft. Since launching less than a year ago, their catalogue now offers 8 subjects spread across the major scales 1/72, 1/48 and 1/32.
Pheon decals are manufactured by Fantasy Printshop in the UK and have perfect register (centres for the larger roundels are printed separately to give the best results). Opacity is difficult to judge on a first look but appears to be good.
Following Rowan Broadbent's relocation to France, Pheon's postage costs are expected to rise in the near future and UK cheques are no longer accepted.
---
Intended Kits
Roden produce nice kits of both the Viper and Hispano Suiza-engined versions in both scales. In 1/72 Revell have recently re-released their old SE5a kit and it offers a cheaper alternative but lacks the detail of the Roden kits.
---
The Decals
The sheet provides an interesting selection of aces from various squadrons and countries, including a Kiwi ace!
The 1/48 scale sheet is A4 sized sheet and A5 sized in 1/72, and its packed with markings for 17 aircraft (1-8 below were Hispano Suiza engined and 9-17 were Viper engined).

1. B189, Capt JH Tudhope (South African, 10 victories), 40 Sqn,
2. B891, Capt G McElroy (46 victories), 24 Sqn,
3. D5969, Lt C Lagesse (20 victories), 29 Sqn,
4. F5910, Capt W Claxton (Canadian, 37 victories incl 2 balloons), 41 Sqn
5. C1752, Lt F Taylor (Canadian, 10 victories), 41 Sqn
6. B4863, Capt J McCudden, 56 Sqn (including dumbbell markings for the Voss fight)
7. B525, Lt A Rhys Davids (25 victories), 56 Sqn. (including dumbbell markings for the Voss fight).
8. B4891, Capt J McCudden (57 victories), 56 Sqn.
9. D6856, Capt A F W Beauchamp (South African, 54 victories incl 16 balloons), 84 Sqn

10. E5765, Capt E E Davies (Australian, 7 victories) 2 Sqn Australian Flying Corps
11. D6851, Lt E W Springs (American, 16 victories) 85 Sqn
12. C1106, 1Lt D Knight (American, 10 victories) 1 Sqn
13. D278, Capt E Mannock (61 victories) 74 Sqn
14. C1117, Capt J I T Jones (37 victories) 74 Sqn
15. D279, Lt H B Richardson (15 victories) 24 Sqn
16. D372, Capt J M Robb (7 victories) 92 Sqn
17. D6864, Maj K L Caldwell (New Zealand, 25 victories) 74 Sqn
In addition there are Palmer Cord Aero Tyre markings (even on the 1/72 sheet where they're pretty small) and sufficient national markings for four complete aircraft to be built.
Pheon note that the red and blue used in the national markings has been matched to actual samples of First World War VR2 and VB3 doped fabric. My scan of the decal sheet has the blue somewhat darker than on the decals, a consequence of fiddling with the contrast to show the white markings more clearly against the pale blue decal paper.
---
Instructions
The 16 page A5 sized booklet includes a brief service history of the SE5a, general colouring notes, references, decal application guide and service history for each aircraft and pilot. It is clear that Pheon have thoroughly researched the topic.
---
Full Colour Decal Placement Guides
As with the previous decal releases, Pheon provide full colour A4 sheets of profiles/placement guides printed on glossy photo paper. There are five sheets in this set plus two smaller cards featuring Grid Caldwell's aircraft and a placement guide for 56 Squadron's dumbbell markings from the Voss dogfight. These cards are very nicely done, top-end quality and suitable for framing.
---
Conclusion
There is nothing to fault with these decals. The research is comprehensive and the selection of markings is very impressive, making the total package excellent value for money. Highly recommended.
---
Forthcoming Releases
Pre-orders are now being taken for the next two releases: a 1/48 sheet covering Sopwith Dolphin aircraft, and Macchi M5 floatplanes in 1/72 and 1/48 scales (the artwork for which looks gorgeous!).
Until Pheon's website is finished, you can check out their products here:
http://www.britmodeller.com/forums/index.php?showforum=227
and the email address for orders is mailto:pheon.models@hotmail.co.uk.
Here are links to reviews of the earlier releases here at Hyperscale:
Sopwith Pups in 1/72 and 1/48 scales: http://www.hyperscale.com/2009/reviews/decals/pheon48001reviewjf_1.htm
Lafayette Spad VII decals in 1/48 and 1/32: http://www.hyperscale.com/2009/reviews/decals/pheon48002reviewjf_1.htm
Fokker Dr.1 decals in 1/72, 1/48 and 1/32 for Jagdgeschwader II:
http://www.hyperscale.com/2009/reviews/decals/pheon48003reviewjf_1.htm
1/32 SE5a Aces in France and Home Defense
http://www.hyperscale.com/2009/reviews/decals/pheon32003reviewjf_1.htm
1/32 Bristol F.2B Aces in France
http://www.hyperscale.com/2009/reviews/decals/pheon32005reviewjf_1.htm
Jasta 40 under Degelow in 1/72 and 1/48 scales
http://www.hyperscale.com/2009/reviews/decals/pheon48005reviewjf_1.htm
Thanks to Pheon Models for the review samples.
---
available from pheon.models@hotmail.co.uk
---
Text and Images Copyright © 2010 by James Fahey
Page Created 3 March, 2010
Last updated 3 March, 2010
Back to HyperScale Main Page