Sopwith Triplane Decals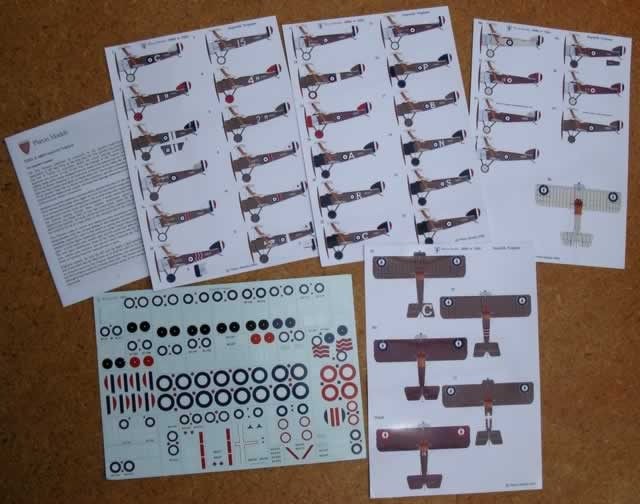 Pheon Models, 1/72 and 1/48 scales
S u m m a r y

Catalogue Numbers:

72003 & 48004 - Sopwith Triplane

Scale:

1/72 and 1/48

Contents and Media:

Waterslide decals, colour profiles, instructions and notes

Price:

72003 GBP £12.75, 48004: £17.50 available from pheon.models@hotmail.co.uk
Post & packing: £1.10 to the UK, £1.57 to European destinations and £2.09 to the rest of the world. Payment by Paypal, or by cheque for UK customers.

Review Type:

First Look

Advantages:

Well researched, with 28 individual markings and sufficient cockades to enable 5 complete models to be built.

Disadvantages:

Recommendation:

Comprehensive coverage for one of the all-time favourite WWI aircraft types. Top quality package.
Reviewed by James Fahey

HyperScale is proudly sponsored by Squadron.com

Pheon specialise in decals for the WWI modeller and this release adds to an already impressive lineup of subjects.
As with earlier the releases, these decals are printed by Fantasy Printshop and feature minimal carrier film and excellent registration.
---
Intended Kits
In 1/72 the old favourite from Revell has recently been reissued yet again so should be widely available. Its also very reasonably priced at around £3 or $5.40 US.
In 1/48 Eduard have produced a number of Triplane kits, also marketed by Flashback and Smer. Pheon provide some suggestions for correcting a few minor inaccuracies in the kit.
---
Markings Options
Modellers are lucky that the Sopwith Triplane served mostly in the Royal Naval Air Service where a more lenient approach was taken to individual markings compared to the RFC/RAF. Not only are these markings relatively colourful and interesting but there are 28 different markings in the set, a veritable magnum opus!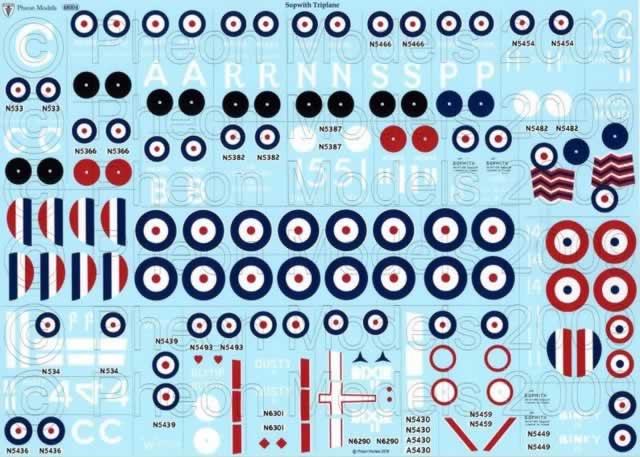 The 1/48 set is A4 sized, the 1/72 set has the same markings on an A5 sheet and both are crammed with markings:
Naval 1 Squadron RNAS
N5436 Flt Cdr Rod Dallas (Australian, 32? Victories)
N5387 'Peggy' FSL Hazel Leroy Wallace (Canadian, 14 victories)
N5454 F/L R Minifie (Australian, 21 victories)
N5377 FSL M Watson
N534 Dallas, Minifie & Capt FHM Maynard (New Zealander, 6 victories) N534 was one of the six twin-gun Triplanes
N5429 FSL J R Wilford
Naval 8 Squadron RNAS
N5449 'Binky III'
N6301 'Dusty II'
N5493 'Blymp' FSL R A Little (Australian, 47 victories)
N5482 'Maud' Flt Cdr C D Booker (British, 29 victories)
N6290 'Dixie II'
N5454 'Hilda' F/L R Minifie (Australian, 21 victories)
N5439 'Whitfield' FSL E D Crundell (British, 7 victories)
Naval 9 Squadron RNAS
N5459 FSL O C Le Boutillier (American, 10 victories)
Naval 10 Squadron RNAS
N5359 F/L J A Page (Canadian, 8 victories)
N5366
N6295
'The Black Flight' (all Canadian):
N5487 'Black Prince' 'A' FSL W M Alexander (22 victories)
N5376 'Black Sheep' 'N' FSL G E Nash (6 victories)
N5483 'Black Roger' 'R' FSL E V Reid (19 victories)
N5466 'Black Death' 'S' FSL J E Sharman (8 victories) & FSL D F FitzGibbon (British, 8 victories)
N533 'Black Maria' 'C' FSL R Collishaw (60 victories)
N5492 'Black Maria' FSL R Collishaw
N500 First Prototype and 'Brown Bread'
The French Centre d'Aviation Maritime, St.Pol
'14' and '11'
Two versions of N5430 the sole RFC Triplane
Home Defense, Manston War Flight N5382 'The Ooslumburd'
There are enough cockades on the sheet to complete five aircraft, including one French set. The red and blue colours have been matched to actual samples of WWI VR2 and VB3 doped fabric
---
Full Colour Decal Placement Guides
As with previous decal releases, Pheon provide full colour A4 sheets of profiles/placement guides printed on glossy card - four sheets in this Sopwith Triplane set. These cards are very nicely done, top-end quality.
---
Instructions
The 17 page A5 sized instruction booklet includes a service history for the Triplane, colouring notes concerning PC10 and PC12 (the two main overall colours), list of references, application guide and notes on each aircraft and pilot.
---
Conclusion
The Sopwith Triplane has long been a favourite of modellers, with an outstanding service record and plenty of colourful markings to choose from. This decal set does the Tripe full justice. Once you get the set in your hands prepare to be inspired to build a full Black Flight!
Pheon decals are not inexpensive but the quality, service and research are superb. Overall I recommend Pheon's decals as excellent value for money.
Here are links to reviews of the earlier releases here at Hyperscale:
Sopwith Pups in 1/72 and 1/48 scales: http://www.hyperscale.com/2009/reviews/decals/pheon48001reviewjf_1.htm
Lafayette Spad VII decals in 1/48 and 1/32: http://www.hyperscale.com/2009/reviews/decals/pheon48002reviewjf_1.htm
Fokker Dr.1 decals in 1/72, 1/48 and 1/32 for Jagdgeschwader II:
http://www.hyperscale.com/2009/reviews/decals/pheon48003reviewjf_1.htm
1/32 SE5a Aces in France and Home Defense
http://www.hyperscale.com/2009/reviews/decals/pheon32003reviewjf_1.htm
1/32 Bristol F.2B Aces in France
http://www.hyperscale.com/2009/reviews/decals/pheon32005reviewjf_1.htm
Jasta 40 under Degelow in 1/72 and 1/48 scales
http://www.hyperscale.com/2009/reviews/decals/pheon48005reviewjf_1.htm
Until Pheon's website is finished, you can check out their products here:
http://www.britmodeller.com/forums/index.php?showforum=227
Available from: mailto:pheon.models@hotmail.co.uk.
Thanks to Pheon Models for the review samples.
---
available from pheon.models@hotmail.co.uk
---
Text and Images Copyright © 2010 by James Fahey
Page Created 18 January, 2010
Last updated 19 January, 2010
Back to HyperScale Main Page