Focke-Wulf Fw 190 D
3 x Decal Sheets available in various scales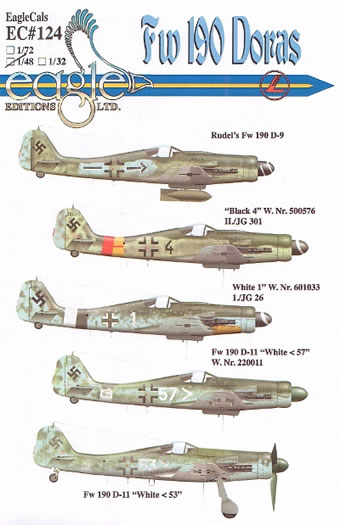 EagleCals Decals
S u m m a r y

Catalogue Number:

EagleCals #124 (1:48) and #126 (1:48) and #125 (1:32)

Scale:
all available in 1/72, 1/48 and 1/32 scales
Contents and Media:
Full sized decal sheet and full-colour, double-letter size instructions with reference photos.
Price:
1/72 - $11.00
1/48 - $15.00
1/32 - $17.50
plus shipping available online from Eagle Editions Website
Review Type:
FirstLook and Application
Advantages:

Superbly researched with excellent attention to detail; good variety of subjects; inspiring artwork; decals in perfect register; minimal carrier film and a comprehensive set of stencil data.

Disadvantages:
Conclusion:

These sheets offer the "Dora" enthusiast an ideal opportunity to replicate a subject other than those found in a kit. The quality of the product is undeniable and provides the modeller with everything they need for an accurate representation of their chosen aircraft.
Reviewed by Rob Baumgartner


Eagle Cals #120, 121 and 122 will be available online from Squadron.com
The Fw 190 "Dora" is a firm favourite amongst Luftwaffe enthusiasts.
Testimony to this is the fervent discussion that was generated when Eduard recently released their series in 1:48 scale. As nice as the kit options are, many modellers have other favourites they wish to represent.
To help in this area, EagleCals have released a couple of sheets based on the superb tomes by Jerry Crandall. This two volume set covers the Dora in extraordinary detail and thus gives the enthusiast the best possible start for an accurate representation.
The artwork is courtesy of Tom Tullis and is truly inspiring. Both upper and lower views are catered for so that there is no confusion regarding the colours that these machines wore. As well as a discussion on each aircraft offered, the instruction sheet also contains a three-view drawing for the location of the stencil data.
Enough is provided for a single aircraft but there should be plenty left over as not all aircraft carried a full complement of stenciling. There are instances where a machine could have carried any one of two or three different styles of the same marking. In these cases, the manufacturer has given us the different decals to make the choice ourselves.
Each item was surrounded by a minimum of carrier film which is thin enough to almost disappear on the finished product. The colours were in perfect register and the small print on the stenciling was sharp enough to be read clearly under magnification. Where appropriate, decals are supplied for the spinners which greatly ease the task of painting these spirals.
These releases from EagleCals carry a variety of interesting subjects so there should be something to please everybody.
---
EagleCals #124 (illustrated at top of page)
"Black <-+-" Fw 190 D-9 of SG 2 "Immelmann", Großenhain, Germany, April 1945

This is the aircraft of Geschwaderkommodore Hans Ulrich Rudel. It carries the late 3 piece gun cowl which in this case does not have the rear bulges. It does however display the flare on the lower edge and associated bulge on the upper cowl. Also seen in the reference photo is a blown canopy and ETC 504 rack.

Upper surfaces are finished in RLM 82/RLM 83 with a presumed combination of RLM 75/RLM 83 on the wings. The undersides of the fuselage are in light green with the wing area having its front half in RLM 75 and the rear portion left in natural metal.

"Black 4" Fw 190 D-9 W.Nr. 500576 of II./JG 301, Wunsdorf, Germany

Like the D-9 before it, this Dora also has a late 3 piece gun cowl and blown canopy. Photos indicate that all antennas were intact and that it possibly carried an ETC 504 rack. The colours worn by this aircraft are as above except that the upper wing surfaces carry a pattern of RLM 74/RLM 75.

"White 1" Fw 190 D-9 W.Nr. 601033 of 1./JG 26, Hustedt, Germany, April 1945

This aircraft was also fitted with the late 3 piece cowl but here it's devoid of the bulges or flares seen above. An ETC rack is provisionally allocated to this machine, which can also be seen with a blown canopy and a full complement of antennas.

Undersurfaces are RLM 76 with a yellow under-cowling. On top of the wings, there is a scheme of RLM 74/RLM 75 with the fuselage wearing a combination of RLM 75/RLM 83, the latter colour also being involved in a heavy bout of mottling.

"White <57" Fw 190 D-11 W.Nr. 22001? of 1./JG 101(?), Schongau, Germany May 1945

This is the first of two D-11s on this sheet. It carries the expected blown canopy and ETC 504 rack as well as a bulged cowl to fit either the Jumo 213E or Jumo 213F engine. Another more streamlined cowl replaced that seen on the D-9 and this beast was fitted with 13 R4M rockets beneath each wing. Its outboard 30mm cannons were removed and the corresponding openings were faired over.

Undersurfaces were RLM 76, with the lower wings finished in natural metal (rear half) and RLM 75 (forward half). Above the flying surfaces, the pattern was RLM 82/RLM 83 with the fuselage extension being left in natural metal with a mottle of RLM 83 on its top portion.

"White <53" Fw 190 D-11 W.Nr. 2200??, VFS of G.d.J, Bad Wörishofen, Germany

The black exhaust panel suggests that this is an early D-11. The cowling arrangement is the same as the previous D-11 and can be seen with the usual blown canopy and an intact set of antennas.

Expectantly, the upper and lower colours are the same as "White <57" except in this case the fuselage extension has been fully painted.
---
EagleCals #126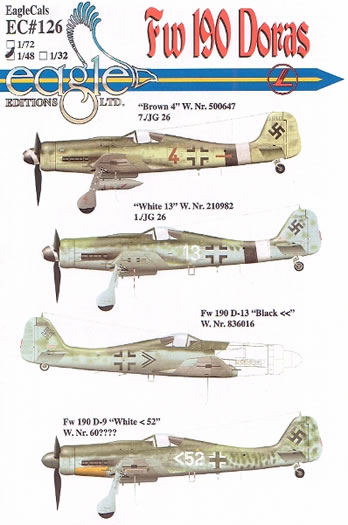 "Brown 4" Fw 190 D-9 W.Nr. 500647 of 7./JG 26, Hustedt, Germany, May 1945

The striking feature of this D-9 is the metal vertical tail seen on the Ta 152. As well as the blown canopy, it sports a late 3 piece cowl but with no bulges on the rear. It does however have the bottom edge flair and the corresponding upper cowl bulge.

Colours are based on other 500 series aircraft and as such it is assumed to have light green undersurfaces with the front half lower wing in RLM 75 and the rear part left in natural metal. Upper surfaces are presumed to be RLM 82/RLM 83 with the wings in a possible combination of RLM 74/RLM 75. A brown numeral ("4" in this case) is supplied for each landing gear door as seen on other 7./JG 26 aircraft.

"White 13" Fw 190 D-9 W.Nr. 210982 of 1./JG 26, Hustedt, Germany, April 1945

This is a product of the Sorau factory and was part of the second production batch of 100. Along with an ETC rack, it had a blown canopy and the late 3 piece gun cowl with a small lower bulge. It's illustrated with a provisional black exhaust panel and wears RLM 76 undersurfaces. Topside colours are RLM 82 and RLM 83.

"<<" Fw 190 D-13 W.Nr. 836016 of an unknown unit in Pilsen, Czechoslovakia, May 1945

The rare D-13 now makes an appearance. As only part of the airframe is visible in the photo, the modeller must determine for themselves how best to finish the frontal area.

What can be seen is an upper surface in RLM 82/RLM 83 with repair work having been done on the fin and rudder. Due to the Werknummer being just before that of the well known D-13 "Yellow 10", the undersurface colours are taken from that machine. Therefore the conclusion is RLM 76 underneath the fuselage and the usual segmented lower wing areas of RLM 75 and natural metal.

"White <52" Fw 190 D-9 W.Nr. 60???? of 1.JG 101(?), Schongau, Germany 1945

The B5 600mm fuselage Balkenkreuz indicates this as being a Fieseler built machine. It was one of several Doras equipped with R4M rockets and featured a late 3 piece cowl devoid of bulges or flairs. An ETC 504 rack was fitted as well as the type 8-190.1025 blown canopy.

Undersurfaces were RLM 76 with the forward under-cowl in yellow. Below the wings was a frontal half painted RLM 76 with the rear part being left in natural metal. The photo portraying this aircraft shows a layer of snow on the upper surfaces. Therefore the upper surface coloring must be arrived at via educated guesses. RLM 82 and RLM 83 are viable candidates for the fuselage with a pattern of RLM 75/RLM 83 for the wings.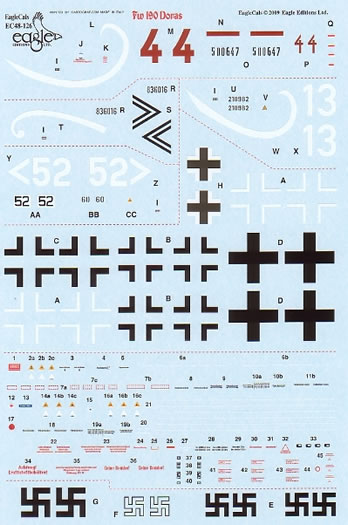 ---
EagleCals #125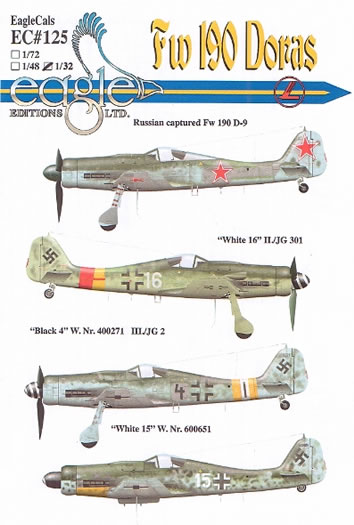 Although this sheet is in 1:32 scale, it lacks none of the information contained on its smaller sized brethren. The comprehensive stencil data is still there as well as the full range of national markings. Naturally an extra decal sheet has to be supplied to accommodate this.
Once again the source of these profiles is the aforementioned Fw 190 Dora Volume Two, published by Eagle Edition Ltd.
Russian Fw 190 D-9, W. Nr. 211??1, Marienburg, Germany

For those that wish to display their Dora in markings other than those of the Luftwaffe (sacrilege!), here's one interesting option. Some of these captured aircraft were flown against their former owners in the air battles approaching Berlin.

Photos show this machine with the blown canopy and late 3 piece gun cowl. This is the type showing a small bulge in the lower rear position.

Colours underneath the airframe are RLM 76 for the fuselage, with the wings divided into halves of RLM 75 and natural metal. Upper surfaces carry a scheme of RLM 82/RLM 83.

"Black 4" W.Nr. 400271 of III./JG 2, Großenhain, Germany, Spring 1945

This D-9 features the same gun cowl as the previous aircraft but is seen with only the FuG 25a antenna intact.

Undersurfaces are RLM 76 with the front half of the wings finished in RLM 75. Also note the RLM 76 wingtips. Uppersurfaces consist of a pattern of RLM 75/RLM 83 and in this case the exhaust panel has been painted black.

"White 16" W.Nr. unknown of II./JG 301, Germany May 1945

Once again this aircraft features the same engine cowl as the others with the period photo showing all antennas intact.

Undersurfaces are light green with the topsides being RLM 82/RLM 83.

"White 15" Fw 190 D-9 W.Nr. 600651 of an unknown unit, Straubing, Germany May 1045

There are no bulges or flairs on the late 3 piece gun cowl of this aircraft. A small bump is present however on the upper engine cowl that is synonymous with Mimetall D-9s.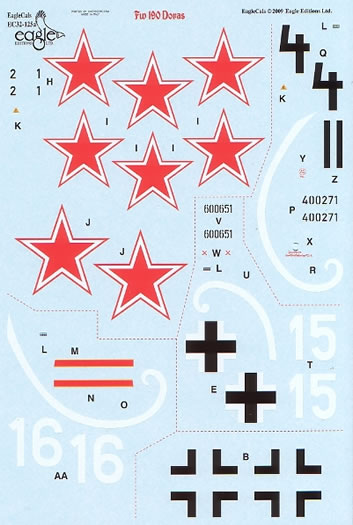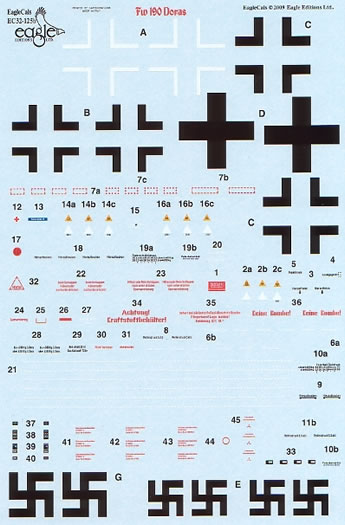 These sheets are a real treat for Luftwaffe fans.
It's obvious that a lot of effort has gone into their production and this is reflected in the sheets themselves as well as the instructions. The artwork is some of the best on the subject and the inclusion of all that stencil data is icing on the cake.
These are the ideal sheets to adorn your next Dora.
Thanks to Eagle Editions for the review samples
---
EagleCals decals are available from Eagle Editions Website
---
Preview Text Copyright © 2010 by Rob Baumgartner
This Page Created on 2 May, 2010
Last updated 2 May, 2010
Back to HyperScale Main Page